Home

EventWorks
About this Vendor
Event and Party Rental Leader
EventWorks provides one company to handle all your rental needs and its extensive rental inventory includes tents, tables, linens, chairs, furniture, china, glassware, flatware, decor, catering and cooking equipment, wedding equipment, lighting, dance floors, staging, bars, and much more!
Details
Lighting, Decorations + Accents, Chairs, Dance Floor, Dinnerware, Generators, Flatware, Glassware, Linens, Lounge Furniture, On-Site Delivery + Setup, Stages, Tables, Tear Down, Tents, Rentals + Equipment
Contact Info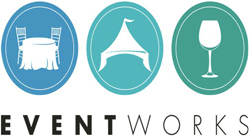 Best wedding rental company
Reviewed on

12/01/2011
Sarah S
First and foremost, I planned my wedding from several states away, so the online services that Eventworks offers(a facebook page, detailed lists of different rental options_ were very beneficial. On top of that, I did meet with Eventworks to see in person the linens, tables,... Read More and general ideas of what I needed to rent for my wedding and everything was so easy. I added and deleted things from my list up until 2 weeks prior to the event. Everything was flawless, came right on time, and the whole order was dropped of and put where it was scheduled to be in less than an hour. Everyone at Eventworks is so so easy to work with and very quick to respond!
---
Great to work with
Reviewed on

11/28/2012
Christina F
Eventworks was super easy to work with. Everytime I had to make any changes, they were very quick to respond. They set-up on time and all the guys setting up were very nice. Good quality rentals as well.
---
Awesome!
Reviewed on

11/11/2012
Genevieve T
Very pleased with EventWorks! Very helpful and always got back to us quickly with any questions we had. Great customer service. Always was able to get in touch with someone and always responded quickly to my emails. Very happy with the quality of the rentals. Delievery and pick... Read More up was easy and quick. Would recommend this business to anyone looking for rentals.
---
Reviewed on

3/14/2018
Nicole S
Fantastic rental company!! Everything looked AMAZING!!
---
Reviewed on

8/17/2017
Melody L
I really loved everything that I rented from Eventworks! Had I had a bigger budget and better planning skills I would have just gone crazy with their inventory that I was able to browse as I planned my wedding from across the country. Only hitch was that they were 2 hours late... Read More from the 3 hour pick up window but I understand that things can go awry.
---
Reviewed on

7/07/2017
Lisa D
Great company! We are so pleased with the quality of the rental items! They were super easy to work with and allowed us to tour their facility with our wedding planner, Jessica Cruz, to pick out furniture, table linens, bar ware, etc for our big day. It was wonderful to see how... Read More they care for their rentals. We would highly recommend this company to to anyone!
---
Reviewed on

6/07/2017
Emma W
Beautiful tent set up for our wedding! Gorgeous layout and so efficient with their work. Excellent!
---
Reviewed on

5/01/2017
Leslie M
Highly, highly recommend! Although i had an event of only about 55 people they treated me like they had nothing else going on that day (which I know was not the case). Everything was setup as I laid out when I got there and they were very prompt with pickup which was important... Read More for our venue. They were very easy to work with which says a lot when I changed my mind on a few things 2-3 times and ended up having to add a few tables / linens last minute. They were happy to accommodate and pricing was very reasonable for the area. Just book them already.
---
Reviewed on

4/29/2017
Kelly L
They were so helpful and flexible with the changes we kept making to what we wanted to rent. They were on time and prompt and worked with us for pick up since we had to check out prior to pick up time the next day. Thank you!
---
Reviewed on

4/26/2017
Kristin G
Most everything we ordered to rent for our wedding was there & on time! Customer service was polite & professional and worked with the bride who is very detailed & organized. I would recommend this company for your rental needs for your event!
---
Reviewed on

4/11/2017
Laura J
Rentals with Eventworks were great! I went to their showroom with my planner and they were very accommodating and very easy to work with!! Our planner handled most of the communication with them so I'm not sure about specifics, but they seemed very responsive and quick to send... Read More over any updates to the proposal! They showed up on time, set everything up beautifully on the day of and did a great job with the lighting set-up! No complaints and would definitely recommend!
---
Reviewed on

3/27/2017
Melissa N
Eventworks was great.
---
Reviewed on

11/22/2016
Nina M
Our event was marvelous in large part to EventWorks. The staff came a little early but were extremely kind about the time mix up and waited very patiently for me to get there. They all went above and beyond helping us from beginning to end. I hope that somehow there is a way... Read More for management to pass along our thanks for their hard work making this event much easier!
---
Reviewed on

7/29/2016
Sarah I
Wonderful warehouse with amazing selections! Loved going to the warehouse and picking out our wedding decor. The farmtable was gorgeous and so were our china dessert plates. Thank you!
---
Reviewed on

3/11/2016
McKenna S
BOOK THEM! You won't regret it! They made my vision come true and were so easy to work with! They will invite you out to the warehouse to see all the items first hand before you pick them! They did an exceptional job and I cannot thank the team enough!!!
---
Reviewed on

11/21/2015
Sara M
They are the best!
---
Reviewed on

11/16/2015
Jessica B
We used the myrtle beach location for our wedding as we were getting married in Murrells Inlet, SC. Malissa and Joe were outstanding! They sit down with you and go thru every single item. Since I was planning a wedding in SC but live in NJ they made it extremely easy for me... Read More to understand everything. Joe even went out to our venue and flagged off the tent layout so we could visually see how big the space would be. We rented our tent, chairs, chargers and linens from them. I highly recommend them for any of your wedding needs.
---
Rental
Reviewed on

11/12/2015
Jaclyn F
We had some issues but the company worked with me to resolve them
---
Great rentals
Reviewed on

11/12/2015
Betsy R
Helpful throughout the whole process. Had to make a couple of trips to the show room which was fine to make all the selections.
---
Great Vendor, Easy to Work With and Great Products
Reviewed on

9/29/2015
Sarah R
We used Event Works for our chairs, and they were both on-time and professional. The chairs were exactly what we wanted, and contacting the company about questions and changes was a breeze. We would definitely recommend.
---
Great for an Event
Reviewed on

7/16/2015
Colleen P
Eventworks was great, I made a number of changes and they did a great job. They were timely and worked well with my venue. My only downside is that they were a bit pricey, otherwise I highly recommend.
---
Reviewed on

5/12/2015
Georgia B
Eventworks was great to work with. They delivered everything perfectly day-of and handled the set-up and take-down. In the months leading up to the wedding, they were very professional and responsive with contract details. Eventworks was also flexible in the weeks/days... Read More leading up to the event and handled the changes we had with ease. We were very happy with how things turned out on our wedding day!
---
Awesome Service and Rental Options
Reviewed on

3/04/2015
Joseph C
We had an amazing experience with EventWorks. They were very helpful throughout the whole process and provided great customer service. They have a wide variety of beautiful rental options! I would highly recommend them to anyone!
---
Great value, wide selection, and fast responses
Reviewed on

10/03/2014
Francesca S
I used Event Works for the rental of all our furniture and a few other random things for our 210 person seated dinner at Hibernian Hall. Throughout the entire process they were incredibly quick to respond to any requests I made and would immediately send an updated contract with... Read More modifications for me to update in my files. This was so useful especially in the last two weeks as my numbers changed at least daily. I think there was one day about a week before the wedding when I changed our contract four times and they still got everything right and did not complain at all and made the changes within the hour. I really enjoyed going out to their warehouse in North Charleston to help me select linens and chivari chair colors. Their showroom has several tablescapes set up as examples and you can pull the different linens, chairs, and other rentals to build your table and see how it will look on the wedding day. I also appreciated the feedback from the employees working in the show room - honest but not pushy at all. I'm so happy with the way things turned out at our wedding. It was amazing to walk into the ballroom on our wedding day and see how they had perfectly executed my vision for the reception. Thank you for great service! I would most highly recommend this company.
---
average
Reviewed on

6/26/2014
Nicole C
This company overall was easy to work with and book for our event. However, they delivered the wrong color napkins to our event. They delivered gray instead of coral. Luckily, they blended in okay with the decor and nobody really noticed they were the wrong color. I was really... Read More disappointed because I had crafted fabric table runners to match the napkins. Despite this, the company did an excellent job of delivery, set-up and pick-up. After the wedding, they also sent us an invoice for several hundred dollars even though we had already paid them in full. When we called them, they had mixed up how many days our rentals were for. Their customer service worked it out for us but I felt like their organization could be better. I would probably not use them again given a better option.
---