Home

Exclusively Diamonds
About this Vendor
Southern Minnesota's Largest Fine Jeweler
Exclusively Diamonds provides a legendary bridal experience with an incredible selection of loose diamonds and designer engagement rings. State-of-the-art diamond scanning technology and in-store jewelry repair make Exclusively Diamonds your only destination for the perfect engagement ring.
Details
Bracelets, Earrings, Necklaces, Rings, Watches, Wedding Jewelry, Fashion, Engagement Rings, Appraisals, Custom Designs, Engraving, Financing Available, Jewelry Cleaning, Ring Sizing, Ring Services, Wedding Rings




Contact Info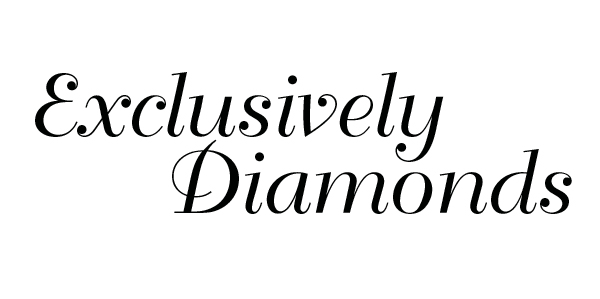 Reviewed on

1/23/2017
Katie J
Exclusively Diamonds were always wonderful to work with! They helped us every step of the way. My engagement is perfect and everything I ever wanted. The went above and beyond to make sure we had a great experience.
---
Highly Recommended!
Reviewed on

3/17/2015
Sarah S
Exclusively Diamonds has been so helpful in assisting me to find the perfect wedding band to match my engagement ring. The set looks beautiful! They were sure to follow up with information promptly and find a payment strategy that worked best for me. I greatly appreciate their... Read More quality of care in keeping my ring looking it's best with complimentary cleanings too. Friendly, accommodating service that considers your best interest!
---
Worth the Drive!!
Reviewed on

11/23/2012
Amber S
Our shopping experiences with Exclusively Diamonds have been incredible. My husband and I had looked at rings for the fun of it while both attending college in Mankato. Upon graduation, we moved 2 hours away yet my husband still went back to Exclusively Diamonds based on there... Read More great customer service and the quality of their products. In addition to my engagement ring, we also bought my husband's wedding band, a Pandora bracelet, Pandora charms, and most recently a surprise set of diamond earrings for our one year anniversary. We have developed a great relationship with Liz, who continues to make us feel like we are more than "just another customer" and will continue to go back despite the travel distance.
---
Reviewed on

10/29/2017
Anastacia W
I wouldn't go to any other Jeweler. The staff at Exclusively is tremendously helpful, friendly, and knowledgeable! My fiancé and I are extremely happy, thank you!!
---
Reviewed on

8/24/2017
Katie M
Exclusively Diamonds was AMAZING to work with! Right from first time we walked in the door Jen treated us like a friendly neighbor, never did we feel pressured it was a very relaxed purchasing experience. The engagement ring from Exclusively Diamonds was fantastic. We will... Read More be back again! Thanks Alex & Katie
---
Reviewed on

5/30/2017
Brittany B
Maria helped my fiance and I find the perfect engagement ring and wedding bands. She always welcomed us with a smile and answered all our questions. Exclusively Diamonds has a beautiful selection and genuine service!
---
Reviewed on

5/07/2017
Excellent quality and service. I give this store my highest recommendation.
---
Reviewed on

4/07/2017
Staci B
Exclusively has the best selection of unique wedding bands, and everyone there has been so helpful! Carrie has been so accommodating and knowledgeable while trying to choose our bands! We've had many questions and she's always come back with an answer! We couldn't do it... Read More without her! Thank you for helping to make this such a great experience for us! :)
---
Reviewed on

3/11/2017
Leah R
The team at Exclusively Diamonds is remarkable to work with. Their service makes you feel like they are family and not just another customer. They have helped us with our engagement ring and wedding bands.
---
Reviewed on

3/04/2017
Morgan S
We were impressed and extremely satisfied with the level of service that Exclusively Diamonds provided to us (Jared) while purchasing the engagement ring. Maria was a joy to work with and made it very easy to pick the diamond and ring of choice for us. We would recommend... Read More Exclusively Diamonds 10/10 times.
---
Reviewed on

1/19/2017
Brittany O
My fiancé and I had a fabulous experience at Exclusively Diamonds. The professionals at Exclusively Diamonds were extremely helpful and patient as I showed them many ideas and photos to find my perfect wedding band. They kept coming up with ideas, offering suggestions, and... Read More ultimately helped me find the perfect wedding band to match my engagement ring. I would highly recommend Exclusively Diamonds for those looking for a high quality, personalized and trustworthy shopping experience.
---
Reviewed on

11/17/2016
Lisa B
My fiance and I lovedworking with Exclusively Diamonds. They are always so helpful and answered all of our questions. They are so great!
---
Reviewed on

10/29/2016
Parker
I loved working with everyone at exclusively diamonds! The staff were so friendly and knowledgeable! Picking out my finances engagement ring was the largest purchase I had made this far, but the staff made it easy and fun!
---
Reviewed on

10/12/2016
Nicole G
I have loved working Exclusively Diamonds! They were wonderful in assisting my fiancé in finding a beautiful engagement ring, and they have been wonderful in helping me to resize, learn how to care for my ring and help with any maintenance needed! The associates are so... Read More wonderful, knowledgable and friendly and we are so excited to go back to do our wedding bands!
---
Reviewed on

8/01/2016
Exclusively Diamonds is the absolute best place to purchase an engagement ring! Having taken a secret trip from Milwaukee to Minnesota to surprise my future in-laws and ask for permission to marry their daughter, I knew I wanted to go ring shopping with my future mother-in-law.... Read More After asking her if she knew of any places to purchase a ring, she raved about Exclusively Diamonds and could not have been more correct! Exclusively Diamonds and all of the staff did an amazing job in crafting a gorgeous engagement ring for my fiancé! The staff is incredibly helpful and informative, and they make purchasing such a monumental item incredibly fun and enjoyable. If you live near Mankato, I highly recommend Exclusively Diamonds. Thanks so much!
---
Reviewed on

6/21/2016
Cori M
My fiance knew that Exclusively Diamonds was my absolutely favorite jewelry store in Mankato! When he proposed and I found out where my ring was from I couldn't have been more excited! Carol Brady has been SO wonderful to us during our engagement and we just went in to choose... Read More our wedding bands with her. She treats us like family and we wouldn't choose anywhere else!
---
Reviewed on

5/31/2016
Matthew S
When my fiancé popped the question and opened the ring box, I was breathless! He went to Exclusively Diamonds to purchase my engagement ring and I couldn't have picked out a more beautiful ring myself. He said the staff there was helpful, patient, and honest with him while... Read More deciding on what to buy. He and I have both been there to look at wedding bands since the proposal. The staff insists on ordering exactly which wedding band you want (in your size) to ensure you are happy with the item you were interested in and the band is everything you expect (with no obligation to purchase). I am in love with my ring and very pleased with the experience they have given us. Highly recommend!
---
Reviewed on

4/11/2016
Ann W
We shopped at Exclusively Diamonds over the weekend to choose our wedding bands. Patty, our sales associate, was able to provide us with exactly what we were looking for. As always, we had a wonderful experience there and will certainly continue to use them for all our... Read More jewelry needs.
---
Reviewed on

4/01/2016
Zephanie S
I have loved working with all the staff at Exclusively Diamonds since they helped my fiance pick out the perfect ring! They are very professional. You simply cannot go wrong with Exclusively Diamonds!
---
Reviewed on

4/01/2016
Exclusively Diamonds helpful and friendly staff help me pick out the perfect engagement ring! Highest quality products and service. A++.
---
Reviewed on

3/08/2016
Brianna W
I had a great experience buying my fiancée's engagement ring at Exclusively! I went into the process of purchasing her ring without any prior jewelry buying experience. I felt much more comfortable working with the staff at Exclusively than I did working with the other stores I... Read More visited. They were able to educate me on my options and guide me through the process. My fiancée loved the ring I picked out! I was glad I chose Exclusively and was able to find a beautiful personalized ring for her!
---
Reviewed on

1/02/2016
Brittany M
Clinton made it a really special experience for our special day. For all of my future diamond purchases we will be going to Exclusively Diamond to work with Clinton. I can't say enough good things about Clinton or Exclusively Diamonds Thank you for everything!
---
Reviewed on

12/01/2015
Jordan H
My fiancé and I have had the most amazing experience at Exclusively Diamonds! Most of the other jewelers we went to made us feel pressured and uncomfortable. I can honestly say I couldn't have had a better experience here! We had so much fun trying on rings, and it was great to... Read More see unique pieces that you don't see at other jewelry stores. Shoutout to Clinton and Carol - they are amazing! They are so knowledgeable and helpful, and they made suggestions for us that I didn't even think were possible. Thank you so much!!! We love our rings!!
---
Reviewed on

11/16/2015
Service is great! Employees are so helpful and friendly. Would recommend to anyone! They helped my fiancé pick out the perfect ring!
---
Perfect Jewelry and Hometown Service
Reviewed on

11/07/2015
Chandra B
My mother has used Exclusively Diamonds for all of her jewelry needs for as long as I can remember, and my first piece of nice jewelry came from there. It made sense for us to buy jewelry from a local store where the jewelers know your name. The service is friendly and welcoming... Read More and they will do everything they can to find the ring that is right for you. We had diamonds from his grandmother's ring and they were able to find a style that I liked and put things together nicely. We are beyond happy with our rings and would recommend them to anyone! You may spend a few dollars more buying at Exclusively Diamonds, but it is worth every penny. Free cleaning and check-ups and I love that if something needs to be fixed, it is being done right in store and not send off. If you are looking for THE best place in Mankato to get your wedding rings, go to Exclusively Diamonds, I promise you will not be disappointed. And, the complementary wine is a plus!
---