Home

Fantasy Bridal
About this Vendor
Serving Brides for Over 30 Years!
Fantasy Bridal will find your dream wedding dress from our 1000 gowns in stock.You will complete your look with veils, headpieces, jewelry, garters, bras & slips. Contemporary wedding gowns priced $599-$3000. Modest wedding dresses $550-2000. Expert, in-store alterations.
Details
Wedding Dresses, Dresses, Alterations, Bridal Stylists, Plus Size Available, Private Appointments Available, Fashion
Contact Info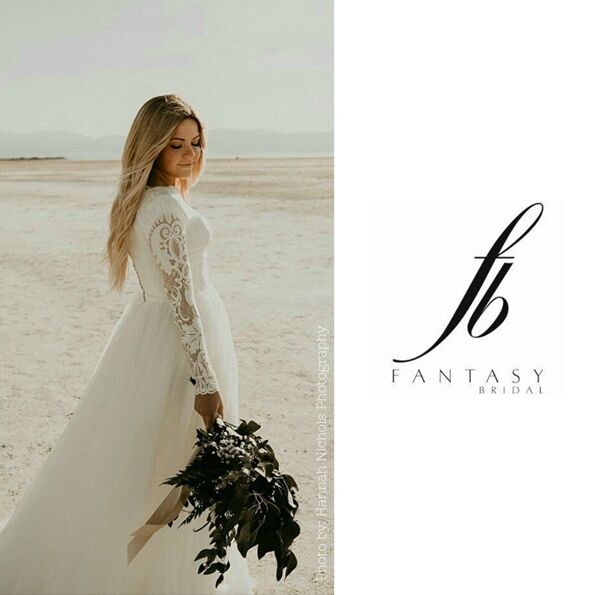 Reviewed on

11/16/2016
Haley D
I had an amazing experience at Fantasy Bridal! The staff helped me find my perfect dress after trying on 20+ dresses at other stores. Jessalyn really listened to figure out my vision. When we found my dress it was still a little plain for my liking. Instead of finding a new... Read More dress, she added accessories to make it more unique to me. I highly recommend this store to any bride!
---
Reviewed on

7/25/2016
Cathryn D
They made my dress shopping adventure so easy! They have a huge selection of dresses and they even have multiple staff members help find your perfect dress if needed. Their alterations department is also phenomenal! They took my dress and made it something completely different... Read More and even more beautiful. I would recommend them to everyone I know! It was by far the best experience I had at a bridal gown store out of all of the stores I went to. I was so happy I went back the second time and found my dream dress a year after my first visit.
---
Reviewed on

12/04/2015
Melanie H
I had the best experience at Fantasy Bridal. I was not expecting to find a dress on my budget, but I did!! Everyone there was really nice and the stylist that was helping me was not pushy and was really helpful. I told her my budget and she only showed my mom and I dresses that... Read More were in my budget. She let me pick out some dresses that I liked then, she picked some out for me to try on that she thought I would like. I would definitely recommend Fantasy Bridal.
---
Reviewed on

11/22/2017
April T
This was the second place that I went to try to find the perfect wedding dress. The first place taught me a lot, but I didn't feel very impressed as far as selection goes or the help that I received. Fantasy Bridal blew me away and the person I worked with was so nice and I felt... Read More like our personalities matched so well. Q and I just clicked! She's awesome. She asked me about what I liked and then she pulled out about five dresses. As I tried them on, she'd ask me what I liked and didn't like about each before I walked out to show my friends. This really helped me narrow down my choices. She'd then go back and find others that matched the style I was narrowing down to. Eventually, it just clicked and she pulled out about three dresses that were all perfect. I tried on one and I just knew it was the one! She helped me find the perfect belt to go with it, made sure everything was in my budget range, told me about payment options, and really made sure it worked for me. She even went as far as to give me some personal tips to help me get ready for the big day (which I really did appreciate). Thank you Q and Fantasy Bridal!
---
Reviewed on

11/11/2017
Paulina E
Great experience at Fantasy Bridal, i really recommend you to get your dress with them, Ashley was really sweet with me and helped me A LOT, and my dress arrived like 4 months early.
---
Reviewed on

10/30/2017
Kelly V
Fantasy Bridal is a great place to go dress shopping because they will stick to your budget, which in my experience did not always happen at other shops. They really want to cater to what you want and so they let you pick some ideas to start with and then they will build on that... Read More to help you find your perfect dress. I was very grateful to have an amazing consultant who remained positive even though I came with a bad attitude because I had just come from a bad experience at a different shop. The only thing I was disapointed in was that they told me when I originally bought my dress that if I bought a veil at that time they would give me a 20% off discount, but if I bought it when I came to pay for the rest of the dress and do alterations they would give me 10% off. When I came for alterations and decided to buy a veil at that time they refused to give me the 10% discount I was promised initially.
---
Reviewed on

10/28/2017
Liesel E
I just went this morning to look for a dress and the sales associates are all really nice. The one that helped me she was amazing. I showed her pictures of what I looking at and what I had tried on. She took all of that and had me try on some amazing dresses!!! It was fun to see... Read More what the other girls were trying on. It was like one big dress up party!!! In the end I found my dress there and came home with it. Along with some accessories to go with the dress!!!
---
Reviewed on

10/22/2017
Nicole L
Ashley was fantastic! She was very effective at finding out what styles I liked and not wasting time on other ones. She stayed within my price range, gave great suggestions and advice, and made me feel like she really cared that I had my dream dress. They have tons of options,... Read More and especially since I was looking for modest dresses, this was the place to go!
---
Reviewed on

10/14/2017
Sarah J
Ashley did an awesome job making sure I was able to find the dress I knew was it! It took a minute to find it, but she was great in helping narrow down to be able to find the perfect one.
---
Reviewed on

10/06/2017
Kelcie D
I absolutely loved getting my dress here! Everyone on the staff was great and very helpful! I felt like they truly cared about me and wanted what was best for me. Multiplied employees, including the owner were pulling dresses for me to try on I went a couple days and not one... Read More person was rude. The dresses are beautiful and in wonderful shape. I went to others stores and their dresses were not nearly as beautiful and in the amazing shape as they are here.
---
Reviewed on

10/03/2017
Katy S
They had so many temple ready dresses in my size. Ashley really cared about what I wanted and chose the perfect dresses for me. She listened and helped me with everything. Such amazing service.
---
Reviewed on

9/09/2017
Kenya S
I've been to a few bridal shops throughout Utah in hopes of finding my dream wedding dress but became discouraged. I decided to give Fantasy Bridal a try and it was the BEST decision I could made. Not only were their dresses to die for, the service was exceptional! Ashley helped... Read More me find my dream dress today and she was such a sweetheart. From the time I walked through the door she greeted me and made me feel at home. She helped me stay within my budget but also gave me exactly what I hoped for. Their prices are competitive and I would highly recommend them. Thanks Fantasy Bridal!
---
Reviewed on

8/29/2017
Marissa F
So amazing! Got my dream dress and the service was amazing!
---
Reviewed on

8/28/2017
Meg was so helpful! I found the dress of my dreams!!!!!
---
Reviewed on

8/28/2017
Kendra L
I had a few hiccups with my dress fitting and alterations, but they did everything possible to address any of my concerns. My dress fit beautifully and they didn't stop until I was 100% satisfied!
---
Reviewed on

8/27/2017
Samantha G
I was absolutely dreading finding a wedding dress. I went into Fantasy Bridal expecting to come out disheartened but Ashley was absolutely incredible! She helped me find my dream dress. Best experience ever!
---
Reviewed on

8/20/2017
Miranda P
I loved my experience here! My consultant Meg was the best ever! She was so sweet and so into making everyone happy. I went in there with my dream dress from a picture, I ended up not with it and felt so discouraged. She pulled the PERFECT gown for me and I couldn't have even... Read More pictured myself in it. I was so excited to get it that day and there dresses are so reasonably priced I love it! Thank you so much Fantasy Bridal for making my dress experience fantastic!!!!!
---
Reviewed on

8/15/2017
Hanna H
The service was amazing! I tried on 10 dresses and took up my full 90 minutes but ended up getting the first dress I tried on. I felt awful but there wasn't a single huff or puff from the consultant (Ashley?) She was awesome. Really listened and helped me find the dress that... Read More really fit my personality. THANK YOU!
---
Reviewed on

8/14/2017
Emma G
Fantasy Bridal was the first and only shop I visited to find my wedding dress. They were so helpful from start to finish! I felt like they genuinely wanted me to feel beautiful and love my dress, which I do!
---
Reviewed on

8/11/2017
Ashley S
I had a fantastic experience with Fantasy Bridal! They had a beautiful selection of dresses, many of them modest. Ashley helped me try on dresses, and her customer service was outstanding--I even got a thank you card in the mail from her! I found the dress I loved there for... Read More cheaper than at other places, and the overall experience was so much better. I highly recommend them.
---
Reviewed on

8/06/2017
Karina L
everyone was so helpful, courteous and especially nice. loved the staff can't say enough about them and their amazing generosity
---
Reviewed on

8/03/2017
Alison O
Fantasy Bridal has the best selection of dresses I saw! Alitzah did an amazing job picking dresses based on the style I was thinking of, and also other fits that were gorgeous when I didn't expect it. She and the staff were so patient with me and helped me find THE DRESS!
---
Reviewed on

7/23/2017
Chantel M
Fantasy Bridal has so many different selections, great prices, and the entire staff are so cute and happy to help you find your perfect gown! I was not disappointed by the variety of dresses they had. I even was able to find THE DRESS! They even provide free pressing and... Read More detailing before taking your dress home. I am so excited to wear my dress for my special day!
---
Reviewed on

7/15/2017
Kandice R
The best dress shopping experience I have ever had, they were so kind and stood by my side the whole time until I found my dress! Such amazing ladies who truly want to help you find the dress of your dreams!
---
Reviewed on

7/01/2017
Kylie S
I had a wonderful experience at Fantasy Bridal! My wishes and budget were treated with respect. I was able to try on as many dresses I wanted without feeling like I was being rushed to make a decision by my consultant. She did an amazing job making me feel beautiful in all the... Read More dresses without trying to force me to buy them.
---