Home

Fat Cat Flowers
About this Vendor
A Fresh Wedding Experience
Fat Cat Flowers promotes a modern aesthetic, personal attention, and a passion for the natural sophistication of flowers and plants. A boutique florist, we offer discerning clients inventive living works of art. Our specialty is masterfully planning and executing your most imaginative wedding vision
Details
Aisle Decorations, Centerpieces, Pedestals, Vases, Wedding Arch, Decorations + Accents, Bouquet Wraps, Bouquets, Boutonnieres, Flower Delivery + Setup, Flower Arrangements
Contact Info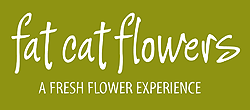 3914 Howard Ave, New Orleans, LA
Best Florist Ever!
Reviewed on

4/22/2014
Lauren C
I can't say enough good things about Fat Cat Flowers and Diane. Right from the beginning Diane was as sweet as can be, and understood exactly what I wanted - which I'm sure I didn't articulate well! The weeks leading up to the wedding, Diane stayed in close touch with me, letting me know they were good on their side and if there was anything different or that I was concerned with I was more than welcome to let her know. The morning of the wedding my mother called her to ask for 2 additional boutonnieres and she made that happen so seamlessly! When she delivered the flowers to the hotel room I couldn't get over how perfect and beautiful they were! They were exactly what I wanted! The arrangements at our reception were just stunning, so fragrant and people just loved them! I highly recommend Fat Cat Flowers to any bride, and I plan to use her again in the future for other events!
---
Beautiful flowers
Reviewed on

2/07/2014
Natalie B
Diane and her team at Fat Cat flowers provided us with beautiful flowers at 3 different locations on our wedding day. They were professional, had great ideas, and created beautiful bouquets and arrangements. They had everything as expected, on time to each location including hotel, church, and reception venue. They provided us with a professional spreadsheet that outlined the costs which was extremely helpful. I would highly recommend Fat Cat Flowers to anyone.
---
Best Decision We Made!
Reviewed on

1/12/2014
Jackie R
Diane was the best decision we made for our destination wedding in New Orleans! She is so experienced and knew how to help us with so many things that weren't even flower related! It wasn't until I met her that I felt 100% comfortable with our decisions! She even came to our suite personally to check in with me and deliver our flowers. Her presence is just calming itself so you feel at ease with her service! She went above and beyond to even put batteries in our lantern candles for the ceremony without charging extra! The floral arrangements were beautiful and very large! I was incredibly surprised by her fees as we definitely received way more than we paid for! You will be very happy with her service and talent!
---
Reviewed on

7/17/2015
Shanti H
I'm not a bride who knows much about flowers and I had no clue about what I wanted my flowers to look like. Enter Diane with Fat Cat. She was so great at working with me to figure out what palette and flower type would work with my wedding colors, pinterest board and budget. She really made it a stress free decision for me and when I saw the arrangements on the wedding day, I was stunned. I had a pretty low budget but what Diane created looked stunning and expensive. She even created beautiful floating flower arrangements with lanterns for the pool--everyone raved about them. I really recommend her especially if you want a florist who will listen and then create something beautiful and if you are a bride like me who is clueless about plants!
---
Amazing
Reviewed on

7/03/2015
Jessica H
My flowers were beautiful!! Worth every penny. Very friendly people and on time. Also, I wanted a lit aisle and they provided everything for me so it was very stress free!!
---
Reviewed on

6/01/2015
I can't say enough good things about Diane from FatCat Flowers. They were on the vendor list for Latrobes, which is where we had our wedding. She was so great to communicate with. She replied quickly and arranged phone meetings, as we don't live in New Orleans. She asked the perfect questions to be sure she understood what I wanted, which a lot of the time I don't think I totally knew what I wanted. haha! I think she sensed that and gave me the perfect suggestions without telling me what I should or shouldn't do. The most challenging decision was what should I do with the chuppah. There were sooo many options! Ahhh! Diane took our conversations and my pinterest and created the most perfect, romantic and magical chuppah. Actually the entire ceremony room, entry, and reception was magical!! Diane is an artist!! My bouquet was out of control beautiful! She really has a talent for taking what you want and creating something breathtaking! There are no words to describe how grateful I am that I went with FatCat Flowers. Diane gave me a magical wedding. I was blown away at what she did, as were my guests. It has been over a month since the wedding and guests are still talking about how beautiful it was. She placed all the candles in the perfect places and created atmosphere that I could not have visualized. The only minor hiccup was that the corsage for my grandma was forgotten, but by the time we got to the venue she brought it there so it was no big thang at all. Diane was always calm and kind. If you want a magical wedding, go with Diane at FatCat Flowers.
---
Amazing!
Reviewed on

4/30/2015
We live in New York and had a destination wedding in New Orleans. I ended up choosing fat cat flowers based on reviews. Diane was amazing from the start. She put all my worries about not being able to see the flowers before hand at ease. She was super helpful and down to earth. The day of the ceremony I was blown away when I saw the arraignments on the courtyard fountain and flower petals down the aisle. The bouquets were amazing as well! I couldn't have imagined anything more perfect. Thanks to fat cat flowers for making our wedding day beautiful!!
---
Dianne makes your vision come true!
Reviewed on

4/23/2015
Monica M
Fat Cat impressed my Mom and I from the moment we met Dianne! She relieves so much stress by going over in detail everything you need and making sure we got everything covered! Our flowers were simply gorgeous and exactly what I imagined them to be! She was so great to work with and very reasonably priced!
---
LOVE Diane
Reviewed on

2/05/2015
sophie g
I used Diane for my flowers and she was a pleasure to work with. She immediately knew what I wanted and did a wonderful job. The only reason I went with 4 stars instead of 5 is because she sort of added a lot of yellow flowers in my mix when I mostly wanted white and red. They still looked amazing though.
---
Fat Cat Wedding Flowers
Reviewed on

12/31/2014
Adrian M
(Bride writing under her husband's account) We used Fat Cat Flowers in September of this year. From the start, I loved Fat Cat. I initially chose them based on their website. They use photos from their real weddings and events instead of only sharing stock photos of ugly flower arrangements. With these photos, I could tell they could do anything from simple flowers, to exotic. I wanted a more low-key flower look, and was afraid that florists wouldn't want to do this. I was especially nervous because I was an out of town bride. But after sending Marilyn photos of what I wanted and talking with her on the phone twice, I was confident I would get what I envisioned. From the bouquets to the centerpieces, everything was perfect. The only hitch was that I ordered 10 flowers for the hair and only received 3 pieces. It wasn't a deal breaker by any means. I would definitely recommend them for any wedding. Did I mention that the flowers were beautiful PLUS reasonably priced?!
---
OK but with mistakes
Reviewed on

12/28/2014
Rachael K
Fat Cat's owner Diane was incredibly nice, organized and helpful. The delivery and pick up for both the rehearsal and wedding were great. She used the right color flowers we had discussed but used the wrong flowers themselves. I was really disappointed to see that flowers we had never discussed (large bright pink lilies which look cheap in my opinion) were used throughout my wedding arrangements and my chuppah (for Jewish ceremony). We had discussed using peonies, hydrangea, calla lilies and roses... but everything was mixed in with these big grocery store looking pink lilies I definitely do not like. And there were no peonies in sight. Also I sent her a picture of what I wanted for my chuppah and what was ultimately done looked NOTHING like the one I had asked for. I actually was really really disappointed in the chuppah but by the time I saw it only 30 min before the ceremony and during our pictures there was nothing really to do about it. In hindsight I wish I had done a follow up meeting with her and a full review of everything prior to the event - rather than just emailing with her about the numbers and dropping off a check.
---
PERFECTION
Reviewed on

10/23/2014
Megan W
Diane made my vision come to life. I was a destination wedding and couldn't meet face to face with any vendors. I sent her what I liked on pinterest and she perfected everything. Diane used the lace from my Mom's wedding dress as the handle covering (not sure the correct word) to my bouquet. It was gorgeous. The flowers were stunning. We used all black magic roses and WOW. It did break my heart leaving all of those beautiful flowers in NOLA the following day.
---
Fantastic Custom Service for an out of town bride
Reviewed on

10/21/2014
Mariella C
Diane did a wonderful job with my wedding. The babies breath wreath she did for the fountain in my courtyard stayed up there almost a week following the wedding because it was so beautiful and well made. The arch she created was the perfect blend of colors I wanted, and she incorporated into it some paper crafts I made myself that made it look all seamless and beautiful. The personal flowers were beautiful, and the centerpieces of floating flowers were amazing and exactly what I wanted. Book her early because she is the best in NOLA!
---
Fat Cat Creativity
Reviewed on

10/18/2014
Christy Chapin E
Diane and team at Fat Cat showed incredible creativity and brought my vision to life - and even better than I imagined. She was wonderful to work with throughout the entire planning process. All the flowers had a thread of continuity, which Diane ran through all the design because I didn't want anything to look the same. It was beautiful and they did an incredible job. We are so happy to have worked with Fat Cat Flowers and Diane!
---
Great, Personal Service
Reviewed on

7/21/2014
Lauren
Diane was wonderful. She took my ideas and turned them into beautiful bouquets. I wasn't even sure what my accent colors were going to be, but her creativity and vision produced beautiful products! She was wonderful to work with, sweet as can be. She even provided several options for flowers to put in my hair at the last minute! She delivered everything herself the day of the wedding, and everything was perfect. The corsages and boutonnieres were all labeled and ready to go. She wrapped my rosary around my bouquet while she was there. I couldn't have asked for anything better!
---
Diane
Reviewed on

6/24/2014
Jana R
I would 100% recommend Fat Cat Flowers any day! She worked wonders for my wedding! I am a bit of a control freak so I was extremely worried about some of my vendors. Fat Cat was not one that I ever had to worry about! She worked some serious magic with my budget and my flowers were better than I could have ever dreamed! Diane is an amazing artist when it comes to arranging flowers.
---
Beautiful Flowers
Reviewed on

6/18/2014
Kristen J
Diane and her team are awesome. I provided an inspiration photo, and she put together gorgeous arrangements and bouquets all within my budget. She outlines every detail during the beginning stages, and does not forget a thing! Diane delivered the flowers personally to my hotel room along with the church and reception venue. When she says that she will call you before you will think to call her, she means it. There didn't need to be a confirmation call, because she did it for me. I would highly recommend Fat Cat Flowers to anyone.
---
Bride
Reviewed on

5/26/2014
Kelly M
Diane was so easy to work with! I didn't know too much about flowers and she gave me plenty of ideas and arrangements to choose from. I was so pleased with my bouquets and all of our arrangements!
---
LOVELY FLOWERS
Reviewed on

4/03/2014
Deborah L
The flowers for my daughter's wedding were lovely. Diane was personable and easy to work with. Diane is relaxed and not pushy. She listens to what you want and then executes beautifully.
---
Beautiful!
Reviewed on

3/24/2014
Ashley S
My flowers were exquisite. I wouldn't have changed a thing. They looked just like I asked them to make them. Love this florist!!!!
---
Highly Recommended!
Reviewed on

11/20/2013
Kristi H
I got married in the French Quarter on November 16th. I cannot say enough wonderful things about Diane and Fat Cat Flowers! I could write a dissertation on how wonderful they were. Accommodating, easy to work with, attentive, artistic.....and they have an eye for being able to fulfill the desires of those of us who are NOT experts in this field. I met with Diane, told her a little about our wedding, sent her my Pintrest board, gave her our budget, and told her to just "make it happen." I couldn't have been MORE PLEASED with the beautiful, classy, and incredible flowers and decor that they provided for our wedding. Shortly after I met with Diane for the first time, we experienced a profound tragedy: My 22 year old daughter suddenly and unexpectedly passed away.....Kaycee died on July 10, 2013 and our wedding was scheduled for November 16. Ultimately, we decided that Kaycee would not want us to put off the wedding. I told Diane to just "do what she does" and make it happen....I just wanted to show up and get married. Fat Cat Flowers work exceeded my expectations. She worked flawlessly with my wedding coordinator, to ensure that we had a perfect, beautiful, carefree wedding I can't say enough wonderful things about Diane and Fat Cat Florists. I HIGHLY recommend them and am so glad that I was fortunate enough to have Diane and her company help to make our wedding PERFECT!
---
Fat Cat Flowers is the best!
Reviewed on

10/30/2013
Angela C
I cannot speak highly enough of Fat Cat Flowers and of its owner, Diane. She is a lovely person and a gifted artist. She listened to what we wanted, was respectful of our budget, and far exceeded our expectations. The bouquets and centerpieces were stunning and photographed beautifully. I still remember seeing my bouquet and tearing up at how she made my dream a reality. You'll love working with her and be exceedingly pleased with the results.
---
Beautiful Flowers, but Disappointing
Reviewed on

10/09/2013
Loren B
I was an out-of-town bride who relied heavily on online reviews and phone interviews to select our vendors. Diane with Fat Cat seemed like a slam dunk, and she was very pleasant and easy to work with over the phone. I sent her 5-6 pictures of what we wanted for our ceremony flowers, and talked through the specifics on the phone - this was 1 year out when we booked our contract initially. Then we touched base again 1 month out and again 2 weeks out before the wedding, when she was actually ordering the flowers. All three times we discussed the specifics of the ceremony flowers and she asked me to hold while she pulled up my photos. For these reasons, I wasn't worried at all about the flowers from our long list of items to coordinate that weekend. Which is why I was incredibly disappointed when she delivered the flowers to our hotel room - my bouquet was solid white :( I didn't want solid white. The invoice, the phone conversations, and the photos showed Vermeer Calla Lilies with deep purple throats as well as silver Dusty Miller...neither of which were in my bouquet. At first I thought it was just a "dummy" bouquet for our photos beforehand, in case it got messed up. But it wasn't. One more disappointment was in the bridesmaids bouquets. I wanted them all to be different (but still coordinate), so that the girls could pick their favorite to go with their style and personality. They were wearing different bridesmaid dresses as well, all in the same shade of charcoal gray. On the phone, Diane even complimented this idea from the photo I sent and said, "I love when they are all different." But unfortunately, the bridesmaids bouquets were all exactly the same. I really hate to write this slightly negative review, because I enjoyed working with Diane. And the flowers were very nice quality, fresh, and bright. They arrived on time, and the coordination was great. The guy's bouts and nosegays were beautiful and turned out like we had discussed. I wish it had been reversed, because all of my pictures have me with a solid white bouquet that I hated carrying around. The bridesmaids didn't mind their flowers, of course they didn't know any better, but still. You spend a lot of money on something, and you communicate enough that you expect these things to be done correctly, especially for your wedding. The flowers and the rain which canceled our second line parade "grand finale", were my only two disappointments the entire wedding weekend.
---
AMAZING...HIGHLY RECOMMEND!
Reviewed on

9/19/2013
Erica L
Diane was absolutely amazing to work with. I would highly recommend Fat Cat to anyone planning a wedding. Diane, listens to exactly what you want...she exceeded my expectations. Everything was BEAUTIFUL...I had compliments all night long on her work...I can't thank them enough.
---
Beautiful contemporary bouquets, easy to work with, and great results!
Reviewed on

9/18/2013
Allison T
We had our wedding Jan 2013, with Fat Cat providing all the florals for the event (Bridal party bouquets and boutonnieres/corsages). We live out of town, but it was easy to coordinate with Diane over the phone/e-mail. We provided pictures of the types of bouquets and Diane worked with us on selecting the appropriate seasonal flowers in the style we liked. Day of, Fat Cat coordinated directly with our venue to deliver the florals. The bouquets were contemporary, fresh and beautiful. Happy with the results - highly recommend!
---
Send Message