Home

Fireside Catering
About this Vendor
From our farm to your wedding table
Fireisde Catering is the leader in the growing farm-to-fork movement in Massachusetts. We source from our own 100-acre Gibbet Hill Farm in Groton, MA, as well as from numerous other farm partners across the state. We also design our menus according to what is locally available at each season.
Details
American, French, Italian, Latin American, Fusion
Gluten Free, Vegan, Vegetarian
Buffet, Passed Appetizers, Servers, Food + Catering
Contact Info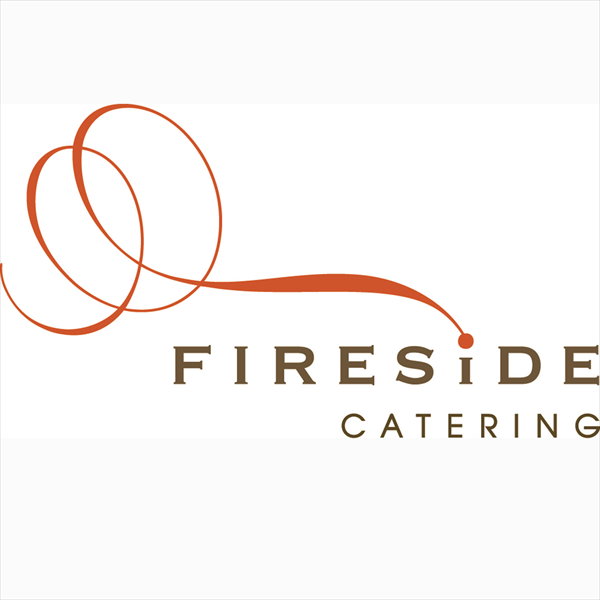 211 Middlesex Turnpike, Burlington, MA
Reviewed on

5/31/2015
Kit N
I am not a perfectionist but I wanted to throw a perfect event. Like most brides, I've never planned something like this before and had no idea how to go about it. Enter Fireside. Fireside just completed our wedding and I cannot say enough good things about them. Food quality was of utmost importance and they delivered. They helped us plan our menu and had excellent options for our gluten-free and vegan guests (the vegan samosas were especially loved by everyone!) the staff was phenomenal. They dealt very gracefully with our baby and child friendly guest list (the poor guys passing the appetizers were swarmed by children at times.) They helped with every aspect of the party and made my life so easy during the breakdown, helping us carry things to cars and recovering lost items. My guests commented about how great the staff was during and after the event - no one seemed like they were there just to collect a paycheck. they all behaved like they were happy to be there at our party and just wanted to make sure our every need was met. We couldn't have pulled off our wedding without Maura's assistance. She asked all the right questions and helped us prepare for all occasions. We just couldn't be happier!
---
Absolutely Amazing!
Reviewed on

11/26/2014
Jessica G
Working with Fireside at the Fruitlands Museum was an amazing experience. Tim, our wedding coordinator there took care of everything. He was amazingly accommodating and worked with us to perfect every last detail of our wedding. He was so easy to work with an really made the experience so amazing. The food itself was INCREDIBLE. All of our guests raved about it. Cocktail hour, dinner, gelato and cider donuts, it was all wonderful. Working with Tim to create the perfect menu was a breeze and he was great about giving suggestions and taking our requests into account. I would not hesitate to recommend Fireside Catering to anyone looking for unique, amazing, local food for their wedding.
---
We are foodies, and Fireside gets it.
Reviewed on

9/28/2014
Jonathan A
Fireside has phenomenal quality food, great value, and excellent service. We had guest tell us it was the best food they had ever had at any wedding and they keep telling us how awesome the hors d'oeuvres were almost a month later. Their portions are huge too! Maura was awesome to work with. She was always accessible for our questions and willing to track down things like cheese from a local artisan for our antipasto. I want them to make me dinner every night. Food was very important to us and they did not disappoint.
---
Amazing food!
Reviewed on

9/14/2014
Catharine S
The food was delicious! We loved that it was all seasonal, local food! Everyone kept raving about how much they loved the food! The staff was helpful and friendly. We loved it!
---
Simply outstanding !
Reviewed on

9/08/2014
Stephanie
My husband and I went with Fireside Catering because they were contracted with our venue LaBelle Winery to provide the food for our special day. They are "farm to fork" and not cheap, but so so worth the money. Typically, food selection is the most critiqued at weddings and our guests are still raving about the food! We could not have been happier with all of the food served from cocktail hour 'til dinner. We worked with Amy Hudon and I cannot say enough about her! I simply love her! She feels more like a friend now than just someone we did wedding business with. I feel like I'm having email withdrawals! She was so friendly, kind, polite, accommodating and just a pleasure to work with! She made the wedding planning process so much easier on me and was so helpful with all areas of planning vs. just the food. She is a tremendous asset to this company and they should seriously give her a raise.. she deserves it! You will not regret going with Fireside- they are incredible!
---
Fantastic Food & Impeccable, Unobtrusive Service
Reviewed on

8/06/2014
Catherine H
We were married at Fruitlands Museum in Harvard, MA, on July 4, 2014. Tim Holmes was a thorough professional throughout the planning process. He was always punctual, informative, flexible, and genuinely interested in making our day special. Moe and the rest of the Fireside Catering staff were equally professional. The staff was all smiles and blended unobtrusively into our gathering of friends and family, and the food was fantastic. From start to finish, our ceremony and reception were joyful and worry-free, and this is largely due to their experience and competence. The site is beautiful, and despite rain from Hurricane Arthur, Fruitlands was the perfect venue for our wedding. The views on Prospect Hill are stunning, and under the tent with the rain outside, it was intimate and romantic. We have no second thoughts about choosing Fruitlands and Fireside for our wedding, and we look forward to visiting them for future anniversaries.
---
Caterer
Reviewed on

7/08/2014
Amy G
The food is amazing. Most of it is grown locally on their farm. They are very willing to accommodate everyone's dietary restrictions. Jessica was great to work with. She was very accessible to answer questions through email. The staff serving at the wedding was very efficient and made sure that we got to eat too. Would definitely recommend them.
---
Delicious, thoughtful, and attentive catering
Reviewed on

3/31/2014
Sarah H
My husband and I got married this past October at the Crane Estate in Ipswich, MA. The team at Fireside Catering (particularly Maura McCarthy) was amazing. My husband and I love cooking and eating and so the wedding food was one of the most important aspects of the celebration for us. We did a lot of research to find a caterer who would make use of the bounty of amazing local produce, meats, and cheeses, as well as providing excellent food. We worked poor Maura hard, really wanting to get the menu as good as it could be. All along, the team was open to our suggestions and engaged in the process, making great suggestions. In addition to our high maintenance desires for the meal, we had a lot of dietary restrictions and needs that had to be catered to for the meal. I, the bride, have a wheat allergy, several guests had nut allergies, and a number of individuals were vegan or vegetarian. Fireside Catering met all of our needs happily. Though there were a few minor miscommunications (more to do probably with our nit-picking than anything else), but these were quickly cleared up. The tasting experience was a dream, just as good as going to a nice restaurant for a meal. We had a large wedding and were totally mobbed by guests almost the whole time. I've often heard brides and grooms say they didn't get a bite of food all night - I can't sympathize even a little bit. The Fireside team dedicated a special waiter just to my husband and I, who followed my husband and I around all evening making sure we had plenty of food. She even fended off guests who tried to take something from our tray! They did a number of other things to make sure that we were well and fully fed. While the food, of course, wasn't as amazing as the tasting (where they were cooking just for two), it was the best wedding food we've ever tasted. We both HIGHLY recommend Fireside Catering.
---
Beautiful, seasonal, and delicious
Reviewed on

11/30/2013
Nicole F
Fireside catering was professional every steps of the way. The food was beautifully presented and people are still commenting how wonderfully delicious it was! Food was one of top 3 most important items and they hit it out of the park!
---
Delicous Food
Reviewed on

10/12/2013
Emily W
Our venue was contracted with Fireside, so we did not have to choose a caterer. We were able to have a "tasting" by having dinner at one of their restaurants and it was delicious. The food at the wedding was awesome. Almost all guests said it was the best food they have had at a wedding. We were able to choose from variety of options and everything turned out great!
---
Fantastic Wedding Caterer!
Reviewed on

10/07/2013
Alida J
Maura at Fireside was great to work with. She tailored the menu options to meet our preferences. They were able to be accomodating of all allergies at the wedding, including dairy and gluten, and were able to offer our vegetarian dinner option in vegan. The services was flawless, and the servers even tried to make sure that my wife and I were offered hors d'oeuvres while we completed our photo session. Everything was delicious, and we would absolutely choose them again.
---
Delicious!
Reviewed on

6/25/2013
Rachael K
Fireside catering was the exclusive caterer for our wedding venue (LaBelle Winery). All of the food that we selected was prepared perfectly and tasted delicious. All of the offerings were locally grown or organic, farm raised (this is why the higher price per head). Service at the reception was great and all staff members were professional.
---
My Love Affair with Fireside
Reviewed on

10/02/2012
Shaelyn D
We first were in contact with Fireside when we were shopping for reception venues and went to Moraine Farms. Unfortunately, Moraine was a little far from our ceremony location, but we really liked the folks we met with. The catering manager, Maura, contacted us a few days later and it was love at first email. As we left from our first in-person meeting with Maura, I said to my then fiance, "I don't even care if the food isn't good, I want to work with her." And then, when our car got stuck in the shop and we had to rent a Home Depot truck to get to our tasting (a few hours late), she was so understanding and provided us with some AMAZING food. AH-MAZE-ING. We were looking forward to our wedding not only for the obvious reasons, but also so that we could eat that steak hors d'oeuvre and butternut arancini and roasted chicken again. Not only was the food fantastic, but working with Maura was an absolute dream. Any question I had, she answered immediately, she took care of coordinating all our vendors, she even found, evaluated and rented us some port-o-johns to help alleviate some of the lines at the indoor bathrooms at our venue. It is rare that I meet someone who has higher standards and is more of a perfectionist than I, and Maura is that person. As a result, our reception went off without a hitch, everyone had an amazing time and there were very few plates left with food on them. The service was impeccable - everything was set up as I had requested, there was almost no lag time between tables being served dinner and the bar was never packed thanks to servers passing drinks as well as hors d'oeurves. I am in LOVE with Fireside and will use them for any and every event we host in the future and would recommend them to EVERYONE who is in need of a caterer. They are a first class, friendly, and hard-working team of professionals.
---
Simply Delicious
Reviewed on

8/03/2012
Melissa D
It has been a month since my wedding, and I still have people telling me how amazing the food was. Just mouthwatering. Not only was it amazing food, but they were fantastic to work with, very flexible. My husband is a bit of a foodie so he had some specific ideas; they met is expectations and then some.
---
Yummy yummy yummy!!!
Reviewed on

2/13/2012
Jane C
I can't say enough good things about Fireside Catering! Fireside was SO very good to us- they worked with us to create a perfect menu that was pleasing to all but reflective of our flavor theme. They helped us cut costs too by focusing on seasonally available ingredients and making savvy choices. And they were so easy to work with! Their staff were all so gracious and efficient, both before and after the wedding. This is the best, though- my guests are asking me for RECIPES for the food that was served at the wedding. Who asks for the recipes for wedding food?? So many of the dishes that were served were simply to die for! We are such a foodie couple so it brought us great joy to see the looks of delight on our guests faces as they devoured the meal we'd so carefully chosen for them. I think too often when brides are planning their wedding, they think too much about the dress and the overall look of the space (both important, of course) and less about the GUEST experience. If you want your guests to be happy and think it was 'the best wedding ever' make sure you put at least as much thought and effort into your food as you did into coordinating your wedding party attire! If you want a vendor that can help you do just that and BLOW your guests' minds with their delicious flavors, look no further than Fireside!
---
Amazing Food, Service and Quality
Reviewed on

12/16/2011
Sarah R H
I have nothing but great things to say about Fireside Catering. What really sold me about their business was using fresh food from their farm and using local foods as much as possible. I was looking for reviews out on the web for them but couldn't find anything so I went with my gut instinct. I am glad I did! Both Amy Hudon and the Chef worked with me to pick out the best menu to go with the overall look and feel for my wedding. They provided great suggestions and a variety of food that were crowd pleasers. All of my guests were talking about how amazing food was all night long. Food was very important to me when planning my wedding and this caterer exceeded my expectations. The execution during our cocktail hour and reception was amazing. The staff was professional and polite. The service was quick and efficient. They did a great job planning the logistics of our wedding and reception. Lasty, they had great presentation of the food. They used clean, simple, classic dishes but also had a unique element to them. The decorations for serving the food was spot on too. I highly recommend this caterer. You won't be disappointed!!
---
Fantastic caterer, but out of our budget.
Reviewed on

9/29/2011
Ashly T
We did a tasting at this caterer and had a fantastic experience. The staff was incredibly knowledgeable and friendly, and the food was fantastic. Unfortunately, they were slightly out of our budget, but based on this tasting, we would definitely recommend.
---
Outstanding!
Reviewed on

7/08/2011
Laurie M
I have to begin with Anne, she was so wonderful! She was so helpful, friendly and a life saver at times...she also was great for brainstorming ideas on decor and for helping me with the little details. She was more than our event manager, she was more like our wedding coordinator. The food was amazing! We are big foodies, so food was important to us and they hit the ball out of the park! Our guests are still talking about the food - they loved the salad (the one with the brie), the beef tenderloin and the haddock, some of our guests were even looking for second helpings!! I cannot forget to mention, the crabcake appetizers that our guests were hunting down during the cocktail hour...last but not least, I can't hear enough about the milk and cookies that came out at the end of the night, it was a nice little surprise for our guests and they are still talking about it. We are so pleased as to how everything turned out, the service was professional and friendly, and everything came together so great that this important part of our planning was stress free and fantastic...the food made it a five star wedding by far!
---
Great and unique service offered, delicious food
Reviewed on

6/27/2011
Melissa G
The food was outstanding. We had very specific desires for local food, and the staff was friendly and accommodating throughout the process. It was not cheap, but I believe it was a good value for the quality of food and ingredients, as well as the knowledge and capability of the staff in using locally grown food.
---
The third star of the evening
Reviewed on

5/25/2011
Jo H
We decided that we wanted the food to be the third star of our wedding (besides the bride and myself) and Fireside came through. The appetizers were great: Possibly the biggest scallops wrapped in bacon ever. A goat cheese and onion tartlet that I could have popped a million of. A cute wedge of grilled cheese with tomato soup shooter, and a few others. Everyone raved about the salad, yes the salad. It had a hunk of brie in it. several people told us that the main course (Salmon with mango salsa or beef tenderloin) was the best wedding food they have ever had. We think that is because the philosophy of Fireside is to only use locally sourced, fresh ingredients. Combine that with a talented chef (The executive chef, Ethan, is not only skilled but also very passionate about food and cooking ) and great service.......and you have one happy couple. Our main contact, Anne, was great to work with. She always returned our calls quickly, worked with us to figure out the meal that we wanted, and was very knowledgable about all the little details. She was a catering manager and wedding co-ordinator all in one. If you go with Fireside, you will be very happy from start to finish and will be treating your guests to a wonderful meal.
---
Delicious
Reviewed on

11/03/2010
Kimberly P
Fireside Catering is affiliated with Gibbet Hill in Groton MA. The food was absolutely wonderfil. The only problem we had with them is that waitstaff kept clearing full drinks from the tables as people were dancing. Friends would come back to their tables and their drink would be gone. It drove up the open bar bill for us and frustrated out guests. Also had people sitting instead of dancing" guarding"thier drinks. The beef was amazing. The presentation was also quite nice. Some people complained that thier meals were cold ( very few)
---
Send Message