Home

flour! flowers & sweets
About this Vendor
Let flour! create your amazing flowers & sweets~
flour! has been dedicated to pleasing brides & grooms for over 20 years with amazing floral, decor & sweet treat design. With a focus on the finest quality florals & prompt customer service you are in good hands with Autumn & her team! Please read our glowing reviews.
Details
Flower Crowns, Aisle Decorations, Centerpieces, Flower Girl Baskets, Chuppah, Wedding Arch, Wedding Decoration Delivery, Wedding Decoration Setup, Decorations + Accents, Bouquet Wraps, Bouquets, Boutonnieres, Corsages, Flower Delivery + Setup, Flower Arrangements
Contact Info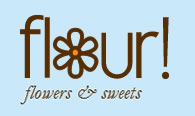 Flour! made our wedding day so easy
Reviewed on

10/12/2015
Katie C
Autumn with Flour! Events is truly one of a kind. We worked with Autumn for both our flowers and our cupcakes and cakes. Weddings are typically a stressful time, but finding a single vendor that can fulfill two of your major needs for a wedding makes life so much easier. I... Read More received nonstop compliments on both the cake and the flowers throughout the day. For our flowers, I submitted a picture that I had found on Pinterest to Autumn and she worked with my budget to create something that would work for me and was absolutely stunning. We had Autumn do not only the flowers for the bridal party but also the ceremony site. I had all of my guests asking to take the centerpieces home! Can't recommend Flour! more highly.
---
Reviewed on

4/27/2017
Kalen H
I can't say enough good things about Autumn at flour! She was accommodating, prompt, and terrific to work with. She took my dreams and made them a reality, the flowers were truly a masterpiece. Thank you Autumn!
---
Reviewed on

11/16/2016
Erin V
Autumn is absolutely incredible. Having her take care of the flowers and desserts for our wedding was one of the best decisions we made. I was working with a budget, and was discouraged by the minimums set by other florists I had reached out to. Autumn was super understanding... Read More and helped guide me in how to achieve the look I was going for without making too many sacrifices. For desserts, we had a small cake to cut at the reception along with an assortment of cupcakes that were all to die for. Throughout the planning process Autumn was easy to get in touch with and fun to work with. We communicated primarily through e-mail, and talked over the phone once when we got closer to the wedding day. When the flowers arrived, I was blown away by how gorgeous and unique they were. Everything she does is clearly made with love. She brought my vision to life even more beautifully than I had imagined it. Thank you Autumn!!
---
Reviewed on

10/24/2016
Jennifer K
Autumn was the best! She was so great to work with. We used her for both our flowers and cake. I could not recommend her more. She sat with me at the planning stage and brought great ideas and suggestions to the table for the floral arrangements. My guests all commented on how... Read More beautiful and lush they were. She was purely pleasant to work with and I would recommend her to anyone needing floral and bakery services in southern Maine.
---
Reviewed on

9/10/2016
Catherine M
Autumn is an incredible person to work with to plan a wedding. She is organized, creative, talented, kind, and helpful. We met in person to go over the vision for our floral arrangements, and she listened to what was said, but also offered her own great flair. From there, we... Read More exchanged emails as we finalized our plans, and she was quick to reply each and every time. Autumn offers more than just flowers--she offers help and advice. She even went out of our way to help us find enough of the right size Mason jars for our arrangements! I will never forget the moment I first saw the bouquets and boutonnieres when they were delivered on our wedding day (which, by the way, Autumn was generous enough to make two delivery stops!). They were PERFECT! Her talent is uncompromisable and I hope I can work with her again in the future.
---
Reviewed on

9/06/2016
Anna R
Autumn did an amazing job arranging the flowers AND baking the cake for our wedding in Portland. She was so lovely, so responsive, and even accommodated my request to provide additional flowers for the flower girls' hair the day before the wedding. People commented that it was... Read More the best wedding cake that they've ever had (and it was decorated so beautifully.) I highly recommend her because she is the BEST!
---
Reviewed on

8/08/2016
Lindsey K
Autumn did an amazing job on our wedding cakes! I have Celiac Disease and needed gluten free, but my husband (and majority of our guests) had regular cake. We both were able to choose a flavor of cake and icing to try. She made adorable cupcakes in our flavors to taste and we... Read More LOVED them instantly. Her prices were incredibly reasonable, she was more than accommodating, and the product spoke for itself. I received multiple unsolicited compliments on our cake and had a couple people say "I never have seconds for dessert but couldn't help myself with your cake!". Thank you Autumn!
---
Perfection!!
Reviewed on

10/29/2014
Jenna G
I can not say enough good things about Flour!. Our flowers were gorgeous and became such a focal point to our wedding and added so much to our pictures. Autumn was able to create the look of the bouquets that inspired me so perfectly. Autumn is so knowledgeable with flowers and... Read More was able to advise me about what flowers would work best for our wedding and on the colors as well while still creating the exact look that I was going for. I found that sometimes the pictures you look at in magazines/online are not always a good representation of how the colors will actually appear. Autumn was able to guide me through the whole process so that the color scheme would stay true to what i had envisioned and made this wedding task completely stress free! Flour! is definitely a perfect choice for your wedding and Autumn is such a pleasure to work with!!!
---
The Most Delicious Cake!
Reviewed on

10/02/2014
Kristen M
I am so happy we chose to go with flour! & Autumn to design and make our wedding cake. After tasting the samples, I knew it was perfect! We also had an additional challenge, as I needed one tier to be gluten free. She worked on her recipe, and the cake was delicious! The... Read More buttercream was AMAZING, just the way I think buttercream should be. Everyone at our wedding raved over how moist the cake was and how delicious the buttercream was. Our cake was beautiful, Autumn was so prompt in her communication, and most importantly, it was DELICIOUS! Highly recommend!
---
best vendor at our wedding
Reviewed on

10/16/2013
Katie O
Autumn was an absolute dream to work with. We got married in Boston and it was so easy to work with Autumn in Maine. She was very reasonably priced, super responsive on email, great ideas, can do a lot of different styles well....I just adored her! She was willing to get into... Read More the nitty gritties, but also happy to take things on herself so I wouldn't have to cope (coordinating with the onsite coordinator for arrival times - for example) She was one of my best friend's favorite vendors and then mine. Two super recommendations if you want to go with someone well-vetted! I'm not 100% positive how far south she'll go, but it was very easy to coordinate the Boston logistics. I'd recommend her wholeheartedly to anyone in the New England area.
---
AMAZING
Reviewed on

10/13/2013
Autumn was absolutely wonderful to work with. I had my flowers and cake done through her business. Our red velvet cupcake tower was both delicious to look at and eat (but I already knew that from our tasting) My bouquets came out better than I could ever imagine. She blew me... Read More away with her talent as a business woman and an artist. I would recommend her to EVERYONE.
---
A Dream Come True!
Reviewed on

10/07/2013
When my future husband and I were granted the privilege of getting married in my home state of Maine, believe me I wanted it to be special! Autumn and her team at flour! were able to make it special and a dream come true. One of the reasons we contacted flour was they were able... Read More to do not only our wedding flowers, but our cake and favors as well. We flew into Portland for a meeting and Autumn came to us, bringing samples of the cake flavors we were interested in, ribbon samples and she spent a couple of hours going over pictures, listening to our ideas and looking at the event space at the hotel where our ceremony and reception were to take place. When we parted we had settled on a cake, each layer a different homemade flavor, a multitude of flowers and even favors for our guests. We were in touch with Autumn in the months before our wedding and she had no problem with answering questions and making some changes before the date our final count was due. All I can say is when the day arrived flour! set the tone for a wedding that for so many years I could only dream about. The flowers, a mix of blue hydrangea and white roses with additions of other blue and white flowers, were spectacular and guests raved about them. The bouquet for our attendant, boutonnieres, corsages, centerpieces and ceremony arrangements were exactly as I had envisioned them! The favors, small cello bags of candy coated chocolate sea shells tied with ribbons and a note from us, were placed at each setting and brought the feel of Maine home. The wedding cake was spectacular with a layer of lemon with lemon curd, layer of chocolate with white chocolate buttercream and a final tier of vanilla with vanilla bean buttercream! It truly was as delicious as it was gorgeous! All I can say is if you want a truly professional team that will treat you like they have known you forever and make your wedding a Dream Come True, then look no further than flour!
---
Autumn is a pleasure to work with
Reviewed on

10/07/2013
Joyce C
I worked with Autumn for my flowers and cake. She did an amazing job, unlike other florist, she never pressure me to do more. She listened to me and worked with my budget. The cake not only looked good but also tasted good. I don't live in the state I got married so I mainly... Read More dealt with Autumn via email and phone calls, and that didn't take away the quality of service she provided. I highly recommend Flour!
---
Two in One!
Reviewed on

10/11/2011
Phoenix M
Autumn was phenomenal!! She worked with me to create the vision that I had for my special day. The flowers were amazing and the cupcake tower was by far the best I've seen - and I am not just saying that because it was mine. I also found the quality of both the baked goods and... Read More flowers to be exceptional :)
---
Flour! Review
Reviewed on

10/07/2011
Elizabeth G
I used Flour! in Wells, ME for my wedding and I am very happy that I did! Autumn, the florist, was very nice & easy to work with. I did not have a large budget to work with and she definitely made it go a long way. The moment I saw my flowers on my wedding day I was blown away &... Read More said "I didn't pay for these!" - meaning they were way more beautiful, full, and expensive looking than I would have expected for the price I paid (or any price for that matter). Overall, great experience, whether you have a lot or not a lot to spend!
---
AMAZING!
Reviewed on

8/16/2011
Jennifer L
Autumn is so enthusiast and helpful, and she is super organized and responsive during planning. The flowers came out absolutely GORGEOUS, we had so many comments on how gorgeous they were. She was perfect. I would HIGHLY recommend flour! to EVERYONE!
---
Wedding flowers
Reviewed on

8/27/2010
Kelly B
Autumn was great! Our flowers were absolutely gorgeous. She was so very helpful in every way. I would highly recommend Autumn.
---
Meet The Owner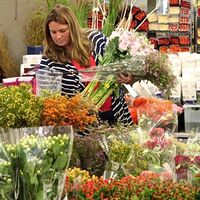 Autumn Poulin
Owner/Lead Designer Autumn continues to please with a natural talent for design and a great eye for bringing the beautiful colors and textures of flowers together to craft an unforgettable event. With over 20 years experience with a concentration in weddings and events Autumn is a true professional who cares about each and every client. "Getting to do what I love everyday is a dream come true! The decision to build the studio at home so I could be the best designer and mother I can be was a huge accomplishment and continues to be a major factor in the success of flour! I love starting every