Home

For The Bride
About this Vendor
Modern Sophistication for Today's Bride
For over 18 years, For the Bride has offered brides in South West Florida a true boutique experience. We pride oursleved in being able to exceed your expectations with out breathtaking gown selection and our down to earth, prodessional staff.
Details
Bridesmaid Dresses, Flower Girl Dresses, Mother of the Bride Dresses, Wedding Dresses, Alterations, Dry Cleaning + Preservation
Contact Info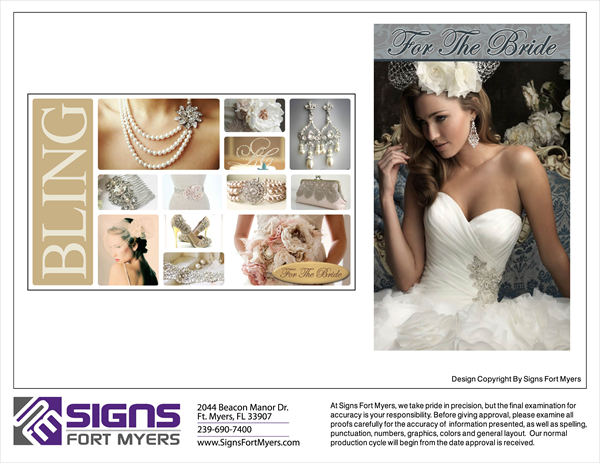 15200 S US Hwy 41 , Ft. Myers, FL
Plus Size Bride's Best experience ever!
Reviewed on

11/02/2012
Liz D
I had a wonderful experience at For The Bride! Wendy and her team were amazing! I am a plus size bride so it was really important to me to find the perfect dress which at first i didnt think i would find at a boutique. Boy, was i wrong!!! Her staff had a number of dresses for me to choose from so i didnt feel like i was settling for something that i didnt love just because it fit. It was amazing. They were timely, had alterations done well and they worked within my budget. I had the best experience and i was so happy with my dress and my experience!!! Thank you!!!
---
Going the Distance!
Reviewed on

5/29/2012
Ashley A
I found For the Bride because they sell Essence of Australia dresses and one in particular that no other shop carried. I made the 2.5hr drive to get to Wendy's shop and was not disappointed. I was met with joy and respect, something I was not shown at other, more local, shops. I felt immediately comfortable there and with Wendy. Every trip my mom and I took from East Coast FL to West Coast was a day adventure, but every mile put in was worth it because my dress was something amazing and it arrived as promised and in perfect condition. Each step of the way (fittings and such) I felt that same happiness radiating from the girls and they made me feel amazing each time I stepped through the door! Thanks Wendy!
---
Wendy = Wow
Reviewed on

9/21/2011
Katie P
This shop is the best!!! I had to do all my shopping by myself! And Wendy made me feel like I was her family. Her selection is great and she is more than helpful. The ONLY place to shop for a dress in SWFL!
---
Reviewed on

7/15/2015
Kate P
Wendy, owner of For the Bride, is an expert in bridal attire and accessories. After trying many, many dresses, I ended up choosing the very first dress I tried on--and at her store! I didn't have to look anywhere else. It is my dream wedding gown and For the Bride altered it to be customized for me. I selected my head piece and earrings from For the Bride, too. I felt amazing on my wedding day, in part because I had a gown and accessories that made me feel gorgeous and magical! I was very happy with the selection and styles of wedding attire that For the Bride offers. I did encounter one situation that might have been a potential problem but Wendy made it her priority to immediately resolve the issue. Wendy has been in the gown and accessory industry business for many years and knows what she is doing. Customer service is emphasized at For the Bride. I would recommend For the Bride without reservation.
---
reviews misleading
Reviewed on

2/14/2015
Cynthia L
Was very surprised after reading the reviews at how bad our experience was here. The consultant was not very helpful: barely helping me in and out of dresses, minimally helped looking for options, and did not provide information about the gowns that were tried on. The store was also extremely warm making it uncomfortable to try dresses and did not offer any kind of seating for my party even though there was only one other bride/party in the store. And lastly, very poor selection of gowns.
---
Best Bridal Experience
Reviewed on

2/10/2015
Jennifer O
Once I found the dress I wanted online, I researched where they sold the brand and was so excited that it was so close to home for me. Upon arriving at For the Bride, I was welcomed as well as my family and friends that came along. My experience with Wendy, the owner, was nothing but the best. She is a woman who truly cares about her brides and making them feel absolutely beautiful. She even took the time to help me pick out my jewelry.... Every single appointment I had, Wendy was there and made me feel like I had nothing to worry about. I couldn't have asked for a better experience and would recommend For the Bride to anyone. Thank you Wendy for all your help!
---
Wonderful place to get a dress!
Reviewed on

11/19/2014
Katelyn B
I found this store to have the best selection of bridal gowns and some of the best prices! Did the alterations through the store and found them to be a little bit high in price, however was well worth it.
---
EXCELLENT! EXCELLENT! EXCELLENT!
Reviewed on

11/19/2014
Gabrielle G
WENDY AND HER TEAM ARE AMAZING! I DON'T KNOW WHAT I WOULD DO WITHOUT WENDY! SHE WAS PATIENT AND UNDERSTANDING AND WORKED SO WELL WITH MY BUDGET! IF YOU WANT SOMEONE TO GO ABOVE AND BEYOND TO HELP YOU AND TREAT YOU LIKE A PRINCESS ON YOUR SPECIAL DAY THEN FOR THE BRIDE IS WHERE YOU BELONG!!! I WILL SEND EVERYONE HERE AND CANT WAIT TO WEAR MY BEAUTIFUL GOWN SOON!!!!! THANK YOU THANK YOU THANK YOU
---
Amazing!
Reviewed on

10/31/2014
Jenn V
Wendy and all the employees at For the Bride are absolutely phenomenal! They go above and beyond and make you feel like you are the only bride! They helped to make my special day perfect!
---
For the Bride Is For Every Bride!!!
Reviewed on

10/30/2014
Morgan I
I first want to say thank you to Wendy! You are the reason I chose your bridal shop. During the process of finding my dress I know I tried almost every dress on in your store. Thank goodness you where so patient, kind, honest, and understanding to my needs. I cant express in words how much I appreciate all that you did for me as a customer/friend. Your excellence and passion toward your customers is what separates you from all the other bridal companies. I will always be a voice to you and your business. Love, Morgan Inkster Scott
---
my bridesmaid experience
Reviewed on

10/30/2014
great dress. I have been a bridesmaid several times and this is the best experience of all. The quality of my dress is amazing and I can use it again. The alterations were well done and well priced. i would recommend this store to anyone wanting a worry free experience.
---
Happy Bride!!!!
Reviewed on

10/29/2014
I had a dream of wearing my mothers lace wedding dress from 1982. I wanted to recreate the dress to make it my on, but also keep the dress as close to same as possible (I had an impossible vision). UNTIL, I found Wendy and for the bride. I needed 7 inches in the back to be able to close the dress, the dress was made from one piece of fabric so there was no way to let it out, there was just not any fabric left to use. I was giving up. I felt sad and defeated. As my mother and I stood in Wendy's shop, talking about my dream and thinking of our next move Wendy swooped in to save the day. She found a bridesmaid dress to use as the shell that matched perfectly. Her and her amazing seamstress took my moms dress apart and sewed it onto the shell. It was absolutely perfect. She even made a vail out I the remaining pieces of the dress. I had a one of a kind short wedding dress that looked fantastic on me. Wendy was so amazing to work with. If you go anywhere else for your wedding dress needs you are crazy. And Wendy's prices were fair and extremely reasonable. Perfect experience.
---
Awesome!
Reviewed on

10/13/2014
Amber H
Sept 12, 2014 wedding date. For The Bride provided a wonderful experience for finding and purchasing my wedding dress. Wendy and her team's attention to the smallest detail made all the difference! They were very personable and enthusiastic! I would definitely recommend them to future brides and bridal parties! They are awesome!
---
WHAT A GREAT STORE!!
Reviewed on

10/07/2014
Amanda b
For The Bride was absolutely amazing. They made my wedding experience so great. Everything was on time and done professionally when it came to alterations. My dress looks fantastic and I couldn't have asked for a better place to go. I recommend For The Bride for anyone who wants a great dress and great experience.
---
The Best Store Yet!!!
Reviewed on

10/07/2014
molly b
what a wonderful experience it was to get my dress at For The Bride. The staff and owner there really knew what I was looking for and couldn't have helped me any better. thankfully to For The Bride, I can now look absolutely amazing at my wedding. I recommend everyone I know who's in a wedding or who is the bride to get your dresses there. They were definitely affordable while having great quality.
---
So much nicer then the "chain" stores
Reviewed on

8/12/2014
Bonnie R
I tried on about 8 dresses and could not find exactly what I was looking for. They do have a great selection, just wasn't finding what I visioned for my wedding. They have dresses for ever price range and most can be bought right off the rack for those last minute dress shoppers. I ended up buying my dress elsewhere. I did go back for alterations and Wendy, (the owner) bent over backwards to help me out. Found me a slip, made some suggestions, found the little bit of "bling" I was looking for. All with no hesitation considering I did not buy my dress there. She is a super nice person, willing to help in any way. I will be going back to have my dress cut down. I would recommend this place to anyone over the nationwide chain stores.
---
The Perfect Wedding Dress
Reviewed on

5/28/2014
Lauren H
This company is amazing. They helped me basically re design my wedding dress so that it was perfect for me. I recomend this location to any bride looking for the perfect dress.
---
Amazing Experience
Reviewed on

3/18/2014
Lauren U
I purchased my bridal gown from For the Bride. It was such a wonderful experience from beginning to end. After trying to find a gown at david's bridal and alfred angelo and not feeling like I could get anything unique or feeling like the sales staff was too overwhelmed to help me, I went to for the bride. Making an appointment was easy. They valued my opinion and helped me to find a beautiful and unique dress in my price range. Wendy and her staff were beyond accommodating. The staff was very positive and they were fun to be around! When I went in for alterations the seamstress was incredible! I am 4'11'' and needed some serious alterations. The dress looked perfect when they had finished it! I am so happy I was able to go to for the bride and would give them my highest recommendation!
---
My Perfect Fairy Tale Gown
Reviewed on

1/27/2014
Danielle D
Wendy of For the Bride is absolutely amazing!! She really took the time to listen what I was looking for and help me find the perfect dress for my fairy tale wedding. She is honest with you and knows what will look best on each person she works with. Her staff is also extremely knowledgable in their area of expertise, and you will look like a million bucks when you chose For the Bride!!
---
Hands Down The BEST
Reviewed on

10/23/2013
Laura S
Wendy and her whole team made my wedding dress shopping experience so enjoyable. Their attention to detail and willingness to do anything for the customer is simply unparalleled. I am so so so so happy that I chose For The Bride as the shop for all of my bridal needs. I will certainly be going back for any other special occasions that come up. Thank you guys for everything, you really helped make the whole experience special :)
---
Great Seamstress
Reviewed on

10/07/2013
Adriane C
I bought my wedding dress from Wendy and team at For The Bride about a year ago, for my wedding that was on 9/28/13. The dress was snug during my first fitting, but Wendy assured me that if my size changed up or down during the year leading up to my wedding that her team would be able to accommodate accordingly. I went back for a fitting 1 month prior to the wedding and the dress was very tight, so Wendy and her team worked to find solutions in order to let the dress out enough so I could comfortably fit into it. I went back for my final fitting a week before the wedding and the seamstress and her team did an absolutely amazing job altering the dress so that it fit my shape perfectly. The dress fit great the day of the wedding and I thank the seamstress for doing such a fabulous job to adjust the dress in time. Wendy was extremely helpful during my initial consultation as well, and the additional accessories they have in the shop are beautiful. I got a belt, earrings, and an embellished hair pin that matched the dress perfectly. Thanks Wendy and team for making me gorgeous on my wedding day! -Adriane Walsh
---
Outstanding
Reviewed on

9/11/2013
Jennifer B
Any person that does not review this place has the most personable place has to be the devil herself !!!!!! Wendy has become more like a friend and family. She will work with you no matter what your budget ! As long as you are respectful to her and her staff she will treat you with the it most respect! Everyone ranted and raved about how unique and wonderful my dress was! I am not the easiest person to deal with but I felt as ease with her like she was there for me !
---
Best Wedding Dress Boutique!
Reviewed on

9/07/2013
Anita P
I purchased my Allure wedding dress in January 2013 and haven't looked back since. Wendy and staff are very dedicated and knowledgeable, and made my overall experience so exciting! Most importantly, I found the dress of my dreams, and can't wait to wear it for my October wedding.
---
For the Bride
Reviewed on

8/19/2013
Penny G
I went to look for a dress the other day with my mother and friends at for the bride. As soon as I walked in was greeted by a lovely young lady who helped me my find my perfect gown. The owner was there as well and was so nice. I never felt pushed into buying a gown, Some places i went to i felt like the women were car sales man. The lady I worked with was new and was extremely nice and relatable. I ran into her the other day at Bridal blast and she remembered me and greeted me with a hug. I had the perfect experience at for the bride. I will recommend all my friends and family to go there.
---
Great Experience!
Reviewed on

8/08/2013
Laura L
The first time I walked into For the Bride, Wendy and her staff made me feel very comfortable and special. They took my vision and their experience and found me the perfect dress. I appreciated their honest opinions. It was clear they wanted me to look my best on my wedding day. I had to order the dress in a custom length and Wendy measured perfectly saving me money in additional alterations. Once the dress was in, they helped me find the perfect accessories. I can't say enough about the great experience they provided. I had no doubts that I had the dress of my dreams on my wedding day.
---
Send Message