Home

Foresto Tuxedo
About this Vendor
Finest Quality Fashion & Fit For Over 75 Years!
Foresto Tuxedo, a family owned and operated business since 1940, features the latest fashion in formal wear..Slim Fit & Modern Styles, in sizes from Toddler to Big and Tall Men. We will gladly accommodate your out of town Bridal Party members. Visit us and see why we're a favorite for generations!
Details
Alterations, Group Discounts, Private Appointments Available, Rentals, Fashion Services, Bow Ties, Cummerbunds, Shoes, Ties, Tuxedos + Suits, Vests, Menswear, Fashion
Contact Info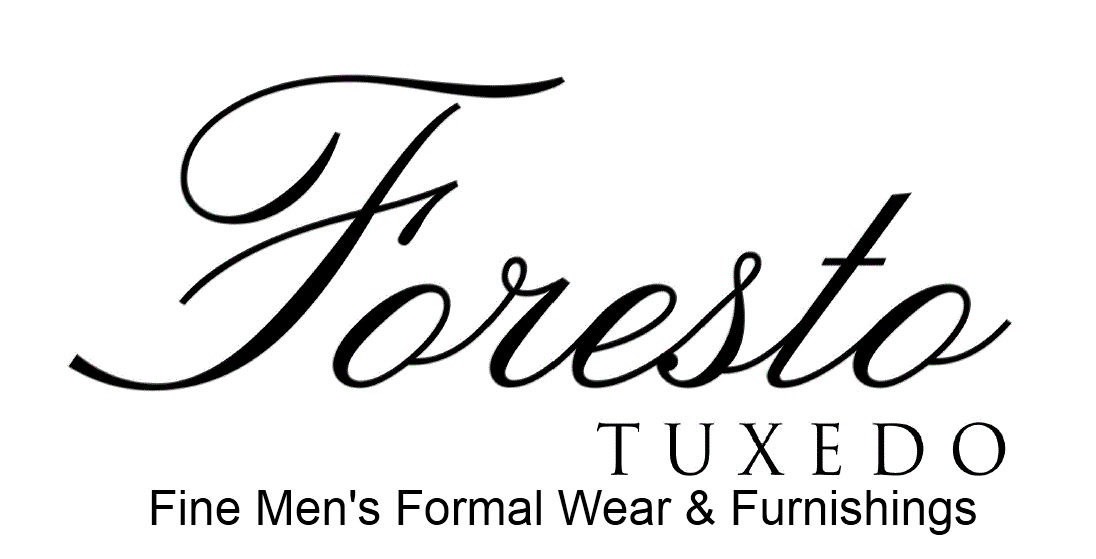 Reviewed on

6/28/2017
Karen R
The staff at Foresto were accommodating and helpful, and my husband and his groomsman looked PERFECT on our wedding day! The tuxedos were in perfect condition and fit each person like a glove. We highly recommend going here for any event-- they are top notch!
---
Reviewed on

6/20/2017
Melissa M
Foresto was the best!! We had children out of state that needed to be fitted, gave the measurements to the store and the suits fit the boys perfectly! Day before the wedding everyone picked up their suits , staff was helpful and double checking all items . Returning suits was... Read More easy and quick! Staff was great!!!
---
Reviewed on

4/10/2017
Aisha R
My husband and I selected Foresto Tuxedo to provide tuxedo services for our wedding (4/8/17). This was an excellent decision and we are extremely happy with our decision. The staff at Foresto were not only extremely knowledgeable, but also meticulous in their attention to... Read More detail. There were numerous tuxedo options to choose from and even more vest/tie options to ensure a perfect match to my bridesmaids. In addition to their expert tailoring services, they were able to accomdate the needs of our large bridal party (13 groomsmen, groom, dad/ring bearer) that lived in 4 different states with men that ranged from 4'5 (child) to 6'8!! The process for out of town orders was very user friendly. Day of the wedding everyone's tux fit perfectly and any last minute alterations were done Day of pickup. We highly recommend Foresto for a seamless and easy experience for one of the most important days of your life.
---
Reviewed on

9/17/2017
Mandie S
My husband and his groomsmen loved their tuxs and the people working there. They have a great selection and their prices are very reasonable!
---
Reviewed on

9/16/2017
Jeanine D
They were so knowledgeable and accommodating! Highly recommend!
---
Reviewed on

9/02/2017
Alexis M
We cannot say enough great things about Foresto Tuxedo! Dominick was amazing! With little notice and an out of town wedding party he was able to help out all of the groomsmen! We loved the quality of the tuxedos and how easy Dominick made the whole process. I highly recommend... Read More them!
---
Reviewed on

8/26/2017
Pasha B
The guys at Foresto Tuxedo are true professionals and experts at their craft. The guys made the fitting session a lot of fun and we felt like we were just hanging out with the boys! For the final fitting (day before the wedding) they kept the tailor late to accommodate some of... Read More my groomsmen who got delayed in travel...like I said, true professionals. Our tuxedos looked great and we got a ton of compliments at the wedding. Thanks for making us look great on my big day! Prices were reasonable and I will definitely use them again for my next formal event! -Pasha
---
Reviewed on

7/30/2017
Christina F
My now husband used Foresto and he had nothing but positive things to say. All of the groomsman looked great and their suits fit well. Everyone at Foresto is knowledgeable and they were able to guide us in the perfect direction for our wedding. I would highly recommend... Read More Foresto to anyone looking for suit rentals.
---
Reviewed on

7/22/2017
Taylor T
They went above and beyond for us we truly felt like they cared about making our wedding day perfect. They even customized a tuxedo for our one year old. Thank you so much for making our guys look awesome!
---
Reviewed on

6/20/2017
Katie M
I would highly recommend Foresto Tuxedo. Everyone here is a true professional. We had the pleasure of working with Derek who made picking out the men's suits very easy. All of the groomsmen loved it also!
---
Reviewed on

1/23/2017
Elizabeth C
The team at Foresto's was wonderful to work with. The environment is beautiful and neat, and everything is laid out so you can see different styles for your groom. They dress your groom up in all his attire to help chooose styles and colors. And the best part? They are... Read More comparable in prices with regular off the rack places when they offer next level service.
---
Reviewed on

11/22/2016
Rose V
The entire staff was so easy to work with and they knew what they were doing. Our groomesmen were not little guys but Dominic and Joe made them look perfect! I can't say enough great things about this place. I would never go anywhere else.
---
Reviewed on

11/14/2016
Jessica M
Derek and Dominic at Foresto are wonderful. Our wedding was this past Saturday 11-12-16 and the tuxedos were beautiful. The guys in the bridal party looked perfect. We highly recommend getting your tuxedos here for your big day!
---
Reviewed on

10/27/2016
Derrek A
Going to Foresto was an amazing experience. From the moment we walked in to the beautiful showroom and met with a warm welcome from the excellent staff we felt right a home. Dominick, Hank, Joe were amazing, they were so helpful and happy to be working with you, they make you... Read More feel like part of the family. Foresto has an amazing selection of tuxedos, they have different colors and fits which was nice so you can actually try on something and see how it actual fits. They have all the new modern styles and brands for you to choose from. I can't say enough about the experience, having gone to other Tuxedo stores which have been nightmares going to Foresto was pleasure. The staff is so dedicated to making your whole bridal party look perfect that they won't let you leave if it's not. We just felt so comfortable with them because of the dedication and Effort they put in to making not only just my Tuxedo but everyone's Tuxedo fit perfect. The fit and tailoring on all of the tuxes were perfect and we could not be happier with everything. Foresto is the only Tuxedo store to go to because they do it right and care about the customer. Thank you so much!
---
Reviewed on

10/27/2016
Colleen K
My dad has been going to Foresto to get his work suits for 20+ years and won't go anywhere else. They're professional, friendly, work efficiently, and they have very high quality suits while being VERY affordable. So for my wedding on October 15 2016, we didn't think twice about... Read More using them for the tuxes. My husband, the groomsmen, our ring bearer, and my dad all looked amazing and everyone still comments on how great and handsome they all looked. Everyone at Foresto Tuxedo was extremely patient and kind, especially having to deal with our 5 year old ring bearer getting fitted for a tux! You will seriously not regret going here for tuxes. They made everything so easy for us and it was a wonderful experience.
---
Reviewed on

10/01/2016
Gabriella B
Our wedding was September 10th, I found Forestos from a advertisement at Flowers by Brian and what a gem we found! Wonderful service beautiful tuxedos and a pleasure to work with!!
---
Reviewed on

9/25/2016
Christina S
Forest Tuxedo had excellent service, they were very professional and had quality, fitted tuxes. Dom was great to work with!
---
Reviewed on

9/20/2016
Kaitlin H
After having been in several weddings where I have had to rent from a big box retailer, Foresto's was a breath of fresh air. Derrick was our main point of contact and he acted with extremely professionalism throughout the entire process. The tuxedos were immaculate and fit... Read More each groomsman perfectly. The cost is extremely reasonable. Overall it was a five star servic and to go any where else you are doing yourself a disservice.
---
Reviewed on

9/04/2016
Jennifer B
Our wedding was June 12th at westbury manor. We met with foresto at a westbury manor venue event and saw how professional Dominic was. We actually won the free groom tux as well from that event! We rented ten tuxes from there and they were all high quality and made all the guys... Read More look so handsome, especially my groom!!
---
Reviewed on

9/03/2016
I used Forresto for my Wedding. I was so satisfied with the quality of sevice received for my self and party. Will recommend their service.
---
Reviewed on

8/11/2016
Tiffany C
My husband and I used Foresto Tuxedo for our wedding on 7/10/16. We had 8 groomsmen, 2 dads and 2 ring bearers and of course the groom. Dominick and his team were super helpful and easy to work with. I went in to the shop about a whole year before the wedding and wanted a tux... Read More for my husband that would be coming out in a few months. I left my name and number and was told I would be notified when it was available. Sure enough, Dominick did not forget about me and called to let us know it was ready. All of the guys looked amazing in their suits and had a great time. Thank you Dominick!!
---
Reviewed on

7/30/2016
Tara L
The men in my family have shopped at Foresto's for over 40 years and they are hands down the best place to go for men's suits and tuxedos. My husband and I worked with Dominick Foresto to custom make my husband's light grey wedding suit. Dominick was absolutely amazing and he... Read More made my husband look so handsome! We also rented our grooms party's dark grey suits from Foresto's. All the guys looked great and the suits were really nicely fitted. Dominick and his team know how to tailor menswear and it definitely shows in my pictures. I'm so glad we worked with Dominick and the Foresto's team for our special day.
---
Reviewed on

7/25/2016
Therese Z
Working with Foresto for our July 9th wedding was just so easy. They had a great selection of tuxedos and they really took a lot of time with my husband and I to select all of the details for all of the guys in our bridal party that needed to be dressed. The team is so... Read More professional and will not stop working until everything is fitted perfectly. I highly recommend Foresto to everyone!!
---
Reviewed on

7/02/2016
Sophia B
Great service thank you guys for everything!
---
Reviewed on

6/09/2016
L R
If you need a tux - USE FORESTO! So pleasant to deal with. The guys looked great, cost is great and everyone we worked with at the store was very professional and kind!
---
Meet The Owner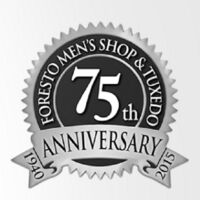 Dominick Foresto
I grew up in our family business started by my father Michael Foresto in 1940. He was a young tailor who immigrated from Italy when he was 19 years of age with a dream of having his own Men's Clothing & Formal Wear Shop. I am proud to say that our family has been serving Long Island and surrounding communities from the same location in Mineola ,NY for 77 years.