Home

Formally Yours
About this Vendor
Wedding Dresses Atlanta - Formally Yours
Formally Yours has been in business since 1982 and is proud to be the oldest family owned Bridal Salon in the Atlanta area. Our experienced consultants know how to find the perfect dress for each bride's individual style. Our unique atmosphere is professional but also relaxed and fun.
Details
Bridesmaid Dresses, Flower Girl Dresses, Mother of the Bride Dresses, Wedding Dresses, Dresses, Alterations, Fashion
Contact Info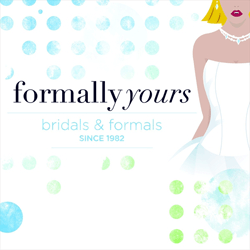 475 Rockbridge Rd NW, Lilburn, GA
The BEST part of my wedding planning!
Reviewed on

4/20/2012
Erin E
Formally Yours was such a breath of fresh air after the absolute PANDEMONIUM I experienced at David's. I have never felt so much like a princess. We went on a Sunday afternoon, and I received more personal attention than any bride could ask for! We were greeted immediately and got a dressing room started right away. They really took the time to find out the exact kind of dress I was hoping to find, and they found it. The woman who helped us was absolutely incredible. She has truly found her calling!
---
Best dress shopping experience by far!
Reviewed on

1/21/2012
Paige B
Formally Yours was the second store that I went to looking for a wedding gown. The staff was amazing and so courteous. Never once did I feel pressured to buy anything or hurried because they had another appointment coming in. The dress selection is not only big but offers a variety of dresses and designers. I tried on a few dresses and would pick out the part I liked best about each. The consultant then went and found the dress that had all the elements I was looking for. Fell in love with the dress and bought it that day! I have and will continue to recommend Formally Yours to all my friends and family!
---
Top of the line salon
Reviewed on

1/11/2012
Laura S
My experience at Formally Yours has just been perfect! I love that you are able to view their gowns online. I was able to choose gowns I wanted to try on prior to even going to the salon. All the staff has been very helpful and easy going. You definitely won't feel pressured here!
---
Beautiful Boutique Salon
Reviewed on

3/10/2015
Ashley G
Purchasing my wedding dress at Formally Yours was a magnificent experience. I went in with pictures of the dresses I liked, and the owner pulled dresses matching what I wanted. Her selection of dresses is amazing! I was pleasantly surprised! Furthermore, I felt like I was on an episode of "Say Yes to the Dress," for the salon also has a runway with full-length mirrors that I was able to walk down in order to get the full effect of my dress. Overall, it was truly a dream-like experience and I would recommend this salon to anyone!
---
Loved every minute of it
Reviewed on

1/13/2015
Jamie C
These lovely ladies made finding my perfect dress fun and easy. They listened to everything I had to say and helped me find my PERFECT dress. They are truly the sweetest ladies and have the most beautiful dresses!
---
Best bridal boutique in Atlanta!
Reviewed on

1/01/2015
I love this place. I am 32 and have gone shopping with many brides in Atlanta for their dress. I had a connection with Formally Yours through my in-laws. I was blown away on my first visit. It was the first shop I had gone to and I decided not to fall in love with anything until I had gone to a few to compare. It's different when you are the bride. After going to a couple of other places and having had experience at others being a bridesmaid, I went back to Formally Yours. I found the dress of my dreams and the one that fit me and my budget. I could not have been happier with the service and detail oriented staff. They treated me like I was their daughter, best friend, and sister. I loved being able to support this boutique in all the good they are doing. You won't regret a visit to this store. I promise.
---
I love my wedding dress!
Reviewed on

12/23/2014
I had a wonderful experience at Formally Yours! It had a pretty specific idea in mind for what I wanted in a wedding dress. Cathy pulled a couple dresses for me and we found the one pretty quickly. It made for a fun and stress free experience! I loved my dress the day I picked it out and I still love it as I look back on pictures from my wedding day. Cathy was a lot of fun to work with and I recommend this store for anyone! They have a great selection.
---
Great Experience Overall!
Reviewed on

11/14/2014
Melissa M
I have nothing but wonderful things to say about Formally Yours and the staff. I first shopped at the store in 2008 for my prom dress and when my wedding rolled around I could not think of anywhere else I would want to go. I knew they would be up-to-date on all the wedding trends. I had such a wonderful experience getting my wedding dress at the store I went back to order my bridesmaid dress from them also. It was a dress I found online that they did not have in store but bent over backwards to help me order it and feel comfortable with the order. I can not thank them enough for everything they have done for me. A wedding is very stressful, let them help you so the dress is one thing you don't have to worry about!!
---
Bridal
Reviewed on

10/30/2014
Kelly R
I was beyond pleased with Formally Yours! They helped me figure out the style I wanted to wear on MY wedding day! There was such a good selection and so many different styles to choose from, and they were so patient to help me narrow down the perfect gown. Little did I know but it was he first dress I tried on! I would definitely recommend this store for bridal gowns and bridesmaid dresses. I was very impressed with both.
---
Bad for a plus-sized gal
Reviewed on

10/29/2014
Marjorie B
After looking for boutiques that carried a high number of plus-sized gowns, I decided to go to Formally Yours. As a plus-sized woman (size 16), I was nervous about trying on gowns and nothing fitting. I made an appointment and set off with high hopes. On the phone, I was asked what size I was and for a description of what I wanted. I was told that dresses would be pulled specifically for me prior to my arrival. I arrived to Formally Yours in Lilburn and was told that they were short staffed and someone pointed to where the plus-sized dresses "should be." Every other bride in the store had a consultant working with them except for me. In the plus-sized section I found about 10 gowns that were size 16 and 18. In wedding gowns, that is a 12-14 so I already knew they would not actually fit. I brought numerous pictures with me and showed them to a consultant. Without even looking at them, she said "I'm not sure, look in plus-size." I did not find a single one. My Matron of Honor helped me try on dresses (in a tiny, cramped dressing room) and nothing fit at all. My worst fear had come true. How was I supposed to pick a dress when I had no idea what it would look like on me when in the proper size? I left there after receiving no help and felt horrible about myself. Luckily, I found a different salon that was able to help me. I showed up after a phone call and was assisted the entire time. They had two full racks of dresses (about 75 dresses in each rack) that fit me and another two racks of dresses bigger than size 24. If you are a plus-sized lady, don't bother with Formally Yours. They will have nothing for you to try and if you happen to go on a day that they are "short-handed" you will be ignored. And you can forget about anything actually being pulled before you arrive.
---
Wish I had known about them sooner!
Reviewed on

10/29/2014
Whitney S
Cathy Butler, owner and consultant, could not have been more helpful. The store had SO many various styles, more than I had seen anywhere else. I had been looking for a Mother of the Bride dress for quite some time. Each time I left a store I came away with nothing I liked. At Formally Yours I had to choose from four fabulous dresses at a fraction of the price. They will forever by my first stop for anything formal. Absolutely no pressure what so ever!!!👼
---
FABULOUSLY YOURS
Reviewed on

10/28/2014
Katie B
I flew down to Atlanta, from Chicago, to go to Formally Yours. Everyone was so, overwhelmingly helpful and the shop is adorable. Cathy had placed a few dresses in the room for me, since I had expressed "my vision" over the phone when we set my appointment. We kept adding more and more dresses, on top of her original picks. When I finally got down to the bottom of the pile, one of Cathy's original picks was THE DRESS for me. She knew exactly what I should be wearing all along, but had patience as I tried other styles! Cathy's expertise is PRICELESS. Once we found my dress, we chatted about bridesmaid dresses. I wasn't sure color would look nice paired with my dress, as it had a delicate pearl tone to it. Cathy found a BEAUTIFUL bridesmaid dress that complimented my dress wonderfully. Of course, I wanted to see it ON someone, so her daughter, Scarlet, stepped into it so we could see how it would look next to me, in my dress. ABOVE AND BEYOND! When I took my dress to get altered, in Chicago since I couldn't get back down to Georgia, it already fit beautifully, but needed to be taken up at the shoulders just a bit. Once this slight alteration was done, the dress was perfect. The woman doing my alterations, who has made dresses for her own daughter in the past, asked where I got my dress because she loved it too! It was the perfect dress for me and the price was very fair. I wanted my bridesmaids to all wear the same dress, but one of them was 8 months pregnant and the other had given birth to her first child a week before our wedding. Knowing this, Cathy had suggested the perfect dress to fit everyone beautifully. Each girl was radiant and gorgeous, even though none of them tried the dress on before buying! Formally Yours took wonderful care of me and my bridal party. You cannot put a price on the expertise this store provided us. It was a fantastic experience from the beginning to the end!
---
Worth the Trip
Reviewed on

10/25/2014
My daughter and I flew from Chicago to Atlanta to visit Formally Yours and it was well worth the trip. We found the most beautiful wedding dress and bridesmaid dresses. Cathy is such a professional and really knows the wedding business. She listened, asked questions, and made suggestions to help us narrow down our selections because she has such a large inventory. After my daughter tried on a few dresses, Cathy choose one for her and of course, it ended up being THE perfect dress and veil. The bridesmaids didn't join us on the trip, but my daughter found a bridesmaid dress that she loved at Formally Yours. We were unsure of how the bridesmaid dresses would look with the wedding dress she was wearing, so Scarlet tried it on for us. Scarlet couldn't have been more helpful and the bridesmaid dress looked great! We ordered the wedding dress, the bridesmaids called the store to order their bridesmaid dresses and every dress, including my MOB dress, arrived on time without any issues. I would highly recommend Formally Yours to any bride or mother of the bride. It was such a great experience. Cathy and Scarlet are true professionals - they make you feel as though your wedding is the only one that matters. It was well worth our trip from Chicago.
---
Wonderful service and beautiful gowns at a great price
Reviewed on

10/23/2014
I've always gone to Formally Yours for prom/homecoming dresses through the years, and had excellent service. So naturally that was my first choice when shopping for a wedding dress. When we got there I told them the styles I like, and showed them my Pinterest board. They then pulled all the beautiful dresses for me. I fell in love with the second one they gave me, and they new exactly how to accessorize it. They perfectly put together exactly what I wanted, better than I could've done myself. Their customer service and attention to detail is phenomenal, and the staff is very friendly and personable. I've had a wonderful experience every time I've been there. PLUS, the gown was significantly cheaper than I was expecting, and well within budget. We got the mother of the bride's dress, bridesmaid dresses, and my dress at Formally Yours. All in all, great experience!
---
Love this place!!
Reviewed on

10/10/2014
Brooke P
Formally Yours has always been my go to store for high school proms, so of course I went back when I was in search of my wedding dress! Cathy, Scarlett, and the whole team at Formally Yours are wonderful! They are all so professional and welcoming. I never felt rushed or pressure to buy. I told them the styles I was looking for, and they helped me find so many beautiful gowns. I ended up purchasing the very first of the many dresses I tried on. It was everything I had ever imagined my wedding dress would be. I couldn't have found a more perfect dress. I also purchased a jeweled belt and veil from Formally Yours. I had wanted a double layer veil, and when we couldn't find what I was describing, Scarlett called the designer and had them custom make one for me. My bridesmaid dresses also were ordered from Formally Yours. I can't say enough great things about Formally Yours. Finding my dream wedding dress and bridesmaid dresses were the easiest decisions during my wedding planning! Thank you so much, Formally Yours!!!!
---
Awesome!
Reviewed on

10/09/2014
Emily C
My experience at Formally Yours was amazing! Cathy and Scarlett are so kind and helpful. I went in with several ideas in mind, not really knowing where to start. I picked several dresses, and Cathy and Scarlett did for me as well. Cathy showed me a dress on the mannequin and suggested I try it - I kind of scoffed at it, but figured, "what the heck?" As fate would have it, I tried that same dress on and fell in love. If you're looking for professionals - people who really know their stuff - go here. I couldn't imagine going anywhere else. Highly recommended!
---
Formally Yours is truly the best!
Reviewed on

10/08/2014
Lauren M
I have been purchasing dresses from Formally Yours since high school. I have been extremely happy with my purchase and experience every single time I visit. Therefore, there was nowhere else I would have purchased my wedding dress other than Formally Yours. Scarlett, Cathy, and the entire Formally Yours staff make shopping for a wedding dress such an unforgettable experience. They truly take the time to show you dresses that fit your style and budget, and also bring you dresses in your budget that they think will look great on you. A definite plus is that they will never push a dress on you if they don't think it looks amazing or if they can tell you don't love it. They truly want you to look your best and be completely happy with your purchase. I have recommended so many family members and friends to Formally Yours because no bridal shop can possibly compare. Their prices can't be beat, the staff is so knowledgeable and helpful, and you will walk out of the store a completely satisfied customer, with a beautiful dress perfect for your special day. There is no other bridal shop in Atlanta that I'd recommend. Formally Yours is the best there is!
---
Amazing Experience!
Reviewed on

10/07/2014
Courtney L
I truly loved my experience at Formally Your's! Cathy, Scarlett, and team worked tirelessly to make sure I found the dress and accessories of my dreams! The store has a huge selection of gowns! They spent a lot of time helping me find the perfect dress, veil and belt. They also spent worked with my bridesmaids to find a dress everyone loved! All the employees were upbeat super helpful! I would highly recommend Formally Your's to any new bride to be!
---
Exactly what I was looking for!
Reviewed on

10/02/2014
Sara E
I was a little nervous about dress shopping because I wasn't sure what would look good on me and I've heard dress shopping can get complicated. But everything was easy at Formally Yours! Cathy instantly recognized my vision and pulled several dress, in budget, to match it. I fell in love with the first dress I tried on. Cathy nailed it! She found a veil I loved to match it as well. She really has an eye for what will look good, and you can tell she's experienced. I wasn't expecting to have the "say yes to the dress" moment with all the crying and excitement but I did! I never felt pressured to picked a dress, so I think I truly was able to fall in love with the gown. My mom and I got a little confused with dress colors (they never look like what they're named!) and Cathy has been wonderfully patient with helping us figure it out. Not only has she explained all the different shades of white but she helped us picked the right one for my skin tone. She answered our questions quickly when we followed up with her about our order. I couldn't be happier with the service I've received or my dress!
---
One stop shop!
Reviewed on

9/20/2014
Kike K
I couldn't have had a better experience shopping for my mom's mother of the bride dress and my dress for the rehearsal dinner. Cathy and all of the employees were super helpful and made the experience fun and special. I wish I would have known about this place when looking for my wedding dress! Definitely the place to go and a one stop shop for all of your wedding attire needs.
---
Formally Yours is amazing!
Reviewed on

9/17/2014
Lauren F
Cathy and Scarlett made my dress shopping experience so relaxing and fun. I mentioned a few ideas about what type of dress I wanted and when we got there Scarlett had already pulled a few dresses for me to try. It didn't take long to find the perfect dress! I would definitely recommend this shop to other brides!
---
Fabulous and Fashionable Formally Yours!
Reviewed on

9/09/2014
JACQUELYN K
I cannot sing Formally Yours' praises loud enough! The wonderful family-run bridal boutique and formal wear specialty shop is full of gorgeous gowns and dresses for any and EVERY beautiful occasion. Cathy Butler, the owner, has such a natural talent of being able to listen to a customer's requests and listen to what she wants, as well as using expertise of her own, to find the picture-perfect dress. This gift clearly runs in the family because her daughter and store manager, Scarlett Sugar, is so kind, helpful and shares the same qualities and great eye. I have been a loyal customer of Formally Yours for 14 years. It has always and forever will be mine and my family's one stop shopping with a smile! I have found every special dress from junior cotillion, homecoming, prom and formals to all the in between at this fabulous boutique. But one dress that I will forever cherish close to my heart and never in my lifetime forget is my gorgeous wedding gown. Cathy and Scarlett had endless beautiful gowns to choose from and I loved every one of them, but as the truth states, 'you know' when it's the one. It was and still is the dress of my dreams and so much more. As if finding my favorite dress in the world at Formally Yours wasn't enough, I also found my leaving the reception dress, bridesmaids dresses, flower girls dresses, Mother of the Bride dress, Mother of the Groom dress, and countless family members and guests dresses as well. As I said at the beginning, I can go on and on and on RAVING about Formally Yours. Formally Yours is absolutely full of expertise, service, gorgeous gowns, beautiful dresses, special accessories and so much fun!
---
Simply Amazing
Reviewed on

9/09/2014
Amber C
Formally Yours was amazing to work with!! I was a very indecisive bride and they were so patient with me and my family. They let me come in multiple times to try on my dress and really helped me decide what dress fit my venue and me the best. I also ordered all of my bridesmaids dresses from here and they made it so simple. Not all the girls live in GA so they let them call in to purchase their dresses and tell their sizes. I HIGHLY recommend Formally Yours! Thank you to all the ladies that helped me! I am still in love with my dress.
---
Stress-Free!
Reviewed on

8/09/2014
Anna A
Loved my experience at Formally Yours! My wedding is in December and so many other stores made it sound like a short engagement was such a stressful thing. Kathy never acted like that should be a concern at all. I was able to take my mom, sisters, and grandmother with me. We were all encouraged to look at dresses together, pick what we liked, and start trying them on. I loved the laid back atmosphere, the no-pressure environment, and the selection of dresses. I purchased the 3rd dress I tried on and am very happy with my decision!
---
Great!
Reviewed on

7/26/2014
Jessica H
Really had a good experience with this bridal shop. The dress came in a timely manner and the alterations were wonderful.
---
Send Message