Home

George Thomas Florist
About this Vendor
Indiana's Premier Wedding and Event Specialist
Our reputation for enchanting events is built on 50 years of commitment to the details and a passion for bringing your dreams to life. Expertise. Knowledge. Attention to Detail are the standards to which George Thomas Florist makes every effort to achieve with each and every one of our weddings.
Details
Aisle Decorations, Centerpieces, Vases, Wedding Arch, Decorations + Accents, Bouquets, Boutonnieres, Corsages, Flower Alternatives, Flower Delivery + Setup, Flower Arrangements

Contact Info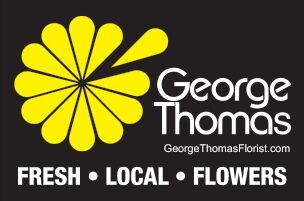 Reviewed on

11/07/2016
Elizabeth M
I was looking for a flower company that could create a gorgeous bouquet that was a little outside the box. I looked at a ton of sites, and of course all the flowers looked pretty, but George Thomas caught my eye. I interviewed 3 different florists, and I really liked the way... Read More Mel, the wedding coordinator, talked through everything with me. I had created this cut-paste bouquet in Word and a bunch of pinned pictures of flowers, and from that she went through flower options, plan B's (in case she was unable to get certain ones), and reception extras. I wish I could attach a picture of that initial cut-paste picture and my final bouquet - they look SO similar except, of course, the final bouquet was WAY better. I really wanted an organic, looser, romantic feel to my bouquet, and she absolutely created exactly what I wanted! We had pretty simple center pieces involving submerged roses which they put together beautifully. Mel was easily reached via email and touched base with me the day prior to the wedding to coordinate pick-up. One of the best parts of this florist was how amazingly AFFORDABLE they were! I initially looked into a DIY florist for that reason, and George Thomas ended up being on par with them! When I picked up all our flowers from the venue 2 days after the wedding, they still looked stunning! Very happy with GT florist and definitely recommend them for their quality, price, and customer service!
---
My wedding flowers were gorgeous!
Reviewed on

11/11/2014
Kaylee T
When it came to flowers, I was an extremely picky bride. No roses, no baby's breath, the list goes on and on. However, Melissa at George Thomas Florist wasn't afraid to think outside of the box on the flowers she could use. I ended up with the most gorgeous bouquet of flowers I... Read More didn't even know existed, let alone were available for late october!
---
Reviewed on

1/14/2018
Bethany M
Melissa from George Thomas was simply incredible to work with. We selected her as our florist for our wedding in November. Melissa exceeded all expectations! The flowers were simply beautiful and she stuck within our budget while making the event look incredible. Melissa was so... Read More great the entire year leading up to our wedding as well. I was never worried about a thing. Drop off and pick was flawless and the flowers looked like they came from a magazine!! The flowers were my favorite thing at my wedding - they were amazing!!!!! If you are need of a florist for any occasion, George Thomas is the way to go! We will never use another florist!
---
Reviewed on

10/31/2017
Dani F
GTF provided flowers for our wedding and they turned out beautifully. Working with Chuck, Don and Melissa was easy, fun and they respected our budget. They captured our vision through simple elegance and I would definitely work with them again!
---
Reviewed on

10/16/2017
Katie D
George Thomas did an amazing job with the florals and decor for our wedding. Working with Melissa made things so easy and stress free. My bouquet was absolutely stunning, as were the bouquets of my bridesmaids. Boutonnières and corsages were beautiful. All of these were... Read More delivered on time and to the right place. The decor at the reception couldn't have turned out any better and was the elegant touch we wanted for our space. Would highly recommend to anyone needing decor for any event!
---
Reviewed on

10/12/2017
Kim K
My daughter recently held her wedding and reception in Indianapolis! She ordered her flowers from George Thomas Florist which turned out to be a wonderful experience. She worked with the floral designer, Chuck and owner Melissa. Both were extremely friendly and helpful! The... Read More overall experience was great and the flowers were beautiful!!! Chuck really listened to our daughter to create the flowers she was hoping for on her wedding day!!!
---
Reviewed on

9/10/2017
Danielle S
Absolutely amazing! Very professional and they helped me out with last second changes. I am so glad we chose them for our wedding :) the flowers were gorgeous.
---
Reviewed on

8/11/2017
Nick M
Beautiful flowers! Great to work with!!
---
Reviewed on

8/06/2017
Nichole G
George Thomas Florist was amazing to work with! We met with Melissa and I showed her pictures of the flowers I wanted. She was so great at figuring out what they were and making all of our arrangemtns so beautiful! They brought the flowers to my hotel where I got ready and... Read More brought flowers to the church and reception venue and made everything look so wonderful! I would highly recommend working with them!
---
Reviewed on

7/07/2017
Jennie D
Working with George Thomas was an absolute dream! I did not have much of a flower vision, other than that I wanted succulents involved, so Melissa did not have much to work with. But she was able to create such beautiful bouquets :) I highly recommend George Thomas!
---
Reviewed on

11/19/2016
Greta S
Our flowers were absolutely stunning! They were even better than I expected! There were no issues at all. They had great customer service and again the bouquets were gorgeous!
---
Reviewed on

11/16/2016
Sally Y
Melissa was an amazing florist! During our first meeting, I just had to show her some photos of what I was looking for, and she found the exact flowers that I was looking, or recommended a better flower that would stand up well throughout the wedding day. While all of the... Read More bouquets and boutonnieres were gorgeous, my bouquet was by far my favorite! It was big, colorful, and perfect for our wedding. She even went as far as recommending that we use white mums to decorate the alter at the ceremony and added that we could plant them afterwards. I had already fallen in love with the idea, but I was just expecting a small white mum. I was pleasantly surprised when I walked down the aisle and saw that each one was easily 12" in diameter and now they are happily planted at my husband and I's new house. I would definitely recommend George Thomas, since they helped to create the flowers that I had envisioned and made the wedding day as stress free as possible!
---
Reviewed on

11/14/2016
Katie E
Working with Melissa was beyond wonderful. She was always prompt with communication and you could truly tell that she wanted to give you the best options for your vision and budget. Finally seeing our flowers on our wedding day was all we could have hoped for! They were... Read More absolutely BEAUTIFUL!!! I recommend George Thomas to everyone planning a wedding or other event.
---
Reviewed on

10/28/2016
Bre s
This place is amazing! It's a nice little shop that has the same faces working inside every time I have went in. They worked with me on my wedding flowers. Gave me more flowers for a lower price than anyone around. The bouqets turned out amazing! We forgot to purchase boutaniers... Read More for the men. The day before the wedding we went to pick up the flowers and asked them if they could make some boutaniers. They made them on the spot and had them matching with the other flower arrangements. I will be working through them for all flower needs from now on. Very helpful and friendly.
---
Reviewed on

10/25/2016
Katie S
Our flowers were absolutely stunning. Some of the flowers weren't as purely white as I would have wished, but they were gorgeous. Plus, the toss bouquet and glass vases were included at no additional charge. Don was amazing to work with!
---
Reviewed on

7/22/2016
Trista C
George Thomas was AMAZING and I would highly recommend them to any Indianapolis wedding. We worked with three different people when picking out our flowers for the day-of, but everyone in the store was extremely helpful. For a bride who is very indecisive, George Thomas was... Read More great at helping me figure out what I wanted and bringing my vision to life. We looked at 4 different florists, and George Thomas was the most inexpensive by about $800, while still giving us more than the other places we looked. I left after our final meeting with peace of mind knowing everything would be taken care of on the wedding day, and received numerous compliments about all of our decor, especially the flower arrangements!
---
Reviewed on

6/08/2016
Korinna W
George Thomas Florist made my centerpieces and bouquets absolutely perfect for my wedding. When they were delivered, my heart leaped with excitement. They were fresh, beautifully arranged, and better then I could have imagined. Melissa was great and easy to work with and... Read More definitely knows how to work her magic with flowers.
---
Reviewed on

6/02/2016
Tosha B
Melissa was excellent. She was very accomodating and worked to get the fresh lavender I wanted which was out of season in Indiana. The bouquets were exactly the design I asked for and were absolutely beautiful.
---
Reviewed on

1/08/2016
George Thomas florist was recommended to me by a friend whose daughter was married in October 2015. I am so thankful we went with this florist...the flowers were stunning! We worked with Melissa Smith and she was very attentive to us & worked around our budget. She had... Read More suggestions for us as well and helped us put together a beautiful array of bouquets & a unity candle arrangement, plus corsages & boutinaires. My daughters colors for the wedding were red & turquoise and the turquoise was a hard color to match...but Melissa got it spot on!! So pleased with this florist that we intend to use them for my 3rd daughter's wedding!!
---
Beautiful flowers!
Reviewed on

11/03/2015
Thao T
I worked with Melissa Smith at George Thomas and couldn't be happier! She was attentive in listening to my preferences and staying within our budget. My husband, who doesn't care or know much about flowers, even complimented how great everything look. I highly recommend... Read More Melissa and George Thomas.
---
Reviewed on

10/05/2015
George Thomas was so easy to work with! Their service was fantastic and their finished product was absolutely stunning. We highly recommend George Thomas for anyone who wants the highest quality flowers and arrangements with very reasonable prices!
---
Reviewed on

9/21/2015
I was extremely happy with all the flowers on the day of my wedding - from my bouquet, my bridesmaids bouquets, all the center pieces, and our chuppah, it was a BEAUTIFUL night - even better than I had envisioned! I changed florists last minute and came to Melissa about a month... Read More before our 250 person wedding - she had a tight schedule given Labor Day weekend but was able to fit us in and assured me that she could get the job done well, even with such short notice. She was definitely true to her word, and did not go a penny over our budget. I would highly recommend George Thomas Florist!
---
Reviewed on

9/09/2015
Kelsey M
My flowers turned out gorgeous! They were exactly how I pictured them and I could not have been happier! My bouquet looks stunning in all of our wedding photos!
---
Great florist
Reviewed on

8/18/2015
Kelli F
George Thomas Florist did an awesome job with my flowers. They were very affordable and my bouquets were beautiful!
---
Great service, ok products
Reviewed on

8/17/2015
I ordered all of the bridal party and parents flowers as well as two large decorative pieces. My bouquet was beautiful; the staff took time to show me options and let me pick out exactly what I wanted. They also took photos that I brought in and tried to match my ideas. It... Read More turned out exactly as I had envisioned it. The boutonnieres were also very nice and the way they wrapped the stems in twine looked awesome. The corsages for the mothers were very pretty and looked very nice at the ceremony, but by the time they got to the reception they were so wilted they really couldn't wear them without tearing the flowers apart. The bridesmaids bouquets, on the other hand, looked like they were forgotten and then thrown together at the last minute with old flowers. Their bouquets were the same size as my bouquet, which I thought was strange. They just seemed to big and overwhelming. The flowers that they used to make them were already starting to wilt when the girls walked down the isle. The flower I picked for them was pretty large as a single stem, and then with 3-4 of them pushed together and wilting, they looked awful. I was really surprised at the contrast between how nicely put together my bouquet was, and how sloppy my bridesmaids bouquets were. They are the experts on flowers, and if they knew the flower I picked wilts quickly and can't hold up for the day, they should have told me that. The arrangements that were made as decorations for the ceremony and reception were composed of the same flowers in my bouquet, and they looked amazing! They asked me for ideas and pictures of how I envisioned them looking, and they made them exactly like I had imagined. We were able to use them at the ceremony, and then transport them to the reception and use them there. They were very up front with prices, which helped us pick out what we wanted that was also in our budget. If something we liked was out of our price range, they would give us alternate ideas that we could afford, and I really appreciated that. I felt like I could still get what I had imagined and we could afford it. The day before the wedding baby's breath that was supposed to go to the ceremony got picked up by accident by my hair stylist. When I called to tell them about the mistake they didn't hesitate to fix the error, and provided additional baby's breath to go to the ceremony space. Overall, the service is top notch and they are very easy to work with. Very nice staff. The value is reasonable and they will work with your budget. The quality was the only downfall I experienced, which unfortunately holds a lot of weight on such a big day.
---