Home

Grand Hotel
About this Vendor
America's Summer Place. Mackinac Island, Michigan
We provide an unforgettable location overlooking the Straits of Mackinac. Ceremonies are held on the world's longest porch or in the Tea Garden. Other details offered: A full-service spa, salon, flower shop, five formal private dining rooms, three casual off-site restaurants, cakes, and live music.
Amenities + Details
Amenities
Handicap Accessible

On-Site Accommodations

Indoor

Reception Area
For more details about amenities, please message the Venue.
Ballroom, Waterfront, Historic Venue, Hotel, Restaurant, Tented
Bar + Drinks, Cakes + Desserts, Food + Catering, Planning, Rentals + Equipment, Service Staff
Contact Info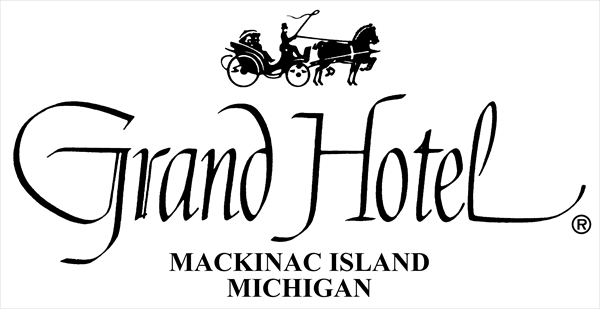 1 Grand Ave., Mackinac Island, MI
Wonderful service, great value, and a perfect day!
Reviewed on

2/05/2014
Erin B
Even though my husband and I had worked on Mackinac Island for several years and knew a lot of the ins and outs of wedding venues and service providers here, it was still very helpful to have Marty from Grand Hotel to guide us through the many options. We had a beautiful luncheon reception at Fort Mackinac, catered by Grand Hotel. The value-for-money was exceptional (where else can you get a three course meal for under $30 a plate with a VIEW to die for?!!). Our flowers were exquisite and they catered to my random requests (an English Garden boquet, with eucalyptus thrown in to pay homage to my husband's homeland) without battling an eye. It was so helpful to have the florist on site, and our flowers were delivered to the room few hours before the ceremony. After our luncheon, Grand Hotel proved to be the perfect setting to relax and let loose with our friends and family. A cookie-cutter wedding was the LAST thing we wanted, and our guests still rave about the unique location and format of our wedding celebration. We would do it again in a heartbeat - it truly was the most perfect day of our lives!
---
Norma and Mark Allex
Reviewed on

2/05/2014
This was our 25th Anniversary Destination Vow Renewal to our most favorite place on Earth, the Grand Hotel with close family and friends. Marty Haines, was first and foremost a Godsend and most wonderful individual that we can call a friend. Being out of state, she helped to coordinate our vision to reality down to the tiniest of detail. I am not sure how she does it !! Our venue in the Grand Hotel included the Cottage Restaurant and wet bar across the hallway, where a reception was held first. The food was amazing as always and the piano and photo booth added to the ambiance and fun of our celebration. Our theme was Vintage Romance and was carried out so well by Margaret's Garden in the most spectacular bouquets, bouts and centerpieces. They really outdid themselves and am so grateful for them seeing our vision and beyond expectations. If you are looking for a wonderful atmosphere, we just happened to have all 4 Seasons the day of our renewal, and the "Grandest" wedding of all....this is the place. You will never forget your moment here at the Grand Hotel.
---
50th Wedding Renewal of Vows Celebration
Reviewed on

2/05/2014
We worked with the Grand Hotel Wedding Coordinator 6 months ahead of date to plan the perfect celebration. We had a luncheon for our 40 guests, vow ceremony on the porch overlooking the Great Lakes and the Mackinac Bridge, and the whole experience was just magical. The hotel handled the flowers, refreshments, gift bags and treated us and our guests like royalty. Anything we needed was addressed immediately and efficiently. The Grand Hotel, staff and management made every minute just amazing and I would recommend this venue to everyone.
---
Perfect Place!
Reviewed on

7/22/2015
The Grand Hotel was absolutely perfect in every way - iconic location, historical building and beautiful venue with the hotel vantage points for photographs, interior's charm, and memorable weekend. The entire staff there is phenomenal and second to none. It is tourist location so they are used to and strive to meet and exceed all expectations. We are thrilled we decided to have our wedding at The Grand - we wouldn't have changed a thing.
---
Grandest 4th of July Wedding Ever!!
Reviewed on

7/11/2015
Bridget B
Imagine a magical island surrounded by beautiful crystal clear lakes where the only transportation is by horse-drawn carriage, and where for one day in my life a beautiful white castle of a hotel allowed me to make my dream wedding come true. This place actually exists. The island is Mackinac Island, Michigan, the waters are the Great Lakes, and the white castle that sits on high is the world famous Grand Hotel. I was proposed to on the Grand Hotel porch (longest in the world) on September 27th, 2013. Hundreds of guests forgot for a moment why they were at the hotel and instead turned to cheer my then finance, Nathan, and I, on our happiness. I should have known at that moment that that place was as elegant and as caring from the guests to the staff as I could ever hope for. That night began 21 months of magical, meticulous and friend-creating planning to make my dream come true. At the head of the planning was Marty Davis, the Grand's Wedding Coordinator who would turn the hotel's philosophy of "no weddings on the 4th of July" around, and turn my tears of sadness to tears of joy. She understood that a little girl of 13 who had begun an annual family tradition of being there on the 4th of July was the perfect place for dreams to come true, and somehow got management to say "yes". America's Summer Place was going to become Bridget's wedding place. From that point on, Chris from the Grand greeted us at Arnold Ferry Dock, arranged carriages up to the hotel, directed 15 pieces of luggage, and hand-carried my gown to safety. Marty arranged guest rooms to be side-by-side, my wedding gown to be whisked away in secrecy, pre-wedding receptions and dinners for my family and guests, transportation to and from St. Anne's Church and transformed the famous Wood's Restaurant into a fairytale cottage for my guests. The famous Grand Hotel Jazz Trio played throughout various locations at the reception, the waitstaff took care of everyone's needs, an incredible luncheon was served, and a gorgeous tiered cake covered in stars was presented for my fiancé and I to cut and enjoy. Mimi Cunningham, a VP of the Grand and a member of the Musser family, personally designed and oversaw the creation of $10,000 worth of flowers, and coordinated the incredible transport of flowers across the island multiple times, from the hotel to church, church to reception and even back to my honeymoon suite (and yes, by carriage!). But the fun didn't stop there. Grand Hotel took all of our guests back to rest and gather once again on the magical front porch to view America's celebration of her greatness. Marty also arranged with the help of Ken Salmon, VP of dining operations, a dinner for my family and wedding party with my favorite childhood server, Jeffrey, who serenaded Nathan and I and made his own hand decorated and personalized dessert plate for us to enjoy. We then all gathered on the west end of the porch to watch fireworks from Mackinac Island, Traverse City and Cheboygan. After the fireworks were over, we danced the night away in the ballroom. So for everyone out there that believes dreams still can come true, please please please contact the Grand Hotel on Mackinac Island and have the Musser family work their magic for you. And perhaps I will be one of the Grand guests that congratulates you on your engagement or wedding :) Bridget Beattie-Smith
---
Small Wedding - Just What We Wanted
Reviewed on

7/07/2015
We were looking for a place to have a very small destination wedding; our guests live all over the U.S., so we wanted to make sure we chose a worthwhile destination. We had both been to Mackinac island before but had never stayed at the Grand Hotel, so I called them up to discuss the possibility of holding our wedding there - Marty Davis is the wedding coordinator and she made everything so easy. I first contacted Marty in late January for a summer wedding; she was very responsive and we had the whole thing planned in about two weeks for a June 20th ceremony. We chose their special small wedding package (up to 10 people, including bride and groom), which included a spot on the Grand Hotel porch for the ceremony, flowers for the bride and groom, a champagne toast and a wedding cake. We did not require a lot of upgrades to this basic package - I figured that the Grand Hotel does a ton of weddings every year and whatever came with the basic package would be lovely. And, I was right!!! The location was perfect, the flowers and the wedding cake were beautiful, and for the few special requests that we did have (hair appointments and adding flowers for the mothers and father), Marty put us in touch with the appropriate people at the hotel who were also very responsive. Marty even helped us pick out small gifts for all of our attendees and had them wrapped and waiting for us to add notes to before they were delivered to the guest rooms. Some of our guests had mobility issues, so we decided to stay on-property for all of our events, rather than going the short distance into town for the two group dinners. We had the rehearsal dinner at the Gate House, and it was a nice, casual location with good food - we sat outdoors and there was a lively backdrop to the meal. The wedding dinner was in the main dining room of the hotel - our guests got to choose whatever they wanted from the prix fixe menu and the formal atmosphere, the service and the beautiful interior design made it so magical. After dinner we went to the Terrace Room which had a small dance orchestra and a dance floor for use by all the hotel's guest - for a small wedding it was so nice to have this option of dancing to all the standard wedding reception songs without having to arrange for our own DJ/band. We arrived the day before our guests and had a very romantic dinner at the Woods restaurant, a 30 minute carriage ride away from the main hotel building. Again, excellent food, wonderful service - couldn't have asked for anything better. The next morning we took a bike ride (bicycles rented from the Grand Hotel) around the island to calm our nerves before the guests started arriving. Marty referred us to a few local ministers and gave us basic info on getting our marriage license, which was very helpful. The wedding on the porch with the Mackinac Bridge in the background was lovely. The carriages were pulling in and out of the hotel during our ceremony, which made some lovely photos of the wedding but, honestly, I was so nervous and focused during the short ceremony that I don't even remember seeing them! We can't think of anything we would change about our wedding, and we are so grateful to Marty and the rest of the Grand Hotel staff for making us feel so special and making everything so easy for us.
---
Beautiful venue!
Reviewed on

7/07/2015
We had our wedding here on June 13th, 2015. The Grand Hotel's beautiful architecture , charm,and ambiance really speak for itself. The hotel's wedding coordinator (Marty) was absolutely a pleasure to work with. She handled all details of our wedding from our cake, flowers, and music. She was very quick to respond to all of our MANY questions and was very patient with us! You are in safe hands with Marty! As a gay couple, we were concerned on how we would be treated by staff and guests of the hotel; however, we were treated with respect and professionalism at all times. Margaret's Garden at the Grand Hotel handled our flowers, and they were more beautiful than we ever could have expected. Mimi and her team really out did themselves. We had the hotel's flute and harp duet provide the music, and we are still receiving compliments about the music they played. We had our wedding ceremony on the front porch (west side) of the hotel. We HIGHLY recommend this location! (Although the other location is beautiful as well) The view from the porch was BEAUTIFUL! We had our wedding reception in the Pontiac Room of the Grand Hotel. We really liked this location for a wedding reception, because of it's private balcony (where we had a wine, champagne and beer reception before dinner) and the relaxing ambiance of the room. The menu we picked was the $85 value which was VERY good! For clergy and photography we kept with the Grand Hotel's list of recommended vendors. (which we recommend since they have a good relationship with the hotel and know the area well). We used Andrejka Photography (SHE IS AMAZING!) and Marie Cirner-Steensma (she wrote a beautiful ceremony and personal vows.) Now lets talk about our room... B-E-A-U-TIFUL! We picked a Category 2 with a lake view and were very very pleased! A few of our guests picked a Category 1 which was also lovely! If we have to find any negatives about our wedding day it would be that we did not do any salon services. They offer various services from hair to nails and beyond at reasonable prices. We were very pleased with The Grand Hotel and cannot thank them enough for making our day so special.
---
Weekend Wedding at the Grand Hotel
Reviewed on

11/05/2014
Teri L
Our wedding was held at the Grand Hotel and we stayed there as well. Marty and Kelly were wonderful as the coordinator and florist. Along with our wedding coordinator, Carole Erbel, the professionalism and knowledge they provided gave my husband and I the comfort of knowing that every last detail was considered and executed because we were not on Mackinac Island until the day before the wedding. When we arrived Carole and Marty were available to make us feel our wedding and guests were their only priority. Our wedding on the porch and reception in the Pontiac Room was a wonder experience for us and our guest. If you are considering a destination wedding I highly recommend the Grand Hotel on Mackinac Island.
---
Completely worth it!
Reviewed on

10/22/2014
The wedding planner, Marty is fantastic and takes care of all the details. It is pricy, but you cannot beat the views from the front porch and the old time feel of the hotel- our wedding picutres turned out amazing! We received so many compliments on the food and cake, which the hotel provided. Everything was top notch and I would recommend this site to anyone.
---
Our Expectation was Exceeded!!!
Reviewed on

10/07/2014
My husband picked Grand Hotel as our wedding venue for so many reasons. First, he is from Michigan and was in Mackinac Island 25 yrs. ago. He has some great recollection and good memories about this place. Second, I was adamant that I wanted a nice and elegant backdrop for our wedding pictures. We have checked out so many places in the entire U.S. but the sweltering heat in the summer made us ditched most of them. Michigan has one of the nicest weather in the summer!! When I saw Grand Hotel, I fell in love with it. The grandeur of the Tea Garden where our ceremony was held, certainly provided a great backdrop to our wedding pictures. The garden was immaculate, the blooms are at its pronounced!! Our wedding coordinator, Marty Davis worked closely with us to create a simple but aesthetically perfect wedding day. Just what we wanted!! She is great to work with and has an eye for the tiniest of details. Our wedding was a simple one. It was only me and my husband and his parents. Althought it was a very small elopement wedding, Grand Hotel treated us no less. The staff are very friendly, our room was the perfect size and the entire hotel was clean. The food is heavenly!!! The buffet breakfast and lunch is amazing. I have never seen a big spread like it with no spare to quality and presentation. Our dinner after the wedding ceremony was absolutely something to be proud of. We were given a special table with a nice center piece. I have read great reviews about their dinner and I can tell you that it exceeded our expectations. From the appetizer down to dessert, everything was fantastic!!! Me and my husband are already thinking of celebrating our first annivesary at the Grand Hotel!!
---
Amazing place for a wedding
Reviewed on

9/28/2014
We got married at the Grand Hotel on Mackinac Island in September 2014. It was an amazing experience. All of our guest also really enjoyed themselves too. Marty, the wedding coordinator, did a wonderful just making sure the wedding flowed smoothly. Even though we had an outdoor venue and it was raining on our wedding day, I was not worried because Marty was on top of everything and coordinated a back up venue just in case. We were impressed with the level of service and professionalism. It was truly a wonderful day.
---
A dream wedding
Reviewed on

9/19/2014
Green F
We were considering several venues for our wedding (in Michigan, Florida, South Carolina, New York and other states) but choosing the Grand Hotel turned out to be the best decision. From the moment we (bride, groom and the guests) arrived at the hotel, it felt like a fairy tale. We were accommodated in a great suite and offered a complimentary champagne. The premises and the whole area around the hotel make you not even want to go anywhere else. This place has everything for you and your guests to have fun: a nice outdoor swimming pool; a beautiful tea garden with lots of flowers; breathtaking views of the Mackinac Straits from the historic Porch; great restaurants with superb service; beauty salon; flower shop that can provide for the most demanding brides. I loved the convenience of having everything right on the spot (the hotel provided the wedding coordinator, musicians, great ceremony and reception venues, florist and beauty services). They also provided a list of recommended photographers and ministers (the ones we chose turned out to be really good). I have awesome memories about our wedding weekend at the Grand Hotel. After having analyzed tons of information about wedding venues and compared a lot of hotels, I can say with confidence that the Grand Hotel is absolutely the best place to have your wedding in Michigan. The place you and your guests will remember for many years. The Grand Hotel staff was extremely helpful during wedding planning (I was living abroad at that time and that made wedding preparations a bit more complex as I could not meet any vendors in person before the wedding). My every request was taken into account and the wedding turned out great. I highly recommend the Grand Hotel and their team!
---
Elegant
Reviewed on

9/19/2014
Tara D
Our welcome BBQ on the pool lawn at Grand Hotel was such a great way to kick off our wedding weekend, and it turned out to be far better than even my high expectations. The cocktail hour on the porch of Grand Hotel was so elegant, I would only have had it last 2 hours instead of just 1 hour. The service, the quartet, the view, the drinks, and the food were excellent! Our dinner reception was outside at the Jockey Club restaurant. It was just perfect, and again, better than I could have imagined. It was decorated so beautifully, and the staff served our guests' every desire. Excellent drinks, food and service again. The compliments from our guests keep coming.
---
Wedding flowers
Reviewed on

9/02/2014
Ashley R
For our wedding we had flowers placed in the church that held our ceremony, the reception hall, and bridal bouquet's, boutonnieres, and corsages were also purchased from The Grand Hotel florist. They all turned out beautiful. We met with the florist once and all other contact was via email. Mimi was very helpful on picking out flowers that worked best together and had great suggestions, as well.
---
Grand Hotel Wedding Weekend
Reviewed on

9/02/2014
Our wedding weekend was absolutely magical and memorable. Every single guest raved about the setting, elegance, music, service, menu, ceremony, weather, etc. It could not have gone better, and we have their very detailed and charming wedding coordinator Marty and her staff to thank for this, as we live in Texas! The room & view were just incredible, much above expectations, facing the straits of Mackinac and sunsets over the bridge. The owners sent up a bottle of champagne to welcome us, such class. We felt so special from start to finish. All the ladies attended High Tea which was so fun and girly, as a harpist played in the background. The men caught up outside on the porch having cocktails. It provided everyone another perfect venue for family and friends to spend more time together. Guests could also go horseback riding, biking, kayaking, swimming, golfing, etc. Kelly their very talented and friendly florist gave us a "sneak peek" at our flowers - STUNNING!Rehearsal dinner was delicious and in the perfect outdoor tented setting where kids could play outside and guests loved the BBQ menu! A few guests gathered in the hotel's bar for a night cap which was also on site and easy for everyone. Getting ready on wedding day was a breeze, with Astor's salon on-site - aka pink paradise. You will not find nicer girls than the salon staff, who beautified the entire wedding party (she had done about 200 heads of hair this summer already!). My makeup artist was so sweet, and pulled the look together which lasted all day and night. The wedding was at Ste. Anne's Church, absolutely gorgeous and spiritual, their wedding coordinator Rich was wonderful and helped us find a very special Deacon to preside. The carriage ride afterwards through town and back towards the hotel made me feel like Princess Kate, with all the friendly tourists and pedestrians waving and cheering for us! You won't find friendlier folks. The cocktail hour was in the Cupola Bar, best view on the island overlooking the straits, with a jazz pianist playing in the background - memorable and perfect for folks to give speeches. Dinner was in the Cottage Restaurant, absolutely perfect for our intimate group of 30 to all dine together at one long table with a WONDERFUL jazz trio playing throughout dinner and some dancing prior to dinner. Finally, the hotel band plays every night in the Terrace room and is fantastic! We all ended the night on the dance floor, along with other folks celebrating other special occassions, and it was just perfect. We all met one last time the next morning for a "sendoff breakfast" (included with room charge) and everyone had an amazing time. We are so grateful to Marty, Kelly, the Mussers, Deacon Steve, Rich, Heather, Bernard, Susan, and the entire staff of Grand Hotel for making us, and our guests, feel so special the entire weekend!!! Already looking forward to celebrating our future anniversaries on this gorgeous, nature-filled "turtle island." Grand Hotel is truly one of a kind.
---
Grand Hotel Tea Room
Reviewed on

9/01/2014
Kaylee S
We used the space at the Tea Room up in Fort Mackinac. Our family had eaten there once and fallen in love with the view - the entire downtown was laid out in front of us with breathtaking sights of the harbor and, my favorite, the Might Mac. We enjoyed a delicious lunch topped off with one of the most enjoyable desserts on the island - the Pecan Ball! The staff was so friendly and courteous during the event, and the director Marty was always quick to respond and so helpful in all of the plans. Highly recommended for any events!
---
Vow Renewal cocktails and dinner
Reviewed on

9/01/2014
Outstanding venue, food, and service.
---
Wedding at Grand Hotel
Reviewed on

8/31/2014
Jacqueline M
This whole experience was a dream come true! They provided Marty, a wedding coordinator who took away all of our stress. She organized every detail so we could enjoy every minute of the magical weekend with family, friends, and each other. The food was unbelievable and there were many choices to select from on the menu options. We used the Grand Hotel Orchestra for our reception band and they were awesome! Marty recommended photographer Paul Retherford and Mackinac Video Productions (Terry and Kelly), who were all great to work with! We highly recommend the Grand and all people mentioned in review!
---
Amazing Service, Every Detail Taken Care Of
Reviewed on

7/10/2014
Laura L
Where do I start? Marty the wedding coordinator took care of every detail- music, food, linens, cake delivery, ceremony processional, literally everything. Just dropped off my decorations, answered all her questions and we were set! She is all you need- very professional and accommodating! Food was delicious. Staff was incredibly friendly. Kelly the florist was AMAZING. Heather in the salon did my hair perfectly. Upgraded to suite with complimentary champagne! I couldn't have asked for a better wedding. The whole staff went above and beyond. : )
---
Our perfect Grand Hotel wedding
Reviewed on

7/04/2014
Lynette M
We visited the Grand Hotel a year before our wedding. From the moment we met the wedding coordinator, Marty Haines, we knew that it was the perfect venue for our wedding. Marty had fantastic suggestions, and her attention to detail is remarkable. Marty remained in contact with my fiancé and I from the time we booked through the last minutes of our ceremony. Her enthusiasm and dedication was apparent at every step of the process. The hotel recommended our outside vendors, including a jazz trio, officiant, and photographer, all of whom were professional, kind, and a pleasure to have at our wedding. The Grand Hotel provided many services itself. Margaret's Garden created beautiful bouquets, boutonnieres, corsages, and centerpieces. Kelly was particularly kind in helping me find inspiration for all of the floral decorations. The fabulous women at Astor's Salon took care of the beauty needs of the bridal party. The dining staff were courteous and efficient. The rehearsal dinner (Jockey Club), ceremony (East Porch), and reception (West Porch) were perfect. Marty handled all of the details gracefully and thoroughly. The food prepared by the Grand Hotel chefs was incredible. The cake was particularly delicious and delightfully decorated! Our guests raved about their experience at the hotel. The attentiveness of the Grand Hotel staff to their needs, combined with the beautiful elegance of the place itself, made everyone feel special on our wedding day. My favorite part of our Grand Hotel wedding was the peace of mind I felt from the moment I arrived on the island. Marty and the rest of the Grand Hotel staff are so capable and experienced that I had no reason to worry or feel anything except happiness and excitement. It was truly a perfect day.
---
Amazing Experience
Reviewed on

6/30/2014
Sarah L
If you want to feel like royalty on your special day this is the place. While the prices can seem a bit overwhelming at first, keep in mind that you do not have to figure in rentals for tables, chairs, linens, etc; and you get the BEST wedding planner ever in Marty Haines. Having everything from catering, the salon, and flowers all there makes it so simple. I planned our wedding while finishing law school and would not have been able to make the day more perfect without Marty's help. She had everything totally under control. I had absolutely ZERO stress the day of the wedding. We used the Front Porch for our ceremony and the Cupola for our reception. Also, we had originally made reservations to use a "named suite" (hoping for the Vanderbilt room) and were upgraded graciously by the Musser family into the newest Dan Musser suite. It honestly could not have been a more perfect weekend. It was worth every penny.
---
Beautiful hotel and stunning location
Reviewed on

2/07/2014
The Grand Hotel was a beautiful setting for our elopement-style wedding in August 2013. Right from the start the wedding coordinator put us at ease and answered all our questions very promptly which was helpful. We were blessed with perfect weather during our stay - clear blue skies, sunshine and 80 degree temperatures. We were thus able to make the most of the island and the facilities at the hotel, whether it was biking around the island and enjoying the views, swimming in the outdoor pool and lounging in the hot tub, or reading or enjoying cocktails on the charming porch. We went for a category 3 guest room during our stay which, though fairly small, was very pretty and perfect for our needs with a great view of the lake and garden. My salon experience was good, and I loved my bouquet from Margaret's garden! We were married at the fountain in the tea garden which I thought was a fab location. There were large beds of lovely flowers, and the hotel itself looked down upon us and made for some wonderful pictures. Afterwards we had our cake and champagne on the porch and then did the carriage ride around the island which, though pricey, was so much fun and, again, allowed for some great photo opportunities. In the evening we ate dinner in the main dining room and the food was very good. We were particularly delighted with our photographer, Steven Blair, and would highly recommend him to anyone planning a wedding at Grand Hotel. He is so pleasant and knows all the best spots on the island for pictures! This is a fairly expensive wedding venue, but it really met all of our criteria: grand historic building, beautiful garden, stunning lake views, carriage ride, plenty to do, pretty rooms, good food and good service. Thus we feel it was worth paying a little more for!
---
My Grand Wedding
Reviewed on

11/13/2013
Katie S
We chose Grand Hotel as the location for our wedding ceremony and it was honestly, our best decision. Not just because the setting is absolutely picture perfect in the Tea Garden but the staff ensures things are just how you want it. Once we arrived I did not worry about what the guys were doing, where we needed to be, if the flowers were ready because of how well Marty, the wedding coordinator, has everything arranged.
---
Grand it was...
Reviewed on

11/13/2013
Maureen C
I had my wedding at the Grand Hotel this past fall and it is a perfect memory I will have forever. The wedding coordinator knew exactly what to do, she took a lot of the stress right off my shoulders. She made the day sail by without a single flaw. The staff at the hotel was extremely helpful and kind. The food was delicious. Mackinac Island it self is a beautiful place to get married but having the ceremony on the Grand Hotels front porch made it that much more special. Looking back I feel like it was all a dream.
---
Perfect Service- Perfect Venue
Reviewed on

9/14/2012
Thomasina J
I chose the Grand Hotel because of it's iconic beauty and complete packages of services. I was not disappointed. It was so convenient to order everything from the hotel- and the service and quality of the product was so perfect that it was absolutely worth every penny. Even when it rained on the day of my wedding, the wedding coordinator made quick and effective decisions and ensured that everything ran smoothly. My guests loved having everything within walking distance on the island, and were blown away by the our ceremony (originally scheduled for the tea garden, but held on the porch due to rain), reception, and plated lunch (in the Pontiac room). They also enjoyed that there was something to do for everyone on the island, so that the trek to the moderately remote location of Mackinac Island was worth it. Bottom line: it's worth it. This is the BEST location on the island, and one of the finest in the entire country. They made the wedding a major success, and I can not be more grateful. Though it may seem pricey, it was really not much more expensive than this quality of service and product would be at another venue, and it was worth it for the peace of mind that comes with the Grand Hotel name.
---
Send Message