Home

Headpiece.com
About this Vendor
Your Most Unique Wedding Design Detail Begins Here
What differentiates us from the standard bridal salon is the expertise and design detail we provide to each client. Our bridal veil and headpiece designs are created individually by hand, tailored to the look and wedding day style of every bride. Every finished design leaves our showroom perfected as though it were being worn by a family member. That's why many of our former brides feel like family. Consider Headpiece.com if you are looking for something really special!
Reviewed on

7/28/2017
Marissa L
There is no other place anyone else should go besides to Headpiece.com. Marie is just the type of person you want to handle your headpieces for your wedding. She is so patient and helpful with every step of creating something perfect for your special day. Everything being... Read More handmade and tailored to your dress, body, and style is something out of a fairy tale and that is what you get with Marie. I can not wait to get my pieces as I know they will be perfect.
---
Reviewed on

7/28/2017
Stefani D
Marie of Headpiece.com is unlike any other designer you will work with during your wedding journey. My mom and I met Marie when we wandered into her store one Saturday and have been going back ever since! She is patient and kind when consulting with her clients to determine... Read More their ideal hair jewelry for their big day. She is so knowledgable about her craft, bringing any idea you have to life. I was so excited to pick up my pieces earlier this month, and I surely was not disappointed! The amount of time she puts into each piece is truly remarkable and it definitely shows. I am so glad I decided to create my custom pieces with Marie. She is passionate about everything she puts her time into. Headpiece.com, thank you thank you thank you! I cannot wait to wear your creations on my special day!
---
Reviewed on

7/28/2017
Katherine B
Words can not express how happy I am to have met Marie! I called her on a holiday weekend when my parents were in town visiting, She took the time to meet with us even thou she was going to be closed. From the beginning she was extremely knowledgeable and really help me through... Read More the whole process of designing not just my headpiece but my veil. I am so grateful for her and all her help! ABSOLUTELY AMAZING!
---
Reviewed on

7/22/2017
Brittani M
Headpiece.com's website was impressive on its own but when I went to the salon and had my consultation with Marie, I have to say I was truly blown away. Marie was so accommodating from the start offering me a mimosa and some sweets! She was incredibly professional letting me... Read More start off by explaining my vision of my wedding day and showing some pictures I pulled from inspiration. But when I looked to her for her opinion, you could tell immediately how creative and how much of a true artist she really is. She pulled out some samples and explained how much thought and work goes into the creation. But what sealed the deal for me was how she assured me that whatever I ended up with on my wedding day would be custom made for me and only me. I feel so comfortable and trust her completely to design something perfect and I can't wait to go back for my second visit!
---
Reviewed on

6/06/2017
Candace C
Marie is incredibly talented! She designed my veil and hair pins for my big day and they were perfect! I had a great experience working with her from start to finish. I wasn't exactly sure what I wanted before meeting with Marie, but she was able to provide so many... Read More recommendations and allowed me to try on many different veil styles during my appointment. I ended up choosing a blush cathedral veil with crystal detailing at the bottom. I originally was against having any other hair accessories on my big day besides the veil, but Marie had some freshwater pearl and crystal hair pins in her shop the day I was trying on veils and after seeing those in my hair, I knew I had to have them for my big day as well. When I received the veil and hair pins a few weeks before my wedding, I couldn't wait to put them on and see everything come together. On my big day, I felt beautiful and like a princess thanks to Marie and her incredibly hard work on my veil and hair pins. Thank you Marie!!!
---
Reviewed on

5/19/2017
Megan S
I rarely write a review but I need to share the experience I had with Marie. I (like most brides I'm sure) was appalled and bored at the same time with veils/bridal accessories that are found in bridal shops/etsy/Amazon etc. how can a factory-made piece of cloth be so freaking... Read More expensive!? The whole situation just felt wrong and I felt like I was being cheated. Then I visited Marie at her shop in Pompton Plains, NJ. A two-hour drive from my home in the Philadelphia area, it was quite the haul. BUT MAN WAS IT WORTH IT! Marie was so warm and enthusiastic towards my mom and I as soon as we walked in the door. She spent a ton of time explaining everything from the different netting that's available to how she cuts the veils differently from mass-produced kinds you get elsewhere. Her attention to detail when discussing your overall wedding day look was just above and beyond what I could have ever hoped for. You can tell she truly loves (and is good at) what she does. It's obvious her goal and focus is to make the bride look and feel like an absolute stunner on her wedding day. I had the honor of Marie and her husband, Jeff attending my wedding. When I put my veil on on my wedding day, I was speechless. It was just everything that I dreamed of and more! Unfortunately, my brand new hubby accidentally stepped on my cathedral length veil during pictures and created a huge hole! It was truly the perfect storm (it was also pouring outside!) and I was devastated--I wanted my veil to become a family heirloom (I loved it that much). Marie not only repaired my original wedding veil (just making it more of a "chapel" length) she also sent me an exact replica of the veil I wore on my big day! It is a true testament to who she is as a person and a designer. She really cares for her brides. I know I sound like I'm on a soap box but that's because I am so grateful for Marie and how special she made me feel on my wedding day. My custom veil experience was one of my most treasured memories from wedding planning--even more than saying yes to the dress! Take a day trip and see her in NJ--I promise you won't be disappointed!
---
Reviewed on

3/01/2017
Shannon P
My experience with Marie was truly incredible! She help me custom design a very sentimental piece for my wedding and made the experience incredibly meaningful. She made me feel like I was THE most important bride instead of just "another client". She helped me create a custom... Read More vintage veil with a family heirloom which will be the perfect addition to my wedding day and will help bring my mother into my wedding day after her untimely passing a few months ago. She helped me get through what could have been a very difficult experience and helped me turn it into something very positive and something to look forward to. A+++ rating. Marie is AMAZING!!!!
---
Reviewed on

2/25/2017
Danielle D
What can I say about Marie but that she is pure talent. From the moment we wakes in, she made us feel like royalty. She is so incredibly knowledgeable and has such a keen eye for detail and design. Marie is handcrafting the most gorgeous veil for my wedding and I can't wait to... Read More be one of her brides. Her unique artistry is one that does not go unnoticed. Everything she creates is handcrafted and so telling of her style. If you are looking for a truly one of a kind experience, look no further. You will be delighted. Thanks, Marie! You are a gem!
---
Reviewed on

2/10/2017
Nicole H
Marie truly saved the day for me and my veil. I purchased a veil at a sample sale, and, in all the excitment, didn't even think about it when they handed it to me wrapped up in a bag. I brought it home and didn't take it out until a month later as I was worried to mess it up.... Read More After I put it on to show my sister, she noticed a hole right in a prime spot on the veil. There is applique all along the edge and up the center, and the hole was in no man's land, a totally random spot! I was devestated. Luckily my mother suggested we go over to see Marie at headpiece.com. After showing her the veil she found a piece of lace applique that was basically identical to the applique on my veil. What she did to this veil is OUTSTANDING! It honestly looks even better than it did originally. Her attention to detail is exquisite. She not only fixed the problem but elevated the original design. My one regret is not going to her initially! She also texted me while working on the veil to tell me she found a second hole, and asked me if I wanted her to repair that as well. I love that she consulted with me first before going ahead with it, although I would have trusted her to do what she thought was best anyway. She made the whole process so easy and reassuring for me. I can not wait to wear it on my wedding day, and hopefully save it for my future daughter. I would advise anyone looking at sample veils to re-think their decision, or at least have an eagle eye and inspect it before walking away with it, which is what I wish I would have done! Marie also has beautiful jewlery in her shop, I purchased a pair of earrings and a bracelet for my wedding as well. This is one-stop shopping. I can't reccommend Headpiece.com enough! I'm sure every bride that visits the store will have an equally amazing experience.
---
Reviewed on

1/19/2017
Donna S
I have to say, headpiece.com and Marie Coda Hunt truly made my daughter's dream come true. Marie made her the most exquisite veil (the veil of her dreams) for her wedding on July 30, 2016. She loved it so much she planned on making it a family heirloom. Unfortunately, at the... Read More reception, her veil was ripped when someone accidentally stepped on it. Megan was heartbroken. Marie heard the story and took the veil and cut it down and refinished it for her. Not only that, but she made her another veil to exactly match the original and sent them to her for Christmas. What other vendor does that? It blew us away. I cannot recommend headpiece.com highly enough. Megan cried when she got it. Marie is such a caring person and not only listens, but hears what her brides want. I am so impressed and grateful that I am putting my email address on this review. [email protected] Email me if you have any doubts. This was by far our best wedding vendor ever........and I have 3 married. LOL
---
Reviewed on

1/15/2017
Laura C
When I first started looking for a veil, I could only find stiff tulle pieces that were not at all what I wanted, until another bridal shop owner actually suggested headpiece.com in Pompton Plains. They had the beautiful, soft lace that I wanted and so much more. Marie also... Read More helped me design an amazing custom headpiece to accompany it. She made me feel so special and offered the perfect balance between artistic expertise and attention to detail with respect of my own style and ideas. She is simply the best!
---
Reviewed on

1/06/2017
Lauren T
Marie is as passionate about people as she is about her work. I wanted something very simple and classic - just a long, sheer veil with no accessories. Even though it is clear Marie loves designing intricate custom pieces, she did a wonderful job of listening and adapting to... Read More what I was looking for while still helping me think outside the box. She carefully considers every detail, from how the cut of the veil will work with the silhouette of your dress, to the setting of your ceremony and the exact measurement of your train. While the headpiece.com experience feels couture, Marie is happy to work within your budget to deliver something beautiful. I loved my veil, and loved working with Marie!
---
Reviewed on

1/06/2017
Brittany H
I wasn't going to wear a viel for my wedding until I found the most amazing one on Pinterest. After asking around and not finding what I wanted it stores, I reached out to Marie. She was not only able to make the viel of my dreams but she also did it professionally and with such... Read More attention to detail. It was so fun collaborating and seeing it come together! I recommend Marie to every new bride I know!
---
Reviewed on

1/05/2017
Christine B
I can not say enough about Marie and her beautiful creations. My sister got her wedding veil from headpiece.com as did my niece for her first holy communion so when it came time to shop for my veil there was no doubt where to go. What I did not expect was Marie's dedication to... Read More making sure the veil was everything I ever dreamed it would be. She was able to match the lace perfectly to my dress and went above and beyond to add a little sparkle and make sure I felt like a million bucks that day. Without a doubt I did :) Highly recommend!
---
Reviewed on

1/04/2017
Brianna C
Marie is truly a master of her craft and is a visionary for any bride looking for a special, custom headpiece for her wedding. From her creative suggestions, to the execution and countless texts, visits and calls to the shop, I never once felt pressured or uncomfortable! Marie... Read More created a headpiece for me with various elements, custom fitting it for my head [it did not move or fall out of place once!] and my headpiece is still being talked about months after my wedding. If you have the opportunity and pleasure to work with someone as talented as Marie for your wedding or event, consider yourself lucky to be working with the best. Thank you again Marie for seeing my vision and making me look absolutely stunning on my wedding day!
---
Meet The Owner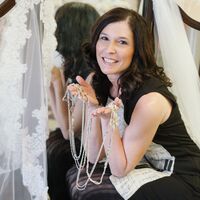 Marie Hunt
My passion for design has brought me to the top of my game. Since the opening of Headpiece.com, we have had the pleasure of designing for over 10,000 brides. Every day we unlock the door is just as exciting as our first day in May of 1999. For me, designing doesn't end at the close of the business day. Designing is 24/7...creating something new in my mind, tweaking a prototype, or dreaming of beginning a new wedding fashion trend. The ultimate reward is having our designs become a part of a family history and imprinted on the heart of our bride and in the eyes of her spouse.