Home

Heavenly Gourmet Catering
About this Vendor
Catering for all Budgets
Heavenly Gourmet Catering offers the best in fine foods for any occasion. Whether it be wedding, social function, or luncheon we will provide you with the best eating experience possible. Please give us a call for a complimentary taster at our private setting cafe. Prices start at $10 per person.
Details
American, Italian, Latin American, Mexican
Buffet, Chef Stations, Passed Appetizers, Food + Catering
Contact Info

Reviewed on

7/23/2017
Leah K
I came to know HG when I worked at one of the venues they service. I learned immediately that they were the very best in the area. I have worked with many caterers at the venue and I have tasted plates from them all. HG's food was the best I have tried and they are the only... Read More caterer I have seen to have a quality checklist to be completed by their staff and signed off by the venue and client at every event. It ensures that they don't leave a mess of the place and end up getting the client charged. As a client, I think you tend to look at the prices and menu options and you don't even realize things like that. THEN, I got engaged. 7.5 month engagement, and THREE DAYS before my wedding our original dinner plans fell through. I immediately called HG thinking I couldn't afford them and that there was no way they could work a wedding with only three days notice. They were AMAZING. Let me choose whatever I wanted from the menu, and when I didn't like the first quote, they made some changes and managed to drop over $100 off the price! We already had a wait staff lined up and wanted to save some money on delivery, so we arranged for the food to be picked up and served by our own wait staff. The ONLY minor issue I found with HG was that the food pickup didn't come with instructions, so our chicken wound up sauceless and somewhat cold. This wouldn't be an issue with delivery since their staff knows what to do with their food, but we had our own people serving our food. Halfway through serving all of our guests, our wait staff came to us because they didn't know what the sauce was supposed to go on or how to heat it up correctly. In the future HG, please include heating and serving instructions for all pickup orders. As both a client and a venue staff worker, I would recommend Heavenly Gourmet to anyone looking for a classy plated meal for their event with delicious food and a company that is sure to do things the right way and save you money and stress.
---
Reviewed on

12/21/2016
Sabrina P
Delicious! Throughout the night and even after the wedding people are still talking about how delicious the food was! You get so much for your money. Highly recommended!
---
Reviewed on

12/10/2016
Stephanie S
Oh my goodness! This was the BEST food! Everyone was raving about how delicious it was. My uncle came up to me and said "I have never been to a wedding where I liked the food and this was amazing. A total home run!" My dad is extremely picky and hard to please and even he... Read More couldn't get over how delicious everything was. The owner was the nicest person and made you feel like family and that your day was just as important to her. The staff was kind and on top of everything. There is not one thing to complain about and I would not change a thing!
---
Reviewed on

7/23/2017
Tyler H
Heavenly Gourmet was hands down the best from service to food and everything in the middle! Everyone loved the food we had at our wedding and the Mac & Cheese bar was a great hit! We highly recommend this vendor for any other weddings coming soon!
---
Reviewed on

6/26/2017
Chelsea B
Food was DELICIOUS! They went out of their way to make sure we had everything we wanted and were happy. There was plenty of food, no one went home hungry, and the food was raved about!
---
Reviewed on

5/30/2017
Kimberly K
The food was great for our large 275 person wedding, the mac n' cheese bar was my favorite! My guests said they loved the appetizers, though I did not get to try them at the wedding. I was a little disappointed that they ran out of champagne after only serving half of our... Read More guests for the champagne toast, even though they'd confirmed the guest number prior to the wedding (and we actually had 10 - 15 people less than confirmed). They also ran out of vodka 2 hours into the reception, when I had voiced that vodka was my drink of choice. Apparently they did get more at some point, but this was unknown to me until the wedding was over. They did make the planning process easy and everything ran smoothly other than the above, so I would recommend them!
---
Reviewed on

5/30/2017
Alex D
I am so grateful for Heavenly Gourmet! Their food was delicious, every single staff member was professional, kind, and helpful - from the very beginning taste test to adding in appetizers, confirming guest count, to set up. Our guests raved about our food. Everyone said our... Read More mixed drinks were spot on. The bartenders were amazing. Annnnd best part is they were affordable for a 300 person wedding. Very impressed and highly recommend!
---
Reviewed on

5/23/2017
Caitie W
Food was very good. Mac and cheese bar was the best part. All of the guests raved about it. Servers were friendly and attentive all night. Cons- Bartenders cut corners. They used the ice from the beer cooler for the drinks which was really gross. They had fresh ice in the back... Read More but didn't want to walk and get it. The maid of honor and wedding planner had to ask them to go get it mid wedding. They also didn't use the champagne flutes which we paid $1 a piece for. Also had to be asked by planner to do this. -Communication can be hard if you change numbers/orders at all. Just make sure you get a confirmation via email if you talk to someone different over the phone. I had the same conversation with several different people and I felt like I was losing my mind. Most people are really friendly...one is very rude. Overall, it's a really good value and great food. I would still use HG again for food, not for bar.
---
Reviewed on

5/23/2017
Diamond Y
Not only did everyone compliment the chicken, but they made sure my husband and I were able to eat! It's very hard to make chicken taste good when cooked in large quantities but they made it amazing! Everyone at the wedding loved the mac n cheese bar too! So glad I went with... Read More them!
---
Reviewed on

5/03/2017
Ale P
Staff was very nice, food was delicious and they gave us a complementary late snack for booking on day of tasting. Communication was easy and they were very responsive to my requests.
---
Reviewed on

4/16/2017
Victoria A
These guys were amazing! Everyone was talking about how delicious their food was the whole night and afterwards. I was very impressed with how professional they were. I highly recommend them for anyone's wedding!
---
Reviewed on

3/21/2017
Ashley F
They did a great job!! The food was delicious and the late night ramen noodle bar was a HUGE hit! I always leave weddings hungry and did not want our guests to leave hungry - if they did, it was their own fault! Heavenly Gourmet stayed the entire night to bus tables since we... Read More used their glassware for the bar. That was such a nice perk, and they are crazy affordable. If you are looking for an affordable route without slacking on quality - these are your guys. They did excellent!! Even checking in multiple times throughout the night. I highly recommend them for any of your catering needs.
---
Reviewed on

3/18/2017
Aryn R
The food was soooooo good! We enjoyed all of our tastings, and our guests were very pleased with what they ate. We barely had time to eat at the wedding, so I'm very grateful that they boxed up leftovers and sent them home with us! We had the heavenly stuffed chicken, green... Read More beans, and mashed potatoes for our meal. We also had the Mac and cheese bar for later in the night. I think my guests were a little bummed that they couldn't keep getting more and more macaroni! Haha! They did a fabulous job and the wait staff was very professional and helpful. Also one of the most affordable caterers in the area. I would definitely recommend them.
---
Reviewed on

3/14/2017
Faith J
Heavenly Gourmet was a great option to help is celebrate our big day. Their food was good and came at a great price point. Their customer service before and on the day of were great.
---
Reviewed on

2/24/2017
Vanessa V
This team is amazing!!! From the tasting to the actual event, the staff was nothing but gracious and everybody couldn't stop talking about how delicious the food was!! Thank you so much Heavenly Gourmet for making our day unforgettable!!
---
Reviewed on

1/09/2017
Lena M
The food was fantastic and they were very efficient in getting all 200 guests through a buffet line in record time.
---
Reviewed on

12/28/2016
Dalia V
Thank you heavenly gourmet! The food Was delicious- I got so many compliments and the service was 5 star⭐️ I will reccomend you guys to Everyone planning an event. Thank you again and happy holidays.
---
Reviewed on

12/13/2016
Jenna B
Heavenly Gourmet took such care in serving my daughter's wedding guests! I didn't worry about a thing as they delivered the BEST dinner buffet to our friends and family. I am still getting compliments on how good the food was that night, and I can't tell you how happy that... Read More makes me. I wanted to have a nice dinner, but on a budget, it didn't look like it was going to happen until our wedding planner suggested Heavenly Gourmet. I was shocked at what we got for the price and when it was so dang GOOD I was ecstatic! Thank you, Heavenly Gourmet for taking such good care of us and making us feel like we were your only customer of the weekend!
---
Reviewed on

12/12/2016
Abby G
Sorry I am just getting around to writing this, but I have to say that you absolutely cannot go wrong with this Company! We got married at the River Venue at Milltown August 27, 2016. Perla, Victoria, and all of the amazing people that work here are truly one of a kind! Both of... Read More these ladies went above and beyond to make our day amazing! Everyone that works at Heavenly G is so personable, you can tell that their hearts are in what they do. The food was AMAZING! We still get compliments on the food to this day when we see people that attended the wedding. Going with this vendor definitely put my mind at ease on our special day. They were so organized and took such good care of us! They cut the cake, boxed everything up for us and helped us clean up! We ordered our linens from here also, they were perfectly pressed and bagged separately, this was very convenient! I cannot say enough great things about Perla and her team! I would pick them for any event! :)
---
Reviewed on

11/24/2016
Haley M
Heavenly Gourmet was amazing at our wedding this past weekend! The food was just as delicious from the tasting we had with them a few months back. All of their staff are very professional. There was this staff member who must have seen how starved my husband and I were, so she... Read More made a point to hunt us down to give us some snacks while we were taking pictures. She was extremely kind and I wish I had caught her name.
---
Reviewed on

11/13/2016
Jason H
The food was not only wonderful, but the whole planning process was smooth. They also did a great job of moving my 250+ guests through a buffet line in an orderly fashion. And they provided dishes and flatware at a great price.
---
Reviewed on

11/11/2016
Sarah B
We had a great experience working with Heavenly Gourmet. the food was delicious! Not only that, they were very professional, quick to respond and follow up, and easy to work with. I had nothing to worry about once we booked them...they walked us through the entire menu and... Read More service. I would recommend them to anyone planning a wedding.
---
Reviewed on

11/01/2016
Ashley M
Heavenly Gourmet went above and beyond for our wedding on October 7, 2016. From the tasting, to the wedding day the staff (especially Perla and Victoria) were incredible and extremely responsive. Their services are extremely affordable and I was so impressed with how amazing the... Read More food was. We honestly tried their dishes at a FEW open houses (LOL) and they were ALWAYS consistent!! It gave us so much confidence in our decision, especially because we had booked them a year and a half before the wedding. (When you know, you know haha). We fell in love with the Heavenly Baby Salad. The Macaroni Martini bar was such a neat idea and so much fun for our guests. We also booked them for our bar - they found me a LIGHT UP BAR that was beaming TIFFANY BLUE the whole night!! GORGEOUS!! Their watermelon martinis were delicious and such a big hit!! I cannot thank the team enough for making the night so amazing. We were served and treated like royalty with our own waiter, honestly---best decision for catering/bar!! Thank you!
---
Reviewed on

10/31/2016
Katie N
Delicious food, super affordable, and so easy to get get into contact with! I cannot say enough great things about them! I highly recommend them for any wedding or catering event!
---
Reviewed on

10/21/2016
Esther A
The food was excellent! I highly recommend heavenly gourmet!
---
Meet The Owner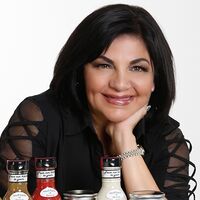 Loretta Ortiz
Loretta Ortiz is the humble owner of Heavenly Gourmet Catering. For the past 12 years, she has relentlessly built a mammoth catering business under the radar of many fierce competitors. Heavenly has catered over 14,000 events, 70% being weddings, and has proudly maintained a Five Star Rating. Heavenly is rated AAA by the Better Business Bureau. Loretta's mantra is; "you are only as good as your last event." The opportunity to be in someone's dream is the ultimate honor; we do not take that for granted, not one moment. We married so many extended families, they are like our family"!