Home

Hey! Party Collective
About this Vendor
We throw glitter in the face of stuffy tradition!
You are someone who is looking for something different, bold, hip, and edgy, and aren't finding it in your typical Denver wedding planning operation. Our goal is to inspire our clients with fresh ideas, to be themselves, to think outside the box. Let us help plan and design your wedding bash!
Details
Engagement Party, Getting Engaged, After Party, Bachelor Party, Bachelorette Party, Bridal Luncheon, Bridal Shower, Day After Brunch, Rehearsal Dinner, Welcome Party, Rehearsals + Parties, Ceremony, Cocktail Hour, Reception, Rehearsal, Wedding
A la Carte Wedding Planning, Budgeting, Day-Of Coordination, Full Service Wedding Planning, RSVP Tracking, Wedding Website, Planning
Contact Info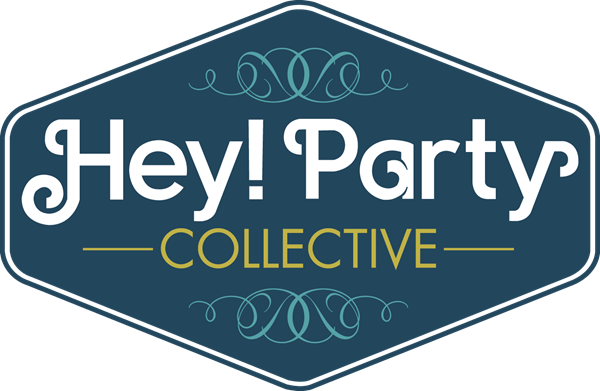 Reviewed on

7/13/2016
Laura
Hiring Nicole is the best decision we made for our wedding. She has a "can do" attitude and is all about rolling up her sleeves and getting the job done. She was totally onboard for my non-traditional decor ideas, and she had great recommendations for other vendors to hire as... Read More well. She made our wedding a huge success!
---
Reviewed on

10/23/2016
Stacy W
Working with Nicole was great!!! She is very down to earth, professional and puts you at ease. I needed help with almost everything with my wedding since I am not a good planner and wedding planning can be a very overwhelming task. Nicole provided help for everything we were... Read More in need of: She recommended other local vendors for us to use which were all great. She also had great ideas for decor and finishing touches. Very organized and I never felt overwhelmed on my wedding date. She was never pushy and very respectful of our decisions. I would like to add that we changed our date and venue a couple times and she rolled with punches like a champ. She offers a few different wedding planning packages and we went with the mid-package. I am so happy that we decided on that because we needed help with most decisions. Since this was our first wedding we really didn't know what to expect so she was super helpful and guided us through everything. I am so grateful for everything that she did and I highly recommend Nicole at Hey! Party Collective!!!
---
Reviewed on

10/20/2016
Ashley H
If you are looking for a fresh perspective on wedding planning, this is it. We couldn't have asked for a better experience in our planning process and wedding day. We had the dream wedding we couldn't have imagined ourselves, I would do it all over again! The only thing I would... Read More do differently is hiring them sooner!
---
Reviewed on

7/25/2016
Marian S
Nicole from Hey! Party Collective contributed so much to our special day and we couldn't have had such a beautifully put together wedding without her! She is very detail oriented, organized and is simply, very fun to work with. She found ways to make all of our quirky wishes... Read More as well as our not-so-put-together wishes work, and we are so happy she did! Hey! Party Collective is the total package- top of the line organization, outstanding communication, an eye for design and straight up fun!
---
Reviewed on

7/08/2016
Hey! Party Collective is an exceptional wedding planning company! Nicole Lowry worked closely with all of us to plan my daughter's wedding. They are quite organized, have a wide range of services, excellent vendor connections and are fairly priced. Nicole was flexible and... Read More worked well with the bride and groom to keep them on track to finish their assignments and keep the schedule moving. In the end, we needed a rain plan (lucky it didn't, but we had a plan) and she delivered great options on short notice. I couldn't recommend this company more highly! Terrific, just Terrific!!
---
Reviewed on

6/20/2016
Jenn S
WOW!!!! You need Nicole and Hey! Party Collective. I honestly can not say enough good things. I was planning my wedding from Seattle, and knew that I wanted some day of help, but I wasn't sure if it was in the budget for a day of even coordinator. Thank god I made room for... Read More it because it was hands down the best decision I made. Honestly, Nicole made everything effortless and was there to answer any questions from ... what table arrangement is best? to how much should I tip a DJ? She is professional, hard working and on top of her stuff!! My parents were pleasantly surprised with how much she took off of all of our hands. She was great at dealing with the vendors and putting MY desires first priority. I would HIGHLY recommend her and the entire team. THANK YOU for an amazing wedding day experience.
---
Reviewed on

5/17/2016
Heather P
Yes, the last thing anyone needs is more wedding advice. But I'm going to give it to you anyway: hire Hey! Party Collective and all of your wedding dreams WILL come true. As a Type-A professional with no experience in event planning, I was worrying about every little detail of... Read More our wedding months in advance. When I finally met with Nicole, I realized what I needed to do--outsource to a professional with the skills, experience and connections that I didn't have. It was EXACTLY what I needed for peace of mind. She is the quintessential planner--organized, detail-oriented, with an eye towards problem-solving. Additionally, Nicole and Christy collaborated to bring my Pinterest board to life (on a realistic scale, of course!)--everything from the ceremony backdrop to the lounge areas to the cake display. My wedding was absolutely gorgeous and there is no way that I could have done it on my own. I will definitely be recommending them to everyone I know!!!
---
Made the day PERFECT
Reviewed on

12/07/2015
Natalie N
Hey!Party was a dream come true. I had just moved to Denver and didn't know anyone let alone vendors, locations, etc. I was referred to Nicole from Hey! Party Collective and from that point on all my stress was gone. I travel for work and am generally gone 4+ days a week; so... Read More planning a wedding in an unfamiliar town seemed like a nightmare before I started working with Nicole. Her attention to detail; vendor relationships and general knowledge of the industry in Denver was priceless. I opted to pick a few specific items for her to help me with and then the day of coordination; but looking back- I definitely should have hired her for the Full Service Wedding Planning and Design. My wedding day was an absolute dream and I KNOW it was because of Hey! Party Collective. I didn't have one worry, stress or awkward situation. I tell my husbad pretty much every other day that I wished we could get married again because the day was so perfect.
---
I Couldn't Have Done It Without Her
Reviewed on

9/17/2015
We found Hey!Party through a mishmash of searching but I was mainly turned on to them by Apartment Therapy as a high design, professional wedding planning company out of Denver. Now Denver is great, but high design is not something that I automatically associate with the city... Read More and it was a pleasure to find Hey Party as absolutely true to it's word. Everything they do it beautiful and their attention to detail is remarkable. Our coordinator was Nicole and I really can't tell you how much we loved her. She got three marriage proposals from various wedding guest and groomsmen by the end of the night, she is so badass and so competent that it inspired love. Alas, she is already happily married. Nicole was everything you look for in a planner - patient, engaged, exceedingly competent, calm, organized, and very fun to work with. We trust her implicitly and she handled all the planned and unplanned details with grace and enthusiasm. My husband and I couldn't have been happier. I challenge you to find a better coordinator or planner anywhere. Honestly, Nicole was so awesome we were sad to see her go after our last meeting/stuff pickup. We are in similar industries and look forward to seeing her around town. She was, without a doubt, the best choice we made while planning our wedding and if I had to do it over again, I would have upgraded our package with her from our one month (very reasonable at $1500) to the whole event planning and design. It would be a mistake not to hire Hey Party for whatever you need for your wedding. They really are the best.
---
Meet your new BFFs
Reviewed on

5/08/2015
Margot S
I don't know why I ever thought I didn't need wedding planners. They were probably one of the best investments we made for the wedding day, because if they didn't already know each of our vendors, they immediately reached out & coordinated, put out fires, started some... Read More (sparklers!), knew the whole flow and kept everyone on the same page. They even emailed everyone an itinerary so we all knew where to be and when. But the best part was that they were honestly the friendliest ladies I've ever met, and made me feel so much better about everything coming together. Totally your new wedding BFFs. Thanks again, Hey! Party Collective!
---
Best Wedding Planners Ever
Reviewed on

4/30/2015
Rachelle K
My husband and I found Hey! Party Collective in 2014 at Denver's Lovesick Expo and could not have been happier with the meeting. We decided we couldn't handle the wedding planning on our own and met with Nicole and Christie of Hey! Party to discuss our Summer Camp wedding... Read More dream. From the very start, they totally understood our vision. We were open to their interpretation and loved every minute of working with them. They are truly talented. Not once did we feel pressure to do something we didn't want to do. Every vendor Hey! Party Collective found for the big day was equally creative and talented. Most importantly, Nicole and Christie were down to earth and honest about everything they did. Everything came together so perfectly and they were on site the whole wedding weekend to make sure everything went off without a hitch. We got married September 2014 in Granby, CO. I was truly blown away by the beautiful setting they created for our wedding and the work they continue to do for other Denver couples. I recommend them to any couple who wants and out of the box wedding. Nicole and Christie you are truly rockstars and Z and I know you'll continue to see success!
---
Life Savers!
Reviewed on

4/24/2015
These ladies are AMAZING! We booked them as "month of" planners for our wedding and it was one of the best choices we made throughout the whole wedding planning process. Once I booked everything, I was overwhelmed with having to actually coordinate my vendors and who was going... Read More to decorate the day of?! I didn't want me and my bridesmaids to have to do it - I just wanted to relax. Christie and Nicole swooped in and took over everything when I needed them to the most. I could finally breathe again! They coordinated with all our vendors and styled both our ceremony and reception venues. Our reception was held at one of our favorite places in Denver to go grab drinks and I was a bit worried that it would feel like "just another night out" and not special enough for a wedding reception. I didn't get to see how it turned out until I walked in with all my guests after the ceremony and let me tell you - I was moved to tears and overwhelmed at how beautifully they had styled the space. It was perfect. They made everything so easy for us. The week of the wedding wasn't spent stressing and running around pulling out our hair - it was spent welcoming family and friends into town and relaxing. I've said it a thousand times and I'll say it again - these girls were my saving grace and we couldn't have done it without them. You will NOT be disappointed if you hire them!
---
Talented Event Planners with a Unique Style
Reviewed on

4/22/2015
When my husband and I started planning our wedding we had a lot of different ideas--the only thing we knew for sure was that we didn't want it to be typical or old-fashioned. Nicole and Christie took all of our ideas and ran with them. When I walked into my wedding venue, it was... Read More like a dream—every detail was perfect, all thanks to Christie and Nicole. They were extremely communicative throughout the process; they quickly and confidently let us know their thoughts on all of our ideas (even up to the last minute when I decided I wanted last minute heaters at the venue). On the day of our wedding, they made sure everything ran perfectly, so my husband and I could enjoy the festivities. I would hire Christie and Nicole again—they are the perfect mix of professional and creative. They will ensure your wedding is a unique and special occasion.
---
distinctive style, amazing ideas, and super fun to work with!
Reviewed on

4/22/2015
Hey! Party Collective was the absolute best. I plan events (a lot of events) for work so I never thought we needed someone to help plan our wedding. My mom insisted, and my oh my was she right. Nicole, right from the start, was on it with out of the box ideas, money saving... Read More tips, and industry specific knowledge. She was able to provide us with the unique, super personalized experience we were looking for. While I am sure she could have done anything, my (now) husband and I were not looking for a super matchy, matchy nor a super "pinterest-y" wedding. We wanted something beautiful, and classic and innovative and fun. Nicole executed with laser precision and was an absolute perfect pleasure to work with. I never thought I would work with an event planner, and I truly can't imagine doing an event without Nicole again!
---
Hey! Party Collective
Reviewed on

4/21/2015
The moment I called Hey! Party Collective was the first moment I could breathe. Nicole gracefully moved in and helped my daughter and me with everything from negotiations to logistics to decor to catering...and ON! Our daughter's entire wedding weekend was a joyous,... Read More seamless family event. I can NOT say enough. If you are fortunate enough to book these smart women, count your lucky stars. They are wonderful.
---