Home

Hilton Cincinnati Netherland Plaza
About this Vendor
Hilton Cincinnati Netherland Plaza
When an entire hotel is a work of art, how could your event be anything less? National Historic Landmark featuring some of the world's finest examples of French art deco. Three breathtaking ballrooms that create a sense of timeless elegance and romance in a setting that is one-of-a-kind.
Amenities + Details
Amenities
Handicap Accessible

On-Site Accommodations

Indoor

Reception Area

Wireless Internet
For more details about amenities, please message the Venue.
Ballroom, Museum, Historic Venue, Hotel
Bar + Drinks, Cakes + Desserts, Food + Catering, Rentals + Equipment, Service Staff
Contact Info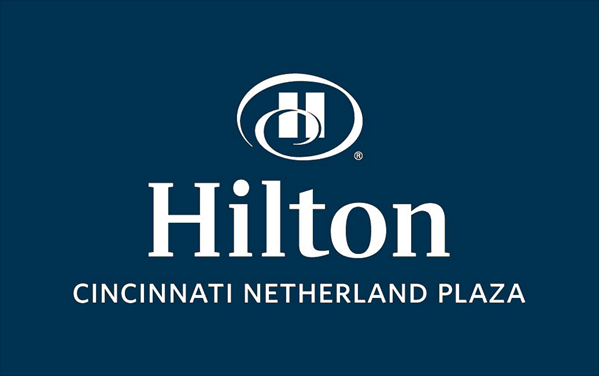 35 West Fifth Street, Cincinnati, OH
The Perfect Venue!
Reviewed on

3/24/2014
Michelle M
We initially went to the Hilton because I don't believe there is any place more beautiful in this city. We had both our wedding and reception in the Continental Room, and it was absolutely gorgeous… just like we pictured it. We knew it would be beautiful, what we didn't know was just how amazing the Hilton staff would be to work with. We worked with Taylor Chubb for our planning, and if I could go back and plan this day over and over again, I would have Taylor there every time. She made our wedding perfect. I can't say enough about how incredibly smooth the planning process went and how special everyone involved with the wedding felt during our wedding weekend. It was a perfect day, and I can't imagine it being anywhere else. I can't recommend the Hilton enough. They were awesome!
---
Kelly Carigan is amazing!
Reviewed on

9/23/2013
Sarah W
Kelly helped me plan the accommodations for my perfect day! She was extremely helpful in organizing all of the details for my guests as well as my bridal party. We had several rooms the night before the wedding, but needed to switch to other rooms for the night of the wedding. Kelly made the transition so easy for us! I will definitely use the Hilton again!
---
Incredible Incredible
Reviewed on

8/19/2013
Jessica S
I worked with Ashley J. at the Hilton and had a reception of 300 people in the Hall of Mirrors. She was so attentive to all the little details/touches and made sure that the entire evening went on without a hitch. It was the most perfect, beautiful night I could have imagined.
---
Perfect from Beginning to End
Reviewed on

7/09/2015
Allison S
My advice for any new bride is the Hilton Cincinnati Netherland Plaza is the venue to have you wedding at! From working with Jillian, the coordinator, to the Catering Manager, to the Catering Captain, I felt pampered every step of the way! Not only was I able to get ready at the Hilton before my big day, and stay there in the evening but I felt like the Hilton was my exclusive wedding venue even with other weddings going on! I cannot gush enough about how wonderful the Hilton is! It catered to every one of my wishes and my wedding was everything I ever dreamed about!
---
Reviewed on

6/18/2015
Sarah R
The Hilton made our wedding day more than we could have ever imagined! Our family and friends RAVED about the food and the service was incredible. We worked with Taylor (someone who I've known since I was young) and she's phenomenal at what she does. Any question we had while planning was quickly and clearly answered- and she patiently answered questions I'm sure we asked more than once. I can't recommend this gorgeous venue enough!
---
A PERFECT 4th of July
Reviewed on

7/26/2014
Kelsey K
The Hall of Mirrors was the first and only venue my fiance and I looked at for our July 4 wedding. It was so beautiful and unique we just had to have it! Our coordinator at the Hilton (Annette) was the epitome of responsive, professional and knowledgeable. Everything we wanted our wedding reception to be, Annette and the Hilton made it happen. From passing a signature Netherland Plaza cocktail to our guests during the reception to chocolate covered strawberries and champagne in our bride/groom suite that evening - No detail was overlooked! Guests loved the Hall of Mirrors and the history embedded in the hotel. The food and drinks were also spectacular! A huge THANK YOU to the Hilton for making our wedding day absolutely PERFECT!
---
Magical Wedding at the Hilton
Reviewed on

6/29/2014
Jennifer M
Taylor was EXCELLENT at assisting us to create the wedding of our dreams! She went above and beyond to try and make our day as complete and worry free as possible. The only thing that was frustrating was that we were never told where our groomsmen would be entering and didn't find out until minutes before the wedding started (we had to practice in a different room due to a wedding in our room the night of rehearsal). Otherwise it was perfect and I would highly recommend it!
---
Amazing staff, gorgeous hotel, wonderful time!
Reviewed on

1/22/2013
Stephanie G
We had our ceremony in the Hall of Mirrors, our cocktail hour in the Continental Ballroom, and our reception in the Hall of the Mirrors this past January [2013]. We worked with Marianne, and she was amazing! She helped us with everything we needed, down to the last detail. The rest of the staff was perfect as well the entire evening. The food was TO DIE FOR, and people are still raving about it (the short ribs are the best!). The whole evening went perfectly an we have the Hilton to thank!
---
Venue
Reviewed on

12/29/2012
Wendy G
Fantastic!
---
Impecable attention to detail
Reviewed on

11/29/2012
Amanda T
When my husband and I walked into the hall of mirrors we were in love. The room was perfect and to make it even better Marianne and the rest of the staff's attention to detail was unparalleled. All of our requests were fulfilled and our guests just raved about the service. We could not have been happier with our service from the staff.
---
Amazing experience!
Reviewed on

11/19/2012
Lauren K
Absolutely amazing from start to finish. I knew the Continental Ballroom was for us as soon as I saw it. The only "decorations" we used were flowers and uplighting. Our catering manager, Heather, was phenomenal to work with from planning to post-reception. The entire staff at the Hilton was absolutely wonderful and the food was delicious! My guests are still talking about the braised beef short ribs.
---
Wonderful Experience!
Reviewed on

9/04/2012
Elizabeth H
I would recomend having either your reception or both teh ceremony and reception at the Hilton downtown Cincinnati! My reception was in teh Hall of Mirrors and it was breath taking. We added flowers to teh tables and pin lighting and the hotel staff did the rest. I loved working with their staff. Everyone was very polished and had everything under control the entire evening. Not to mention the food is excellent!
---
Beautiful
Reviewed on

6/27/2012
Jennifer N
We chose the Hilton because we loved the architecture and really liked the first person we worked with. As our wedding got closer, we received a new person to handle our wedding (the other person left the company). We felt that she lacked the passion needed to work in the wedding business. It appeared that this was "just a job" to her. It was very hard to get her to respond to our questions via email and phone messages. The day of the wedding went well and everything worked out. I was a little disappointed when the banquet manager was upset that I wanted all of the table decorations (maybe I'm cheap but I spent a lot of money on everything and I had to return some things to the florist). The week after the wedding I realized that I was shorted some of table decorations. The person we worked with never responded to my messages (both phone and email). I finally talked with the manager and he quickly took care of things. Overall I was happy with the reception but felt that the service needs to be improved especially with the price we paid.
---
perfect!
Reviewed on

5/09/2012
asha s
Everything at my wedding reception was flawless and done perfectly! Comes highly recommended if you can afford to hold your reception here. Food is great, service is impeccable, coordinators know their stuff!!!
---
The Best!
Reviewed on

5/06/2012
Alexandra A
The Netherlands has a wonderful reputation which is well deserved. They were outstanding and very professional. The food was delicious and the ballroom and hotel are gorgeous. We worked with Ashley Judy and she was exceptionally helpful and made sure that the day went smoothly.
---
Outstanding Service
Reviewed on

12/13/2011
Cherilyn M
They were VERY professional, helpful, and wonderful to work with. Amazing staff and service. Our food was delicious and the Pavillion Ballroom was spectacular. A very romantic hotel with a lot of history for a glamorous wedding.
---
Stunning venue with great service!
Reviewed on

11/03/2011
Suzanne S
Most of our wedding was made up from out of towners, we had both the wedding and reception in the Hall of Mirrors, so guests would not be driving around Cinti. The food was good, service was great and overall we were extremely pleased!Everything ran like clockwork and the staff were just wonderful!
---
Hall of Mirrors
Reviewed on

9/11/2011
Brittany C
The staff at the Hilton was wonderful! They took care of everything, I did not have to worry about coordinating vendors or the reception. The room is breath taking and the food and drink were wonderful. They truly made our day even more special! It is totally worth the money and the peace of mind, of knowing that everything went smooth!
---
Perfection
Reviewed on

5/17/2011
Stacey S
Not only are the halls at the Hilton beautiful beyond belief, but the staff there have events down to a science. Everything ran incredibly smoothly and the service was perfect. In planning with the Hilton I had the pleasure of working with Hanna Minor. She was incredibly helpful and kind and quick with her phone and e-mail responses. I would definitely recommend both her and the Hilton!
---
took care of everything
Reviewed on

5/07/2011
Kasey H
My groom, family, and I got to be guests at our wedding! We didn't have to worry about anything, they took care of it (no wedding planner needed). The food was delicious and the venue is so gorgeous, you don't need much by decorations. We had our reception in the Continental ballroom and it was perfect. Also loved the complimentary rooms they provided for my bridesmaids and I the night before, my parents the night of, and my new husband and I the night of.
---
Fairytale come true!
Reviewed on

2/12/2011
Cathy Y
Robin at the Hilton helped make my fairytale wedding come true. There are not enough words to describe the beauty, service, food and professionalism of the staff. Our every need was fulfilled above and beyond our expectations. People are STILL talking about our wedding and it's been two months already. The staff at the Hilton, especially Robin treat you like you are the one and only bride ever to walk into the venue. She makes the extremely stressful and daunting task of planning a wedding seem calming and serene. It's because she knows how to do her job so well that all your fears and anxieties go away when meeting with her. She answers all your questions quickly and calmly and responds to e-mails and phone calls no matter how many times you bother her. Robin pulled off ALL of my ideas and made them her own. I will NEVER forget her or be able to thank her enough. The Hilton is the most amazing place to celebrate the most magical day of your life. My wedding was superb and the Hilton had EVERYTHING to do with that! Your guests will be completely spoiled if you have your wedding there. They will not be able to stop commenting on the service and beauty of the hotel Thank you again!
---
Beyond Expectation
Reviewed on

12/01/2010
Sharon A
We arrived at the Hilton on Friday and checked out on Sunday. From the moment we arrived we were treated as if we were the only guests on a sold out weekend. After months of planning I did not have a single worry and was able to enjoy every moment of my daughter's wedding. Our wedding coordinator ensured every detail was executed as planned. The food was excellent in regards to presentation, quality and flavor. People still rave about the "best wedding they ever attended." If I had 10 daughters I would do it all again at the Hilton for each one of them.
---
MOB with High Expectations Humbled by Hilton
Reviewed on

11/27/2010
Leah B
My professional background is customer service so when my only daughter and I started looking for the perfect place for one of the most important days in her life we spent time ensuring that we met with only those venues that offered multi-services in one location. My review cannot do justice to the experience my family and guests had at the Hilton Cincinnati Netherland Plaza. Every detail was executed with precision. Our guests raved about the hotel, the friendliness of the staff, the convenient location, the beautiful ceremony, the fabulous reception, the delicious food. I received several notes from our guests after the wedding with sentiments like, "thank you for including us in your special day. I have never been to a more beautiful and touching wedding." One would have thought that each person who touched this even had a vested interest in ensuring that it was perfect, as if it were their daughter getting married. The Hilton Cincinnati allowed me to relax and enjoy every moment of our daughter's special day knowing that the details were being managed by the best Cincinnati has to offer. Leah Balsly Mother of Emily Tincher Married 9/17/10 at the Hilton Cincinnati Netherland Plaza
---
Mother of the Bride
Reviewed on

11/21/2010
Julie R
My daughter's wedding was at the Hilton in June. We could not have been more pleased. The staff was top notch in all aspects. Our coordinator was a warm, caring and first rate professional; we enjoyed working with her and she made sure that every detail was perfect. I recommend the Hilton Netherland Plaza very highly. It was fabulous from the first moment of planning to the end of the big event.
---
Simply Amazing!
Reviewed on

11/19/2010
Brittany H
We had our reception at the Hilton Netherland Plaza in the Hall of Mirrors ballroom and it was spectacular! The location, service, food...everything was perfect. We received numerous compliments from our guests about the Hilton Netherland Plaza. People told us the food was the best they have ever had at a wedding! It's not your typical "hotel" reception location and the staff is extremely accommodating and they really want your big day to be perfect...and ours was!! Parking and hotel rooms for the guests are also very convenient and way above average. The Hilton Netherland Plaza is one of a kind and is truly a historic gem in Cincinnati.
---
Send Message