Home

Hilton Palacio del Rio
Book Your Wedding with Hilton Palacio del Rio
---
A BALLROOM IN SAN ANTONIO, TX
About Us
Located in the heart of downtown San Antonio, the Hilton Palacio del Rio offers versatility and polish for a custom-fit and distinctive Texas wedding. Panoramic River Walk views, traditional hacienda and contemporary styling and outdoor and indoor spaces are all contained within the Palacio del Rio's grounds.
There are multiple different locations available for your rehearsal dinner, ceremony, cocktail hour and reception. There are plenty of rooms available for your guests to stay a night or two and enjoy all that the city has to offer.
Terrace Garden. Overlooking downtown San Antonio, the lush rooftop garden and gazebo of the Terrace is optimal for intimate, charming ceremonies and cocktail hours.
The Pavilion. Located across the street from the actual hotel in Hemisphere Park, this beautifully renovated 19th century-built limestone and wooden building hosts ceremonies and receptions of 250-300 people.
Salon Del Rey. This signature Spanish-style ballroom has warm natural lighting with its expansive windows and beautiful views of the San Antonio River Walk to accommodate huge receptions of up to 675 guests.
El Mirador Ballroom. Fully immersive views of the San Antonio skyline are made possible by floor to ceiling windows across the entirety of the El Mirador Ballroom for your reception of up to 325 people.
La Vista Ballroom. The La Vista Ballroom similarly offers floor to ceiling windows and views of the surrounding skyline, coupled with a more modern style and elegant flair for a reception of up to 400 people.
The Stetson Ballroom. Floor to ceiling windows in the Stetson Ballroom offer yet another cityscape view in the Palacio del Rio's premier location. The walls are paneled with Brazilian red wood and elegant furnishings make this option fit for a formal, sophisticated affair. The Stetson comfortably accommodates 165 guests.
What You Should Know
Outside decorations are allowed to be brought into the venue, but all must be pre-approved by the Hilton staff before the day of the wedding. Regulations include no attaching items to the walls, floors or ceilings. Similarly, outside entertainment is allowed, but must comply with hotel policies.
If your guests wish to stay at the hotel overnight, a reservation wedding website can be created to assist with the scheduling of rooms, which must be reserved at least 30 days prior to the wedding. No outside food is allowed to be brought into the venue, but the Palacio offers five different packages—Regal, Royal, Majestic and two Buffets—to fit the dining style and budget of your choice.
The Regal Package includes one salad selection and one entrée selection. Multiple additions can be made to the package for additional fees, such as hors d'oeuvres, standing cheese displays and more, making this package the most versatile and customizable.
The Royal Package offers a standing display of imported and domestic cheeses, individual vegetable crudité shooters and dip and three hot or cold hors d'oeuvre stations for cocktail hour. Dining includes Mediterranean pasta and slow-roasted beef stations. Freshly brewed Starbucks coffee and iced tea is also available for guests to enjoy. A minimum guest list of 50 people is required for the Royal Package.
The Majestic Package includes a standing display of cheeses, a display of fresh vegetables and dip and three hot or cold hors d'oeuvre stations for cocktail hour. The main course includes prime rib or Chicken Florentine, both served at stations. Dinner is followed by Starbucks coffee and iced tea service. A minimum of 50 guests is required for the Majestic Package.
Extra Perks
Champagne toast for wedding party included in all packages
Accommodations for bride and groom on the wedding night
Access to on-site wedding specialist
From the Vendor
Earn a free honeymoon with HHonors Wedding Points!
Celebrate along the beautiful and romantic San Antonio River Walk. We have the perfect location for every style with panoramic downtown and River Walk views. Venue options include Pavilion by Hilton, a historic venue in HemisFair park. Use your HHonors Wedding Bonus Points towards your honeymoon!
Amenities + Details
Amenities
Handicap Accessible

On-Site Accommodations

Indoor

Reception Area

Wireless Internet
For more details about amenities, please message the Venue.
Ballroom, Waterfront, Historic Venue, Hotel, Restaurant
Bar + Drinks, Cakes + Desserts, Food + Catering, Planning, Rentals + Equipment, Service Staff
Contact Info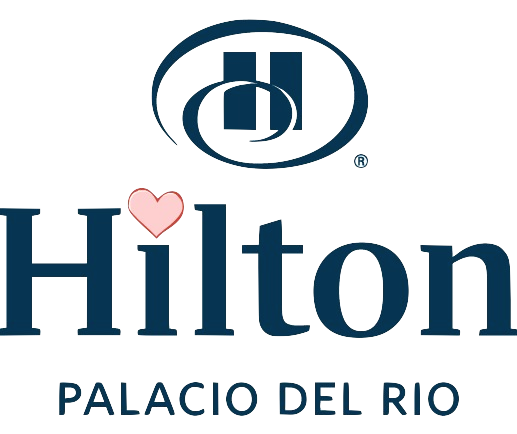 Reviewed on

3/01/2017
As an accidental wedding planner to my best friend, the Hilton and especially Gabriel the Catering Mgr. were amazing. We wanted unique and personal and Gabriel helped immensely with contacts and reminders and support for all our kind of crazy ideas! He and the staff were... Read More responsive, helpful and REALLY cared about making this one day perfect and special. Gabriel worked creatively and sensitively to stay within the budget. The event was perfect and the Hilton was fabulous.
---
Reviewed on

10/26/2016
Ana T
Without a shadow of doubt, Hilton Palacio Del Rio met all of our expectations!! From the decorations, lighting, food, drinks and service! Every guest of ours enjoyed themselves during the cocktail and reception. Family and friends who stayed the night / weekend at the hotel also... Read More enjoyed their stay. Barbara Gabaldon, is truly a blessing in disguise! Absolutely professional and loving all at the same time! She became more than just our coordinator, she became Auntie Barbara! Any concerns, questions and doubts, she took care of it all. Without any hesitation, she was there for us when we needed her help / advice. If we could do it all over again, we would hands down pick Hilton Palacio Del Rio again! The view was spectacular as well since we got married during winter! Being able to view all of the city and Christmas decorations was something else. We couldn't have asked for a more perfect wedding! Beautiful memories that my family and I will cherish. Thank you Hilton Del Palacio and Barbara Gabaldon for making our dreams come true!! Love Ana & Jorge Espinoza 12-10-16
---
Reviewed on

8/22/2016
Courtney K
I honestly could not have been more pleased with the Hilton. I had both my wedding and reception in the Pavilion, a building across the street owned by the Hilton, and everything was perfect. From the planning phase to the exit, the Hilton staff was professional, attentive and... Read More just incredible. Barbara Gabaldon was a true Godsend and made everything go off without a hitch. With the help of some huge players in the planning and execution of the event (Yari, Mustafa, Jerry, Roberto, and Adrian) the venue, setup, food, and service were all wonderful. Being from Midland, a majority of our 165 guests stayed at the Hilton and they all had amazing things to say about the service provided by the hotel. From the moment we stepped out of our car and met the bell hop we felt like valued guests. I really could not imagine a better venue to host a wedding, highly recommended!
---
Reviewed on

8/19/2016
We held our wedding reception in the Stetson Room of the Hilton Palacio del Rio. We had about 100 guests, which the venue was the perfect size for (11 large tables plus a dance floor, cake table, gift table and "sweetheart" table). The room itself felt cozy and intimate, yet... Read More still had an entire wall of windows overlooking the Riverwalk--very pretty. We had a sit down meal because it was the least expensive option. The food was very good and the portion sizes were huge. The staff was able to accommodate my request to charge up to a certain dollar amount on my credit card for a bar tab, and then begin charging guests on a cash bar basis. The catering staff, Barbara Gabaldon and her very capable assistants, Gabe and Yari, were incredibly helpful, proactive, accommodating and attentive. They were also a very calming presence in the midst of the chaos of planning a wedding. In all, I felt like we got a great deal for the money we spent, and I would gladly hold another event there in the future.
---
Reviewed on

6/18/2015
Jessica V
My husband & I had our rehearsal dinner at The Stetson Room at The Hilton Palacio Del Rio! Words cannot express how beautiful the room is with the perfect view of the River Walk. Not only is it breathtaking, the service you receive is second to none. Norma Baltierrez was our... Read More contact for the evening & she went above and beyond to make sure everything was set up & dinner was served hot!! (Mix-up happened & we ended up over an hour later than scheduled, our fault, not theirs) Everything was beyond my expectations & we are so grateful to have been able to have our event there. I might add, none of this would have been possible without Barbara Gabaldon. I am so thankful Barbara recommended having our rehearsal dinner there & I am so grateful the Hilton was available for me to get ready in the morning of the most important day of my life thus far. I was originally supposed to get ready at the church & they 'took the room back' 2-weeks before our wedding. I panicked, who wouldn't. When I came across the Hilton & spoke to Barbara, I just knew everything was going to work out. She took me under her wing & ensured me that I had no need to worry! I was able to get ready on our wedding day in the 'La Princesa' room at the Hilton Palacio Del Rio. Barbara checked on us constantly & made sure we were taken care of at all times. I don't know what I would have done without her! We ended up ordering some appetizers while we got ready & the food was DELICIOUS! Thank you to everyone at the Hilton Palacio Del Rio for your incredible service, beautiful hotel & for making our memories that more special!
---
Most beautiful setting with the absolute best service
Reviewed on

12/26/2014
Julie H
My wedding took place at the Hilton Palacio Del Rio on October 18, 2014. It was absolutely amazing-beyond words. We worked with Barbara Gabaldon-Catering/Events- I highly recommend her; she knows her stuff, she has a great personality, dependable, and she is very professional.... Read More Barbara was by our side from beginning to the very end. The staff was very professional, friendly and courteous, and very attentive. Though the venue was perfect in location and in atmosphere (in the heart of downtown San Antonio with lots of fun things to do before and after the wedding), the staff was a major factor in the success and enjoyment of our wedding-they are truly the best. The venue was gorgeous; our ceremony took place in the Garden Terrace, cocktail hour in the lobby on the 22nd floor, then our reception was held in the La Vista ballroom on the 22nd floor. The views and ambiance of the entire place was just perfect- the wedding was like a dream! The food was amazing-everyone loved and enjoyed their dish-the Chef was fantastic. The drinks were awesome- great bartenders. There was not one complaint from guests and not one can be made on our part (me and hubby). I know the staff did a whole lot more behind the scenes than we know and we could never thank the entire staff at the Hilton Palacio Del Rio enough for making our special day a wonderful event.
---
No fuss venue
Reviewed on

7/16/2012
Elma H
I really enjoyed working with Nikki J. She was very helpful in choosing the menu and worked closely with us up to the very last minute. Futhermore, the banquet captain and staff knew exactly what to do and were very much sensitive to everything we needed.
---
Lifetime Experience
Reviewed on

7/09/2012
Jennifer D
I searched many venues before selecting the Hilton Palacio Del Rio. Once I was the Salon Del Rey I was sold and knew this is the place I had to have my wedding. I started off with one planner, Nicole, but she left for Maternity leave and Doreen Patino took over. This could have... Read More been a very scary experience as I already felt comfortable with Nicole but the staff made me very comfortable. I live in Dallas and the whole staff was very accommodating of scheduling limitations I had. By the time my wedding day arrived I was a nervous wreck due to some family tragedies but my husband and I were so happy with the outcome. It was better than I expected. The food was amazing my family and friends couldn't stop raving about the steak and chicken. My wedding cake was done by the Hilton and tasted wonderful and looked amazing. The banquet staff were very friendly and the banquet chief, Eduardo (I believe) was wonderful. He ensured everything happen seamlessly and exactly how I requested. I had no worries, he put my mind at easy. The whole experience was more than I could have asked for and I am truly grateful to the staff for making my wedding a lifetime experience!!!!!!!!!!!!!!!!!!!!!!!!!!
---
Reviewed on

5/12/2011
Magdalen V
I actually had my reception at the Pavilion which is owned by Hilton but across the street from the hotel. First, the venue itself is rustic looking with tw stone walls and wooden floors. It's two floors and allowed us to be in a different room for dinner and dancing. Second,... Read More the service was AMAZING! It began with Nicole, the Banquet Director (I think that was her title) and ended with the wait staff. My husband and I have a 3 yr old son who was more than amped up with all the activity going on. He ran out of the hall and 4 of the waiters took off after him while a few family members cut him off at another door. They acted quickly and it was impressive. Henry, our banquet captain, was so attentive to not just our needs but EVERYONE's. I needed a band aid and instead of just saying "we don't have any here", he ran across the street to the hotel and grabbed a few "just in case". I could not have asked for a better experience for such an important day in our lives together! If they ever read this, thank you so much for providing excellent service! Oh and I almost forgot, the food was awesome too. The cheese tortellini and other pastas were superb (coming from my MIL who is Italian and makes her own!)
---
Perfect Location!
Reviewed on

5/06/2011
Emily L
The Hilton Palacio del Rio was the perfect place for our reception. Everyone there was so nice and a huge help before and on the day of the wedding. The reception was perfect! I loved everything about it and all of our guests had a fabulous time.
---
SA Wedding
Reviewed on

11/19/2010
Barb G
We used the Hilton on 10/23/10 also. Fabulous meal. They definately messed up the cake. We left a picture of what we wanted it wasn't even similar. We ordered yellow cake the guests were served white cake. We used the Terrace Deck for the ceremony and now that we have... Read More pictures we see that old decorations from a previous ceremony were left up and some of the lights were hanging down. Ruined some of the pictures. The entire Hilton staff were friendly and helpful. I do wish they paid more attention to details of our event. All and all ok and I would try them again knowing that I would need to be very persistant on all details regardless of how minor they may seem at the time. I will say the reason we selected the Hilton was so I wouldn't have to worry about the small details. Never works out like you think I guess.
---
stow
Reviewed on

11/09/2010
staci g
They were great, did everything for us and they were extremely friendly and helpful, but completely messed up on my cake and meal.
---
Simple and elegant
Reviewed on

8/09/2010
Melissa K
I had a simple wedding on the Stetson. The service was really good, Nicole was really helpful.
---