Home

Historic Shady Lane
About this Vendor
Where Rustic Meets Elegance
Step into a world of stunning views, captivating gardens, and lush landscapes perfect for large gatherings or intimate ceremonies. From your first tour to the last dance, Historic Shady Lane is a setting made for wedding memories. Visit our website for package information and to schedule a tour!
Amenities + Details
Amenities
Bridal Suite

Handicap Accessible

Liability Insurance

Outdoor - Covered

Outdoor - Not Covered

Reception Area
For more details about amenities, please message the Venue.
Barn, Historic Venue, Loft, Tented
Contact Info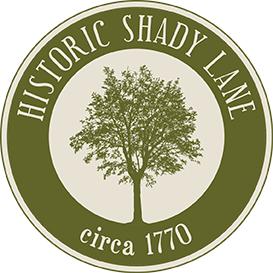 475 Shady Lane, Manchester, PA
Reviewed on

5/21/2015
Lindsay B
Words cannot express how much I loved my day at Historic Shady Lane, but I promised that I would write a glowing review, so I will try. From the moment we started communicating with Lauren, the process of reserving the estate went smoothly. We looked at a few other places, but none felt right. When we toured the property with Steve, he told us about the history and showed us the variety of places available for pictures and ceremony sites. One of the things I loved most about this venue is their flexibility—they will work with you to have your ceremony and reception where you want it and how you want it. They will drive your grandparents up the hill in golf carts. They will make sure set up goes smoothly and you have everything they need. Lauren and Steve will work with you to make sure your day is not just what you imagined but better. In addition to the helpfulness of Lauren over email, the kindness of Steve as a crazy bridal party descended upon the site to set up Sunday morning, the all-encompassing beauty of the property there is one other fact that truly stood out to me when my husband and I were looking for venues. While Historic Shady Lane will recommend vendors to you, there are none that you are required to use. This was especially important to me because my wedding vision included a very specific type of catering (barbeque) and alcohol (craft beer). Yet another selling point of this gorgeous venue (do you need more?) is the inclusiveness of the estate. With men's den for the guys and a bridal cottage—complete with salon—for the ladies, it's easy to spend the whole day on the property. And, when everything doesn't go as perfectly as planned and you, as a bride, take longer than anticipated to get ready, it's okay! Because there's foosball and a dartboard for the guys. And you can play foosball with your soon-to-be husband when you find out there's a traffic jam on Route 30 and delay the start of your ceremony for a bit and your entire party queues in the men's den because it has a great air conditioning vent. Once again, I cannot sing the praises of Lauren and Steve and their crew at Historic Shady Lane enough. We had an amazing day.
---
Best Day of My Life
Reviewed on

6/20/2014
Nate A
I would not have changed ONE THING about the venue that I got married at. Historic Shady Lane was beyond perfect! The way they treated us was so comforting and helpful and supportive. From the morning on they provided us with everything that we needed and was around if we needed more help. The area is ABSOLUTELY BEAUTIFUL! My photographer LOVED taking pictures because we were in the perfect location!! We had planned on having my ceremony outside…however, it rained. Even in that chaos and stress the staff at Historic Shady Lane went ABOVE AND BEYOND to make my day perfect. and they did. They made sure my guests knew where to go and made sure there was a place for them to wait out of the rain. They made the reception tent look even more beautiful so that the ceremony could be inside. They honestly took all the stress away from me and my family and made my wedding day the best day of my life. If I would do it all again, I would choose Historic Shady Lane again in a heartbeat!
---
Reviewed on

7/19/2015
Katie K
There are so many amazing things to say about Shady Lane that I am not even sure where to start. My husband I were married here on 6/5/15. I have been so excited to write this review since the moment we knew this was our wedding venue. We had been blown away from the very beginning about this place. My husband was set on this venue when he saw the gorgeous grounds and historic, unique buildings on the property. I fell in love time and time again as we walked around and there was yet another surprise for me! (truly, the bridal cottage is what got me!!) Shady Lane is much more special than any venue I had seen (and I researched everywhere!) I had a very detailed checklist for a venue and Shady Lane had MORE than I could have thought of! First off, if it wasn't for Lauren and how amazing she is, I wouldn't have had the perfect experience that I had. She was there for every email, text and call to answer ALL my questions. I truly felt like the ONLY bride getting married there this year. That is something every bride wants. Some venues try to push as many brides through as they can to generate income, but it is totally different here. Both Lauren and the owner, Steve, truly care about you and want to do everything in their power to help you make sure your day is perfect. They are so accommodating and always offer help and advice. This venue creates for AMAZING photographs and had tons of wonderful photo spots. What I most loved about Shady Lane was that even if bad weather would have come, I was relieved to know that there are gorgeous alternatives (greenhouse and tent). Not every venue has that. You are able to bring in your own caterer (good luck trying to find a venue like this that allows that!--this was HUGE for us!) The bridal cottage was an entire house for getting ready. My bridal party, mom and mother-in-law were all able to relax and just take in the day (on the property!!!!). That is a big deal. Wedding days go by so quickly for everyone. And to be the bride rushing around from here to there is not fun. This allows for everyone to be together and enjoy themselves! The guys loved the men's den! They were able to hang out on the property as well, relax, and get dressed all while the photographer is able to capture these moments. There is not one single thing I could even think of that would be a negative about Historic Shady Lane. I would recommend this wedding venue over and over to anyone. We had the best day of our lives and seeing the breathtaking photos of ourselves on the property is something we will cherish forever. Shady Lane will no doubt soon be a venue that brides will travel to from very far for their special day. I am lucky to be 30 minutes away from the most perfect wedding venue in PA. It is something very special to have all your guests tell you that this is the most beautiful wedding they have ever been to. The venue gets all the credit. -Tony & Katie Cutia
---
The perfect wedding!
Reviewed on

5/07/2015
Melissa C
Historic Shady Lane is the perfect place for any bride to have her dream wedding!!!!! Steve and Lauren are wonderful!!! The place is breathtakingly beautiful and they will pretty much accommodate anything you have in mind for your big day. Lauren was an absolute joy to work with...she was upfront and to the point and professional but at the same time I felt like I had a friend! I planned my entire wedding in only 10 weeks! I was missing deadlines left and right but Lauren stuck with me and helped me out where possible and remained upbeat and friendly the entire time! They may be a little pricey but they are honestly worth every penny! I didn't have to worry about a thing the entire day! I would recommend them and this beautiful place to anyone looking for the absolute best wedding experience!!! Thank you Lauren and Steve for making my dream wedding a reality!!! 😄
---
Everything we always imagined!
Reviewed on

11/17/2014
Historic Shady Lane's staff were amazing to work with. They were so professional and right on top of things. The day of our wedding we had some delays due to unforeseen circumstances and they were so patient and so easy to work with. Steve really takes the time to make sure everything is perfect for the couple. I recommend this venue to anyone who wants a beautiful setting with the ease of knowing everything will go well. I can't explain how thankful I am to them for making our day perfect!
---
Simply. Incredible.
Reviewed on

10/12/2014
Julia B
Steve and Lauren from Historic Shady Lane are simply incredible. They went above and beyond for me in every way. From providing help with floor plans and decor, to calming me and providing vendors for tent rentals when I realized it was going to rain on all my guests! Steve even brought us one of his personal frying pans from his house to make breakfast with when we realized we had not brought an extra one to cook breakfast for ourselves at the bridal cottage- something that seems so insignificant, but makes all the difference when you're a bundle of nerves! It made me feel like we were his personal guests- which is such a wonderful feeling to have on your wedding day. I always felt like I was in extremely capable hands throughout the entire process of planning my wedding. Even though there were 3 weddings on the weekend of my wedding (Friday/Saturday/Sunday), Lauren and Steve made me feel like I was always the top priority, a sentiment I'm confident they provide to every single bride who chooses their venue for their wedding. My guests thought the estate was simply breathtaking and they especially loved the greenhouse for cocktail hour. The vintage rentals they provide are also a great resources to truly capture the vintage feel of the estate. Additionally, my other vendors (photographer, coordinator and lighting) told me that they found Steve and Lauren exceptional to work with. As a wedding vendor myself, I think that this is one of the highest compliments a venue can receive. I couldn't have imagined getting married anywhere else and my wedding day was perfect. Thank you for EVERYTHING, Steve and Lauren.
---
A true fairytale wedding venue!
Reviewed on

10/06/2014
Noelle C
I can't say enough good things about the Historic Shady Lane! I am still in awe of how beautiful it is and how amazing our wedding day was!! Steve and Lauren were great to work with throughout the whole planning process. I must have sent Lauren at least 20 e-mails with questions while I was planning, and she answered them in less than 24 hours each time and didn't seem to get annoyed with me at all :) Our wedding was on September 21st and we are still hearing how beautiful the property is from our wedding guests and also others who are viewing photos that our photographers have posted. There are SO many different locations for photos on this property - it is a photographer's dream. Our photos that we have seen so far are absolutely stunning. Having our wedding at this venue literally made my fairy tale wedding dreams come true! I would HIGHLY recommend the Historic Shady Lane to anyone! There is no way you will be disappointed!!
---
Romantically Vintage Chic!
Reviewed on

9/04/2014
Molly C
The moment we arrived at the venue for our first tour, I instantly fell in love! The owner, Steve Kohr, took so much time to show us around the venue and help explain to us how the big day would go. Over the next few months, the venue wedding coordinator, Lauren Stine, was more than helpful at answering all of our questions and responding promptly to all of our emails and requests. By the time the day came, I felt confident that our wedding day would go exactly as planned! The day of the wedding, Steve and his staff were very attentive to our needs and kindly chauffeured our guests and bridal party on numerous golf carts around the venue. The venue itself is breathtaking. So many of our guests commented on how beautiful everything was and how it was the perfect place for a wedding. My husband and I chose a vintage travel theme for our wedding which was complimented perfectly by Shady Lane. We were even able to rent antique furniture to stage the rose garden and greenhouse. We HIGHLY recommend this venue and its staff for your next event. And we promise that your wedding will be everything you always dreamed it would be... just as ours was!
---
PERFECT venue
Reviewed on

8/05/2014
Megan M
Carl and I could not be more pleased with our experience at Historic Shady Lane. When we visited last summer we immediately knew we had found our wedding venue. Steve and Lauren were outstanding to work with. The grounds at Shady Lane are impeccable thanks to Steve's hard work. So much of our planning process was made easier with the help of Lauren. They have thought of everything..big and small details, making our wedding day absolutely perfect and unforgettable. Thank you again for helping to make our wedding vision possible! We would highly recommend Historic Shady Lane, as our expectations were beyond exceeded.
---
Awesome venue and hospitality!
Reviewed on

7/12/2014
Kelly M
Shady Lane is a gorgeous venue with so many options for incredible pictures. Steve and Sue (owners) along with their team take great pride in providing you with the most beautiful setting. The staff is wonderful to work with: very helpful and always present in case you need anything. The bridal cottage and men's den were a very nice feature. The cottage was gorgeous inside which offered so many additional picture opportunities. I highly recommend using this venue! You will have an incredible experience and wonderful pictures!
---
A fabulous wedding day on 5-18-14!
Reviewed on

6/28/2014
Historic Shady Lane (HSL) was an amazing choice right from the beginning! My now husband and I were impressed with beauty of the property, the staff, and the overall flow of our wedding process in working with HSL. When you first step foot on HSL, you feel as though you have found a treasure. The many stone buildings give you an elegant vintage feel while the vast yard space and greenery give that natural earthy tone that was also very important to me. The venue site is very spacious with numerous locations for a beautiful ceremony site. Many guests commented to me after the wedding how when they initially pulled up they were amazed at the beauty of the place and thoroughly enjoyed exploring the property during the course of the day. Unique to HSL is a rustic greenhouse great for cocktail hour, and many layers to the main house allowing natural staging for a ceremony site. We had yard games at our wedding and the set up was perfect with the greenhouse close by for appetizers then the wide open space for games. I could go on and on about the beauty of the location but check it out! I went there in the middle of winter with snow on the ground to look at it and its beauty even then captured me! The staff are extremely accommodating, organized, and very realistic to work with! As a bride you want to choose a place that is stress free knowing your day is in good hands. HSL staff were prompt, quick to return phone calls or emails with questions I had, and were upfront with costs. I so appreciated working with people that were honest and did not try to add costs as our wedding process progressed. They took care of many details and were so great to work with! Lauren, the communications coordinator, would even help give me information relating to details outside of HSL that she had experience with! So much is included in the price of the HSL package. It was wonderful not worrying about renting a tent, table, or chairs, parking, AND on top of that trying to coordinate with more people. HSL has a beautiful reception tent with lighting that is gorgeous! The staff sets up the tables and chairs for the ceremony and reception. The property also saved me lots of money on decorations since it has many gardens and flowers. OH and not to mention the wonderful bridal cottage to get ready in which is spacious, clean, and wonderful for pictures! You would be silly not to at least visit the property or talk with Lauren and Steve about if HSL would be a good fit for you. I was not disappointed with my venue and can't thank you enough HSL for making my wedding day so very special! It was a joy to work with you Lauren and Steve =)
---
Wedding Venue
Reviewed on

6/11/2014
Kristin B
Historic Shady Lane was the most perfect venue for my wedding! We did everything at the venue which was so convenient! Steve, the owner, was amazing the whole day and assisted when needed. I highly recommend this venue to anyone! The pictures do not do it justice. I could not imagine my wedding day being at a more perfect venue.
---
Amazingly BEAUTIFUL
Reviewed on

5/26/2014
Krystal D
My husband and I got married here May 17, 2014. This was our last stop when looking for venues and I just knew it was the one. I can't say enough about how great the venue is. Shady Lane is a huge property that offers so many different aspects I was asking for my wedding. The bridal cottage was absolutely perfect for 12 girls to get hair and makeup done the day of the wedding. Steve, the owner, and Lauren, the communications director, were so involved and offered so much help for every detail. Lauren and Steve went to above for us and made our wedding more than we could have ever expected. We got married at the rose garden. It was perfect to walk down from the house and over the bridge. Cocktail hour was just perfect at the greenhouse and it allowed guests to truly enjoy the beauty of the property! The new tent is gorgeous and has drapery and chandeliers already installed! It made the whole tent look so elegant. I can't say enough wonderful things about this venue. We had the wedding of our dreams at Historic Shady Lane.
---
Historic Shady Lane = My Dream Wedding
Reviewed on

5/12/2014
Heather L
Historic Shady Lane was the first wedding venue my fiance and I visited and 5 mins. into the tour, I knew that's where I wanted to say "I Do". The estate is absolutely beautiful. There are so many options for the ceremony: the patio, the rose garden, the greenhouse...The tent on the hill is huge and perfect for the reception and so beautiful inside with the drapery. Steve, the owner, and Lauren, the coordinator are amazing to work with. They went above and beyond to make my wedding day perfect, and I can definitely say I had the wedding of my dreams there on May 3, 2014.
---
Amazing!
Reviewed on

4/07/2014
Laura F
I fell in love with Historic Shady Lane the moment I set foot on the property. It was the only venue I visited. The owner, Steve, was so knowledgeable about the property and the needs of our family. We were in constant contact throughout the entire process, offering advice and suggestions on how to make our day the most beautiful it could be. This venue is truly amazing. Most times, a venue only lets you use part of the property for part of the day. At Historic Shady Lane, we could use the whole property for the whole day--no other weddings were taking place on OUR day. The bridal cottage is perfect for a bridal party of any size. The full kitchen was great for heating up breakfast and snacking throughout the day. The salon upstairs was more than my hair stylist ever dreamed of. The vintage decor and naturally built stone house provided a beautiful backdrop for photos. If you have any doubts about choosing a venue, Historic Shady Lane is amazing, and everyone we interacted with was professional, knowledgeable, and more than willing to help a bride in anyway she needs.
---
Fantastic!
Reviewed on

12/09/2013
Tammy H
I absolutley loved having this as our venue! Everything was perfect, wouldn't change a single thing!!! The staff was very helpful leading up to the big day and the day of! This venue is so unique, nothing like any of the other venues we looked at in the area. There is so much room for everyone to spread out while getting ready. There is a carriage house that is perfect for while the ladies are getting ready, and a den in a seperate house for the boys. You can have your cermony on site, and there is a few different options. Then there is a large tented area for the reception. This venue is also such a beauty, wonderful historic buildings and natural splenders. This is a perfect venue for anyone looking for something that is etiher vintage, historic, outdoor, unique, beautiful, or all of the above combined! Thank you to the Historic Shady Lane staff for making our special day even that much more special!! -The Deckers ;-)
---
The Perfect Wedding Venue
Reviewed on

11/06/2013
Katlin A
Historic Shady Lane is the most breathtaking setting for a wedding. Every space on the property from the bridal cottage to the tent is so well taken care of and just beautiful. I received many many compliments on our venue, especially the unique greenhouse. The staff is also very helpful and accommodating. We were planning our wedding from Atlanta GA and they made the whole process so easy, answering all of our questions quickly and providing more services than expected. When the weather turned colder as our date approached they made sure our guests would be comfortable providing all the heat necessary. I felt like every time we visited we discovered something else that made the venue so special! The use of the bridal cottage and den was a huge bonus and made the whole day the perfect experience. Can't say thank you enough to them and I would highly recommend this venue for the perfect wedding!
---
Best of the best
Reviewed on

10/07/2013
alisha y
I knew shady lane was THE place the minute I pulled in the driveway. Everything about the venue is gorgeous, and there is so much history it's amazing. The staff was wonderful and accommodating every step of the way. The bridal suite was great (it's a whole house just for you and the girls) for getting ready. Chairs, tables and a huge tent are all included. I can't say enough great things about he venue and staff!!
---
The most beautiful wedding
Reviewed on

10/03/2013
Nicole F
My husband and I just got married at Shady Lane last weekend and couldn't have been any happier. The property is breathtaking from our ceremony behind the main house, cocktail hour in the greenhouse to the reception under the tent. My guest had no idea this place existed and described it as a hidden gem stating it was the most beautiful wedding they had ever been to, which every girl wants to here! I was also very please with how the transitions from the ceremony to the cocktail hour to the reception moved flawlessly. I would highly recommend this venue to any couple that is looking for a unique property that will give you a vintage feel and an amazing backdrop to you special day.
---
Send Message