Home

House of Broel
About this Vendor
The Most Romantic Site in New Orleans
Known for its warmth and charm this Garden District Mansion delights guests with exceptional Creole Cuisine, attentive staff and unparalleled surroundings – all at an affordable price. The hand painted high Victorian ceilings, exquisite antiques, romantic courtyard and glorious gardens offer a unique background for your special day in this magical city.
Amenities + Details
Amenities
Handicap Accessible

Liability Insurance

Indoor

Reception Area
For more details about amenities, please message the Venue.
Ballroom, Estate, Historic Venue, Park, Tented
Bar + Drinks, Cakes + Desserts, Food + Catering, Planning, Service Staff
Contact Info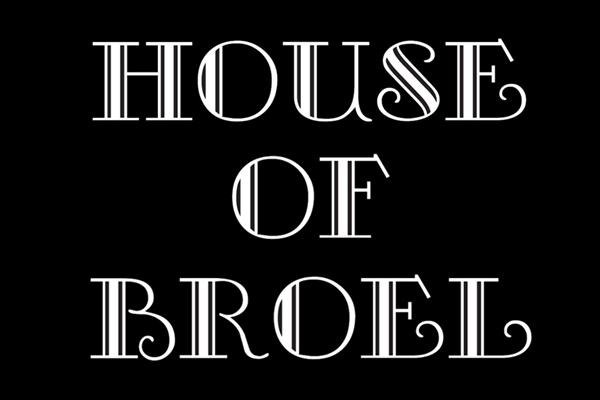 2220 Street Charles, New Orleans, LA
Romance and Fun
Reviewed on

4/15/2014
Jennie L
Our wedding day was fabulous at the House of Broel! The mansion was beautiful, and the passion of Ms. Broel and her staff was evident through the impeccable service they provided. I could not have asked for a more perfect wedding day! The food was yummy, the DJ was spot on with my requests, and the grounds were beautiful. Ms. Broel has many years of exprience in the industry and knows how to throw a great party!
---
A+ Experience
Reviewed on

4/04/2014
The House of Broel was magical. Bonnie and her team are top-notch in every regard. They took care of every detail and were very thorough. Bonnie even helped me find the right venue for my rehearsal dinner. The House of Broel value is extraordinary- the team takes care of everything. (cake, food, drinks, champagne toast, dj) There are no hidden charges, I paid a small additional charge to upgrade my cake (I had something specific in mind), and I had to remember to bring cash for gratuity for the servers- that was it! Our wedding was a destination wedding; my husband and I lived in New Orleans for 6-8 months prior to our wedding, but the majority of our guests (70 something total) came from other states and even other countries. House of Broel helped to make our wedding even more memorable! My only caution: Some guests love the dollhouse museum upstairs, some don't. Either way, it is a unique and special piece of New Orleans and my guests really appreciated the entire experience and left feeling like they took part in something extraordinary.
---
Mr & Mrs Charles Smothers, Jr Wedding
Reviewed on

2/06/2014
This was my 1st wedding and I wanted something small.. I started out with just having an intimate wedding there.. But after talking over things with Ms Broel she stated I still can have something small with family & friends.... So I placed it in the hands of her and the staff...I stated to her how many invites I was planning and she took care of it all..I mean it all from flowers, cake,DJ, and all course the wonderful menu..I was so amaze when I enter the doors of the House of Broel about an hour before my wedding...it was more than I could ever imagine... I choose to get dress there in the elegant room that was for the use of the bride. I am so glad I made the decision to hold my special day there... Her staff was wonderful and not only did they make sure the bride & groom were not in the need of anything but they also took care of the guests..All my guests enjoyed their self to the upmost and stated this was on memorable wedding attended so of course that made me feel special ... I thank Ms Broel and her staff for making my day on Sept 17,2011 an everlasting memory..I advise any bride who wants to be stress free in planning for a wedding to go to The House Of Broel...I still remember Ms Broel saying to me "She& her staff will take care of it all & all I had to do was arrive an 1hr or so before my wedding and she was right!!!! I would like to take this time once again to thank Ms Broel and her staff for making my day on Sept 17,2011 an Special & Memorable Day!!!!
---
Fabulous Fairytale Wedding
Reviewed on

6/08/2015
Alicia J
05/09/2015 ...This was the perfect place to make my dreams of a fabulous fairytale wedding come to life. Everything was truly wonderful! My husband is from New Orleans, but I'm from New York so most of my guests had never experienced a wedding in New Orleans and they were all very impressed and said they have never enjoyed a wedding reception as much as ours. Bonnie Broel, the owner did an excellent job of making sure that everything was perfect. The whole evening was truly magical! And the scenery looks absolutely amazing in all of our photos. It's the perfect setting for elegance and classic love story. The ceremony was pure romance and the reception was fun fun fun!!!! I highly recommend the House of Broel Victorian Mansion for your wedding and reception.
---
Beautiful
Reviewed on

12/06/2014
The house is absolutely beautiful! The food was amazing. Since we are from Texas and wanted to do some of the New Orleans traditions,Bonnie graciously guided us through all of those. Her main concern is for the bride and making her dreams come true. My daughter said her wedding was MAGICAL! Thank you Bonnie. Toni Hanson Mother of the Bride
---
Best Day of my Life
Reviewed on

8/21/2014
Marissa B
My husband and I got married on August 2, 2014 and it truly was the best day of my life. He is in the military and was gone for our entire engagement, my family is in California, his family is in Mississippi, and I live in Alabama. I was very stressed considering planning a wedding by myself and trying to coordinate this with family all over the country but Ms. Bonnie was amazing to work with and made my life so simple! The venue is decorated beautifully so I didn't have to worry about excess decorations or having to travel with much for the venue. I was able to make appointments to see the venue when needed and I always received excellent customer service when I called with questions. So many of my family and friends commented on how much fun they had and how their experience was absolutely amazing. All the food was delicious and a perfect mix to satisfy all guests taste. Over all this was the best choice for what our families were looking for and I definitely recommend this venue for anyone looking to have a fun, stress free, wedding day!
---
Reeks of Southern Charm!
Reviewed on

6/18/2014
I have been to several splendid events here over the years including an engagement party. They have a beautiful ballroom for events where live bands can set up and where we enjoyed some dancing. I really liked how the house is conveniently located on St Charles next to many hotels and the St Charles Streetcar line. The tour guide of the house reeks of Southern charm, he was so friendly and entertaining. He explained to us all the history of the home and the Madame that owns it. Apparently he is also an amazing chef! I loved the back patio where we could sit outside and enjoy the frog pond as well! I can't wait to go back.
---
Wedding
Reviewed on

4/15/2014
Jamie R
Wedding was effortless, the staff and Mrs. Broel took care of everything. All I had to do was walk down the aisle and say "I Do". The food was wonderful and the staff was very attentive.
---
House of Broel
Reviewed on

3/25/2014
Kelli M
My highest expectations were exceeded. The House of Broel made my two person elopement wedding feel like the ceremony of storybooks. From the personal bridal room to prep in, to the grand entrance down the stairs for the groom's first glimpse of the dress, to the lovely vows Bonnie created, to the music that Kevin provided, to the wonderful photographs that Rachel took in multiple settings, to the gorgeous wedding cake and good champagne toast..this was my dream wedding. Everyone at House of Broel was friendly, professional, and just really good at what they do and it shows. I could not have had a more perfect wedding. The mansion was stunning and the grounds were all part of the fairytale setting. I am 35 and being in this wedding made me feel like a princess. My groom is still eating the delicious cake that we took home by train. I could not have felt more special on such a momentous day. Thank you so much from Atlanta Kelli Martin
---
Perfect New Orleans Wedding
Reviewed on

3/12/2014
carmen g
I was married at the House of Broel in October. The moment Ms.Bonnie gave us the tour of her home we fell in love. She is so gracious and knowledgeable of the home's history. You don't feel like you are in just any old New Orleans home, you can feel the history and see the beauty in this property. Ms.Bonnie and her staff were amazing, she took care of everything and was always available if I had any questions. Cassandra was equally amazing the day of the wedding and helped me with any small thing I needed. I had so many compliments from the guests about how much they enjoyed the wedding and how it was one of the best they had ever attended. If you want to feel special and completely cared for on your day then I suggest going to Ms. Bonnie. I couldn't imagine a better wedding. It was a dream come true and will be my first choice for any other party I would ever have in New Orleans. Thank you so much!
---
Phenomenal Venue and Staff!
Reviewed on

3/11/2014
Nicole H
We were married during Mardi Gras 2014 at House of Broel. The ambiance of the venue is historic and unforgettable. Mrs. Bonnie Broel was genuine and was no stranger to weddings and how they should be done. Rachel and the rest of the staff were accomodating, down to earth and very professional. Overall rating of 5 stars is well deserved. I felt comfortable and had no concerns that all would go as planned. Thank you, House of Broel! You deserve all the success in the world!! - Nicole New Orleans, La
---
House of Broel Venue and Staff Equally Charming!!!
Reviewed on

1/12/2014
Kate A
Ms. Bonnie Broel proved to be the ultimate "hostess with the mostess." From the moment that we arrived to the reception venue until the evening's end, our every need as newlyweds was met by Ms. Broel and her conscientious staff. My husband and I didn't have a wedding planner, so this was of the utmost importance to us. Many brides will tell you that they are so busy during the reception greeting guests and taking pictures that they forget to just take moments to enjoy themselves. Ms. Bonnie made sure that we sat down to eat-she served us herself-had someone on hand to get us drinks continuously throughout the night, and provided a special room in which we could change or just escape from the crowd for a few minutes. What was most impressive, however, was the way that she treated my guests. I should mention that the House of Broel is also a gorgeous, ambient Victorian Mansion that doubles as a museum, and Ms. Broel made sure that guests who didn't feel like dancing or mingling were entertained by giving them a personal tour of the house. Months later my family and guests are still talking about the food and about how much fun they had at my wedding. This all-in-one reception venue is a must for any bride and groom who want an elegant New Orleans' style wedding catered by a personnel that exemplifies true southern hospitality!
---
Outstanding people that made sure our day was special!
Reviewed on

11/29/2013
They made it so easy for us. It was just the two of us and it couldn't have gone any better. Everyone was very personable and went above and beyond to make sure everything went smoothly. I forget the young woman who shot the photos for us? She did an outstanding job and was creative and covered the entire event with professionalism and a warm, friendly personality. Bonnie is one of the sweetest people we've ever met. The wedding cake was beautiful as well as being "the best" tasting cakes ever! If you're looking for a romantic, beautiful setting in the Garden District of New Orleans, you won't find a better facility. I'd be happy to answer any individual questions you might have. Mike & Denise
---
Dream Wedding
Reviewed on

11/07/2013
Monika M
Bonnie Broel helped me out in a pinch. We put together a wedding in 5 weeks! Bonnie knows how a wedding should go--and I didn't--so that was extraordinarily helpful. She was hesitant about a variation that I wanted, but worked with me and did what it took to make it MY day. All my guests were pleased. The gardens are enchanted and all lit at night. The house is cozy and elegant. The staff is friendly and I loved my wedding assistant. She was level headed in the midst of the usual wedding confusion. I am impressed with the VALUE of what I got for my dollar. I would recommend HOB to a friend.
---
House Of Broel ELOPING!!
Reviewed on

10/06/2013
My Friend Kristi set up most everything and it was just fantastic. Everything included. So friendly so easy. I would highly recommended this for anyone! The ease was fantastic. The host/ordained minister was so friendly and sweet. I received my disc with photos within days of contacting the photographer and they are just great! The cake was really delicious that was prepared. Everything was there and provided I did not have to think about a thing just show up and it was all prepared/provided. The only thing that I would have done differently is I wished that I had purchased a bouquet to go with my wedding colors. Other than that FANTASTIC!!
---
Very good
Reviewed on

9/24/2013
This venue was absolutely beautiful. Everything went smoothly. I was very impressed. Some of my guest said the host was very rude, though. I think that was because she was trying to stick to the time schedule, because I, the bride was late and so was the mother of the groom.
---
The most wonderful experience in my life.
Reviewed on

8/23/2013
Marie B
I must say when I heard the price of my wedding, I was a little afraid,I mean the value was astonishing. Ms. Broel was like having my very own Fairy Godmother, She helped me make the difficult decisions the right way, Her staff was courteous, attentive, and everything you could ever want. She has so much experience, it's astonishing. I felt like a princess, My husband like a King, our guests were so happy, My cousin is getting married in November and wants to return to The House of Broel. I advised her that if she does not, she will be making a mistake. Ms. Broel is the sweetest woman I have ever met, Not originally from the south but a very distinct and dignified transplant. I would not change anything about my day. Thank you Ms. Broel for all your wonderful help, your Beautiful home, and all of your extensive knowledge. Yours Truly Marie Serato
---
Would
Reviewed on

8/08/2013
Jodi
I'm just so happy that we picked this place, due to it being in our budget and they do everything of you in a package deal. Every came out perfect. The staff really does know how to throw a party and have everything flow well the whole night. Do watch out that Mrs. Broel can be bi-polar at times and she would like you to do things her way because it is better. It is really better, she knows her shit.
---
New Orleans Proper
Reviewed on

4/09/2013
Deanna B
The House of Broel is excellent for that "New Orleans Proper" type of wedding. The venue provides elegance and sophistication wrapped up in New Orleans history and tradition.
---
BEST NEW ORLEANS WEDDING EVER
Reviewed on

11/20/2012
Jilliane R
When looking at venues all over Houston and New Orleans, we initially chose the House of Broel because of the cost and the amazing location (we loved the classic New Orleans feel, right off the streetcar route). Ms. Bonnie, the mansion owner and her staff (especially Monica) not only exceeded our expectations but the expectations of our 150 guests!! Family and friends are still raving about the entire experience from the food (an assortment of passed appetizers as well as hot buffet stations) to the music to the museum tours to the CAKE and the free-flowing drinks!! As a very busy bride (originally from NO but living in Houston), the all-inclusive package offered was the way to go!! We only had to worry about a photographer and the flowers. Upon our first visit, Ms. Bonnie gave me her cell phone number. She was excellent with communication and getting back to me when I'd email her any questions that may have come up. She collaborates with extremely professional and caring vendors (Cake-Swiss Bakery & DJ-Carl Livermore) who run their businesses like she does - with the utmost professionalism and a focus on customer service. They were also excellent with communication and taking care of anything that we dreamt up prior to the event!! The dance floor stayed packed the entire night! I also forgot to add that the all-inclusive package includes an OPEN BAR!!! This is not something that we found at any other venues. Bottom line - If you are looking for an amazing venue with an amazing hostess, call the House of Broel. The only thing you'll have to worry about is enjoying your wedding with your friends and family!!
---
Bride Centered/ Beautiful historic building
Reviewed on

11/01/2012
Candyse R
I was so impressed at how much Mrs. Broel focused on doing everything possible to make us happy and make sure my wedding day went as planned. She went out of her way to not only make sure I was happy, but to make sure my groom was happy and both of our parents were happy. She had a coordinator that checked on us all night and they even made sure we had time to sit and eat! The House of Broel is the most beautiful place and we took some fabulous pictures there. We didnt even have to decorate it since it already had beautiful flowers and it has its own victorian decor. I really felt like a queen for the day! We recieved so many compliments on the whole expereince: the food, the amazing service, the beautiful place, etc. Also, they have all inclusive packages including food, open bar, and wedding cake for very reasonable prices. They took care of everything for us. They really made my dreams come true and gave us the wedding and memories of a lifetime.
---
Good for the money and location
Reviewed on

7/05/2012
Julie A
The cons: can't choose or change the menu The pros: location and cost
---
Wedding Venue
Reviewed on

2/23/2012
Michelle R
The House of Broel was great. Everyone was very pleased with it. THe staff was awesome aswell.
---
Send Message