Home

Humphreys Half Moon Inn
About this Vendor
Waterfront Wedding Receptions
Humphreys picturesque bayside location provides the perfect site for your banquet, wedding or reception. Our lush, tropical setting will add an air of enchantment to any event. You'll enjoy delicious cuisine from our award-winning restaurant. Our experienced staff will assist you and cater to your every need!
Amenities + Details
Amenities
Handicap Accessible

On-Site Accommodations

Indoor

Outdoor - Not Covered

Reception Area
For more details about amenities, please message the Venue.
Wedding venue
Reviewed on

11/11/2012
Holly O
Amazing wedding at this place! Darla was great to work with, made sure everything was perfect, food was amazing, venue was beautiful! I couldn't have been more happy and had a better wedding. We got so many compliments on everything and everyone loved Humphrey's!
---
Loved everything about this place!
Reviewed on

10/09/2011
Danielle L
It was a little costy, but I really enjoyed the Maui/San Diego feel to this tropical setting. My family all flew in and stayed all weekend and they really enjoyed it. The only down part would be the dark rooms, but they were very spacious and the staff was great!
---
August Daytime Wedding
Reviewed on

9/06/2011
Jeanan H
We got married on the green. A destination wedding, we live in DC. We reserved Humphrey's sight unseen based on the reviews and Darla. She was very attentive and sent us photos so we could visualize our wedding at their location! The set up was perfect, the reception area was... Read More set up perfect, the hotel staff was pleasant. Every one of our guests is now looking forward to returning not only to San Diego but to Humphrey's. There were lots of pretty back drops for our photographer. To cut costs we did have a day time wedding. But we did add the option on to have the cocktail hour after the reception done by the pool area. That gave us time to go around to different locations on the property for photos while our guests were still getting to enjoy the nice weather then we all met inside the HarborView room for lunch. It was a BEAUTIFUL view. The only flaw was that there was ONE child's item and they did not receive it, my wedding coordinator had to wait in the kitchen for it. I wouldn't say that is a big deal though, just something to watch for if you have a "lone" odd meal :) -- If I had it to do over again, I would not change a thing.
---
Reviewed on

11/09/2017
gregory c
I have photographed at this venue a handful of times now and I really love it. It's great because everything you need is all in one place. You can rent rooms for getting ready and there are multiple locations for your wedding and reception both indoor and outdoor. The Humphreys... Read More stage also makes for a great place to have a live band at your wedding so you can get your dance on! 5 star review here guys look no further for your wedding venue. -Gregory Cain www.cainphotostudios.com
---
Reviewed on

5/29/2017
Michelle G
My new wife, Michelle, and I had THE BEST wedding at Humphreys. From our very first visit, Humphrey's event coordinator Darla Mercer was phenomenal at answering every one of our questions and even helping us think of questions and answers that we didn't know to ask. I'm... Read More originally from the north east and Humphrey's checked every box off of my list. Close to the airport for out-of-towners, easily accommodated our guest count of 170+, could fit our ceremony, reception and hotel rooms, all on one campus so we didn't have to worry about shuttles or transportation. Darla even worked with us to pick out options that satisfied our budget and helped us save money where we could. Not to mention the place was gorgeous, colorful and fun! The day of the event, Darla and her team were everywhere helping coordinate us and keep everything running on schedule. Even with the threat of inclement weather, she was able to provide tenting and lighting options for our out-door reception, just 20 hours before the event. All of our guests, both local San Diegans and out of towners, gave us rave reviews about how beautiful everything looked, how delicious all the food was, and how seamless the event was. We could not have imagined a more perfect place, team and day. Thank you Darla and thank you Humphreys. From The Hothems! :)
---
Perfect Venue
Reviewed on

6/24/2014
Kristen G
From the moment I walked into Humphrey's I knew I wanted to have my wedding there. Although The Green lawn is outside, you still have privacy for your ceremony. Our Reception was in the Marina Ballroom and was perfect. Our out of town guests loved looking out to the Marina.... Read More The food was outstanding and the service was great. Also our guests really enjoyed staying at the hotel. The rooms were nice and the pool is also very nice. I was extremely happy to have my wedding ceremony and reception at Humphrey's.
---
Beautiful location but poorly staffed
Reviewed on

11/08/2013
Jamie C
I loved the location of Humphrey's but received the worst service. The event planner was inconsistent with email and often forgot details. The banquet manager left the wedding hours before the reception ended. Without our amazing wedding coordinator we would not have had the... Read More experience we did.
---
WAW!
Reviewed on

11/01/2013
ruchael b
great
---
Wedding Venue
Reviewed on

10/13/2013
Danielle D
Humphrey's was our dream wedding venue and it was the perfect place for our special day. We got married on the concert lawn with the stringer lights above and it was beautiful. The food was great and the service was wonderful on the day off. The only items that could have... Read More been better was the choices of included linens and the linens being pressed prior to the reception, we ended up going with an outside vendor due to this. Other than that we loved our venue and Darla was very helpful in getting everything set up for us.
---
What are you thinking of?
Reviewed on

7/21/2013
Sarah N
Getting married at the Inn.... No no no no no. This is a nice place. It's not a WEDDING venue. Enough said.
---
Fantastic
Reviewed on

4/06/2013
Daniel M
I consider this as the best offer in this webpage
---
Okay but spent more $ than we should have
Reviewed on

10/18/2012
Jennifer H
The setting was perfect and Darla and her team were very helpful during the planning party of the wedding. There were some things that have stayed in our mind after the fact, though (we had our wedding in April). One was that our handmade cake toppers were thrown away and when... Read More we called to find out what happened to them, we were told they were given to a groomsman (which they were not). Also, they cut our entire cake even though we had double the amount of cake we needed and proceeded to throw out the rest without asking us first. We were also not told until 2 week before about cake cutting charges but by then we had no other choice but to pay it. We also got talked into ordering more food than was necessary so in the end we probably spent an extra $500 of uneaten food :( Also, if you do have your wedding here, make sure to keep your drink close!! May people had to keep going back to the bar since their drinks disappeared once they put them on the tables! Who knows how much extra bar tab we had because of this!
---
Great Until the Day of the Wedding
Reviewed on

9/19/2012
Dana F
Humphrey's was the perfect place to have my wedding. My husband and I are a younger couple and we wanted to have a wedding that wouldn't be too formal but also didn't look cheap. The outside reception was perfect for the mood we wanted to set while having an amazing San Diego... Read More wedding. The staff that helped us at Humphrey's was amazing during the planning phase. They helped me make appointments for meeting them, making deadlines, finding vendors and were great for overall advice. I would have given them a perfect score had they delivered during the last few before the wedding. Communication was suddenly all over the place. The woman who we had been working with all year went on vacation to return for the wedding day and left us with another contact, which was fine except the the new contact went out of town without informing us so we had no one to give our timeline to and our seating chart was never forwarded. Then on the day of the wedding, our event planner did not show up until an hour before our ceremony so my mother had to run around all day updating the seating chart and setting up the reception space and ceremony space (which was NOT her job). Our event planner did not seem to understand why it was not OK for her to be 3 hours late on the day of my wedding. There was also a lack of communication between the staff and the DJ during the reception for the cake cutting and dessert bar (which the DJ announced twice) so my husband and I were left to stand there awkwardly after we cut our slice of cake staring at the guests who were waiting for their pieces. My wedding was amazing and I wouldn't change anything about it. But if you are either high stress or don't have a wedding planner I would suggest being pushy with this vendor to make sure everything will go more smoothly for you than it did for me. It's a beautiful place and I think it's perfect for a couple looking to have a very San Diego wedding and I do recommend them.
---
Very Accomodating
Reviewed on

12/07/2011
Kim C
The venue was amazing, although it rained - which was not their fault it turned out better than I could havei mainged!! Darla the even coordinator is amazing as well and was even in the restroom helping blow dry my dress! Love this place!
---
Best
Reviewed on

3/16/2011
Alissa P
best stay of the year!
---
Ok customer service
Reviewed on

11/29/2010
Angelica R
I called them but the service was not up to par.
---
Review for Humphrey's Half Moon Inn & Suites
Reviewed on

5/10/2010
Laura B
It was located on the bay and had a beautiful backdrop of the harbor.
---
Review for Humphrey's Half Moon Inn & Suites
Reviewed on

5/10/2010
Sylvia B
The location and the food.;If having your wedding during the winter as we did note that the pictures they show of ceremonies past have bright flowers around the arch. That will not be the case in the winter; the arch is very plain.
---
Review for Humphrey's Half Moon Inn & Suites
Reviewed on

5/10/2010
Shalon B
Darla Mercer was great to work with; very accomodating; she let us do things that have never before been done at Humphrey's (ie have our cocktail our by the pool, and have a big send-off with sparklers at the end of the evening, etc.);Make sure it's not a concert night, and... Read More remember it's a public hotel so 100% privacy is not assured (we had a couple wedding crashers who hit up our open bar - but they were quickly escorted out of the reception)
---
Review for Humphrey's Half Moon Inn & Suites
Reviewed on

9/21/2008
Harley H
The only thing I loved was the food;My reception was across from a concert they were holding and most of my guests were outside watching the concert instead of being at my reception. I didn't find out about the concert until the day before. The dance floor was so small that... Read More even my small amount of wedding guests couldn't all be dancing at the same time.
---
Review for Humphrey's Half Moon Inn & Suites
Reviewed on

9/04/2008
CASSANDRA B
location was beautiful and the food was beyond excellent.;hotel rooms were VERY expensive. most of my friends and family stayed at other hotels in the area.
---
Meet The Manager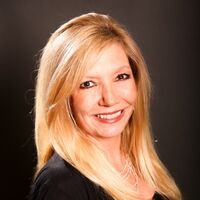 Darla Mercer
I am the Wedding Specialist and Catering & Special Events Manager here at Humphreys. I have been at Humphreys for over 20 years. I work directly with all my couples from the beginning of the planning through to the wedding day!