Home

Hyatt Centric Chicago Magnificent Mile
About this Vendor
Let's Walk the Magnificent Mile Together
There are a few days in your life that will live with you forever. Let us transport you into that special place where dreams come true and memories are as rich as the moments that inspired them. You're More Than Welcome.
Amenities + Details
Amenities
Bridal Suite

Handicap Accessible

On-Site Accommodations

Indoor

Reception Area
For more details about amenities, please message the Venue.
Bar + Drinks, Cakes + Desserts, Food + Catering, Service Staff
Contact Info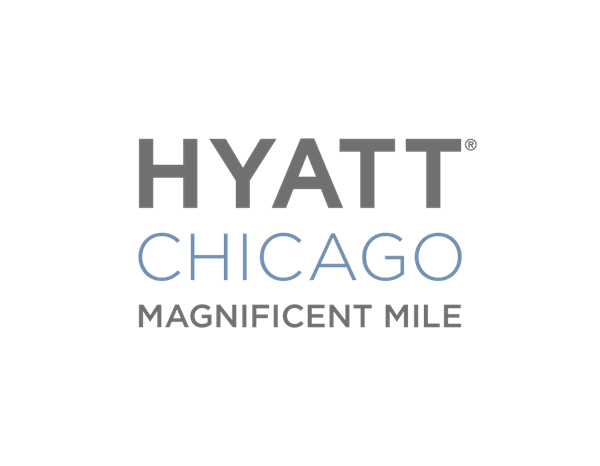 Reviewed on

10/31/2016
Ashley M
Our wedding was only 9 days ago (October 22, 2016) and I'm already having withdrawals. Alyssa was AMAZING and so professional, courteous, and accessible. My situation was unique in that our wedding was in Chicago (my hometown) but my husband and I live in Los Angeles. Alyssa was... Read More more than accommodating in making sure to schedule face time meetings for me to see the venue, scheduling appointments around me flying into town and answering phone calls and emails like the superstar she is. She worked with us diligently to make sure everything was exactly the way we wanted it. The food was impeccable, the bridal suite (presidential room) was breathtaking and the cocktails and late night taco bar had our guests raving!! I'm so sad that the day is over after nearly 15 months of planning, but the memories will last us a lifetime. I couldn't be a happier bride!
---
Reviewed on

9/09/2015
Lynsey C
Wedding date: 9/6/2015 The Hyatt Mag Mile was the best venue for our wedding including the pre-planning and the event itself. The recent renovations really turned a "Hyatt-type" hotel into a boutique/modernistic hotel in Streeterville. We worked with Nell Oz who was readily... Read More available to answer our questions and communicated pricing and information to us quickly and accurately. As with any major event, there were a couple of hiccups, but Nell handled them professionally. During the actual weekend, we had FABULOUS service with the on-site hotel wedding manager, catering staff, bellmen, and front desk. Before booking this hotel, my family and I went to many hotels, and honestly, we got the best deal and felt the most excited when seeing this spot. If you are looking for a downtown Chicago hotel wedding, this place is the perfect choice. You're in good hands with Nell and her staff. One side note worth mentioning is that we did experience some frustration with the hotel room reservations for our wedding guests. There was some miscommunication between the wedding coordinator and reservations manager. Just make sure you are reviewing the lists and your contract on a regular basis! All in all, I give the Hyatt 5 out 5 stars!
---
Reviewed on

10/27/2017
Andrew L
You won't go to any other venue once you meet Claire Lind. My wedding (250+ guests) was on 7/29/2017, and there is no one better than Claire Lind to guide you. Their prices are very competitive, but our deciding factor in choosing a Venue was Claire. From the first meeting, she... Read More sat down with us, and talked to us about our vision for our wedding, even before we knew what we wanted. Other coordinators gave us a tour, a price list, and a nice trinket. Claire gave us a VISION about our wedding based on our fledgling ideas, and she brought it to life. You can't put a price on her expertise and the execution her team brought to the table. And I haven't even mentioned the food! The meal they crafted was personalized and delicious. It really reflected who we are as a couple. It's not just "Steak" or "Salmon," it is a dining experience. you know how they say that you don't eat at your own wedding? We ate. and I ate from my wife's plate when she changed dresses. it was THAT good. Also, the mixologist came up with drinks that captured our individual tastes perfectly after just sitting with us and getting to know us. And the dessert table? definitely a must have and a huge hit. The biggest hiccup for the wedding was when an outside vendor delivered items to another Hyatt in Chicago. did we know about it? No, because Claire and her team took care of it. I know I talked about Claire a lot in this review, but I can not stress how amazing she is. If you have your own ideas, she brings them to life. If you're unsure about things, she works with you and gives ideas to help you along the way. When you look around for venues and talk to the other coordinators, ask yourself "Is this person someone I will trust with the most important day of our lives?" For us, it was Claire. If you go with her, you will never regret it. Claire, if you ever read this, thank you from the bottom of our hearts.
---
Reviewed on

6/07/2017
Alexandra H
When we decided we wanted to do a hotel venue for our wedding, we looked high and low for a classy (okay, maybe just NOT bright red carpeting) ballroom that was not ridiculously overpriced. When we saw the Hyatt Centric Mag Mile's recently renovated ballroom, we knew we had to... Read More have it there. The ballroom is beyond gorgeous and modern, the food is actually DELICIOUS and not "typical wedding food" (also perk is all beer served was local craft beer!) , but also the event managers, Claire and Vicki were incredibly helpful throughout the entire planning process, answering emails promptly and making sure we had the wedding of our dreams. Our wedding day went off without a hitch (and working in PR, I know that's never true, but really if anything was askew we or our guests didn't know about it). Claire and Vicki were always two steps ahead of us making sure everything ran smoothly - Vicki even brought in her own steamer to make sure my traveling bridesmaids didn't walk down the aisle in wrinkly dresses. I would suggest the Hyatt Centric Mag Mile to anyone i know getting married in downtown Chicago.
---
Reviewed on

1/07/2017
We had our wedding in this hotel , and it was the best decision ever , we were lucky enough to have Claire Lind as our wedding specialist to make it happen for us. She is truly amazing in every aspect, she's so great on the communication level, you could plan the whole wedding... Read More by emails, and meet face to face to finalize things, with her a team of a wonderful people starting with Banquet manager Alyssa , and head of waiters Jim , and of course the Chef. The food service was just great, food served on time, tables were cleaned properly. I can't emphasize enough that without the magnificent help that we got from Claire, we couldn't pull it off.
---
Reviewed on

8/02/2015
John P
We had the most amazing experience at the Hyatt for our wedding. Nell is such a wonderful resource and did a great job. She catered to every one of our requests and we didn't have to worry about anything on the day of. The hotel is beautiful, the food was great, and the staff is... Read More very accommodating. From when we first met Nell through when we left the hotel for our honeymoon, we had the perfect wedding experience at the Hyatt.
---
Reviewed on

7/01/2015
Amanda W
What a wonderful experience from beginning to end! Nell, the onsite coordinator, was on top of everything from the moment we started planning. The day of the wedding she made sure everything was just right without having to bother us at all. Plus, the food and drinks were great!
---
Excellent Wedding Venue with First-Rate Staff
Reviewed on

4/21/2015
Shannon L
The Hyatt Chicago Magnificent Mile was the venue for our wedding reception on March 21, 2015. From the beginning, Nell was extremely helpful and patient. As the event got closer, Nell and her team followed-up with us and made sure we stayed on track with planning. Each... Read More interaction with the hotel's team was pleasant and stress-free. The food and beverage selection was first-rate and better than anything we have tried in the downtown area. We had an enormous degree of flexibility in customizing the menu, which made us feel valued. The tasting was fun, and we didn't want to leave! In the days leading up to the wedding, the hotel accommodated several special requests from both family and us. In particular, Nell arranged a special hospitality suite for my family, which was perfect. She also made sure that some special traditions were honored (e.g., using our own champagne glasses for the toast, etc.) and thoughtfully carried out. We were sent clear event orders with cost breakdowns and diagrams. At no point did I ever feel like I had insufficient information. Access to Nell and her team was plentiful. The day of the reception was perfect. The room was beautiful. The serving staff were "on their game" without being intrusive or distracting. The food was excellent, just like at the tasting. There were many compliments from guests about its quality and the "relaxed" feeling of the venue. The hotel has recently undergone a major renovation, especially in the guest rooms and public areas. This is quite evident in a modern look and feel, especially the library theme in the second floor lobby. I have only glowing things to say about the Hyatt. I encourage you to have your reception here and contact me if you want to discuss my experience in more depth. -Kyle Lee, Chicago, IL
---
Fabulous Wedding!
Reviewed on

10/13/2014
My daughter's wedding was at the Hyatt on Labor Day weekend (8/31/14, not 8/31/15, like it says elsewhere). The whole weekend was absolutely beautiful, from beginning to end. Nell Oz, the catering coordinator, was wonderful. She answered many questions and addressed many... Read More issues in a very timely manner. The ballroom was magnificent, both for the ceremony and for the reception. It is hard to believe it can be transformed within an hour! About 10 minutes before the ceremony started, one of our guests knocked over a tall vase, which shattered everywhere. Within seconds, the Hyatt staff was there to clean it up. The wedding party did not even know about it until afterwards, thank goodness. The food was excellent, and everything was well organized. Our guests were very happy with their rooms, and they found the hotel very easy to navigate. There were plenty of places to sit and chat when there was down time. It was great having the cocktail hour up on the third floor, and the ceremony and reception in the ballroom on the second floor. We felt like we had the entire hotel to ourselves! The hotel staff was extremely helpful all weekend. The day-after brunch in the Streeterville room was beautiful. It gave everyone another chance to be together. I would recommend the Hyatt Mag Mile in a heartbeat. My daughter had the perfect wedding there!
---
Highly recommended
Reviewed on

9/26/2014
My husband and I got married at the Hyatt Mag Mile just a few months ago. We chose this venue not only for it's modern elegance, and fantastic location, but also for the fantastic customer service we received upon our first meeting with the event coordinator. We had high... Read More expectations for our wedding day and those were all easily exceeded! From day one, the staff at the hotel was extremely accommodating and available to help in any way that they could, our guests were treated exceptionally well. The food was delicious and everything was just so nicely put together, just like we had anticipated it would be! All of our questions and concerns were always very promptly responded to (Which is a definite must when planning a wedding). We could not say enough about the Hyatt Magnificent Mile as a wedding venue!
---
Our Magnificent Time at the Hyatt
Reviewed on

9/14/2014
Kymberly S
My husband and I were married on October 26, 2013 but got engaged a year and a half before. We started looking for venues pretty earlier and decided on the Hyatt after seeing most of the hotel venues in the downtown Chicago area. What sold us on the Hyatt was the... Read More unbelievable beautiful space, the quality of the food/beverage package and last but definitely not least the event coordinators at the Hyatt. They were so personable and made us feel like they were on the journey with us. They helped us in every way possible and worked really hard to make sure our day was special. We had a lot of out of town guest and they enjoyed the renovation space very much. All of them appreciated that while the hotel is part of a major chain, it feels very personable and the staff is very friendly and customer focused. My husband and I had a lot of special request (we picked up parking for our guest, we asked for drinks at the hotel bar to be placed on our bill for our guests while we were off taking pictures after the ceremony, etc.). There was not one thing that we didn't ask that the event coordinator wasn't willing to find a way to make happen. When we finally arrived at the hotel after pictures our event coordinator was there to greet us and we could tell she was working very hard at greeting our guest and meeting there needs. She was even there into the reception to make sure things continued without a hitch. We stayed in the hotel for the weekend and she even treated us to lunch before we left. When planning such a major event as a wedding having those type of people in your corner is a tremendous help, especially when it comes to the venue. When I think about our special day there is not one element that I would change, especially not choosing the Hyatt as our venue.
---
hotel block
Reviewed on

9/10/2014
Kristin G
I used this hotel for my wedding room block. We had some issues with getting the room block set up in the first place, but there were no issues after that. Once we were there, the front desk staff was extremely helpful and friendly. We had a fantastic time at the bar. The... Read More ambiance and setting in the bar area is perfect for large groups to gather. The suite was spacious and worked very well for getting ready in and also for our families to spend time together. The beds were comfy and room was spotless. The breakfast buffet was delicious and we really appreciated the vouchers. I really felt like the hotel staff went above and beyond to help us celebrate our wedding with amazing service.
---
Great Hotel Option
Reviewed on

8/05/2012
Heather M
This is actually a Hyatt now, FYI. That was our one issue; they changed management a month before our wedding, which was a bit confusing to guests. This also caused a few issues with getting the right rooms and having all our guests receive their guest bags. These issues were... Read More blamed on the recent management change, and they were quickly corrected by the catering manager, Sheila Crotty. The rooms were nice, and the location can't be beat. We had our rehearsal dinner here, and everything went smoothly. The food was all right, nothing special, but everything we asked for was there. I would definitely stay here again.
---
Reception of our dreams
Reviewed on

3/06/2011
Antonia C
Starting out my fiancé and I were aligned on the vision we had for our wedding reception. We wanted a cocktail hour for our guests while we took pictures, a nice sit-down meal, open bar, a classic yet romantic ambiance and a fantastic party. Researching other places in Chicago,... Read More some looked beautiful online but in person they were not well maintained or they were way outside our price range. Initially the Wyndham's package pricing was outside our price range as well. I emailed our contact, Sheila, that it was too expensive for us and was surprised when she responded asking what the vision was for our reception. I shared our ideal reception with her and she worked with us to make our vision a reality within our budget. The parts of the package we didn't want she dropped and added in what we did want at a price that was right for us. I planned my wedding from San Diego and Sheila was incredibly flexible and helpful. She let us do our food tasting far in advance and kept us on track in planning all the details – giving recommendations on the flow of the evening and timing the meal around the speeches, dances and the slideshow we wanted. She helped arrange our hotel guest room package and valet parking rates. She even brought up things that we didn't think of, like vendor meals. When we wanted to extend the party an extra hour and add late night snacks last minute, she made it happen. Sheila effectively was our wedding planner for the reception and was incredible! For the reception, we did a lot of things ourselves (i.e. music and decorations). The hall was booked for a conference until mid-afternoon so Sheila and her staff had to set-up the rooms with no one there to help provide guidance. She met with us the day before to test the music equipment they provided and discuss last minute details. I gave her an outline of how we wanted the rooms set up and we staged everything in either our room (which was a beautiful suite included in the package as well as upgrades for our parents' rooms) or an extra meeting room she set aside for us. When I walked into the reception room I was truly breathless! If you see the room on any normal day it looks standard – effectively a blank canvas – but with the tables, tablecloths, chair covers and ties, dance floor, cake table, head table and lighting it was stunning. Everything was set-up as I had asked and then some. The head table was a little longer than I expected so they improvised and added a few of the hotel's centerpieces to help. One of the name cards noting the meal choice was lost so Sheila asked my husband what the guest wanted to eat (keeping the bride stress free). She discreetly came over as we visited our guests to ask if we were ready for the next speech, course, dance etc. to keep us on track. The evening went off without a hitch – and it was because of all of her coordination and directing. The service the entire night was incredible. We had multiple guests comment on how fantastic the food was and that the wait-staff was very attentive. Guests always had drinks because they set up multiple bars and the wait staff made sure the tables had enough wine (note if you want shots be sure to discuss it with the hotel because I heard it was the only thing they didn't serve). At the end of the day, the reception was everything we wanted and then some. Sheila and her team are very professional, experienced and easy to work with. They truly made it the reception of our dreams!
---
Meet The Manager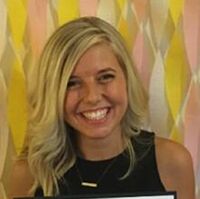 Claire Lind
My name is Claire Lind, Wedding Specialist at Hyatt Chicago Magnificent Mile. I'm passionate about weddings as it's one of the biggest days of someone's life and to be a part of this special moment is extremely gratifying and enjoyable! We are a venue that truly strives to ensure this is the best day of your lives. We are honored to have one of the best Executive Chefs in the industry, Andres Bustamante and a banquet & events team that will guarantee your day is nothing short of magnificent! I would love to build your dream into a reality!