Home

Immaculate Events, LLC
About this Vendor
Styled, Planned, Unforgettable!
We are committed to making sure your wedding day is nothing short of spectacular by filling it with love, laughter and magical memories. Every wedding we plan is distinctive, unique and is customized completely to "you" the couple. Let's talk, call us today to start planning your big day!
Details
Engagement Party, Getting Engaged, After Party, Bridal Luncheon, Bridal Shower, Day After Brunch, Rehearsal Dinner, Welcome Party, Rehearsals + Parties, Ceremony, Cocktail Hour, Reception, Rehearsal, Wedding
Destination Wedding Planning, Destination Weddings, A la Carte Wedding Planning, Budgeting, Day-Of Coordination, Full Service Wedding Planning, Planning
Contact Info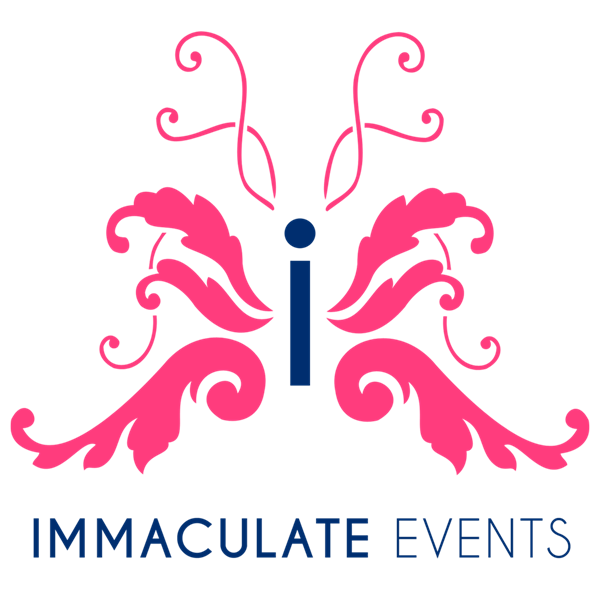 PO Box 721711, Orlando, FL
hire immaculate events!
Reviewed on

5/01/2015
Lateefa A
When I first got engaged I had absolutely no idea where to start, my bridal party all live out if state and I definitely didn't know what theme I wanted. When I first met and sat with Dieudonne, the owner of immaculate events she made me feel at ease and excited about the whole planning process. She listened to everything I said (no matter how confusing I might have been) and within the first few weeks we had a theme, colors and already started looking at her all-star team of vendors. Even if you already feel as if you know what your doing with the planning portion, the vendors,expertise, and professionalism Dieudonne brings to the table are absolutely priceless. Everyone commented how truly fun and beautiful our wedding was and if you truly want a beautiful and "immaculate" event hire Dieudonne Thomas-Wilson of Immaculate events! I can't wait to have another huge event because I'm going straight to immaculate events!
---
Best Investment
Reviewed on

2/01/2015
This is the best Wedding Planner in Orlando hands down! She has various flexible plans to accommodate your needs. She works hard to make the event unique to your specific requests. This is the best investment we made in our wedding.
---
Coordinator Extraordinaire
Reviewed on

9/21/2014
Stella M
At first, I looked at hiring a coordinator as unnecessary, but after planning a wedding I realize how important it is to have someone to bounce ideas off of, think of things you may not think of, and be the liaison between vendors when issues arise. Dieudonne was the perfect woman for the job. I hired Immaculate Events as a day of coordinator for my wedding and was very impressed with the level of professionalism, courteousy, and outstanding service my husband and I received from Dieudonne. She coordinated everything to a tee. She was available via phone, and email from the moment she was hired. On my wedding day when issues arose i.e. the minister arriving late, Dieudonne, made sure I wasn't aware as to not make me flustered or worried on one of the biggest days of my life. Also, for my décor, I had a clear vision for my décor and design, and Dieudonne understood the look and feel I wanted on my wedding day and was able to take my ideas, execute them beautifully and add her own touches to bring them to another level. I highly recommend her for any event and would work with her again in the future.
---
Pretty decent
Reviewed on

1/28/2015
Ericka R
I really felt a good connection with Dee upon initially meeting with her. She was from my perspective a laid back individual, but appeared organized which is what you want from your day of coordinator. I had already planned most of the wedding, but needed someone to ensure it went off without a hitch the day of. Now I must say my family was a handful and maybe many can sympathize with that so a strong personality was needed for keeping them in line and organized. More often than not that was me unfortunately. It seemed as if everything was going in a timely manner for most of the night. All areas that we wanted to be hit happened, but I think I didn't take as much advantage of the services offered as I should have. Somehow my dad who was supposed to sing at some point which had been discussed didn't end up singing because it seems it was forgotten. I would have expected Dee to be on top of this, but........ Overall it was fine at the end. I heard she was going here and there to ensure things went off without a hitch. She seemed quiet to me, but that was probably because my family was so loud lol. It was mostly okay service for me. I expected check ins, organization of my family and friends, ensuring people weren't walking all through the reception area before it was seen by the bride and groom, just basics so I think I walk away from this feeling luke warm feelings.
---
Amazing Help
Reviewed on

3/24/2014
Elizabeth D
Hiring Immaculate Events/Dieudonne was one of the best decisions we made during all the wedding preparations. We used "D" as a day of coordinator because I liked doing all of the research and we only needed someone to tie everything in together towards the end, and make sure everything went smoothly during the big day. She was an amazing help communicating with all the vendors if I didn't have time to do it myself and she was always available by phone or email. We had put all our trust in her and knew she would take care of us; she went above and beyond everything we expected. We, our family, and our friends also loved her personality and how organized she was during the entire celebration; she understood we needed to do our part in the middle of everything that was scheduled. To us, our wedding and reception was perfect and we know we owe a lot of that great feeling to "D" and her team.
---
Great Experience
Reviewed on

12/13/2013
omo o
We worked with Dieudonne from Immaculate events on our wedding and it was one of the best decisions we made. I'm an out of town bride so we got the full planning package and her prices were by far the most reasonable of all the planners I contacted. It was also was extremely important that our wedding planner be responsive and available and Dieudonne was both of those things. She helped us find a great venue on short notice (planing started 6 months before the wedding) and provided great recommendations for the vendors we used. Our guests were very impressed with how smoothly everything went on the day and we couldn't have been happier. I definitely recommend that you work with her if you're planning your wedding or any other event. Thanks Dieudonne!
---
Immaculate Events made My Happily Ever After come true!
Reviewed on

11/26/2013
Shenette F
Immaculate Events came to the rescue as I was planning my wedding. As the wedding date came closer, the only thing I could think was, "after putting in all of this work, how can I guarantee myself that it will all turn out perfect?". The feeling of uncertainty is the worst to have when planning your wedding day. Dieudonne, the owner of Immaculate Events is incredible! We hired her for Day of Coordination, and it was one of the best decisions I made in the entire wedding planning process. She met with us for a consultation to get to know us and what we would like in our wedding and helped us achieve our budget by suggesting vendors that she has previously worked with. She was ALWAYS there for me when I needed her. She was an email away, and she would even set up phone meetings with me to discuss changes in details and any issues that had to be resolved . She was extremely helpful and kind, she was always calm, which made me feel calm (and that for a bride-to-be is difficult to do! lol). I had a lot of little details I wanted to incorporate into my wedding tables and I had an idea of how I wanted everything to look, I trusted Dieudonne so much that I left everything in her hands the day of the wedding, and I was completely stress/worry free on my wedding day from ceremony to reception! I thought it was so sweet of her to call me the morning of the wedding while I was getting ready to see how I was and made sure I ate something! :o) My day started off great with that one phone call from her! The ceremony was beautiful and flawless! Upon arrival to my reception hall, when I saw the place set up, it was even BETTER than I had originally planned, I was in complete shock and so happy it brought tears to my eyes. The reception was GORGEOUS, and was truly my dream wedding. Dieudonne was like my "guardian angel" throughout the wedding process, I felt safe, comfortable, and guided through it all, and I am so thankful for finding her! I have to give credit to my awesome DJ/Emcee Felix of Memorable Entertainment for introducing her to me! My wedding was incredible thanks to these two great vendors. I look back at my wedding, and it brings tears to my eyes every time. I couldn't be more blessed and thankful to find Dieudonne! Thank you so much for everything you did for us! You're the absolute best wedding planner out there!!! :o)
---
An Excellent wedding planner
Reviewed on

10/03/2013
I hired Dieudonne for my daughter to help her with planning her wedding. Dieudonne was there to go with her to all her appointments she gave her people to contact for flowers, picture,etc.. The reason i hired her was to be there to help make sure everything went as plan the day of the wedding, so I would not be stressed out. The week before and the day of the wedding I was truly, impressed with the service she provided..I did not have to worry about anything, everything went like clock work, i can't say enough about her and her assistance. At the end of the reception, She was there to clean up and make sure the Bride received everything that was left over, like the gift she had for the guess, and any food that the cater had set aside for the family and the place was back in order. She did not leave until the last guess and the Bride and Groom was safe on their way. If you are looking for a excellent wedding planner Dieudonne, is the one for you.
---
True to her name- IMMACULATE
Reviewed on

10/01/2013
Adina M
Dieudonne with Immaculate Events was awesome!!! I want to personally express my heartfelt gratitude and thanks for all you did for me and my husband :)) for our wedding. Best Decision I could have made!!! I obtained her services at a period in my planning where I was fed up and ready to go to Vegas, but Dieudonne stepped in and smoothed the whole process out for me . She attended all of the meetings with me and helped me choose vendors, kept track of contracts and really turned my frown upside down. She prepared a timeline and distributed it to all my vendors to make sure they were prompt and on time for the wedding. The day of my wedding went perfect... as far as I know cause if there was a problem, I knew nothing about it! She handled everything. I was one of those brides who really thought I could do it on my own, because I started so early ( 22 months of planning) I thought I had it all under control. but as the day fast approached there are just so many details that as a bride you just forget to think about. Having a professional cover your day make things so much easier. From a former bride to a Planning Bride. BEST advice to take Hire a Wedding Planner, If you are in the Orlando or surrounding areas. Hire Immaculate Events!!!! You wont be Disappointed
---
Amazing
Reviewed on

9/25/2013
Immaculate Events is the best pre-wedding decision you can make! My wedding planner took care of any and everything. I never had to wonder what was going on, or how things would turn out. The BEST part was how my reception hall was put together. It was so beautiful I wish my wedding would never end. Dieudonne is amazin! Her punctuality and professionalism were a plus but what I found most helpful was, even when I had no idea where to start or even what I wanted she made me so comfortable while walking me through different ideas.
---
Wedding planner is a must!
Reviewed on

9/24/2013
Jennifer A
I really enjoyed working with the Immaculate Events team. Not only were these ladies a stress relief for my wedding day but offered so much more then planning services. When issues came up on my wedding day there was a solution ready. She even graciously carried out my request to donate my reception flowers to a nursing home after the ceremony. I would recommend Immaculate Events to any brides in need of a day of planner!
---
From the Groom (Greg & Julie's Royal Wedding)
Reviewed on

9/03/2013
As a guy I thought I would pop the question and my finance' do the rest. I never thought I would be involved in the wedding planning. I was going to leave it all up to my (now) wife and the wedding planner. After the first meeting with "D" of Immaculate Events occurred, her energy, knowledge and contacts made me have a change of mind. She got me all involved. After a couple of phone calls with us, she knew what my wife wanted, she had the right answer for everything, and she could read my wife's body language before she could even say anything. Having an out-of-state wedding, we left from our first meeting with her not worried about a thing. She was awesome!! Our wedding and reception was unbelievable!!!! I would put "D" up against David Tutera anytime! If you are planning any type of event, especially a wedding, she is the person you need to call.
---
Didn't have to worry about a thing!
Reviewed on

9/02/2013
Shondra F
My husband and I had such a blessed experience working with Dieudonne. We hired her for full-service planning because we were planning our Florida beach wedding from New Mexico. From our first meeting with her over the phone we knew her heart was for helping people have the wedding of their dreams! Although I know she was helping to plan several other weddings, she personalized her service to us and we felt like the only wedding she was planning. We felt she went over and above for us, traveling to different cites in Central Florida to help us find our venue and using her experience to give us advice on innovative ways to save money on necessities and make everything more beautiful overall. I could go on all day about how wonderful our experience was, but I'll run out of space lol. Bottom line, your wedding will be Immaculate! Thanks Dieudonne. :-D
---
"The Royal Wedding" - Orlando, FL
Reviewed on

9/01/2013
My husband and I reside in the Washington, DC metropolitan area. When we decided to have a destination wedding in Orlando, Florida I knew I would need someone to take the lead on planning it. I am a project manager by trade. It would take a very good wedding planner to satisfy me. When I contacted Immaculate Events, LLC, I had already worked with and been disappointed by another planner. Dieudonne Thomas-Wilson stepped up, listened to us and rapidly began working to make our vision and dream wedding a reality. We worked with her virtually three months before meeting in person. Immaculate Events, LLC removed all our concerns about the "unknowns." The team organized scheduled visits, interpreted our ideas to vendors and assisted in negotiating reasonable prices. Once we met, it was clear we had the "right" wedding planner. During one meeting with a vendor, our wedding planner won us over when she read my body language and took over the conversation. Another thing key to us was how Dieudonne kept my husband involved and made him feel his opinion was important. Our "Royal Wedding" turned out perfect! It was orchestrated so well it even started ON TIME!! Thanks Dieudonne Thomas-Wilson for how you delivered but most of all how you made us feel secure that you were handling our business! When we grow old and look back on our wedding day, it is impossible to think we will not remember you!! My family can be pretty "snooty." When our day was over, they all said how great the wedding and reception was and how our wedding planner was "ON HER GAME!" My Bridesmaids contacted Dieudonne and asked her to plan my bachelorette party!! She agreed and planned a GREAT bachelorette party too!!!
---
The New Mrs. D.
Reviewed on

8/25/2013
Amber W
My husband and I were extremely impressed and thoroughly satisfied with the services that Immaculate Events provided as the wedding coordinator for our wedding and rehearsal. I secured Immaculate Events several months before my wedding to provide month of wedding coordination. Throughout the course of planning my wedding, Dieudonne, the owner of Immaculate Events, was accessible and willing to answer questions, review programs, and assist with other fine details of the wedding. Dieudonne is professional and a talented wedding coordinator.The wedding was beautiful and everything ran smoothly due to the services of Immaculate Events. I am extremely grateful to Dieudonne and Ms. Z. for making my wedding day one of the best days of my life. I highly recommend the services. If you choose Immaculate Events, you will be glad you did!
---
Incredible
Reviewed on

8/07/2013
Sabrina F
Dieudonne was wonderful from the day we were introduced to her! She was referred by a friend at work to us. She was so incredibly helpful that words cannot express. I could not have done it on my own. Thank you!!
---
Our Dream Wedding Brought to Life!
Reviewed on

4/22/2013
BlushingBride V
Hiring Dieudonne (D) and the Immaculate Events team was one of the best decisions I made during my wedding planning process. After a year of planning on my own, I took a leap of faith and hired Dieudonne for her month of coordination services. I will admit I was surprised by her down to earth demeanor. Most wedding coordinators and planners alike present themselves as the "know it all's" in the wedding business and you, the bride, are their mere student. Past encounters with the formerly described leave a bride-to-be feeling like her wedding day is just a run of the mill cookie cutter production. Dieudonne is different. Her many years of experience were a calm and refreshing reference at the backseat of our vision. She provided valuable suggestions along the way, however our wedding remained at center stage – It was never compromised. Dieudonne was prompt, professional, and communicated with all vendors behind the scenes. Her presence made my life less stressful. Our wedding, by nature of those involved, was very unique. Dieudonne was not challenged and never broke her cool – She welcomed the opportunity. Our rehearsal and wedding day events were seamlessly coordinated to the minute. Flowers, cakes, chairs, lights, and reception decor were all perfectly in place as planned. Everything was beautiful and polished, no stone left unturned. After our honeymoon, Dieudonne called me for a follow-up. She gave me a chance to express concerns and provide her feedback. This is indicative of someone who really cares about their business and clients. And so the bottom line? The value you will receive from her services is unmatched. Dieudonne was at every meeting, she checked every e-mail, she replied to the pushing midnight text. She was vested in the success of our wedding day from the start and a success it was. The memories she helped my husband and I create are priceless and solidify the foundation for a long-lasting marriage.
---
All I Had To Do Was Show Up.
Reviewed on

4/21/2013
michelle d
My planner Dieudonne was very professional, knowledgeable, and punctual. She was very prompt in returning calls and emails and had lots of feedback and ideas to help me prepare for my big day. On the day of the wedding she took over the event and made sure that everything went perfectly. My bridal party loved her. I would highly recommend her service to anyone planning a quality event.
---
Perfect
Reviewed on

12/28/2012
Mellisa M
when i first meet dieudonne 1 year ago, i got a good vibe from her. During the planning process she was very professional and very easy to talk to. My wedding day was perfect, it went off as schedule with no problem. if there was a problem i was not aware of it. Dieudonne did an EXCELLENT! job. she made it a day i will never ever forget.
---
AMAZING
Reviewed on

10/30/2012
Stephanie B
I only had a day of coordinator but it was way more then day of...there was constant email contact anytime that I had any questions. All my vendors were contacted and a time schedule was sent. there was not a detail that wasnt accounted for to make my wedding day anything less the perfect and smooth!
---
Wedding Planner
Reviewed on

10/27/2012
Josie H
Dieudonne did a great job as my Day Of Planner. I felt peace of mind knowing I had someone there to make sure everything at my reception went smoothly! I was able to be care free & enjoy myself!
---
Service That Matches The Name .. Immaculate!
Reviewed on

9/17/2012
Allison D
Dieudonne or "D" as we came to call her was amazing to work with. She was always early, pleasant and organized. D kept a smile on her face, even when things got hectic! She did a walk through of our venue with us, helped us with our rehearsal, and made sure our 110+ guest wedding went off without a hitch. She created a detailed wedding day timeline and contacted all of the vendors to confirm with them. We had a lot going on with our large bridal party and D (and her assistant) made sure everyone knew their part. She was there for every second and made the event look FABULOUS!!! I had my dress bustled, and when it was time to tie up the train we couldn't find the clips - D was there with safety pins and made it look professional. Immaculate events offers unbeatable rates and unheard of attention to detail. I highly recommend D and her team!!
---
Attention To Details
Reviewed on

5/24/2012
Ivy D
I booked Immaculate Events to plan my December wedding. It was the best investment, as I am a business owner and did not have time to handle wedding details. Dieudonne was very responsive from the beginning of the planning process until my wedding day. She was a great help and truly made my wedding unforgettable and stress free. I recommend using Immaculate Events for wedding planning.
---
Poised and Professionalism
Reviewed on

5/15/2012
Karen J
I had the pleasure of using Immaculate Events for my April 2012 wedding. I used their services for the entire month of my event. Dieudionne Thomas from start to finish was extremely professional and hardworking in making the event a tremendous success. She follow-up with all of my vendors and provided everyone with a detailed schedule leading up to the day of event. She was dedicated and remain positive during stressful times in planning the final details. I highly recommend using Immaculate Events for your wedding planning.
---
She gets it done!
Reviewed on

5/08/2012
Kat L
I'm the most laid back person when it came to my wedding day. Dieudonne Thomas was picked up where I left off and took care of challenges that presented itself that day! I didn't know about any issues - she just solved them as they came up. I appreciated her calm but decisive demeanor as she made great decisions on our behalf. I was able to enjoy my day to the fullest because of her! I recommend her for day-of coordinator.
---
Send Message