Home

IRIS floral + event design studio
About this Vendor
classic elements . modern styling . FLORAL ART
completely custom-designed wedding flowers...any style: modern, elegant, eclectic, vintage, earthy...any budget: creative ideas to achieve your bridal aesthetic…local or destination.
Details
Flower Crowns, Hair Accessories, Accessories, Fashion, Aisle Decorations, Centerpieces, Flower Girl Baskets, Pedestals, Vases, Chuppah, Wedding Arch, Wedding Decoration Delivery, Wedding Decoration Setup, Decorations + Accents, Bouquet Wraps, Bouquets, Boutonnieres, Corsages, Flower Delivery + Setup, Flower Arrangements
Contact Info
Reviewed on

4/01/2016
Noelle L
Nicole is fantastic!! She was so accommodating to my (very) last-minute requests, and was very pleasant to work with. She was also willing to work with my limited floral budget, even getting me flowers that other florists said wouldn't be available in my price range. I... Read More absolutely LOVED my flowers; they were the perfect combination of all the inspiration photos I sent Nicole, and I couldn't be happier! Thanks again!!
---
Stunning work
Reviewed on

10/20/2015
Caroline J
I LOVED my flowers. I cannot say enough about Nicole from IRIS. I'm not exaggerating when I say the final product took my breath away. I can only pray my photographer got LOTS of photos of her work because the night flew by so fast I didn't get to appreciate each arrangement... Read More like I wish I could have. Beautiful Work: One of our guests is a florist and she sought me out to specifically say how fantastic the flowers were. When I show people pictures they inevitably comment on how gorgeous my bouquet was. The quality of the flowers was superb. Huge, fresh, vibrant flowers. Affordable: Her proposal was by far the lowest we received and it was exactly on budget. It seems like many of the florists we talked too took our budget as a jumping off point to double up on, but Nicole was very respectful and found a way to do what we wanted with what we gave her. Attitude: She was very laid back and positive. I can't say it better than she just *got* what our vision was. She was hands on during our consultation showing us arrangements and vases. Even the day before the wedding when I requested a hairpiece for my reception she said "no problem!" and it was waiting for me when I arrived. I 100% recommend IRIS for your wedding!
---
My favorite vendor
Reviewed on

11/11/2014
What can I say? Nicole was my favorite vendor to work with. Her work was beautiful and exactly what we wanted. She was professional to work with, but it was also like working with a friend. I had no idea what I was doing or even what we wanted, but we were coming in from out... Read More of town, and wanted to keep costs reasonable since we weren't able to bring flowers home with us. She had some great ideas for us and ultimately, we did a lot of candles and callas, along with orchids placed in vases. I ordered a charm with a photo of my dad on it for my bouquet and had it shipped to Nicole to place on the bouquet for me. She made sure to let me know when it arrived and sent me a picture of it. I cannot recommend IRIS enough! Our wedding was an intimate group of 37, but I have a feeling she would also knock it out of the park with a larger event too. For us, we couldn't have been happier. Thank you Nicole and the IRIS team for everything!
---
Reviewed on

5/18/2017
Pamela S
I have received so many compliments about how breathtaking my bouquets were. Nicole listened to my requests and quickly crafted an intricate plan that implemented my vision within my budget. She was quick and reliable with communication and had everything even more perfect than... Read More I could imagine on my wedding day. My venue also raved about her work and was glad I was working with her. I would highly recommend Nicole and her beautiful artistry to anyone.
---
Reviewed on

4/24/2017
Taylor R
Nicole was amazing! My ceremony and reception were breath taking. She did a phenomenal job. She had everything that I wanted, down to the smallest of details. People called me the day after my wedding asking who my florist was because the flowers that were used were so unique.... Read More I wanted "dusty and muted" colors and that's exactly what I got. They were so original, unique and beautiful. She is seriously the best!
---
Reviewed on

4/05/2017
Morgan W
Iris florals was so easy to work with! Most of our transactions were done electronically, and because of that, I was able to add/remove items from our contract and communicate ideas very easily. Everything was beautiful and I couldn't give higher praise!
---
Reviewed on

1/01/2017
Julienne H
Our flowers were so gorgeous!! I sent Nicole photos of the styles I liked from Pinterest and she was able to create exactly what I wanted within our budget. Our wedding was in the french quarter. Even though it was indoors, we wanted to create the feel of a courtyard space, and... Read More she did this perfectly, using lots of vines and flowing sprays of flowers. It was just beautiful—it felt magical walking into our venue and seeing it exactly as we imagined. Thank you so much!!
---
Reviewed on

12/16/2016
Grace J
Iris is absolutely amazzzzing! Working with Nicole was a dream to work with. She was so responsive, creative, and worked well within my budget, even suggesting ways to cut cost without sacrificing aesthetic. But most importantly, she brought my floral vision to life flawlessly.... Read More When I saw the final product, my jaw hit the floor. It was absolutely STUNNING. Everyone still can't stop talking about how beautiful the florals were! I'm so glad we chose Iris. Thank you SO much Nicole!!
---
Reviewed on

12/12/2016
Jordan C
As a desstination bride in LA it was so important for everything to go without a hitch! Obviously that's not possible :) But we got pretty close! Our day ended up pouring rain on our outside wedding, and Iris did such a great job on matching all of our requests and moving them... Read More indoors. She perfectly executed practically every single flower arrangement we asked for, a very pleasant surprise on our cloudy day! The only reason for the four stars instead of five is that there was a problem with my bridal bouquet. I very clearly asked for a cascading bouquet and send five or six pictures clearly showing what I wanted. My bouquet was nowhere near cascading, and was just a simple handheld one. When my mother-in-law tried to contact the florist to tell her the flowers were incorrect, she refused to correct the problem and was snippy with her. So I missed out on my dream bouquet, which was very sad. However, every other decoration she did was absolutely perfect, and we really appreciated all of her hard work!
---
Reviewed on

12/11/2016
Allison C
I wish I could give Iris 10 stars! I LOVED my flowers so so much! Nicole is amazing to work with, she made everything so easy! My wedding was 1 year ago and to this day people that attended still go on about how stunning the flowers were!! Thanks Nicole for making our wedding... Read More even more memorable!
---
Reviewed on

12/01/2016
Devan P
Nicole is AMAZING. She's so easy to work with and I felt so at ease upon our first meeting. I just gave her pictures of what I imagined our flowers would look like and I let her do her thing....and did she deliver! The flowers on our wedding day were STUNNING and they lasted the... Read More whole night and several days afterwards for us to enjoy. I cannot recommend her enough!
---
Reviewed on

11/06/2016
Holland H
No words describe how beautiful my flowers were! They were everything I wanted and more! She is so talented and really has an eye for this! She is extremely sweet and very professional. Great with communication from start to end! Beyond pleased with her work!
---
Reviewed on

10/25/2016
Alison P
Nicole was great to work with. She was able to take a picture I showed her and perfectly pinpoint the style I was hoping for. I was able to have some flowers that are out of season while still being very affordable. I am in love with my flowers. She was also very accommodating... Read More with my desire to have each centerpiece different and worked well with me giving her about 40 different bud vases to use instead of actual arrangements. The flowers were beautiful and my guests enjoyed taking home a small vase at the end of the night. She works with very fresh flowers; so fresh that one of the bridesmaid bouquets that I have was still fresh and beautiful when I returned home from my honeymoon a week later. I would strongly encourage you to meet with her if you are looking for something different than your typical rose and baby's breath arrangement. Fantastic experience.
---
Reviewed on

10/25/2016
Sarah M
Everything was absolutely flawless! Being a destination bride meant every detail was discussed via inspiration photos and email. Nicole completely understood what I wanted and ran with it creating my dream florals!
---
Reviewed on

10/17/2016
Brittany H
Iris was my floral vendor for my October 8th, 2016 wedding at the Degas House. It was a destination wedding in New Orleans and Nicole was so helpful and wonderful throughout the process. She responded to emails quickly and was nice enough to add center pieces at the last minute!... Read More Her prices were also very reasonable. When my flowers were delivered the afternoon of my wedding, I told Nicole that my flowers were the only thing had turned out 100% perfect on my wedding day so far! My bridesmaids loved their bouquets, the groom, his groomsmen, and my father loved their boutonnieres, and the mothers and grandmothers adored their corsages. I received so many compliments on my bouquet and I am drying it now in hopes of saving it forever!
---
Reviewed on

9/21/2016
Stephanie M
Such amazing service and beautiful work on my bouquets! Planning a wedding in New Orleans from NJ was not easy, but Iris floral made it seamless and perfect!
---
Reviewed on

9/15/2016
Shereene M
Nicole was amazing to work with and so flexible as we made adjustments. She was so sweet and open to my ideas. I kept my wedding florals simple with just personal flowers and she was very accommodating of my budget.
---
Reviewed on

8/24/2016
Maegan R
Nicole with IRIS was such a breeze to work with. She took descriptions of my vision and turned it into reality! My flowers were absolutely stunning. She even worked with us regarding a few issues we had with budget and with rentals and was extremely accommodating with both.
---
Reviewed on

8/17/2016
Hali W
Iris was amazing! I couldn't have asked for a more perfect florist. She listened to everything i had to say and far exceeded all of my expectations! I will recommend her to everyone!
---
Reviewed on

6/21/2016
Emily B
Iris did an incredible job with the flowers for our wedding. They perfectly captured what we were going for. They were a pleasure to work with and were so easy to communicate with. Our flowers were gorgeous and we couldn't have been happier. Would recommend them to anyone!
---
Reviewed on

6/04/2016
Danielle M
Nicole is seriously an artist! I knew that I didn't want traditional wedding flowers, and I wanted something completely customized to my style for our wedding. I contacted Nicole and we talked through email since I live out of town and she asked me to send her some examples of... Read More what I had in mind. When we met in person for the first time discuss options, I was so impressed with her ideas because she seemed to understand exactly what I wanted. Throughout the planning process, I changed things around and each time she was more than accommodating and completely worked with our budget. I knew I would like the flowers, but when I saw them on the day of our wedding I was blown away with what Nicole came up with. My bouquet was a work of art and unlike anything I had ever seen. I received more compliments on the flowers than I ever expected. Besides the bouquet, the rest of the venue was perfect too and it was everything I hoped for. IRIS not only makes the floral arrangements but can also provide other decor such as lanterns, candles, and altar backdrops. The candles and lanterns used for our ceremony were beautiful and I loved the table decorations. I am so, so, so happy that I found IRIS for our wedding.
---
Reviewed on

6/02/2016
Rebecca D
We hired Nicole at IRIS for my daughter's destination wedding. She patiently communicated with both of us over the last nine months. When we walked into the venue, I knew we had made the right choice. The florals were EXACTLY what my extremely perfectionist daughter had... Read More envisioned. It was truly stunning. From the bouquets to the florals on the alter and tables, she executed everything perfectly and within our budget. You would be wise to hire IRIS floral and Nicole for your event. You won't regret it!
---
Reviewed on

5/02/2016
Chrissy G
Nicole did the flowers for our April 2016 wedding and I couldn't have been more pleased. She was easy to work with, was priced very reasonably and created a beautiful product. My bouquet was more than I could ever have imagined. I highly recommend booking IRIS if available... Read More for your event.
---
Reviewed on

3/09/2016
Lisa S
I was absolutely in love with my flowers for my wedding. I was all over the place with my ideas, and she was able to put together my vision and made my venue space look magical!!
---
Reviewed on

11/10/2015
Working with Nicole was a great experience. We handled everything over email. When I saw the arrangements that she created, I was blown away. They were even better than I had imagined. All the guests had a lot to say about how beautiful everything was.
---
Meet The Owner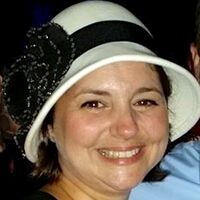 Nicole Chauvin
Nicole has been a floral designer for the past 12 years and has worked in New Orleans and Los Angeles for primarily event-based studios. She has a BFA from Tulane University in Theatrical Scene Design and extensive experience in scenic and props design as well as theatrical production management. At the start of 2014, Nicole took on full ownership of IRIS and personally designs and installs all weddings and events.