Home

Ivy Hall
About this Vendor
Where your stories become historic...
A unique and cherished piece of Southern history. Originally built in 1838 by Roswell King, the Mill was destroyed during the Civil War but rebuilt in 1882. We are proud to have been a part of bringing the Mill back to life in 1991 as a special events facility, a perfect place to make history of you
Amenities + Details
Amenities
Bridal Suite

Handicap Accessible

Liability Insurance

Indoor

Outdoor - Not Covered

Reception Area
For more details about amenities, please message the Venue.
Bar + Drinks, Cakes + Desserts, Food + Catering, Planning, Rentals + Equipment, Service Staff
Contact Info

Reviewed on

6/07/2017
Alexandra I
Ivy Hall did such an incredible job! I did my ceremony and reception here and everything was so seamless. We got 30 minutes for our ceremony, but only used 10 minutes so we were fairly early to start everything else. We had a ceremony planner and coordinator, an event captain,... Read More and a reception coordinator. Everything went off with out a hitch!! the food was tremendous and most of it we had them make gluten free. They did a great job making sure everything was labeled with gluten free markers. The team and staff were all so friendly and helpful.
---
Reviewed on

1/03/2017
Anne K
Ivy Hall was absolutely wonderful! I invited 260 guests to our wedding, and there are very few reception venues in Roswell that can accommodate such a large number of people and still not feel cramped. The design of the space is elegant, but not stuffy. I had to bring in very... Read More little decor because the room was naturally so beautiful. It was wonderful to use a reception venue that provided in-house catering. They provided food, beverages, tables, chairs, linens, AND all china/silverware. This allowed me to focus my time and attention to other details, like flowers and photographers. Speaking of which, they also gave me a list of preferred vendors! I selected a florist and DJ they recommended, and both were fantastic! Leading up to the wedding, Linda worked with me side-by-side. She answered every email (always within a 24 hour period), and continually encouraged me to ask questions. We met a month prior to my event and she had already prepared a timeline. She communicated with my DJ, my photographer, my videographer, the bakery, and my florist leading up to the wedding. She let me drop off all of my decor pieces when it was convenient for my schedule (a godsend the week of), and she even made sure to have a six pack of my groom's favorite beer that they didn't have on their menu! When we arrived for our reception, we were immediately greeted with drinks and appetizers. When we sat down to eat dinner, the wait staff already had our dinner ready so we could sit back and relax. I never had to worry about timeline because Linda was keeping up with all logistical details. They even boxed up all of the gifts and cards so my family didn't have to worry at the end of the night. I would HIGHLY recommend Ivy Hall.
---
My dream reception!
Reviewed on

10/30/2013
Tammy
From the first time I walked into Ivy Hall I knew it was exactly what I had envisioned! It had the perfect blend of southern-elegance that I was looking for. Linda was absolutely amazing to work with! She made me feel like I was her only client. She responded to all of my... Read More emails and phone calls immediately and was so accommodating with all of our requests. When I walked into Ivy Hall at my reception, it literally took my breath away. I couldn't have dreamed that it would all come together as beautifully as it did. On the night of my wedding, Rosie ensured we had everything we needed and that things were on schedule. Thank you Linda and Ivy Hall for making my wedding dream come true!
---
Reviewed on

12/05/2017
Susan G
If you book here, there are some things that you need to know. April & her staff are not very a) polite or b) helpful. I have been in charge of several large events and found their refusal to do anything other than their typical, cookie-cutter setup astonishing. It is a... Read More budget friendly venue - and they are unwilling to step out of that mold. They even refused to consider a different table layout inside the hall. April's questionable taste shows in her decorating choices -- tasteless, velvet curtains on the windows (the view is amazing, the windows are beautiful -- why even have a window treatment??), a limp, sad-looking gauzy material hanging across the ceiling with one strand of Christmas lights, ugly dark wood chairs & tables which she will not allowed to be changed for your event (even if you offer to hire her movers, pay for storage & cover all costs involved), a pathetic hodgepodge of fake plants everywhere (and yep - she refused to move them out) and the cast-off English antiques that look sorely out of place in a rustic building. I continue to be amazed by the fact that she had a hideous storage shed built in the entrance walkway -- pretty sure there was somewhere else you could have put it. Upon arrival that night, her security guard refused to allow our bus into their parking lot. Even though Linda came out later and said it was ok, we were still forced to park at the farthest point away from our event & walk. It didn't matter to them that we had elderly people on board. They knew from the beginning we had hired transportation and nothing was ever mentioned about not letting us park. We paid for an extra bar/bartender during the cocktail hour. It wasn't a full bar - just glasses of wine available. Because there was only one full bar during the cocktail hour downstairs, and only one full bar upstairs during the reception - the line was always extremely long. It is pretty pathetic to look over and see the bride waiting in line to get a drink -- no special treatment for her either. Ivy Hall won't allow tables to be pre-set -- you have to even pick up your silverware. Seriously - have you ever heard of a catering hall that doesn't put silverware on the table?? When I asked to have it done by her staff, she replied that it would cost $3.50/setting. They also flatly refuse to preset water glasses -- it is "available at the bar". Yes -- we had to stand in line to get water. The hall is too small for 200 people - but they will cram you in by sitting 10 people @ a 60" round table and claim it is the industry standard. It isn't. Thankfully, the weather had turned cooler that day, but it still was rather warm/hot in the hall. And they, of course, refused to open any windows for a breeze. The food - catered by her required vendor - is not great. The "carved roast" is a substandard cut of beef - chewy & tough. The mashed potato bar could have been great, but the potatoes were cold & gummy. The rest of the menu was forgettable. Her serving staff was inexperienced and slow. One server spilled an entire glass of champagne over one of our guests. Her response was - oh, this is my first night. She didn't apologize, run to get a napkin or anything else that a normal waitress would do. The venue has great potential. It is a shame that the owner and staff are so rigid.
---
Reviewed on

11/21/2016
Kati R
Linda was great to work with and the ceremony and reception went off without a hitch! The venue itself is gorgeous and they provide you with a day of wedding coordinator for the ceremony and reception which was great! Everyone at Events Catering was helpful during the planning... Read More process and I would definitely recommend them.
---
Reviewed on

10/10/2016
Jenny L
Beautiful venue and wonderful experience!! April and Linda were super nice and easy to work with! Everyone was extremely professional and knowledgeable. They have wedding planning and execution down to a science!! They even went out of their way to make sure my husband had his... Read More favorite beer (a rare craft beer) served at the rehearsal. When I walked into the venue on my wedding day, it was exactly how I had imagined it!! It was so refreshing to work with people who really care about creating your vision and go out of their way to make you feel special! I would HIGHLY recommend this venue!! I could not be happier :) Thank you, Ivy Hall!!!
---
Beautiful and Classic
Reviewed on

7/28/2015
Kate A
We loved having our reception at Ivy Hall! Our assigned wedding coordinator was extremely helpful and great to work with! We had so many compliments from our guests about the venue itself as well as the food!!! It was a perfect blend of rustic, classic, and formal - all rolled... Read More into one!
---
Ivy Hall
Reviewed on

11/17/2014
Morgan H
Ivy Hall was the most perfect wedding venue! Enjoyed working with Linda and staff. The atmosphere for our October wedding was unbeatable and the food was delicious! I would highly recommend this venue to everyone!
---
Amazing
Reviewed on

10/14/2014
Brittany W
Everyone at Ivy Hall and Events Catering is fabulous. Planning my day was so stress free because of them and the actual day went perfect because we were there. From set up to food to service to EVERYTHING, they allowed my day to be fabulous and for that I will forever be... Read More thankful.
---
A Perfect Day!
Reviewed on

7/19/2014
Corrine M
My daughter's wedding ceremony and reception were held at Ivy Hall. The staff were wonderful! From the initial planning to the final minutes of the reception, everything went smoothly and was handled in a most professional manner. They thought of every detail and were there... Read More with whatever we needed every time we turned around. Colleen and Linda were so helpful and patient with us. We had about 140 people, four stations of food, open bar and ceremony at the venue. The only reason I gave them four stars is because I was unaware that the only bathrooms in Ivy Hall were downstairs. We had several older people at the wedding and this did prove to be a hardship for them. Also, the ceremony and cocktails were downstairs and the ramp that is recommended for people who can't walk stairs is very precarious. It's an historic building so they can't just put in an elevator but I would recommend that they look at some way to accommodate people who are unable to navigate stairs. It was a beautiful day and everything went so smoothly! I highly recommend the venue, just be aware of the stair situation.
---
Best day!
Reviewed on

5/20/2014
Janna C
I had such a wonderful experience at Ivy Hall! The day was exactly what I wanted and was run seamlessly by the venue. The food was great and the venue looked beautiful.
---
Perfect Venue
Reviewed on

4/10/2014
Leeanne S
Ivy Hall was the perfect venue for our wedding. The scenery was beautiful and the staff went above and beyond to help in anyway they could. The captain at the reception was extraordinarily helpful in making it the perfect night. I would definitely recommend this venue.
---
Absolutely Wonderful
Reviewed on

5/02/2013
Jamie H
The people at Ivy Hall were wonderful to work with. I have a food allergy and they were able to modify the dinner to meet my needs while still providing my guests with an elegant meal.
---
Our Dream Wedding
Reviewed on

10/02/2012
Ashley S
My husband and I had the most perfect wedding on September 15th at Ivy Hall. Events Catering staff are so professional and helped us have the best experience at our wedding. The venue is gorgeous and was a perfect fit for us. The staff made sure everything ran smoothly and took... Read More care of everything we ask. I would highly recommend looking into having your event here. The food was amazing! I had nothing but great reviews from our family and friends.
---
Perfect!
Reviewed on

5/15/2012
Kendra H
I used Ivy Hall at Roswell Mill for both my ceremony and my reception and had an absolutely perfect wedding day! The setting was perfect for pictures, with their beautiful covered bridge. It was so nice to have everything taken care of without the stress of setting everything up... Read More for the ceremony. They were very professional throughout the entire process and we had a wedding coordinator for the day of the wedding.
---
Awesome Wedding Venue
Reviewed on

11/07/2011
Anna H
Ivy Hall was a wonderful place for my reception. They took care of all the little details to make my reception wonderful. Ivy hall is such a beautiful building. We were catered to the entire night which was great. The food was excellant. People are still talking about how... Read More beautiful everything was.
---
Gorgeous venue
Reviewed on

10/25/2011
lindsay o
I got as many compliments on the venue as I did on my dress. Ivy Hall is gorgeous with wood floors and virtually any kind of decor. It has tons of windows and feels wide open.
---
Great place!
Reviewed on

10/12/2011
Kalyn G
I had my wedding here in September. They did a great job pulling together everything I wanted. Everything went very smoothly and we had no problems. The food tasted wonderful! The staff was always friendly and willing to answer any questions we had. I would highly recommend this... Read More venue.
---
Beautiful Wedding
Reviewed on

9/07/2011
alison m
My wedding took place on the backdeck at Ivy Hall. The site was beautiful and the staff was friendly. It rained right up until it was time for the guests to arrive and the staff did a great job getting everything cleaned and dried so we could still proceed outside. The... Read More upstairs and downstairs rooms were made available to the guests to stay cool and dry before the wedding, which was very helpful. The staff was also very attentive to the bride and groom throughout the day. The only negative was that we weren't allowed into site as early as we wanted, and it made our picture time before and after the wedding a little rushed. But, overall we had a lovely time and I'm glad we chose Ivy Hall to host our wedding.
---
Ivy Hall
Reviewed on

1/11/2011
Katie M
Linda and April did such a great job helping me plan the wedding and making sure everything was set-up perfectly for the day-of. I didn't even need a wedding planner. The food was amazing and everyone told me that
---
Exactly what I wanted
Reviewed on

8/10/2010
Kelly W
After searching all over Atlanta for the perfect venue, we FINALLY saw Roswell Mill. As soon as we walked in we knew this was the place for our ceremony and reception. Everyone is still talking about how good the food was. The quality and quantity was perfect. The staff was... Read More ready to take care of anything you needed. 2 issues: 1. We were not allowed onto the site early enough to get pictures at the covered bridge (down a hill by the river). 2. They ran out of Miller Light...my grooms drink of choice. Other than that, it was a great success, and the scene is beautiful in photos.
---
Meet The Owner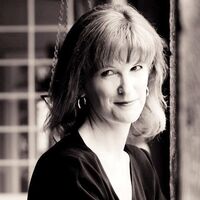 April Huntsman Bloomer
After 35 years in the events business, I've seen it, been there and done it-and yet I still cry at weddings. Weddings are personal, each one is unique and they are supposed to be fun. We ensure it. We opened the company with these beliefs and we hold them dear. I love details, timelines, efficiency, adding personal details to parties, pretty flowers and chocolate. We are a family-owned business. My husband Craig and I opened Events Catering in 1987. With the help of excellent staff and hard work, we now have a successful business that provides joyful memories to our wonderful clients.