Home

J. Andrew's Bridal + Formal
About this Vendor
The Knot Best of Weddings 2014 pick
"I had a wonderful experience while shopping for my wedding dress at J. Andrew's. It was only my second time shopping, and I wish I would have gone there the first time! My beautiful dress is ordered, and I can't wait for my big day to show it off!!" ~Christen K Senioa GA
Details
Alterations, Bridesmaids, Custom Gowns, Flower Girls, Lingerie, Mothers Fashions, Other Attire & Accessories, Shoes, Wedding Gowns
Contact Info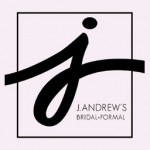 277 Highway 74 North , Peachtree City, GA
My Experience
Reviewed on

5/11/2015
Ashley H
Our experience with J Andrews was nothing short of perfect. I got my dress, both mothers and all of my bridesmaids dresses from there! Everyone is incredibly helpful! I wouldn't use anyone else!
---
Best Bridal Salon Ever!
Reviewed on

12/02/2013
Bethany W
I cannot rave enough about Sarah and the ladies at J. Andrew's! And the seamstress...O.M.G.!!! Ah-mazing! I went with an open mind to my first appointment with Sarah. I liked a lot of different style dresses, but I also watched enough Say Yes To The Dress to know that what you like may not look great once you put it on, so I was open to trying whatever Sarah pulled for me. After several beautiful picks, we started getting creative. We pulled together the top of a bridesmaid dress with a neck line I really liked, along with the bottom of a Jim Hjelm wedding dress. You really had to be a visionary to see the potential in this wedding dress project! I went back for several fitings, each time refining the dress a little more. The day of my final fittling, I was totally overwhelmed with so much love for my amazingly beautiful, one of a kind, custom gown!! I DID NOT want to take it off! I could not have been happier with the final prodcut! It was so much more than I ever could've imagined!!! I cannot tell you how man wonderful comments I recieved about my dress! I wish so badly I could wear it again! To say I love it is an understatment. The ladies at J. Andrew's were so gracious and sweet to me, my mom, and my bridesmaids. I couldn't have found a better place to shop for our dresses!!
---
The ladies at J. Andrew's are THE BEST!
Reviewed on

10/21/2013
Jessica R
From the moment I stepped into J. Andrew's for my appointment with Sarah, I KNEW that I had found gold. I didn't even have to show Sarah more than a few photos before she said, "I know exactly where we're going to start." We discussed my budget and got to work. I tried on maybe 5-6 dresses total, and went back to the first dress that Sarah picked out for me. She KNOWS her work, and she does it SO well. We discussed different options for each dress that I tried on, and THE dress for me was actually the first dress she selected (with a few changes that I wanted). She truly has a gift for working with brides. Sarah listens so well, and she made my shopping experience so easy...and FUN! I chose my bridesmaids dresses from J. Andrew's also, in addition to my mother selecting her dress from the salon. Every experience with the ladies at J. Andrew's was a great one, and I can't say enough wonderful things about this place. We were treated like VIP at every visit, including my appointments for alterations. These ladies are the best in the business, and I am forever thankful for the part they played in making my wedding day so perfect.
---
Perfect
Reviewed on

6/25/2015
The staff and selection of dresses at J. Andrews are superior. Felicia was who helped me, but the whole staff was so welcoming and complimentary. The dresses are gorgeous, and the jewelry is too! The alterations people are great too. I loved everything about J. Andrews. I would highly recommend this store!
---
Best bridal store!
Reviewed on

6/21/2015
Pennie T
J. Andrew's bridal is seriously the best around! They were awesome I work with! I found the dress of my dress and couldn't have asked for a better experience!
---
My Wedding - 5/22/15
Reviewed on

6/08/2015
J.Andrews in Peachtree city, Ga did an amazing job from start to finish on our wedding attire! I found my PERFECT dress there with Felicia's help and all of my girls looked absolutely beautiful in their Bill Levkoff line! All of the staff were very helpful and professional. Any hiccups were handled immediately and I truly appreciate all that Ashley and her team did to make my special day so wonderful!!
---
Obsessed with my Dress!
Reviewed on

6/01/2015
Erica B
I had the pleasure of having Felicia as my bridal consultant while shopping at J. Andrew's Bridal. She was ever so helpful. I came in with my eyes set on two specific dresses. I appreciated Felcia not overwhelming me with options, but respecting my wishes. I was warmly welcomed back when I came back to make my final decision with my family and for my fittings. I absolutely loved my Hayley Paige gown I purchased for my wedding. I also purchased my wedding day accessories from J. Andrew's Bridal. They have everything you need to suit your style and budget. I highly recommend shopping there to find the perfect wedding gown for your perfect day. You will not be disappointed.
---
LOVE the ladies at J. Andrews!!
Reviewed on

12/30/2014
LOVE, LOVE, LOVE!!! The ladies at J. Andrew's Bridal are amazing, but Theresa takes the cake! I am a plus sized bride and had a difficult time finding dresses to fit. Theresa and the J. Andrew's staff went above and beyond, though, and not only found dresses to fit, but searched until I found "the one" dress that was perfect. With alterations, shoes, and everything, I still came in under budget. Ultimately, all our dresses, the bridesmaids, my flower girl, and my mother's dress were purchased at J. Andrew's. The shop even arranged for the bridesmaids dresses to be shipped all over the country to my girls. The wedding could not have been prettier, and our dress experience could not have been better. Thank you!! ~Shannon J. Manchester, GA
---
Wonderfl place to shop!
Reviewed on

12/17/2014
Melissa B
I found my dream wedding gown at J+Andrews! It was a great price, I received great service, and I would highly recommend this bridal shop to other brides!
---
What an awesome experience!
Reviewed on

12/01/2014
Sarah A
J Andrews was a breath of fresh air in comparison to other stuffy shops! The staff were ALL helpful, appreciative, and knowledgeable. I loved my experience, and have recommended that 3 other brides use this vendor. Sarah was a huge help in choosing a dress for myself and my bridesmaids. Thank you for making this experience meaningful!
---
One of the best vendors I had for my wedding!
Reviewed on

11/09/2014
Langlee M
J. Andrew's Bridal truly was one of the best vendors I had for my wedding. I live almost 4 hours away from them, and they were so accommodating for us. I purchased my wedding dress and accessories from them, as well as all my bridesmaids dresses. Everything I ordered from them was perfect. The customer service there was outstanding! Everyone was so friendly, and they truly take the time to figure out exactly what you're looking for. From my first appointment to my last fitting, everyone was wonderful! I wouldn't have gone anywhere else, and I have recommended them to all of my friends. If I had to do it all over again, I wouldn't have changed a thing.
---
Highly recommend J.Andrew's Bridal!
Reviewed on

11/09/2014
Julie W
J.Andrew's made my dress shopping experience perfect. All of the staff there was so helpful, friendly and kind! My wedding consultant, Felicia was AMAZING! They have a great selection of wedding dresses for all different budgets. Not only did I get my bridal gown and bridesmaids dresses there, we also got all of the Tux's. I was overly pleased with their set up for picking out the Tux's for my groom and groomsmen. I would definitely recommend J.Andrews and will miss everyone up there, as they felt like family for the past year! Thanks ladies, Julie Baker
---
Couldn't Be Happier with Sarah and Her Team
Reviewed on

11/07/2014
Megan C
Sarah and her team couldn't have been more wonderful and helpful throughout the Bridal process. She found me the perfect dress, (Lucky # 3), and was so sweet and helpful, and really made the whole process so easy! Between selecting, ordering and fitting my dress as well as selecting and ordering my bridesmaid dresses, everything was seamless. She and her staff were attentive, always willing to answer questions and help in whatever way they could. Thanks so much to Sarah, Mona, and Sarah Ashley...y'all are awesome!
---
Wedding dress shopping was a breeze!
Reviewed on

11/05/2014
Heather A
J. Andrews is amazing! The staff is wonderful! My consultant, Felicia was super sweet and made sure I was happy with every aspect of my dress. I also purchased my bridesmaids dresses here. The girls were very pleased with their dresses. I recommend this store to any bride!
---
.
Reviewed on

11/05/2014
April A
Couldn't have asked for a better experience! It was everything I'd hoped for! Their staff is incredible and go above and beyond to make your day special. Thank you j. Andrews! :)
---
J Andrews is amazing
Reviewed on

11/05/2014
Marsha F
I LOVED J Andrews!!! I worked with Sarah and after describing what I was looking for literally brought my dream dress out 1st! My appointment only took 20 minutes because I wanted to take so many pictures with it on!!! But all in all I would highly recommend this bridal shop and ask for Sarah!
---
Amazing J. Andrew's
Reviewed on

10/15/2014
There was a certain dress I had found online and was not going to be satisfied until I tried on. J. Andrew's had this dress and squeezed me in an appointment the very next day to try it on. The staff was so welcoming as soon as I walked in, and made my visit very personal. Felicia was my bridal consultant and I could not have asked for a sweeter lady to help me find a dress for my special day. She pulled my dress and two others of a similar style for me to try on- and I actually ended up going with a Maggie Sottero dress she pulled. I was pleased with everything about my visit to J. Andrew's and their alterations team was a dream!! Everything about my wedding dress came out just perfect on our wedding day!! I was one happy bride from the time I walked into my appointment to the time I walked down the aisle! Thank you to J. Andrew's and Felicia!! :)
---
Best Bridal Gowns
Reviewed on

9/27/2014
Jessika M
I had the best experience shopping for my bridal gown at J Andrews. The ladies at the salon were knowledgeable and helpful in finding my perfect gown. They listend to styles I was interested in and helped find dresses that would flatter my figure. They also helped me stay within my budget, while finding a beautiful dress. I also found beautiful bridesmaids dresses at J Andrews. All the staff members were helpful and pleasant to work with!
---
Very Pleased
Reviewed on

9/27/2014
Lauren T
This place is phenomenal. The staff is what sold me. They went above and beyond in making me feel comfortable and beautiful. I went in with a (lower) budget and they found the perfect dress. I highly recommend J.Andrews.
---
Worth the trip to Peachtree City
Reviewed on

9/14/2014
Francesca E
My wedding was on August 16, 2014. I purchased my gorgeous lace Paloma Blanca wedding gown for my vintage themed wedding at J. Andrews bridal back in November 2013. I was really pleased with my experience with J. Andrews bridal from start to finish. They had a great selection of gowns and accessories when I was searching for the right dress. The staff seems genuinely friendly and not like pushy sales people They were also really flexible and helpful when I needed to try it on a few times just to make sure I had found the "one". It's a bit of a trek from metro Atlanta to J. Andrews but it's definitely worth the trip.
---
Great Experience!
Reviewed on

9/14/2014
I went to this shop with my friend (the bride) and it was the BEST experience! After going to numerous shops where we felt rushed and not listened to, this place was the exact opposite! I will be going back to pick out my own dress in a few months!
---
J Andrews
Reviewed on

9/09/2014
Kristen D
Was awesome! I truly enjoyed working with the staff. They went above and beyond to satisfy my picky taste. The salon is also so beautiful!!! Thank you J andrews!
---
I loved my dress and so did everyone else
Reviewed on

9/05/2014
airiel j
The whole staff was amazing!!! I traveled all the way from Vinings for the incredible service.
---
Satisfied Bride
Reviewed on

8/29/2014
Conchita N
I have researched for weeks online for a specific bridal dress for myself. I found out that J Andrews Bridal did in fact carry this particular model dress. I went in to the store checked out my dress in a size 4, however I was measured and I went ahead and ordered the dress. As an addicted gym member and sweating for the wedding, I needed alterations. The seamstress was awesome! She had to take my dress in by one-two inches on each side at the waist since I had lost inches since my previous fitting and she altered the hem for my beach destination wedding. I love this place so much that I recommended them to another gym member friend of mine who is attending a wedding as a bridesmaid. And she too found a dress from this store.
---
Wonderful Service
Reviewed on

8/29/2014
johanna r
I had a great experience each and every time I went into J. Andrews Bridal. From my first visit of trying on gowns, til the final time I left with my dress in hand...the staff at J.Andrews was wonderful to work with and be around.
---
Send Message