Home

Jeff Thomas Catering
Details
American, French, Indian, Italian, Latin American, Middle Eastern, Fusion
Buffet, Chef Stations, Seated Meal, Food + Catering, Service Staff
Contact Info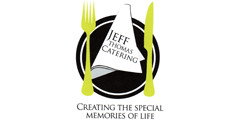 815 Oak Street, Ludlow, KY
Reviewed on

10/09/2016
Olivia W
Jeff Thomas and his staff helped us have the most perfect wedding celebration! Jeff listened to our vision, which was different from a lot of other events that had been held in the space. He was candid when our vision was not logistically feasible or might make practical things... Read More difficult, but he did everything he could to make all of our details work seamlessly together the day of—we could not possibly be more thrilled! The food was incredible: we had a lot of diet restrictions, and Jeff came up with a menu that had both a vegetarian and a vegan/gluten-free option. They were so creative that more than half of our guests opted out of meat, and everyone loved their meals! While the meals were incredible, the salad, hors d'oeuvres, and iced latte bar stole the show; all of this made feasible on a limited budget that JTC was happy to work with. The food was fun twists on comfort food - still elegant thanks to Jeff's artful plating, but not your standard wedding fare. People were thrilled all around! Above all, Jeff Thomas and his staff made all of our guests feel comfortable and welcome. My husband and I had a dedicated server all night; we never had to ask a friend to bring us water or anything because the incredible staff was constantly checking in. Everyone matched the tone of our wedding perfectly, which was fun and lively and community-driven. At the end of the night, they sent both sets of parents and us away with full meals, which we devoured at 3am when we finally got back to our room. I'm a bride who was thrilled about my marriage but not necessarily as enthusiastic about the planning of a wedding; I'm not someone who dreamed about getting married my whole life, and I was in law school and my husband was finishing his PhD through the whole planning process. We also planned the whole thing from out of state! Jeff and his staff answered our questions at lightning speed for months and made sure to eliminate every and any stress they could. It was one of the most fun, joyful weekends we have had, thanks in very large part to Jeff Thomas! We cannot recommend JTC highly enough.
---
Reviewed on

9/19/2016
Karin E
We were extremely happy with Jeff Thomas Catering. Jeff himself was the utmost professional. He answered questions we didn't know we had and made sure that all of the details were taken care of. We had a personal server that evening and the captain greeted us immediately and... Read More introduced herself. The whole staff was amazing as well as the food. I was floored at how good "heavy appetizers" could taste. They were flavorful and distinctive combinations of food. We wanted our wedding to have the fun cocktail party vibe and he totally delivered.
---
Reviewed on

9/21/2015
Claire M
Jeff Thomas Catering was FABULOUS! Jeff was wonderful to work with for our August wedding. There was attention paid to every detail and the food was amazing. We had many remarks that it was the best wedding food our guests have ever had. Not only was the food delicious and... Read More beautifully displayed, the staff was also great. They were very attentive to my husband and myself throughout the night and our guests. We provided our own alcohol and ran out of white wine before dinner, and the staff ran out to buy more! They went above and beyond to assure that we didn't worry about a single thing when preparing for the wedding and on the actual day. We couldn't have been happier with Jeff Thomas Catering!
---
Delicious food and wonderful service!
Reviewed on

11/24/2014
Kate R
I used Jeff Thomas Catering for our wedding reception and the food and service were wonderful! I loved the set up of the room, with the food stations peppered about- there definitely were not long food lines. The staff were extremely nice and responsive. I would definitely... Read More use Jeff Thomas Catering again.
---
Jeff & Team are the Best!
Reviewed on

10/27/2014
Gabrielle R
Jeff Thomas catered my wedding on June 14, 2014. First off, he is an incredible person. The moment I met him I felt comfortable, calm and SO excited about the prospect of working with him for our upcoming wedding. He is creative, kind, and understanding, and ALL of my other... Read More vendors were thrilled to hear he was on the team. This is a rarity in a very competitive, relationship-driven business like weddings. As a bride, having all your vendors work well together makes all the difference. Jeff collaborated with me and our wedding planners to bring my vision to life - including Chick-fil-A style sandwiches and boozy milkshakes for our late night snack. The food was delicious and the service was impeccable. Great man, great team, great food. What else can you ask for?
---
Best wedding food
Reviewed on

5/05/2014
Lydia E
Working with Jeff Thomas made my wedding run very smoothly. He did the table decorations for my wedding, providing beautiful table flowers at cost. They offer incredibly unique food options that wowed my guests. Many said it was the best wedding food they'd ever had! We had... Read More Thai, Indian, and Italian food, creating a wonderful mix of flavors. Jeff was very helpful throughout the whole process. My only complaint was that he promised a little more direction on the day of the wedding than we actually received. There wasn't anyone to tell me when to start my walk down the aisle, and we were all a little confused about the order of events. But overall, this company made my wedding an incredibly fun evening.
---
Amazing!
Reviewed on

8/26/2013
Stephanie B
I was so happy with Jeff Thomas Catering for our wedding at Drees Pavillion. The food was hot and delicious. Our guests made it a point to tell us that their food was very good! I'd highly recommend Jeff Thomas to any bride or anyone looking to hire a caterer.
---
Flawless!
Reviewed on

7/15/2013
Krystn S
We worked with Jeff Thomas who provided catering services for our wedding at an outdoor wedding in Cincinnati. I can not praise Jeff's services high enough! Jeff is fantastic to work with. He gave us much of his personal time to plan out the menu and give us many suggestions... Read More for the reception. His experience and confidence were amazingly comforting to someone never having planned a party before. Our food was fabulous. We wanted a cocktail party atmosphere where our guests could wander, socialize and enjoy amazing food. We had a great menu that our guests are sill raving about. They say that it was the best food they have EVER had at a wedding. What many do not think of when picking a caterer is the quality of service that comes with the food. Jeff's team was awesome! They were professional, kind and service oriented. We had servers, bartenders and those who executed the evening seamlessly. Jeff provides only the best and you will most absolutely have a positive experience working with his company.
---
Amazing food
Reviewed on

6/21/2013
Krystal A
The presentation and the food was amazing. All my guests are still raving about the food and service.
---
Perfect!
Reviewed on

5/21/2013
Megan C
The food was tasted incredible and looked immaculate. The service was wonderful. Everything came together beautifully! Jeff was there with us through the whole planning process and it showed. We were completely taken care of! They even sent my husband and I back to the hotel... Read More with cake and two meals! I highly recommend Jeff Thomas and his team! He also offers late night food! 11pm rolled around and they came out serving sliders and fries on the dance floor! It was perfect :)
---
Biggest Disappointment on the Wedding Day
Reviewed on

10/25/2012
Katherine M
Jeff Thomas Catering ended up being the biggest disappointment on our wedding day. Having great food and service was one of our top priorities and we were willing to pay for it. We heard from a number of people that Jeff Thomas is one of the best in Cincinnati and after meeting... Read More him booked him right away. Our wedding coordinator did say that there are caterers with better food, but his servers are the best. Jeff was great to work with during the planning and really listened to what we wanted. We were so excited to share the custom menu with our family & friends. We thought everything went great the day of the wedding. The service and presentation of the food were tremendous. A couple of weeks after the wedding we noticed that not one person had commented on the food. Many people talked about the late night snack, which Jeff did not provide. So we started asking around and almost half of the people we asked said that their dinner was cold. They all said it tasted great, but it was like someone had just taken it out of a refrigerator. We gave Jeff this feedback and he was very gracious and offered us compensation. I was impressed until I got the check which was less than 6% of the total food invoice. After the fact, I read some reviews online and it looks like I haven't been the only person with the warm food issue.
---
Great Food and Service
Reviewed on

4/10/2012
Molly S
Jeff Thomas did such a wonderful job for our Wedding. The food was excellent and Hot for dinner! I have had some many compliments on the food. If you want a gourmet dinner, Jeff is your guy.
---
Exceptional From Start to Finish!
Reviewed on

1/22/2012
Meghan D
Jeff Thomas is incredible! From menu planning to service, Jeff Thomas exceeded our expectations. We used the stations, and I was origninally hesitant about this idea. It ended up working very well and created a nice party atmosphere for the reception. The food was delicious,... Read More and the servers were wonderful. Jeff even offered to do our centerpieces for the reception, and the final product was beautiful! Jeff is an experienced wedding professional who will take care of every detail for your special day.
---
Awesome!
Reviewed on

12/31/2011
Allison C
Jeff and Rachel are easy to work with. They were able to create my custom menu in a time crunch. Everything was super tasty. Service was good. Highly recommend!
---
Catering
Reviewed on

11/26/2011
Julia F
Jeff Thomas Catering did an incredible job at our wedding. We LOVED our food. We were told by many of our guests it was the best wedding food that many of them had. Jeff came up with a delicious fall flavored menu.
---
Chef Jeff!!
Reviewed on

8/23/2011
Victoria R
Delicious, unique and professional. What more could you ask for! Jeff runs a tip-top business with not only his own expertise but a wonderful and friendly staff who is at the top of their game as well. As for Rachel! He is the best in the city, no doubt!
---
Jeff Thomas Drees Pavilion
Reviewed on

8/12/2011
Mandy N
Absolutely amazing!!! Such a pleasure to work with. He is so helpful. The food was the BEST!! He set out sauces for guests to put on top of the cheesecake we served. Couldn't have asked for anything better!
---
DREAM COME TRUE!
Reviewed on

7/14/2011
Casey B
Wow!! what else can we say! Jeff was so amazing to work with. He makes you feel so special and so relaxed. He takes care of all the little things you don't think about, set up, left overs, cake, flower clean up, etc... The staff really is at your service! Jeff truly makes your... Read More wedding planning easier! And the food, so delicious! We had the dinner stations! Our guests loved the interaction and the food, especially the corn and blueberry salad! I would tell anyone looking for a caterer to use Jeff Thomas if you want a classy, fun, yummy dinner experience! He simply is the best! :)
---
Great job - both nights!
Reviewed on

12/21/2010
Laura N
Jeff Thomas catered our rehearsal dinner and wedding and did a wonderful and creative job both nights - getting terrific reviews from all our guests. We were very happy!
---
Outstanding service and delicious food
Reviewed on

10/12/2010
Carin P
An amazing caterer who will really work with you to put the best and most personalized food on your plate while taking the worry and work off. Can't give enough stars!
---
Outstanding Service!
Reviewed on

8/25/2010
Tricia H
Excellent food, fantastic service. Favorite element of my wedding!
---
mother of bride
Reviewed on

8/09/2010
patti s
Food and service was superb
---
I No Longer Believe the Hype
Reviewed on

8/09/2010
Stef B
I'm conflicted while writing this because this caterer is strong in some areas and incredibly weak in others. We booked Jeff Thomas despite the steep price because of his sparkling reputation in the community. (Great friends of mine from Junior League have actually attended... Read More events simply because they found out he was catering them). We were floored by our tasting. It was delicious and exactly what we wanted. In our excitement, we made the mistake of bragging about how amazing the food would be at the wedding. When the day came, we noticed the food was different-- from presentation to quality. The meat actually looked and tasted different, too. Several guests complained that the food wasn't warm enough, and that was actually quite embarrassing. In all fairness-- Jeff is very classy and an all-around good person. His employees are very professional. I sincerely hope we just had a bad experience.
---
Absolutely fantastic!!!!
Reviewed on

6/29/2010
Helen J
We used Jeff Thomas catering for our wedding last year and were very impressed with every aspect of service. Jeff met with us at our venue, Krohn Conservatory and designed a wonderful menu around our ideas and the different floral exhibits in the conservatory. The staf were... Read More excellent during the wedding and everybody loved the food and watching it being cooked right in front of them. We would highly recommend Jeff Thomas catering.
---
Use our messaging tool to connect with vendors anytime, anywhere. Stay organized, all in one place.