Home

Jenniffer & Co.
About this Vendor
Your Place or Ours? Full Service Salon & Spa
We are a team of innovative, dedicated salon & spa professionals with worldwide education. We would like to go one step further to make it the most special day possible. We offer many exclusive options, including on-location service, airbrush makeup and a full service salon and spa.
Details
Hair + Makeup Trials Available, Hair Stylists, Airbrushed Makeup, Eyelash Extensions, Makeup, Makeup Artists, Nails, On-Site Hair + Makeup, Facials, Massage, Waxing, Spas, Spray Tan, Tanning Beds, Tanning, Beauty

Contact Info

Reviewed on

7/13/2017
Angela L
Using Jenniffer & Co was such a great investment for me and my girls. Margo and Mary came all the way to the Aloft (Downtown CLE) to do my make-up and hair and then all 5 of my bridesmaids hair. I absolutely LOVED the way my airbrush make up looked and hair. Also, the entire... Read More process was extremely easy and everyone was so friendly. Mary even offered to clean up/trim my hair extensions I used the day of the wedding. Definitely would recommend to anyone getting married in the CLE area!
---
Reviewed on

7/13/2017
Tiffany S
I used Jennifer & co for my recent wedding and had a great experience! They did my bridal hair and makeup along with hair and makeup for my 7 bridesmaids and mother. My hair and makeup turned out beautiful and lasted the entire day and night. Everyone was so accomadating and... Read More they truly kept us on time. We were in and out of the salon in 2 hours with no problems. Would definitely recommend them to any bride!
---
Reviewed on

7/13/2017
Kaitlyn K
I got a manicure, pedicure, makeup, and hair done for my wedding. All the girls were fantastic and made it a really enjoyable time. The results on every single service were fantastic. I always come here for my normal appointments so getting my wedding makeover at Jennifer's was... Read More a no brainer.
---
Reviewed on

10/31/2017
Nicole M
Jennifer & Co did my bridal hair & makeup, plus 8 bridesmaids, 3 flower girls and my Mom and MIL and they didn't disappoint on any single one of them! I have nothing but fabulous things to say about them and I HIGHLY recommend them for any wedding!!
---
Reviewed on

10/30/2017
Lauren W
I used Jennifer and Co for my wedding in September. I got married over Labor Day weekend and all the stylist were amazing for having to travel on a Sunday. Sara did an amazing job working so me and my bridesmaid to get everything planned and set up. She was so easy to work with... Read More and was quick at responding to questions. Lauren did an amazing job with my bridal hair and Kristine did amazing airbrush makeup. I feel with all the stylist I had no one could go wrong with their hair. Big shout out to this amazing salon for making my wedding day easy and for making everyone look amazing!!!!
---
Reviewed on

10/30/2017
Eva W
I got the Silver Bridal Package which included my hair and makeup trial and Wedding day. I had Mary for my hair and Tori for my makeup. Both did an amazing job!!!! I felt beautiful and everything lasted for the whole day of pictures and the whole night at the reception.... Read More Thank you ladies!!!
---
Reviewed on

10/30/2017
Claire R
I had my hair and makeup done for my engagement photos recently, and I will hands down be using Jenniffer & Company for me and my bridesmaids on my wedding day. I always feel gorgeous when I leave their salon so I know they are the perfect fit for me and any other bride.
---
Reviewed on

10/30/2017
Sara R
I got my hair and makeup done for my best friend's wedding this past week by Leah and Tori and I could not have felt more beautiful! Tori is the best makeup artist and Leah always knows what to do with my hair! I always go to J.Co for all my beauty needs!
---
Reviewed on

10/23/2017
Jennifer M
Jenniffer & Co's team of bridal stylists were amazing! The did make up and hair for the entire bridal party and my mom. Everyone was super impressed. I'd refer any bride and her party to go to J Co!
---
Reviewed on

9/12/2017
cora t
My wedding is in October, and the planning process for my hair and makeup has been a breeze! I love getting my hair cut and my nails done at this salon, so I know they will make my wedding day everything I could have dreamed.
---
Reviewed on

8/08/2017
Sarah B
I cannot recommend Jennifer & Co more if I tried. They made the entire experience a joy and stress free. My trial hair and make up were taken as seriously as the big day. On my wedding day my hair and makeup turned out flawless! My bridesmaid and mother also looked amazing! I... Read More highly recommend Jennifer & Co!
---
Reviewed on

7/28/2017
Tina O
I first fell in love with the stylists at Jennifer & Co when I was a bridesmaid in my brother's wedding a couple years ago. I knew right then that I would have Jennifer & Co work their magic for my wedding as well! My girls and I could not have been happier with the girls over... Read More at Jennifer & Co! Sara made the booking process super easy and all of the stylists did such an amazing job on all of our hair! They sent out enough girls to where we were getting ready to prep all 11 of us in just 2 hours and made us all feel beautiful! I had extensions in my hair and Lauren did a fabulous job making the trial and day of braid that I always imagined myself with on my special day. The braid she put in my hair put Elsa's braid to shame! ;) All of my bridesmaids were so impressed that another one who was engaged booked them to do her bridal party's hair on her wedding day as well! And once again, they all did a fabulous job! They are always highly professional, super talented, and so much fun! I highly recommend them and hope that if I'm in another wedding in the future, they'll be there the morning of! :) day
---
Reviewed on

7/26/2017
Ashley C
Jenniffer and Company was one of the best vendors I used at my wedding! Starting from the beginning, Sara, their bridal consultant, was more then accommodating! She took the time to meet with me personally to go over every detail and get a sense of my style as well as my girls.... Read More She worked with me through all of my changes and did it with a smile!! When it came to the day of, it went just as aspected... perfect! Their team arrived early and was ready to go before we were. I had Alex as my stylist and she was an absolute dream. She took her time and ensure everything was perfect and even put up with me touching my hair along the way. All of the stylist worked with my girls closely to make sure they also received what they wanted and feeling special also!! We had Christine come to do makeup for the entire bridal party and we had everyone looking red carpet ready in no time!! The team worked seamlessly and kept it fun along the way. I would recommend them to anyone!!!
---
Reviewed on

7/24/2017
Sarah R
I got my hair, makeup, eyebrows, nails and toes done here. Everything was excellent. Christine did my makeup and eyebrows and Lauren did my hair. They are the best! Also, Sara was very easy to work with and very helpful to arrange everything. Recommended!
---
Reviewed on

7/23/2017
Christine L
I have been going to Jenniffer & Co. for a few years to have my hair dyed, so when it was time to choose a location for my bridal hair and makeup, I knew I wanted to go here. Leah (my normal stylist) did a fantastic job with my hair. I received so many compliments, it was... Read More super comfortable, and it lasted the entire night. Tori did an amazing job on my makeup and it too lasted the entire night. My sister (the maid of honor) also had her hair and makeup done here, and she looked fantastic! My entire experience was awesome, from start to finish, and I would highly recommend Jenniffer and Co. to any bride-to-be for their special day.
---
Reviewed on

7/17/2017
Stephanie H
I loved my hair and make up from Jennifer and company! From making the appointment, to the trial, to the day of my wedding everything went smooth and flawless.
---
Reviewed on

7/14/2017
Angela C
Amazing job by Jennifer and her team! I loved my hair and makeup and everyone in my bridal party as well as my mom and my aunt looked incredible for my wedding! They take so much time to make sure you get the look you want for your wedding and they make sure you look like... Read More yourself...I received compliments all day!
---
Reviewed on

7/13/2017
Lauren P
Jenniffer and Co is a great place to get your hair and make up done for your wedding. Everyone left extremely happy!! They were great with the my flower girl who couldn't sit still!!! The Bridal package had great options and competitive prices. I still going there for other... Read More services since my wedding!!
---
Reviewed on

7/13/2017
Heather C
I have been going to Jenniffer & Co for long time now. When it came time for my wedding I went to Jennifer & Co. I knew they would be excellent with my bridal party and myself. I would recommend Jennifer & Co to anyone who wants to get their hair done for their for there wedding... Read More and their wedding party.
---
Reviewed on

7/13/2017
Jenifer P
Wonderful experience, Staff was exceptional. Very relaxing & made my day even more special.
---
Reviewed on

7/13/2017
Jeniffer M
Amazing! My hair and makeup was beautiful. They were fun and professional and helped make my day perfect !
---
Reviewed on

8/13/2016
Cathy
Jenniffer & Co. came to my hotel suite and did hair for 11 people and makeup for 6 people. Along the way, they were very organized and responsive when planning everything – that continued on the day-of, when a team of 5 people showed up and got everyone's hair and makeup done in... Read More two hours. They even had time to take an extra person for makeup at the last-minute, which was such a life-saver! Everyone's hair and makeup looked great, and they were also flexible after the trial when I decided that I wanted to add extensions. I had to buy them myself, but they offered a lot of guidance. A few of the girls needed their hair re-curled because it fell before we left, and one girl needed their hair redone because it wasn't quite what she asked for – nothing terrible, but worth mentioning that there were a few of those moments. But, the staff took it in stride and was happy to accommodate everyone. I do wish they had better secured by hair – a style down and to the side – with more bobby pins, as it fell and wouldn't stay in place for much of the wedding.
---
Reviewed on

7/18/2016
Jackie B
I purchased a bridal package for hair updo and makeup with their mentor south location and had the pleasure of Lauren to do my hair, Christine to do my makeup, Kaitlyn my nails and Elizabeth to do my pedicure. I am extremely happy with how everything turned out for my wedding... Read More day!! Every single one of those ladies was personable, lovely, professional and knew exactly what they were doing even though I had no pictures or vision to show them!! My pictures turned out so lovely, I truly felt like a princess on my big day. Even watching the staff interact with each other and their clients was fun to watch. And when the owner walked in, she was treated like she walked in her best friends house. I love it there and will return anytime I need anything done again. And I can't forget Celeste who did my coloring a week before and is an artist with lowlights!!!
---
Reviewed on

11/21/2015
Amazing salon! Friendly yet fun atmosphere, flawless hair and makeup!
---
Amazing hair and makeup!
Reviewed on

9/09/2015
Hallie L
I went with Jennifer and company for the fact that they would be able to accommodate all of my bridesmaids, mother of the brides and myself at the same time at the location. However, what I ended up getting was much more. They were accommodating and professional making sure we... Read More were all happy and confident in our hair and makeup. I must say, I received more compliments that night on my makeup than ever before. I do recommend getting the airbrush makeup although more expensive, worth the money as I looked flawless for 14 hours. I would definitely use them again for hair and makeup!
---
Meet The Coordinator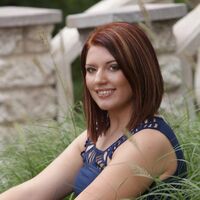 Sara Ohler
I love meeting and assisting bride's on achieving their perfect wedding day. As a full service salon and spa, Jenniffer and Company is here to give bride's the most relaxing wedding experience resulting in a flawless look. I am here to ensure that the planning process goes smoothly and efficiently, and I am passionate in organizing all of the wedding details from planning the wedding day appointments, manicure and pedicure parties for brides and their maids, to relaxing facials and massages for the Mr. and Mrs.