Home

Jimmy Lyn's Events and Catering
About this Vendor
For the moments that matter!
Jimmy Lyn's is a family owned and operated business. We specialize in wedding and event catering. We recently added event planning to our list of services. We know you, your family and guests will all love our fresh meals always made from scratch. Call to schedule a private tasting!
Details
Cajun, Hawaiian, Southern, Southwestern, American, Italian, Latin American, Mexican, BBQ, Seafood, Specialty, Thai
Dairy Free, Gluten Free, Nut Free, Vegan, Vegetarian
Buffet, Catering Clean Up, Catering Delivery + Setup, Chef Stations, Menu Tastings, Passed Appetizers, Seated Meal, Servers, Food + Catering, Service Staff





Contact Info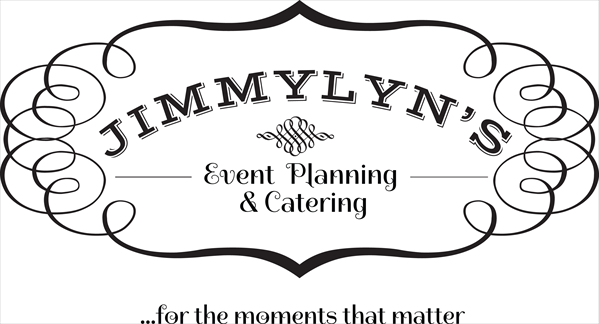 Reviewed on

6/09/2017
Denise S
Top Notch Catering at Jimmy Lyn's! Not only was the food AMAZING, the staff was just as wonderful. The catering went flawlessly with this company. While we are from Texas, some of our wedding guests were from Arizona, California, Nevada - everyone including all the TEXANS... Read More said best brisket they had ever tasted. Thank you Jimmy Lyn's for making sure the food was phenonemal at my daughter's wedding. Love love loved it! Definitely 5 star rating!
---
Reviewed on

3/18/2017
Katie G
Jimmy Lyn's was very easy to work with. Their food is excellent and the service was just as wonderful. The ladies that took care of our wedding were fantastic communicating with me and those running the timeline, as well as ensuring everything was taken care of.
---
Reviewed on

10/23/2016
Nisa D
Simply the best! Behind the scenes at my son's wedding was chaotic. We were ahead of schedule, then behind schedule. Then a few mis steps and I found myself asking for favors. Jimmy Lyn's staff was able to adjust while helping me out of a hole and STILL delivered the most... Read More incredible meal! I wish I had 10 stars because they deserve it. Cayce's staff is clean cut, well mannered and hard working. Thank you, thank you, Thank you!
---
Reviewed on

12/05/2017
Mandy P
Amazing food and customer service! Food was one of the most important parts of our wedding, so we wanted to do it right. Jimmy Lyn's definitely delivered. From beginning to end, they were wonderful. We chose to serve BBQ, and our guests have not stopped raving about it since the... Read More wedding a few weeks ago.
---
Reviewed on

12/04/2017
R D
Delicious food! Great to work with too!
---
Reviewed on

11/26/2017
Melanie G
We couldn't have been happier with the food for our wedding! Jimmy Lyn's provided an amazing spread of food and won't overcharge. And they travel! We received so many compliments from our guests and highly recommend them to others.
---
Reviewed on

10/19/2017
Jessica A
Would absolutely recommend!! We were blown away during the initial tasting with Cayce - everything was so good we had a tough time choosing a menu. Working with Leilani leading up to the wedding was great - she made sure we had all the last minute touches in place and planned... Read More out. During the reception, the staff was wonderful. I was impressed that they were able to pass appetizers during cocktail hour and preset all of the tables with water, carafes, and salads before dinner. They brought out fully made up plates for us and were friendly and attentive throughout the night. The food itself was fantastic! We got so many compliments about the brisket - our guests loved it!!! I highly, highly recommend Jimmy Lyn's!
---
Reviewed on

10/18/2017
Travis E
We've known the Jimmy Lyn's crew for sometime and have been to numerous weddings and events that has featured their food, so choosing them for our wedding was a no brainer. Great communication, great service and they were in and out without a trace of mess. From the pulled... Read More pork sliders to the cantaloupe bites, everything was delicious and reasonably priced. They packaged up our leftovers and I'm still enjoying the food!
---
Reviewed on

9/29/2017
Genesis H
The staff at Jimmy Lyn's was phenomenal! During our wedding they were very professional and willing to help with everything. The food was as good on our wedding day as it was at the tasting. They were very prompt with answering all of my questions when I called or emailed them.... Read More I will definitely use their services again when we need an event catered. Thank you so much!
---
Reviewed on

9/21/2017
Sarah F
I was SO impressed with everything from Jimmy Lyns! They were always very responsive with emails and changing plate numbers prior to the event. Additionally, at the event the service provided was amazing and all the staff was so friendly! Last but definitely not least…the food... Read More is SO GOOD!! We had some apps at cocktail hour and had BBQ brisket and pecan crusted chicken as main courses entrees along with green beans and scalloped potatoes. All of our guests raved about the food!! The brisket was very tender and many guests commented on how they didn't even need a knife to cut the meat! All of the food was so flavorful and tasted like a homemade meal from grandma! To top it all off, they were super accommodating with late-night food and made breakfast tacos for us and our guests! It was the perfect end to the night! I would HIGHLY recommend Jimmy Lyn's for catering needs!!
---
Reviewed on

8/14/2017
Tara H
Awesome and totally helpful! Cayce personally ensured that our wedding went smoothly all evening. They served our food family style, did champagne pours, provided the bartender, and cut the cake - they do it all! On top of that, the food was delicious and our guests are still... Read More raving about it. Can't recommend highly enough!
---
Reviewed on

7/28/2017
My daughter just got married at hidden falls and I had the best experience ever not only the food was great the service was incredible lynn was very helpful from beginning till end.I highly recommend them to anyone as being the mother of the bride I didn't stress out because... Read More they wrnt above an beyond.Thanks for you and your families help God bless you all! ! Call them if you want great service and food
---
Reviewed on

7/24/2017
Haley G
What a wonderful experience! Not only is every single food option on their menu delicious, their customer service is top-notch! Thank you for everything!!
---
Reviewed on

7/10/2017
Brittany M
If you are looking for the perfect food and catering service look no further!!! Jimmylyns was AMAZING!! Our food was absolutely delicious and our wedding guest still compliment the food today and our wedding was in March! Thank you Jimmylyns for being a part of making our... Read More wedding day perfect:) Brittany and David- 3/34/17
---
Reviewed on

6/12/2017
Arin B
Cayce and her team were incredible! Our wedding was on May 6th, and we were so lucky to have worked with Jimmy Lyn's. The food is INCREDIBLE, I can't stress that enough. Everyone loved the food. The service was so amazing, Cayce and her team ensured my husband and I were well... Read More taken care of during our whole event. Extremely responsive and available for tastings, and every question we had. Amazing people, and amazing service. We HIGHLY recommend Jimmy Lyn's!
---
Reviewed on

4/15/2017
Annette S
Jimmy Lyn's did a fabulous job catering my daughter's wedding! We had so many compliments on the food. The best ever may people said! They were great to work with. Highly recommend them!
---
Reviewed on

11/24/2016
Rebecca F
Everything was amazing from the food to the service! We could not have picked a better caterer! All of the guest at our wedding can not stop raving on how good all the food was! We highly recommend the scalloped potatoes !
---
Reviewed on

11/01/2016
Gabrielle G
It was such a treat having Jimmy Lyn Catering at our wedding this past October. The food was delicious and the staff was so friendly to our guests. They even made sure that my husband and I received our food first. Overall, great food & great service! Thanks, Jimmy Lyn!
---
Reviewed on

10/16/2016
Beth E
Jimmy Lyn's catering is AMAZING to say the least. My husband and I used them for our rehearsal dinner and wedding. We were able to taste test everything and while taste testing, they gave us the exact portion sizes that were used for the rehearsal and reception. The portion... Read More size, quality, service and taste of the food was perfection. My guest kept complimenting Jimmy Lyn's on not only how great the food was but their service and professionalism. I have food allergies and as the bride they made me a complete separate plate! The staff was great, the food was amazing! I highly recommend them for your event or wedding.
---
Reviewed on

10/11/2016
Keena B
Where do I even begin! Everything from the food, to the service to the presentation was beyond exceptional. When planning our wedding, food was our greatest scare because so often you go to weddings and the food is terrible or just ok. Every single individual that we have... Read More spoken to since our wedding has raved about how incredible the food was. I would put my name behind Jimmy Lyn's any day. Thank you Casey and your team for helping make our wedding a dream!
---
Reviewed on

10/11/2016
Robin R
Cayce and her crew at Jimmy Lyn's are amazing. The food is delicious and well presented. Her ample staff is professional, efficient and courteous. Lealoni is an excellent lead and truly communicates well with everyone on board. The entire group shows up ready to work and... Read More executes an evening with the client's best interest in mind. As a coordinator, I appreciate their willingness to be flexible and step up with all the "little extras" to ensure a wonderful event. I am so grateful for this company and I confidently refer them to many of my brides.
---
Reviewed on

9/20/2016
Logan H
Absolutely loveeee Jimmy Lyns! Our guests raved about the food and the staff served to me and my groom all night! Thank you so much!!!
---
Reviewed on

8/04/2016
Melissa M
Jimmy Lyn's was beyond fabulous. They were friendly on time and the food was amazing. All of our guests told me how wonderful the food was. I would recommend to everyone!
---
Reviewed on

8/04/2016
Jimmy Lyn's did a wonderful job at my daughter's wedding. Their food, service and presentation exceeded my expectations. Numerous guests commented that the food was the best, beyond good! I highly recommend them!
---
Reviewed on

7/07/2016
Whitney W
Jimmy Lyn's did a wonderful job catering our wedding! The brisket and chicken was to die for per some of our guests. Cayce even made sure that we had our plates (which was hard to enjoy running around at your wedding!) Also, I really appreciated Cayce taking the time to plan in... Read More advance and responding to my questions (ie sampling and peanut allergic guests etc). Highly recommend - delish food, down to Earth good people. PS they did our bartending service which I heard good things about as well
---