Home

JOURNEYS OF THE HEART Ceremony Officiants
About this Vendor
Your Wedding Ceremony - Your Way!
We are a non-denominational ceremonial ministry service made up of skilled, joyous & engaging officiants who create ceremonies centered around your specific wishes. With full appreciation of the uniqueness of each person we serve, we craft your ceremony based on your beliefs, style & personality.
Details
Civil Union, Commitment Ceremony, Elopement
Buddhist, Catholic, Nondenominational, Christian, Interfaith, Jewish, Muslim
Contact Info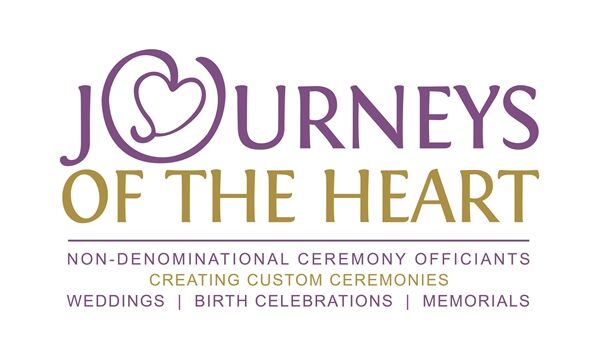 Jenkintown, PA
Philadelphia/South Jersey
The most beautiful part of our day!
Reviewed on

8/04/2013
Amanda B
Susanne W. from Journeys of the heart was the most amazing part of our day! But what made her so incredible was that the warmth and kindness started from the first time we contacted her. We live in Florida, but planned the wedding for Pennsylvania, which made our process a little different. But I didn't feel for a second that we were slighted the opportunity to connect with her. She was available anytime for a phone call or email and had fun and sweet ways for us to give her "our story" where she really listened about the two of us but also our family and friends. She crafted our ceremony along with us and gave us many ideas and examples to use. We were able to bring in ideas that we had and make each second so special and personal. As she spoke she brought about so much emotion and really was passionate about what was important to us. So many of our guests said that it was THE MOST romantic and sweet ceremony they had ever been to. We felt that we knew her forever. After the ceremony she even stayed to wish us off and mingle with a few guests, making her even more like family. We would recommend Susanne over and over again! But you would be so lucky and blessed to work with anyone.
---
Susanne Wilson is the best!
Reviewed on

1/22/2013
Brooke V
Susanne was our officiant and offered options (not an overwhelming amount) to guide us and help us figure out our vows. She was amazing. Our vows were very personal and meaningful thanks to her.
---
Diane is AWESOME!
Reviewed on

11/19/2012
Robyn R
We were very fortunate to have Dianne Smith-Hoban officiate our wedding. We met her at a punk-rock wedding expo and her positive personality drew us to her. Throughout the whole process she provided guidance and offered great suggestions for the ceremony, including wonderful options for vows, and you can tell that she genuinely cares. We incorporated many of her recommendations into our non-traditional wedding and it was really beautiful. On the day of she came prepared with everything to make the event stress free, which is what you want in a vendor on days like that, and was great at making sure everyone involved knew where they needed to be. She handled all of our guests with great care and her positive, friendly and caring personality shined through during the ceremony. We can't recommend her enough.
---
Reviewed on

7/29/2015
Eve Wenger was fantastic! We were looking to have a non-religious but spiritual wedding ceremony that was truly meaningful to us as well as to the wonderful people in our lives who have supported and cared for us. As a gay couple, we wanted our ceremony to have a traditional flow, but with components that really were personal and meaningful to us. For this to occur, we needed a very special and talented officiant, one we found in Eve … from Journeys of the Heart. Any concerns we may have had about creating the perfect ceremony were eliminated after meeting with Eve. It was obvious from the start that Eve truly wanted to get to know us and to work with us to create a ceremony that reflected what we desired. It was perfect!! Words will never be able to express how grateful we are to Eve and how thankful we are for Journeys of the Heart for making our wedding ceremony everything we had hoped for. Michael & Ron May 30, 2015
---
Reviewed on

7/15/2015
Sean M
Selecting the officiant for our ceremony was one of the hardest things to choose since it is someone you haven't met that is speaking about your love story. We chose Bob Pileggi as our officiant and we couldn't be any happier! He managed to make our ceremony extremely heartfelt and special. We told him our whole love story and he incorporated it wonderfully in a very creative way. We decided against writing our own vows because we thought this was cheesy, so instead Bob had us email him answers to a couple questions which were our "personal comments" about each other and we were not to show it to the other person. He read it for us at the ceremony and we heard it for the first time along with our guests. It was a beautiful idea as it was an easier way to express what we wanted about each other, without reading it ourselves and potentially crying the entire time while trying to speak! It was the best part of the ceremony and my guests also really appreciated how we shared this special moment. Bob is an extremely kind person and this showed through in his words as the energy around during the ceremony felt very warm. Our guests mentioned that the ceremony was very sweet and the words spoken were creative and had a magical touch. He even made an audio recording of our ceremony so that we can listen back to it when we want to remember the day! I couldn't have asked for a better experience!
---
Gabrielle Kaplan-Mayer
Reviewed on

6/20/2015
As my family is devoutly catholic (my cousin is a priest), and my wife was raised in a Jewish household, we were really struggling to determine how have a personal wedding ceremony without stepping on any toes. Thankfully, we found Journeys of the Heart and Gabrielle Kaplan-Mayer. Gabby helped us to craft a ceremony that included traditions from both religions, while still keeping it an officially non-denominational ceremony. We worked with Gabby almost a year in advance to hand-craft and customize the ceremony draft, leading to a number of friends and family complimenting us afterward, saying how personal the ceremony felt. Gabby brought a very calming and peaceful presence to our big day, which when you're in my shoes, you'll definitely appreciate during the last two hours leading up to the big moment. She and our wedding coordinator even managed to troubleshot and fix a last minute inconvenience, as my wife's step mother requested a different wedding entrance that we originally scripted. Gabby was truly fantastic and definitely helped to make our wedding one-of-a-kind! HIGHLY RECOMMENDED.
---
Bob - forever grateful MOB
Reviewed on

3/30/2015
If I could give 10*s I would. As the MOB I always envisioned a church ceremony by our minister. Nope, daughter had other ideas. After my initial tantrum, I sat back and let the kids take charge. They picked Bob P. Of Journeys of the Heart and I can honestly say -- They knew best and I was wrong. Bob was perfect. He connected with the bride and groom at their core and made their service meaningful. He even touched base with them after the wedding to encourage them to read their vows routinely to each other. Still after six months friends are stopping me and saying this was the best service EVER!
---
Perfect for Any Ceremony
Reviewed on

2/24/2015
Alexandra G
My husband and I really wanted a nondenominational wedding ceremony that we could customize without straying too far from a more traditional event. Our officiant, Heidi Minich, was an amazing guide for us. Incredibly kind, patient, and knowledgeable, she helped us through each step of the marriage process. Heidi was very respectful of our wishes and needs for the ceremony and provided my husband and I with so much relief about our nerves for the big day. She was able to provide us with a script for the ceremony weeks beforehand so we would know exactly how everything would flow and we were able to make edits up to the last minute. I am sure other members of this organization are just as skilled and attentive as Heidi was and can provide you with a perfect ceremony. I truly cannot say enough for how highly I would recommend Journeys of the Heart!
---
Gabby is great! Loved journeys!
Reviewed on

1/10/2015
Kelley K
We did not do a church wedding though we wanted our ceremony to be spiritual and personal. It ended up beyond our dreams! We met with Gabrielle and discussed our vision and she made it come to life - we went back and forth on a script and she was so fantastic. Everyone at journeys was great. The amazing thing is there are so many officiants to chose from. We chose gabby because she seemed like a great fit for us- and she was! Everyone still RAVES about what a great ceremony we had. I would hands down recommend journeys and gabby!
---
Wonderful Wedding Officiant
Reviewed on

1/07/2015
Michelle B
We were married on August 23, 2014 and Susanne Wilson from Journeys of the Heart was our officiant. Deciding to have Susanne officiate our wedding was the best decision we made. My husband and I clicked with Susanne the moment we met her. Susanne is kind, sweet and has a beautiful heart. We weren't sure what kind of ceremony we wanted, but Susanne helped us create a ceremony that was truly ours and represented our "love story". She gave us plenty of ideas and examples of wedding rituals, readings and poems to choose from in order to create our ceremony. Susanne was always available if we had any questions or ideas we wanted to discuss, and we were in constant contact with Susanne throughout our wedding planning process. Many of our guests asked us how long we have known Susanne because the relationship that we had built in less than a year felt more like a life-long friendship. Our guests all loved her, and said our ceremony was the most romantic and heartfelt ceremony they had ever been to. There aren't enough words to describe how wonderful Susanne is, and how special she makes your day. Thank you Susanne from the bottom of our hearts for helping us create our wedding ceremony that we will remember and cherish for the rest of our lives.
---
Awesome!
Reviewed on

10/13/2014
Karen S
They were very courteous and answered all of my questions and concerns. Jim Haley did our ceremony. He was wonderful to work with and did an excellent job on creating the perfect ceremony. Would highly recommend!
---
Bob Pileggi, absolutely perfect!
Reviewed on

9/12/2014
I will replay the ceremony over and over for year to come it was so touching and absolutely perfect!!! I read the draft that Bob Pileggi wrote and I thought it was great stuff, but his delivery of the ceremony- the humor and the pauses you took at all the right times, it just hit the nail on the head. Bob was absolutely the best, most throughout, attentive and professional vendor I worked with for my wedding. Out of everyone he responded to my emails most quickly, most thoughtfully and provided the most helpful and timely information. If only all the vendors could be more like him!
---
LAST MINUTE LIFESAVERS!
Reviewed on

9/01/2014
Tea N
Journeys of the Heart ended up officiating our wedding as part of an unhappy accident. With only 48 hours before our ceremony at Please Touch Museum in front of 225 people, our original officiant essentially left us at the altar. We found out just after midnight on the Friday morning before our Saturday wedding. In a panic, I sent an e-mail out to Journeys of the Heart with the hopes that they could perform a small miracle. Not 10 minutes after I sent my e-mail, did I receive a response from Diane, telling me to rest easy, I was in good hands, and I would be taken care of. I rested as easily as possible given the situation, and received a phone call from Diane the next morning at 10:00 AM. Within the next hour, Diane had put me in contact with our new officiant Susan and I was speaking on the phone. Thanks to Journeys of the Heart, we had lined up our new officiant between 12:00 AM and 10:00 AM on Friday, the day before our wedding. Diane's quick action and Susan's flexibility even allowed for us to have the pleasure of meeting Susan on Friday evening at our rehearsal dinner. She took the time to come meet us so we could put a face to the name, and so we could meet the person who would be a part of such a momentous occasion in our lives. Susan was incredibly sweet, understanding, flexible, and she helped guide us toward a more well-rounded ceremony, as we had to write our own ceremony thanks to the inaction of a company whose name will not be mentioned. Journeys of the Heart helped wipe the slate clean of the awful preceding company to ensure that we could move on with the rest of the planning for our big day. Susan's experience during the ceremony shone through, she helped guide us where to be and when, without ever making it apparent that this was a spur-of-the-moment incident. We were completely in her hands and she confidently and flawlessly delivered. We cannot thank Journeys of the Heart enough for their prompt action and amazing professionalism in such a pinch!
---
Laura Ford is Amazing!
Reviewed on

7/21/2014
Tanya P
We decided to go with an officiant as I am Jewish and my husband is Catholic. Once we met Laura in person and discussed our vision, we knew she would be perfect for us.Laura did an amazing job encorporating both traditions in to the wedding ceremony. Our wedding guests were talking about our ceremony for weeks. She made it so personal and memorable. Thanks Laura!
---
Couldn't ask for anything more!!
Reviewed on

7/05/2014
I have to say that I am VERY happy with using Journey's of the Heart. They were so professional and walked us through all of the ceremony before hand. Bob Pileggi was our officiant for our wedding and he was so nice to us, and wanted our wedding to be the best ever. He went over some of the things that we could do to personalize it. He also took the time to listen to our story and was actually very interested in it. He was glad that we were finally able to get married after 16 years of being together. I have to say that I was nervous about saying my vows, due to "stage fright" but when I explained my concerns to Bob, he was able to put me at ease. I would definitely recommend him and his company to all my friends and family. Believe me, you won't be disappointed. He also takes the time to communicate afterwards with you, to see how things are going with you and your husband / wife. He doesn't forget about you after the ceremony is over, which I like. Thanks again Bob Pileggi, for a great Ceremony!!
---
Bob Pileggi
Reviewed on

7/04/2014
Allison D
My wife and I had Bob Pileggi as our officiant for our wedding. We couldn't have been happier to have Bob play such an integral role in such a special day for us. The amount of compliments we received on Bob's behalf were staggering. Many people said how great he did, and others were shocked to hear that we just recently met him. I would recommend Bob for anyone's wedding as you're guaranteed to get top notch service, and a class act of an officiant.
---
A PERFECT Ceremony!
Reviewed on

6/02/2014
Christie Lee W
After making the difficult decision to not get married in my Catholic church, we received quite a few recommendations from family and friends for Journeys of the Heart, while searching for our wedding officiant. When we first met Laura Ford several months before our wedding, we knew right away that we made the right decision! Laura was absolutely amazing to work with. She gave us so many options and let us customize our entire ceremony so it was personal and meaningful to us. Laura also told a personalized love story based on a few things my husband and I had told her about ourselves...which everyone was raving about! Laura had everyone, smiling, laughing and crying throughout the entire Ceremony. She even went out of her way to talk to my Grandmother (who was skeptical about me not getting married in a church) before the Ceremony! We've had so many guests telling us it was the best wedding Ceremony they've ever witnessed. Laura is truly an amazing woman and went out of her way to make everything more wonderful than we could have ever imagined! thanks again to Laura and Journey's of the Heart! Christie Lee & Eric
---
Maria Odilia
Reviewed on

5/20/2014
Lily K
Maria was wonderful and incorporated both of our backgrounds, religions and traditions. It was a pleasure working with her!
---
Best of the best!
Reviewed on

5/18/2014
Caralea A
From our very first phone consult up until the big day, working with Anita was one of our favorite parts in our wedding journey. She exuded such warmth, creativity and a genuine caring when it came to helping my husband and I create a ceremony that was unique and perfect for us. Though we met her in person for the first time on our wedding day, thanks to the two amazingly in-depth phone calls we'd shared, it felt like Anita was a dear friend already. With neither of us being necessarily religious, but both feeling spiritual and appreciating the power of ritual and the symbolic nature of ceremony, Anita and Journey's of the Heart was a perfect fit. With so many other details to look after, creating a unique ceremony and vows were very important to us, yet one of many things on the to-do list. Anita made it fun and easy! She was a great listener, and via our phone calls, we found it easy to convey our idea and style about the big day to her. Asking great questions and using her wedding experience, she helped us focus in on and envision our ideal ceremony, and the feel we wanted to create for for ourselves and our guests. A consummate professional, Anita was a wealth of knowledge, suggesting readings that were spot on and emailing us vow ideas. She even helped us create our own personal ritual with milk and honey, something dear to the hearts of us two foodies! In the end she helped us gracefully navigate, what could have been an overwhelming endeavor. She was fantastic on the big day, cheerful and welcoming to our guests with her warm smile, her voice clear and warmth; putting both my husband and I at ease as she led us though the ceremony we had all created together. Though rain and gray skies threatened our outdoor hilltop ceremony, guests said it was a beautiful touching ceremony and we felt that it was truly an expression of our love! Hiring Journey's of the Heart was one some of the best $ we spent!
---
The absolute best!
Reviewed on

4/21/2014
Jacie W
I just want to thank Susanne from the bottom of my heart for the beautiful and perfect job she did with our ceremony. From our first introductory phone call to her congratulatory hug after the ceremony, she was accommodating, kind-hearted, prompt, helpful, and just plain wonderful. As I'm sure she noticed, the ceremony was incredibly emotional for the two of us, as well as our families and many guests. We received compliments from everyone regarding how unique, personal, and beautiful the ceremony was. They all commented on her calming demeanor and poise as well. It was such a pleasure working with her - we truly would not have been able to do it without her. The day felt like a whirlwind passing by, but there are moments from the ceremony that are frozen forever in my mind.
---
They saved the day!
Reviewed on

3/19/2014
Susan Harte, from Journeys of the Heart, saved our wedding day when our original officiant did not show up. We called any officiant we could find once we discovered we had a no show. Susan arrived a mere 20 minutes after our call and gave us a beautiful ceremony. I highly recommend Journeys of the Heart!
---
Loving & Personal - The Perfect Fit!
Reviewed on

2/15/2014
Tori S
We sought out an officiant for our wedding who represented both my and the groom's faiths and beliefs, and could not have landed a more perfect fit than Maria Odilia Romeu at Journeys of the Heart. From the moment we called Journeys, we were greeted with warmth and thoughtfulness by Marguerite who, after getting to know us, made a recommendation to meet with Maria. She couldn't have been more on point, as Maria was a great match for us. We spent time with Maria prior to our wedding, and she was always available for advice. After getting to know our journey as a couple, Maria knew exactly how to personalize our ceremony and incorporate each of our faiths and beliefs into the program. She set such a loving, spiritual tone during the ceremony just as we hoped. Maria was welcoming and engaging to all in attendance and kept the ceremony moving flawlessly with grace. After the ceremony, several guests complimented her loving energy for setting the tone for a romantic and beautiful day - she truly connected with everyone! We want to thank Journeys of the Heart and Maria for the special part they played in our day, and couldn't recommend them more!
---
Bob Pileggi - fantastic!
Reviewed on

11/16/2013
Danielle M
Journeys of the Heart has a roster of officiants, and we chose Bob because we were looking for someone non-denominational and fun to help us plan a non-religious, very personal ceremony. Bob did such a wonderful job -- he led us through the process without micromanaging, and he helped us create a ceremony that really reflected our personalities. We were planning the wedding long-distance, and Bob was available by Skype and by email whenever we had questions. Bob was also very reassuring on the big day, made sure all the details were taken care of, and managed the crowd and the ceremony with ease. We got so many compliments afterwards from people who said that it was the most moving, personal ceremony they had been to. We can't recommend him highly enough!
---
DIANE
Reviewed on

9/19/2013
Lindsay
DIANE WAS AMAZING TO WORK WITH... A LITTLE TOUGH TO GET RESPONSES FROM, BUT THE WEDDING TURNED OUT AMAZING WITHOUT A HITCH!
---
Perfect officiant for our atheist/agnostic wedding
Reviewed on

9/01/2013
Olivia T
Picking an officiant for our wedding was a bit tricky because while my husband's an atheist and I'm an agnostic, my family is very religious (Baptists). We wanted someone who could help put together a ceremony that would have meaning for all of us without getting new-agey. Journeys of the Heart seemed to understand our predicament right away, so we chose Jim Rosengarten, one of their officiants, to officiate at our wedding. Jim is funny and kind, and during our skype call (we live in London and Jim in Philadelphia) listened attentively and made some excellent suggestions. Jim sent us a first draft of the ceremony from which we could choose different readings, unity ceremony, ring blessings and so on, which was great because it was really important for us to be able to customize the ceremony. Jim also put together a personal story to tell our guests a bit about how we met and came to be a couple, which was sweet. It was a little hard to imagine how the ceremony would actually look or sound like, but on the day of the wedding it was beautiful. Jim had crafted a ceremony that involved our guests, was written beautifully and involved traditional elements like the blessing of the hands and rings without explicit religious references, which is what we wanted. He was an excellent public speaker and added some natural humor in appropriate places. When it started to rain, he managed to complete the ceremony before it started to downpour without rushing through or us feeling anything was missing. It was a lovely ceremony and afterwards we received many compliments from our guests on it. I wholeheartedly recommend Jim and Journeys of the Heart.
---
Send Message