Home

Jove Meyer Events
About this Vendor
BROOKLYN WEDDING PLANNER!
Details
Contact Info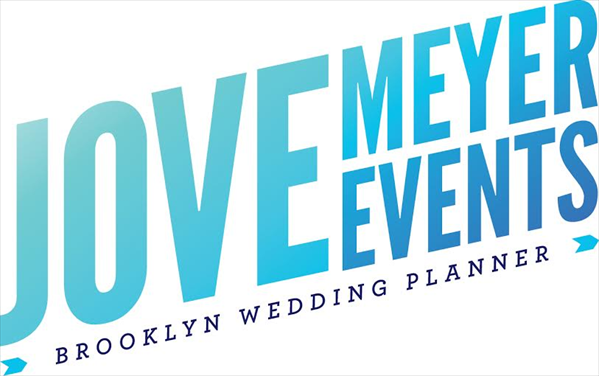 Reviewed on

5/06/2015
Kim W
When your daughter chooses a wedding venue in Brooklyn and all you know about Brooklyn is the bridge...CALL JOVE!!!! My daughter's wedding gives new meaning to every fantasy come true. There was not one fight, only lots of laughing and lots of tastings and lots of emails and lots of driving to Brooklyn. But, being with Jove who is so brilliantly creative, calm, and can handle a high maintenance crowd without even a blink of an eye is just PURE TALENT!!!!! Go see our pics on Jove's Instagram...the chuppah of 1300 roses is not to be believed. JOVE IS A GENIUS!!! We love and adore him and every vendor he recommended was just amazing! Our TEAM JOVE was PERFECTION!!!!!!
---
A DREAM COME TRUE
Reviewed on

4/30/2015
Elizabeth T
Where do I even begin with JOVE...it was love at first (SKYPE) sight. I live in Chicago, from NY, and was about to plan a wedding in Brooklyn. I knew I needed a wedding planner, and what I got was not only a wedding planner but an artist, a decorator, a visionary, a FRIEND! Jove helped us pick out every vendor we used, from photographer, florist, DJ, and the AMAZING food trucks. He provided choices for each vendor based on our "vibe" (a word he must have gotten sick of me using by the end), our budget, and taste. Jove visited each vendor with us, helping us to make the right choices, and I am 100% THRILLED with each and every choice we made. After picking the vendors, Jove helped bring the "vision" to life with the design and the structure of the day, truly making it a dream come true down to the very last minute and bite of grilled cheese! I can not say enough how highly I think of Jove and his work, and thinking of more events we can plan together!
---
Glad to have found them
Reviewed on

4/29/2015
Although we handled most of the big-ticket item planning for our wedding, we needed help finalizing details, coordinating everything with our various vendors, and generally bringing everything together in the last month before the big day (as well as coordinating the wedding day itself). Jove and his team were recommended by our photographer -- they brought a nice cheerful energy to the process but were also very professional and focused on details (we talked over existing ones but they also encouraged us to think further about additional things that might come up). Jove and Erin (the planner who worked with us directly) met with us a month before the wedding to talk about the wedding generally, learn about all the different planning pieces and come up with a detailed schedule. As we got closer to the wedding, Erin took over communications with the vendors and the other "logistical" aspects of the wedding so that we could focus on other preparations. Erin and her assistant Ann were both with us on the day of the wedding - we had a stress-free day and knew things would be taken care of. (This is a boring review, but that's because everything went as planned and they were very nice to work with.)
---
Amazing planning experience!
Reviewed on

3/25/2015
Laura B
Jove was incredible in every step of the process- from planning, to budgeting, to recommending and connecting us with vendors. He was also amazing on the day of the wedding- ensuring we worried about nothing and that all went smoothly! We recommend him highly!!!
---
Green Building Wedding in February 2015
Reviewed on

3/23/2015
SPECTACULAR is the word for the February, 2015 wedding of our daughter and (now) son in law at the Green Building in Brooklyn. Jove was the mastermind. We were concerned about planning a wedding from Minnesota with guests traveling in from all over the US and foreign countries, but Jove and his staff were the perfect team. They understood our budget, recommended great vendors---caterer, hotel, DJ, photographer, florist, lighting, etc.---managed the year long planning process skillfully and dealt with all of our stress points as they arose during the year. And, Jove nailed the day of the wedding. It was perfect and our daughter and son in law were so happy. And that made us happier. We had a lot of fun with Jove and our kids on this journey. So, we have a year of good memories capped by the whirlwind event itself. We are still fielding "Kudos" from family and friends who enjoyed the wedding. We highly recommend Jove and his team and we look forward to planning (at least) one more wedding with him.
---
Took on a challenge and conquered
Reviewed on

3/23/2015
Jennifer R
I got married on Pi day. I gave Jove quite a bit of a challenge when I asked him to help me with the day of the wedding planning. My wedding was a star wars/Chinese/Italian/Jewish themed wedding with the reception being at a Chinese banquet hall where many of the employees did not speak English. Jove took on the challenge with a smile on his face and made everything meld together seamlessly on that day. I really don't know what I would have done without him. He knew his way around almost every tradition and item we needed to have at the wedding and the ones he didn't know he sought the help of his nerdy colleagues to assist him. He made pulling off a 200 person multi-cultural wedding with a very difficult language barrier seem like a breeze. I cannot recommend Jove and his team enough. Even though I only hired him for day of services, he made sure that I knew that I could rely on him for the duration of my planning and especially the month before. Jove, thank you so much for a job really well done.
---
Best decision we made!
Reviewed on

12/29/2014
Our wedding photographer Isabelle Selby recommended that we use Jove Meyer because they had worked at a few weddings together, and we are SO glad that she did. Naturally, a few months before the wedding we realized that there were too many small details in the planning of the wedding that we didn't have the time or the knowledge to really handle. We could line up the venue, vendors, payments, etc, but the actual timeline of the wedding day and how everything would run seamlessly from one thing to the next seemed like a big mountain to climb. Enter Jove. After an initial phone call, Jove met with my fiancé and I for two hours and went over the wedding planning with us. We decided to use his day of/month of wedding coordination service as we had already lined up several vendors. Jove is a great guy, and obviously very detail-oriented and organized. A week before the wedding, we did a walk through at the venue with Jove and at that point we felt really at ease that everything would go perfectly. Basically, with Jove's assistance, everything DID go perfectly. I could list all the little things that Jove took care of on the day of our wedding, but I guess that's the point. There were so many little practical things that by themselves were simple but there were A LOT of them. Things you don't even think about until they happen. Jove was on point and took care of all of them, leaving us free to have the best night of our lives. Do yourself a massive favor and hire Jove!!!
---
Hip Planner + Expert Day-of Coordinator
Reviewed on

11/22/2014
Laura L
We hired Jove Meyer for full service planning and coordination for our wedding in Williamsburg. We were initially drawn to Jove's style - he wasn't like the million other wedding planners you can hire in NYC and we didn't want our wedding to be like a million other NYC weddings. We knew we wanted our wedding to have a Brooklyn flavor and Jove fit with that perfectly. His rates were great too. Jove just got us. He knew the look & feel we were going for for our event right off the bat. One of his greatest strengths was hooking us up with other vendors who were just right for us. After meeting us and getting a vibe for our personalities, he knew exactly which venue, photographer, videographer, caterer, DJ, and make-up artist would put us at ease and mesh with our aesthetic. He knew who would work together well as a team. He made the contract process easy with everyone (and got us some good deals too). He met & emailed with us countless times in the year leading up to our wedding, but knew when we just wanted space to do our thing too. Jove absolutely wowed us as a day-of coordinator. I had zero stress or worries about everything happening as it was supposed to. There was not a single snafu or detail that I had to deal with and I know from after the fact that it wasn't like there weren't glitches - it was just that Jove handled them behind the scenes like a pro and kept them from distracting us from what was really important that day. He did everything I asked him to do; anything I didn't ask for, he made the right decision for me. He and his assistant made sure we had everything we needed all night, including food, water, and drinks in our hands - they even went to our apartment to grab sneakers for my husband after he got a blister from his wedding shoes! After the event they took care of everything - we ran off to the after-party and came home to a clean apartment with all our decor packed up and an adorable photobooth pic of the two of us stuck to the fridge. Basically all you need to know is that Jove is a total pro, he works with pros, and he's worth every penny (and it will be fewer pennies than other planners in the area).
---
Jove is the Best
Reviewed on

11/04/2014
Alyson P
I reached out to Jove on the Knot right after getting engaged in January of 2013. I got married October 2014 and Jove was with me every step of the way. I contracted Jove for full service planning and it was the best decision I made. Jove found exactly the venue, caterer, photo/video, florals, dress designer, everything I wanted. He made the process so easy and seamless and even helped me brainstorm last details, All while respecting my point of view, keeping totally calm, and making it fun. The day of, omg, everything worked out so smoothly. We took the subway to the venue, with our whole wedding party, and photo/video in tow. Jove planned out the whole morning schedule, had his assistant (amazing) help set up photos while we were getting ready, carry our things on the subway (and with a smile and in heels - seriously the best) and when we got to the venue, everything was GORGEOUS. Like better than expected. Throughout the night if there were any issues, i didn't know about them, which just shows you how amazing Jove is. he also (extremely considerately) kept the bridal room at the venue stocked with snacks, put out my lipstick and perfume for touch ups, and had drinks in there for my husband and i to enjoy if we wanted to slip away from the crowd for a minute. Solidly the best. My mom loved him, my grandmother thanked him personally for how amazing the wedding was. It was everything I could've dreamed of and more. Thanks Jove for everything!!!!!
---
Thanks Jove!
Reviewed on

10/29/2014
Jordan R
Hiring Jove was the best decision we made in wedding planning. He got us the perfect venue when it was still totally unknown, introduced us to great vendors and got us good deals, and has excellent taste. Cannot recommend him strongly enough.
---
The BEST
Reviewed on

10/27/2014
Dana K
Jove was like a little planning angel sent to us from heaven. Our wonderful planner went on maternity leave and hooked us up with Jove for month of coordination. He was professional, detail oriented, soooo funny and just an all-around pleasure. He was always prompt and very responsive through email. Day of he kept everyone in line and me sane which was most important; his assistant was lovely as well. The wedding went off without a hitch. If you're looking for someone to take charge he's your man. Cannot say enough good things about him; literally felt like working with a good friend.
---
Jove Makes Weddings Better
Reviewed on

9/28/2014
Tim M
We used Jove as our month/day of coordinator. As many brides will relate, I was a hot mess the month leading up to our first meeting with Jove. There were too many details to organize and coordinate on my own, while managing work and life. Once we met with Jove, he took on every little detail, asked all the questions we didn't know to ask, and I had all the faith in the world that he would take care of us. And he did, right down to the minute. Not only is Jove professional and punctual, he is fun. He has good energy, and he's a positive person. He makes people happy, and that's a major bonus. Our guests felt completely taken care of because Jove managed our wedding like clockwork, he was friendly, and I knew I didn't have to worry about anything, because he was already on it.
---
Marilys saved our wedding day!
Reviewed on

9/24/2014
Araminta A
Marilys and Jove came in during our last month of wedding planning. We were needing some extra help with our venue and needed reinforcements! However, we quickly realized that we needed Marilys for so much more! She provided us with such peace of mind on the final lead up and on the day of our wedding. On the day of our wedding, 30 minutes before our ceremony was due to start, the heavens opened and the most powerful thunderstorm erupted! Family members were starting to get alarmed and panic, but Marilys expertly navigated the switch to our indoor plan in the reception space. There were so many challenges on the day-of, and she shielded us from them so all we had to do was focus on enjoying the moment. A particular talent she has, besides being very cool in the face of stress, is her incredible ability to deal with some very difficult people and smooth over any challenge that comes up. She was invaluable and probably the best investment we made in the whole budget! If you are not sure you need a day-of planner, I would say you DO! Get one. It will save you and your fiancé so much stress and you will feel so much more confident and relaxed going into your special day. I would highly recommend Marilys and Jove Meyer events - and if I ever do any other events in the future, they will be the first call I make!
---
Jove is THE go to event planner!
Reviewed on

8/07/2014
Whitney B
Jove was one of the main reasons that our wedding went off without a single hitch. He was there every single step of the way on the day of the wedding and he was instrumental in keeping everyone organized in the month leading up to the big day. His team is professional and is there to make sure everything falls into place and troubleshoot accordingly. Jove is very creative and has a particular eye for detail. His suggestions and guidance really made our wedding come alive in a way that wouldn't have been possible without his expertise. He was a true joy to work with and I can't recommend him highly enough for any type of event. I know that I'll definitely be tapping him again for future events.
---
Wedding Day of Coordinator
Reviewed on

7/13/2014
Jarrod S
Jove acted as our Day of Coordinator for our wedding at the Wythe Hotel and was absolutely fantastic. My wife and I are very organized and were somewhat hesitant to hire a Day of Coordinator and thought we were prepared for the wedding. We know that having Jove's help was a big part of what made our wedding day run so smoothly. We were allowed to enjoy the day and not be bothered with any day of logistics. From our very first meeting, Jove impressed us with his thoughtfulness and organization. His execution on the day of our wedding was flawless. Jove was always very professional, unruffled by any unexpected happenings, and was constantly working behind the scenes. In fact, he did so many special, over-the-top things that were decisions he made indepently that we will never forget. A couple examples: -He located and coordinated an unused loft hotel room that allowed us to take spectacular sunset photos with the NYC skyline. The timing was absolutely perfect and pictures are incredible. -To our surprise, he set up our hotel room beautifully for when the night was over (flower petals, flower arrangements from the party and candles). We would highly recommend Jove!
---
Flawless Execution for our Shabby Chic Wedding
Reviewed on

7/08/2014
Fazillah P
Thank goodness for JOVE!! We couldn't have asked for a smoother wedding day thanks to him. Both my husband and I are very hands on people, but from our first meeting with Jove we could tell he was a pro at his trade and it gave us a lot of comfort to trust him to help execute such an important milestone. We initially hired Jove as our Day of Coordinator, however as we only had 4.5 months to plan and both of us have very demanding work schedules, we quickly realized we couldn't do everything ourselves and decided to hire Jove to help source a few important vendors for us as well. He nailed it!! Especially the florist and photo booth. We didn't even know what our flowers looked like until we got to the ceremony (now that's trust), but he took our vision and executed right on point to make it all come together with sheer perfection! The most important part of working with Jove is we got to enjoy our day with our loved ones without worrying about a single detail. From the ceremony, to the luncheon reception, to the after rooftop party...everything was flawlessly executed...and exactly what we had envisioned! Would "totes" ;) recommend Jove if you are looking for a Day of Coordinator and need help sourcing vendors for your wedding or other important milestone event. Mr & Mrs Durante
---
Wonderful Experience - highly recommended!
Reviewed on

7/01/2014
Hiring Jove as a month/day-of planner was one of the best decisions we made during our wedding planning process. Jove was extremely professional, organized and, on top of that, fun. He listened and made helpful suggestions, kept us on track with timing, and made the entire wedding planning experience much less stressful and easier to navigate. Jove was not only a key part of organizing our wedding, but it was also a true pleasure having him there. We had a fabulous experience with Jove and would highly recommend him.
---
Amazing Day of Coordinator
Reviewed on

6/29/2014
Rona K
I hired Jove after a very short meeting with him almost a year ago. He was recommended to me by the venue that we chose for our wedding. From the minute we met, I knew that he was exactly what I was looking for. He was organized, sweet, responsive, funny and overall on top of his game! Throughout the wedding process, I used his expertise for everything from opinions on my ever-changing seating chart, recommendations for late night food delivery for the event, to helping facilitate any issues I had with other vendors that I had. He is extremely detail oriented and locked into your event, even though he has endless other weddings to coordinate the minute your event is over. I am so grateful that I took my venue's recommendation to hire him to be a part of our wedding day because the day itself took up seamlessly. Not only did I enjoy every encounter with him, but he proved to be a patient, professional, and hard-working planner and I wish I had another event to plan so that I could hire him all over again. Thanks for everything Jove- you are SO good at what you do.
---
Jove is amazing!!
Reviewed on

6/06/2014
We hired Jove as our day of/month of planner for our wedding and it was one of the best decisions we could have made. Jove is wonderfully friendly, funny, talented, creative and passionate about what he does. He worked seamlessly with all our other vendors and took such great care of us on our wedding day. If something didn't go according to plan, Jove handled it calmly and protected us from having to stress or worry about hiccups or details on our big day. He took care of us throughout our wedding -- always ensuring we knew what to expect, handing us glasses of champagne, and making sure that we had time to sit and eat (which is hard to do!) If we had to do it all over, we would hire Jove again in a heartbeat -- having him as part of our wedding was absolutely one of the best decisions that we made in the whole process. We are so happy to have put our wedding day in his extremely capable hands.
---
Tutera has nothing on this adorable Brooklyn-based events planner!
Reviewed on

4/01/2014
Katrina
Jove Meyer is, quite simply, a bride's best friend. From start to finish, Jove was able to put me at ease as my wedding coordinator and manage all of the many moving parts, personal touches, and DIY details we incorporated into our wedding. He has a thoughtful, streamlined process to wedding planning and coordinating that works very well for a Type A, chronic worrier like me. He listened to all of my concerns and was always there when I had a question or something I was losing sleep over. Every email I received from Jove leading up to the wedding made me feel 200% less stressed, even if it consisted of only one word or an emoticon. His unwavering upbeat attitude is immediately calming. When I arrived at my wedding reception, I was absolutely blown away by Jove's work. He had not only executed my vision exactly as I communicated it to him - he added millions of other wonderful details that I never would have thought of myself. It was so beautiful, I could hardly believe it was my wedding. Jove did a fantastic job of managing our reception timeline and events, and checking to make sure me and my husband had everything we needed. It made it easy for both of us to relax and enjoy being with our guests. If you are looking for an events planner or coordinator, you should hire Jove while you can still afford him. It would not surprise me at all if he has his own show on TLC in less than a year. I would work with him again in a heartbeat!
---
Thank You Jove!
Reviewed on

3/18/2014
Leah B
One of the best decisions we made during our planning process was hiring Jove Meyer to be our day-of coordinator for our wedding at The Bell House. Jove was recommended to us by our caterer after we decided we would need an extra hand the day of the wedding. Jove ended up contributing in a million different ways and in our view, our wedding day could not have gone more perfectly, or exceeded our expectations more (we say this knowing that Jove was probably handling every and any glitch flawlessly in the background with ease and charm without us ever worrying about a thing). We both work in production and thought we had our DIY wedding on lock, but as the month approached, we quickly realized there were so many things about weddings we did not understand and things about the day that seemed huge and overwhelming. During the planning process Jove was invaluable with his feedback, encouraging us along the way. The day of the wedding, Jove ran every single element with complete perfection and ease. He also had unbelievable last minute creative input (we had spent hours making decor that would only be displayed during the reception and he had the brilliant idea to showcase the decor during the ceremony, adding tremendously to the overall feel of the ceremony). The day was seamless, thanks to Jove. On top of that, we just really liked him from the start, which made us that much more excited to have him be a part of our wedding day. We also trusted him implicitly, both personally and artistically, which let us relax and focus on the people at the wedding instead of the nuts and bolts that go into it. Jove provides a service which is invaluable and necessary, but he brings himself to the job in an amazingly honest, fun and comfortable way. Thank you, Jove, for making it possible for us to enjoy what was truly the best day of our lives!
---
The Perfect Ally
Reviewed on

1/01/2014
Beka B
It is the day after my beautiful New Year's Eve wedding, and I can't recommend Jove Meyer strongly enough. When I first met Jove, the caterer we had intended to use had just backed out with only 6 weeks to go. Instead of worrying and fretting, he made me feel relaxed and didn't blame me for the predicament that I was in. And that is ultimately what I knew I needed for my big day. Someone who knows how to roll with the punches, operate under pressure…and someone who would support me and not bring any negative energy to the table. When I ultimately found a new caterer, the captain had worked with Jove before and spoke very highly of him. She had seen him operate under pressure and complimented me on choosing him to be my day-of planner. He looked adorable for the wedding in a very cute polka dot bow tie and managed the evening without it ever feeling stressful. The night went off without a hitch and I had so many compliments from my guests. I have a lot of respect for the job that he has to do--from managing an array of personalities to creating precise floor plans to organizing the vendors. Jove will help you and respond to your every question and concern--he is the perfect ally to have by your side so you can enjoy your special day.
---
AMAZING WEDDING PLANNER
Reviewed on

12/30/2013
Allison C
My husband and I used Jove as a month of wedding coordinator. He was excellent and made sure the day of the wedding was worry free and PERFECT!
---
Brooklyn Wedding - November 2, 2013
Reviewed on

12/01/2013
We retained Jove to coordinate our wedding just two weeks before the event, and it was the best decision we could have made (aside from deciding to get married in the first place). Jove was fantastic--thanks to him, the event was amazing and went off without a hitch. I would recommend him for any kind of special event.
---
The Best
Reviewed on

11/29/2013
Peter H
Jove was fantastic -- He listened to all of our needs, had many great ideas on the layout & flow of the venue and was he invaluable in helping us pull together all the different pieces for our ceremony and reception. He was great at keeping things moving along (without rushing things) and he made part of the planning fun along the way. He really loves what he does and it shows. The only thing that we didn't plan on was when one our elderly guests took ill and had to leave in a somewhat dramatic fashion, but Jove stepped up to the mic to reassure our remaining guests and restart the party. I'm very happy that we had him at the helm of our big day.
---
Send Message