Home

Joy Abendmode Bridal
About this Vendor
A Specialty Bridal Boutique
Joy Abendmode is a BRIDAL boutique located in Downtown Royal Oak, Michigan. Our FRIENDLY & PROFESSIONAL assistants will make your dress shopping experience PLEASANT, STRESS-FREE AND MEMORABLE! We carry ALLURE ROMANCE, VIERO, MILLA NOVA, and KELLY FAETANINI ~ Bridal gowns. We also offer CUSTOM-MADE Bridal Gowns! *CONTACT us now, before we are booked for the spring WEDDING SEASON! We offer a number of services to make your gown shopping experience the most wonderful shopping experience of your life! Consultation by Appointment, Couture Gown Design (Custom Gowns), & In-house Alterations.
Details
Wedding Dresses, Dresses, Alterations, Bridal Stylists, Custom Designs, Dry Cleaning + Preservation, Plus Size Available, Private Appointments Available, Fashion Services, Fashion


Contact Info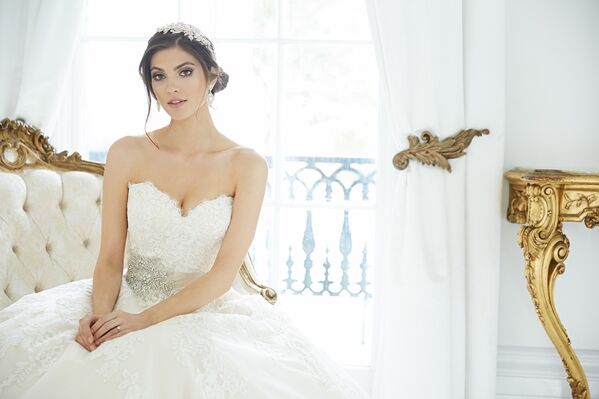 Reviewed on

8/15/2017
Caroline G
My appointment with the women at Joy Abendmode was amazing. They really made me feel at home. Not only were they efficient in their actions but their process for booking was so organized! I got an email reminder, was able to fill out a survey beforehand, and got a call/text... Read More reminder. This made me feel like they knew what they were doing and I was right! All the dresses they brought me to try on were spot on to what I was looking for. I felt very comfortable working with them in getting on my dress. Not only that, but the ladies were so personable and made me feel very special. They really brought a lot of professionalism, kindness, and warmth to the table. I would recommend them to anyone looking for an extraordinary experience! It was very warm and inviting. My mom and I had a great time and I would definitely go back!
---
Reviewed on

8/21/2017
Breanna S
Dianna and Linda are Phenomenal! I had an amazing appointment with them while looking for my wedding dress. They made the appointment fun and stress free. While I did not purchase my dress from Joy Abendmode, I did fall in love with one of their gowns. Unfortunately the gown... Read More was too heavy for my frame and both Dianna and Linda expressed their concern- if I was feeling strain after 30 minutes how would I feel after ALL day?? It is this honesty that makes me recommend them to other brides. They 100% put their brides first! Thank you Dianna and Linda for such a wonderful experience!
---
Reviewed on

8/13/2017
Bai X
Had such a wonderful time here! Absolutely love both the girls that helped me find my dress! Would definitely recommend Joy to anyone who haven't found their dream dress!!!
---
Reviewed on

2/04/2018
Autumn C
The first dress I tried on was the one! The staff was so kind and amazing... felt like family. I loved it all from beginning to end!
---
Reviewed on

2/03/2018
Enit H
Overall the experience was wonderful! A small boutique with wonderful selection of dresses & top of the line customer service! Diana is amazing at her job! She listened carefully to how I envisioned myself on my wedding day. The whole process was relaxing, we had a full 2 hours... Read More for the appointment, we didn't feel rushed, nor pressured to buy a dress. I have recommended this store to many of friends & coworkers!
---
Reviewed on

11/17/2017
Paris W
"I had a wonderful experience here! They were nice and kind, and not pushy pushy at all. They were able to make me a custom wedding dress still under the original budget I gave. The shop is clean and elegant and they really know their stuff when I️t comes to bridal dresses!!!... Read More I'm recommending this place to everyone I know that are looking for wedding dresses!!! They truly care about the bride and take care of you well! I can't wait til my dress comes in!!!"
---
Reviewed on

10/20/2017
Eden H
"We came all the way from Ohio in search of the perfect dress for my daughter. The ladies at Joy Abendmode made the entire experience so fun and stress-free. And to top it off- THEY are the ones who found the perfect dress for her! A dress she never would have picked- but... Read More LOVED. I would recommend anyone on the search for a wedding dress- don't hesitate to give them a call. I believe you'll find the dress of your dreams- AND you'll have fun while you do!!"
---
Reviewed on

9/23/2017
Maria T
Absolutely amazing dresses and even better service! The bridal consultants are so kind and professional, overall excellent experience!!
---
Reviewed on

9/21/2017
Maggie S
I have nothing but wonderful things to say about our experience at Joy Abendmode!! My mom and I had been to quite a few wedding shops in the area prior to Joy's. Though we had a good experience at most of these bridal salons, nothing compared to the experience at Joy's. This... Read More small boutique in downtown Royal Oak has, by far, the most unique and beautiful gowns I have ever seen. In addition, the ladies at Joy's were beyond friendly and personable with warm smiles and a great sense of humor. At the beginning of the apppointnent, the owner Linda sat down with me and took the time to really understand exactly what it was I had been looking for. After trying on a few gowns, she pulled a dress that was more beautiful than I could have imagined. My mom and I knew right away that this was the dress, and after a long search, I was finally able to say "yes to the dress"! The appointment was filled with smiles, laughter, happy tears and a champagne toast at the end. This was such a special experience for my mother and I; one we will never forget. I cannot thank the ladies at Joy Abendmode enough for helping me to find my dream dress and creating such a wonderful memory for my family and I.
---
Reviewed on

9/20/2017
Greta B
I had the absolute best experience at Joy! These ladies were extremely willing to work within a budget (and only busted that with specific permission). They gladly let me stay in my (dream) dress much longer than I should have once we knew it was the one and really let me soak... Read More in the emotions and experience! The atmosphere is perfect- between the way they set up the dressing rooms for a dramatic showing of each dress to your group to the champagne toast after you say yes- I HIGHLY recommend these sweet and knowledgeable ladies to help you find the dress of your dreams!
---
Reviewed on

9/18/2017
Alicia L
I unfortunately did not have a good experience at Joy Abendmode. Although they carry beautiful dresses their customer service is less to be desired. This store is practically never open and lies about their hours and availability. I was told they were all booked on a Friday and... Read More when I walked by the store, knocked, and rang their doorbell within their specified hours of operation, there wasn't a soul in the store - so much for being "booked" more like they did not want to accommodate my schedule. They also are closed the week of Thanksgiving and Black Friday which is odd. When you are in the store their rules are strict and make you feel like you are just another body to dress. They do not care about you as an individual or in helping you find your "dream dress". In conclusion, if you are having a hard time getting into this bridal salon, don't be upset!
---
Reviewed on

9/16/2017
Alexandria B
If you are looking for a professional, trendy bridal salon, then you will really enjoy the selection at Joy Abendmode. I was totally blown away with not only the dress selection but the staff were very friendly, inviting and just as excited about finding a dress that would be... Read More perfect for my wedding. Each dress is hand selected to be apart of their selection. Diana and Linda are truly talented at what they do! I really enjoyed that they make all of their appointments private and exclusive for each party, we didn't feel rushed and could really have time with each dress. I have been to many bridal shops and none of them compare to Joy Abendmode. Do not underestimate because it is small, They have great dress selection and exceptional professional customer service. You will not be disappointed
---
Reviewed on

8/21/2017
I would say overall, I had a positive experience with this shop. Here are the pros and cons: - They're professional; from the beginning of the appointment, they ask you questions to get a better feel of what you have in mind, they ask if you have a specific silhouette in mind,... Read More what fabric, etc.. they then bring out so many options based on your answers. I ended up finding a dress that was exactly what I had envisioned for my big day because they were so specific and understood what I wanted. Cons: - The packaging of a wedding dress is extremely important to properly protect the delicate fabric, especially for brides who will be traveling with their dresses, unfortunately this shop only gives you a thin, non-durable bag. I had to invest in a proper garment bag later on. - I ordered a veil from the shop, and it turns out just to pick up the veil, I had to take an official appointment, I ended up having to wait 3 weeks after the veil was ready just to pick it up. I feel like something simple that doesn't require fitting shouldn't be such a hassle. But all in all, it was a good experience, and I found my dress.
---
Reviewed on

8/18/2017
Megan M
Traveled to Joy Abendmode from Cleveland and was NOT disappointed!! Lovely store with an amazing staff who were personable and so helpful. Gorgeous dresses, highly recommend!
---
Reviewed on

8/17/2017
Nora K
Before I started making appointments to look for a dress, I searched styles and designers online. I was familiar with what I wanted, I just wanted to see it on. I found Joy Abendmode one day while I was online and I decided to make an appointment to see some of their dresses.... Read More While making an appointment, the ladies at Joy were very accommodating to my schedule. I had to reschedule a couple times and they were very helpful. Each time I made an appointment, I received a confirmation email (which was great). My first appointment at Joy was spent trying on different dresses. I found a dress I absolutely loved during this visit but I knew I didn't want to get it without showing my family. After a few weeks, I made another appointment. I arrived with my mother and sisters to get the dress. The ladies at Joy were so sweet! I could tell they really love their job and loved to help their brides. My mom and sisters loved the dress and I said YES! At that point, I was thinking HOLY COW am I really going to spend this much money on a dress and my anxiety kicked in. The ladies were SO helpful and sweet and answered a million of my questions (it felt like a million)! I walked out of that store stress free and so excited that I finally found my dream dress! It was exactly the experience I have always dreamt about and I cannot wait until my dress arrives!
---
Reviewed on

8/16/2017
Therese M
It was such a personal experience, and they really cared about my needs and wants. And now I have my dream dress!
---
Reviewed on

8/15/2017
Greta R
I'm a little late with this post, but better late than never. Joy Abendmode Bridal made my wedding dress. They did an excellent job. Everything I asked for was granted . Even when I lost weight, they were able to resize my gown. Professional, affordable, and dependable. You can... Read More tell that a lot of love goes into the work done here. Thank you, Thank you, Thank you!! Much love and success to you!! You have really worked hard to get where you are!😘❤️ Greta
---
Reviewed on

8/15/2017
Morgan P
They did an amazing job helping me find my dream wedding dress! I can't wait until the big day!
---
Reviewed on

7/26/2017
Adrienne H
I had a fantastic experience at Joy, and I found my perfect wedding dress! Great staff, and beautiful variety of gowns.
---
Reviewed on

7/20/2017
Jana K
The sweetest people I've ever met! So patient and loving and will help you find the perfect dress for you! Very caring! And will definitely recommend to my friends!
---
Reviewed on

7/19/2017
Kim H
Beautiful store with wonderful options for dresses and veils. They helped me with a last minute veil order and it was exactly what I was looking for!
---
Reviewed on

7/18/2017
Daniela P
I booked a flight to Michigan to try on dresses here; not only did they cancel at the last minute but they were also very rude and unprofessional about it.
---
Reviewed on

5/19/2017
Molly D
This bridal shop was everything I could have hoped for as a bride. From the private fitting and beautiful decor to the warm and friendly atmosphere it was absolutely perfect. I thank Diane and Linda so much for being so helpful during this crazy process!
---
Reviewed on

2/06/2017
Ashleigh R
Linda, you did a great job adding the lace and pearl belt. You are a true visionary in bridal and /or evening wear. Because of your available selection of dresses in store this 'mom of the bride' was also able to find and purchase a dress that I love. Your alteration... Read More abilities made Ashleigh's vision for the dress even more beautiful and special. Thank You!!!
---
Reviewed on

2/05/2017
I had the best experience at Joy Abendmode Bridal. They were very supportive through stressful time. Linda done great Job adjusting my wedding dress back from regular back to lace up back. They all spent great time assuring me and helping me even finding accessories for the... Read More dress. I do recommend Joy Abedmode very highly giving their professionalism, family atmosphere and the great support and their respect for my time and delivering my dress on time. Now my wedding is over and I can tell that everybody was impressed with the simplicity yet the classy dress. Thanks Linda and all for your support!
---
Meet The Owner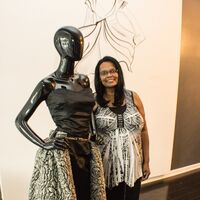 Linda Rogan
For over twenty years, Linda has created designer wedding and formal gowns for her clients. She has created original designs for every body type and style. She is able to work from photos, descriptions and her own unique vision, often times reading between the lines to create the final desired look. Linda is able to see what styles will flatter a particular figure. Her knowledge of how fabrics fall and how to accentuate a particular feature (such as a small waist or long legs) helps her to create a look that makes the wearer feel both beautiful and empowered.