Home

La Donna Weddings Officiants & Ceremony Coord. Srvcs.
About this Vendor
The expressed words and your wedding vows...
…are important elements to a perfect wedding ceremony. With your input, we will design a personalized ceremony script that is meaningful to you, as well as your family and friends. View details about our officiating and other services on our website. Let us create a ceremony to remember!
Details
Civil Union, Commitment Ceremony, Elopement, Interfaith Ceremony, Non-Religious Ceremony, Religious Ceremony, Same Sex Ceremony, Second Wedding , Vow Renewal Ceremony
Christian, Interfaith, Jewish, Secular, Spiritual




Contact Info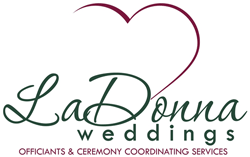 Very Satisfied!
Reviewed on

7/16/2011
Britni R
From the beginning, I was impressed with La Donna Weddings! I met Donna at a bridal show and, right off the bat, she assisted me with planning my wedding. I called her up a bit later and sat down with her to discuss what she could do for us. It turns out, La Donna Weddings can... Read More handle the majority of the wedding requirements! We purchased not only our invitations through them (which we were completely confused about when looking online, so she sat and walked us through it for quite a while), but our jewelry, wedding party gifts, seating chart scroll, napkins, Unity Candles, Garter, Cake cutting set, and her officiant services! She kept us informed and did everything in a prompt, professional manner but always with a smile. She was the best and most helpful vendor I worked with in the whole process. Probably the only one my husband really liked working with. Reachable by phone or email and she has flexible hours of business. I'm going to eventually get my dress cleaned and preserved (I waited a while and I'm pretty lazy, I'll admit...) through La Donna because I know, without a shadow of a doubt, they will take care of it and I won't have to worry about a thing. If you'd like someone to be there for you in case you have any questions, La Donna is the place to go. They know weddings and they will make your day come together beautifully.
---
The perfect officiant for the perfect day!
Reviewed on

11/11/2012
stacey k
My husband and I were so happy with our officiant, Donna, from La Donna Wedding Officiants & Ceremony Services. From our first meeting with Donna, we felt more at ease about the ceremony (which was a big stress for the both of us!) and how that big event would play out! Donna... Read More was able to provide us with a booklet that detailed the wedding ceremony and necessary components for the wedding to be valid (we did not want a religious ceremony, so that information was extremely helpful!), with many examples of each of the pieces of a ceremony. She also provided us with many vendors in the area to speak to about gown preservation, bakers, florists, and bridal party gifts. Donna was an excellent speaker and she really engaged our crowd and brought our ceremony to life. Listening to her say the words that we created together brought tears to my eyes, and she really helped us make our ceremony dreams a reality. I cannot recommend La Donna enough, I only wish I had thought to speak with Donna earlier for some ceremony coordinating! You will not regret calling La Donna Wedding Services, they are an excellent resource for everything needed to make your wedding day a dream come true!
---
Married!!
Reviewed on

4/05/2011
Dawn Marie H
After speaking with many other officiants we just couldnt find one we felt comfortable with. That was until we met Donna from Ladonna wedding officiants & wedding services. She was very professional and organized! She helped us so much through the process and made everything... Read More very easy. With her helpful books and varities of wedding extras it was a total breeze. If you are looking for someone to help you from start to finish and not gouged you in price this is the place! I hope everyone has a wonderful experience as we did... :) P.S we even ordered our wedding invitations through them, they turned out GREAT!
---
Reviewed on

11/14/2017
Rebecca M
We referred to LaDonna by our venue, and we could not have been happier! The day was absolutely perfect and the ceremony was beautiful! LaDonna made the process so easy and we loved that we were able to customize the entire ceremony. We were able to make it perfect for us. We... Read More received so many compliments on the beautiful ceremony! Thank you again for being part of our special day!
---
Reviewed on

10/30/2017
Elizabeth B
Thank you La Donna for helping the happiest day of my life go as smoothly as possible! All 1,000 of my questions were answered with patience and compassion and in a timely manner.
---
Reviewed on

10/30/2017
Michelle O
We just wanted to have a small intimate wedding and we decided on the fireside ceremony. It was beautiful. We were still able to make the ceremony our own and write our own vows. She really made the ceremony beautiful. I highly recommend LaDonna Weddings. Thank you for making... Read More our little ceremony so magical.
---
Reviewed on

10/30/2017
Erik H
One word to describe AMAZING! We could not have asked for a better experience working with an officiant. Every step of the way, she was there to help and answer questions and was extremely attentive. The months leading up to our wedding day were made a little easier with having... Read More a team working with us. The "Create a Ceremony" was one of our favorite parts. Having the option to change and tweak every part of the ceremony made it completely ours, that was something that meant a lot to us. We could not have been happier with our choice. We will be (and already have started) recommending Danielle to everyone we know.
---
Reviewed on

10/12/2017
What a perfect day we had. Many of our guests remarked how excellent our officiant was and how our wedding was one of the most personal, heartfelt and touching ceremonies they had ever attended. Like most brides, I spent a fair amount of time before my wedding day dreaming about... Read More the ceremony, and the reality of my wedding day surpassed my dreams."
---
Reviewed on

4/11/2017
Sarah D
We contacted La Donna looking for a male officiant and were directed to Mark Hancock. WOW! I cannot say enough about how easy going he is - it was a pleasure working with him. When we first met him we knew he was our officiant! He is incredibly professional but down-to-earth... Read More and flexible. He customized our ceremony for us, allowed us to write our own vows, helped us through our rehearsal and submitted our marriage license for us. We could not be happier with our decision to choose him for our special day! :)
---
Reviewed on

10/18/2016
Angela S
Our ceremony was lovely because of you! Thank you so much, you were perfect! Thank you, once again for making our special day even more special.
---
Reviewed on

10/06/2016
We found that the communication, preparation, efficiency, attentiveness and overall calm and personable attention was exceptional. Our ceremony, though very small was beautifully performed by Rev. Donna, and we could not have made a better choice. We highly recommend LaDonna... Read More Weddings to anyone looking to make their wedding day as special as their love and commitment to each other.
---
Reviewed on

9/19/2016
Stephanie H
We used La Donna services for our wedding held in June, 2016. Unfortunately, we cannot recommend them, and would encourage engaged couples to look elsewhere. Our officiant, Danielle, was very personable and exceeded our expectations during the day of the wedding. However, she... Read More provided a very bare bones rehearsal, walking us through the ceremony only in vague generalities. Our biggest issue with La Donna stems from their communication, or more accurately, lack thereof. Three days before the wedding, I had a complete meltdown, I was in tears, sobbing -- all thanks to La Donna. In Michigan, the couple has to head down to the courthouse at least three days before the wedding (but no more than 30 days before the wedding) to secure a marriage license. La Donna did not inform us of this until, three days before the wedding, we received an email telling us to bring our license to the rehearsal. In a panic, we called Donna herself and rather than accept responsibility and offer an apology, we were told in a very rude and inconsiderate manner that "most couples know that." We are a young couple and it was our first wedding for both of us. We were not aware, and they made no effort to inform us of this crucial detail. Overall, La Donna was unprofessional. Once, they sent an important email to themselves, and didn't correct their mistake for nearly a week. In total, I think we spent fewer than 4 hours with them in any capacity. It felt like a total cash grab on their part, and a complete waste of money. Definitely the worst $400 I've ever spent.
---
Reviewed on

8/27/2016
sarah s
LaDonna weddings did a great job officiating our wedding. Danielle was easy to work with and the guests complimented her professional and well spoken demeanor. The process was very easy and not time consuming. Thank you for doing a great job and making our wedding day so... Read More special!
---
Reviewed on

8/26/2016
Erin L
"I want to thank you for a very professional and exceptional wedding ceremony. While it was very short and simple (per our selections), you did such a wonderful and professional job of creating a perfect ceremony. Our guests and photographer also commented on your delivery of... Read More a lovely and simple ceremony. It was absolutely the highlight of our special day. I wish we could replay those meaningful moments."
---
Reviewed on

8/23/2016
Whitney P
We could never thank you enough for your services on our very special day. Our ceremony was so beautiful! We had so many compliments on our ceremony. Our big day would have never been so perfect without you. We truly can't say thank you enough Donna!!
---
Reviewed on

8/16/2016
Carrie D
Thank you again for officiating our wedding! It was everything we had hoped for and then some! Donna was extremely professional and organized. She worked with us for our non-religious ceremony which turned out perfectly. Highly recommend LaDonna Weddings!
---
Reviewed on

8/09/2016
I would like to thank you, Donna and Kelly both, for your services for our beautiful ceremony on June 18th. We were extremely happy with the way everything turned out. We have gotten tons of compliments on how perfect our ceremony was so thank you so much Donna for that! We... Read More couldn't have been happier with the turnout of everything!
---
Reviewed on

7/03/2016
Samantha G
LaDonna made our day so wonderful and everything was customizable to make our day reflect our relationship and beliefs. Very professional and responds promptly, educational and knowledgeable about how a wedding is to be run and was able give helpful tips. Gave information on... Read More what to do after the wedding (i.e. name change) which is extremely helpful with printed materials so I couldn't forget after honeymoon. I loved the options to create a Cermony that expressed what our relationship valued and was able to truly reflect us. Very well spoken, seemed to memorize our ceremony and spoke directly to us or the guest, could tell she was fully prepared for any possible circumstances ( Donna had notes in binder which were in protecting sheets so if it were to rain the notes would not get wet and ruined). Was able to run our rehearsal without difficulty even if there were dificult family members. Very happy with everything and can't thank them enough for all the hard work.
---
Reviewed on

2/25/2016
Donna was knowledgeable and flexible with what we wanted on our day. We are very pleased with the timely service and friendliness throughout the process. I highly recommend La Donna Wedding services!
---
great service!
Reviewed on

10/13/2015
jessica r
Donna was terrific to work with - she was very helpful with selecting the verbiage for the wedding and leading my bridal party to perfection!
---
KELLY GINTHER & LINDA HARRIS
Reviewed on

10/08/2015
"We would recommend LaDonna weddings for anyone looking for a customized wedding. Very professional and offered many extra ideas and services."
---
Reviewed on

10/08/2015
christina s
Debbie was our officient, and from the start she was great. She made us feel so comfortable, helped walked us through the readings, answered emails and was simply perfect. She was what we had hoped our officient to be like and we were extremely happy. She arrived at both... Read More rehearsal and wedding on time and looking professional. She is the best!
---
Reviewed on

10/07/2015
Excellent service! Very professional! I loved that our ceremony was customized to our needs and could be as simple or extravagant as we wanted.
---
Reviewed on

9/18/2015
Very professional. Wonderful to work with.
---
Very Professional!
Reviewed on

9/18/2015
Courtney P
Donna helped lead our rehearsal & was very professional, helpful, and kept everyone on track during all the chaos. Even when there were hiccups during the ceremony, it flowed smoothly because of her direction. Thank you Donna!
---
Meet The Owner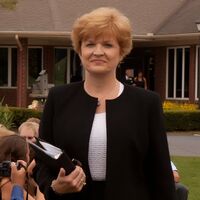 Donna Schonhoff
La Donna Weddings Officiants & Ceremony Coordinating Services was established in 1986 as La Donna Wedding Expressions, when it opened as a unique wedding accessory shop in Warren. It was during this time that she started offering wedding invitations to her clients and is now a specialist in this area. In 1996 she opened a wedding chapel and on February 13, 1998, Ms. Schonhoff was ordained as a non-denominational minister. Donna found most couples needed an officiant for offsite ceremonies. "Being part of this special moment and day in their lives is extremely rewarding and truly an honor."