Home

La Jeune Mariee Bridal Collection
About this Vendor
Designer Bridal Fashions in Columbus, Ohio
La Jeune Mariee is an intimate bridal boutique featuring beautiful gowns from several premier designers. Our exclusive selection of bridal gowns ranges from feminine and sophisticated to sleek and modern. We look forward to providing each bride with a personal experience to remember.
Details
Bridesmaid Dresses, Flower Girl Dresses, Mother of the Bride Dresses, Shower + Party Dresses, Wedding Dresses, Dresses, Bridal Stylists, Custom Designs, Private Appointments Available, Fashion Services, Fashion
Contact Info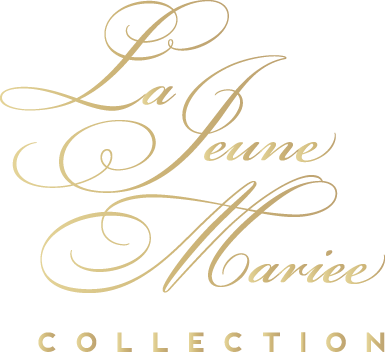 139 E Main St, Columbus, OH
Wedding dress of my dreams!
Reviewed on

10/28/2013
Jennifer W
I loved working with Lindsay and Jordan to find the perfect wedding gown for our special day! They were wonderful, knowledgeable and made the whole process fun and enjoyable. My husbands whole face lit up the minute he saw me walking toward him in that dress, complete with exquisite shoes and accessories. Best selection in town for the most discerning bride! - Jennifer Williams
---
Best Dress Shopping in Columbus
Reviewed on

10/02/2013
Cori M
I had incredible experiences both times that I visited Le Jeune Mariee! I specifically worked with Lindsay and she was wonderful! She listened to what I was looking for, noticed what I was responding to and pulled dresses that were right for me without pulling to many and overwhelming me. The first dress she put me in actually ended up being my dress :). In addition to the service I received, I thought that the store was set up beautifully and had very welcoming and comfortable areas for my family and friends to sit and watch. I would highly recommend shopping for your dress here!!
---
La Jeune Mariee
Reviewed on

10/02/2013
Taylor K
I went to La Jeune Mariee in search of my wedding dress. I had been dress shopping one other time at a bridal boutique in a different area. Jordan was the wonderful bridal consultant who I worked with for the day and she was outstanding! She asked me detailed questions about the wedding before hand so she could get an idea of what my big day would be like. She took that information and had me try on a handful of gorgeous dresses. She knew exactly how to match my taste to what they had in the boutique and I ended up choosing the very first dress I tried on! She was so sweet and very easy to talk to. The manager was beyond wonderful as well. The boutique was beautifully put together and lots of options to choose from. Overall my family and friends and I were very impressed and I will definitely be recommending to brides in the future. Thank you La Jeune Mariee!
---
GREAT EXPERIENCE!
Reviewed on

7/16/2015
Natalie D
What a fun experience! The ladies of La Jeune Mariee made the wedding dress shopping event feel very special. They were flexible, helpful, prompt, and gave me their full attention when I was there. Once I found my dress, they poured my family and I a glass of champagne--a sweet touch! I would highly recommend La Jeune Mariee to any brides searching for their perfect dress.
---
Reviewed on

7/11/2015
Jennifer B
Wonderful! Before wedding dress shopping, I had found my dream dress online in the first picture that grabbed my attention. After a little reverse-image searching I was able to find that it was a Lazarro gown, and then the search was on to find a shop that carried it in the specific color I wanted. La Jeune Mariee was one of the few stores in Ohio, and the only in Columbus, that carried the gown. Thankfully, they were able to give a price estimate over the phone so we knew the gown was in budget before we arrived. I made appointments with 3 stores, just to make sure I wasn't having tunnel vision with the first dress I saw and liked. La Jeune Mariee was the 2nd store we visited (we cancelled the 3rd), and after seeing the dress on the hanger I knew it was the one. I tried a few others just to make sure, but the staff there could tell I had found my gown. They worked with us on price and set us up with a wonderful seamstress for alterations. The staff were very helpful in keeping us informed along the way from ordering fabric samples to the "meet the dress" appointment to picking up the fully prepped and steamed dress. If the shop is in your budget, I would definitely recommend shopping here. The selection is beautiful and the staff were wonderful!
---
Dream Dress
Reviewed on

6/30/2015
Hannah S
They all helped me find the perfect dress for my body and in my price range... absolutely amazing customer service! They have a good range of prices and all of them are simply beautiful I don't think I saw a dress there that was not beautiful. I felt my best on my wedding day because of them.
---
Reviewed on

6/09/2015
Emily V
The ladies at La Jeune Mariee are BEYOND sweet! They all made me (and my somewhat large party) feel special!! Erin was absolutely amazing and knew exactly what to put me in! I cannot rave more about the experience that this boutique gives! From the moment I walked in to days after I left, they helped me pick the dress of my dreams!! If I had to do it all over again, I would definitely pick the girls here!! Thank you, thank you, thank you for making me feel like a beautiful bride!!!!!!
---
Reviewed on

6/05/2015
Stephanie G
La Jeune Mariee has amazing dresses and while the environment can seem a bit intimidating when you enter the ladies that work here are so welcoming!! I purchased my dress at their sister store LUXEredux however these ladies helped me with my headpiece, jewelry, shoes and even recommendations on a day of planner!
---
Found The Dress Here!
Reviewed on

4/17/2015
Jennifer S
After looking at several other bridal shops in the city and with no luck, I got an appointment at Le Jejune Marie. They were excellent at staying within my price range and thanks to their help, I said yes to the dress! And it wasn't what I had originally had in my mind. Carolyn who they use for alterations is also wonderful! My dress was absolutely perfect on our big day!
---
So, so happy
Reviewed on

4/01/2015
Shoshana D
I loved everything about my experience with LJM. The sales associates were helpful, never pushy, complimentary, but not fake, and they worked extremely hard to ensure I got my sample gown to try on and then accomplished a fairly rushed delivery. They had a very good selection, a wide range of prices, and the entire experience was just seamless and fun!
---
Find Your Perfect Dress/es
Reviewed on

2/04/2015
terri v
We have history together. Found "The Dress" and it was the dream dress. Treated so special all the way through the process. I was invited to a very special accessory event and added even more to make it my very own. It was so fun to be pampered. Also brought my maids here and found the cutest dress for all of them, and they were very happy. I looked all over and tried on many dresses, but this was just IT! Fit the feel of the venue. They were so kind, caring, helpful and polite. Yes, it is expensive, but you can find really good deals on very high end dresses. This is the place and these are the people to help you.
---
Ashley is amazing
Reviewed on

12/23/2014
I had the best wedding dress experience all because of Ashley at Lux Redux. This was my first dress appointment and I walked out with my dream dress. I really had little knowledge about what I wanted in a dress and Ashley was really patient with me and allowed me to try on many different styles. She knew exactly how to not overwhelm the experience. Through the short time with her she really tried to learn about my personality and how that could shine through my dress. She had great recommendations for belts and veils that were incredibly helpful since she had much more experience with this than we did. When we found the one she had me close my eyes and invasion my wedding day and my fiancés potential reaction to the dress. She did an excellent job at helping me to see the whole vision and even gave me pointers to not put the dress on more than 1 or 2 more times before the wedding day to keep the dress meaningful. I would not trade my wedding dress experience for anything. Ashley really made it special and intimate. I left there feeling like I gained a new friend. I had to go to Wendy's bridal later that day to pick up a dress for a wedding I was in and really saw the difference in experience I had versus the brides at Wendy's that day. (Ps Wendy's is a terrible place to order bridesmaid dresses)
---
Dream Wedding Shop
Reviewed on

11/11/2014
I cannot say enough good things about La Jeune Mariee. From the beautiful decorations to the outstanding staff, my experience was everything I ever wanted in the search for my wedding dress. I first contacted LJM in search for a certain Lazaro gown, and when they didn't have it in the store, they kindly offered to "borrow" it from another store. It arrived right on time and was exactly what I wanted and I ended up ordering it that day! My consultant, Annette, couldn't have been sweeter. It was more like trying on dresses with a friend! She totally understood my vision of "romantic with a bit of sexy" and she pulled the most amazing dresses. When I tried on the Lazaro ball gown that they had "borrowed" she was just as excited as I was. It was the one!!! Annette made me feel beautiful and special and was so kind to my grandma, mother, and future mother in law. We celebrated with mimosas and I could not stop smiling. All of the dresses she pulled were amazing, even though there was no question that the Lazaro was my gown. They even named it the "Isabelle" after me! I cannot recommend this shop enough. Lindsey, the manager who got married in the same venue as I am (the Westin hotel) even sent me preferred floral shops and photographers since I'm from out of town. Every phone call and meeting I've had with these ladies has been superb. Cannot wait to work with them over the next year and a half. I couldn't have asked for a more special day. Thank you so much ladies!!! I'll be back for bridesmaids dresses!!!
---
Great experience!
Reviewed on

11/10/2014
Alison E
I came into the shop this past Saturday not expecting finding anything or wanting anything AT ALL. I am not a typical bride in that I haven't been dreaming about this day my whole life and I feel stupid in really fancy dresses. I couldn't have imagined my experience being so perfect! Ashley WAS AMAZING! She was so helpful and thoughtful of what I wanted and very pleasant. Right before I tried on "the one" I told her I can't see myself having the feeling of being overwhelmed in a dress. She told me not to speak to soon. THERE YOU HAVE IT, I had found my dream dress. My girlfriends and I had SO much fun together and really enjoyed ourselves. It was a very special moment to spend with them. This place rocks!
---
A La Jeune Mariee Wedding
Reviewed on

10/31/2014
Karla M
My mom and I knew we wouldn't shop anywhere else when I got married when La Jeune Mariee opened their first store in Worthington - I completely fell in love with their store windows and gorgeous dresses. I'm so happy I wasn't disappointed when the time finally came around. I used them for both myself and my bridesmaids - and the service was impeccable. All of the ladies were courteous and genuinely excited to help me select my dresses and custom accessories for my dream day. I really want to say thank you to Kristen, Annette and Lindsay. I honestly don't think I could have done it without them. Thank you for my La Jeune Mariee wedding!!
---
An Awesome Experience
Reviewed on

10/31/2014
Kaitlin M
Shopping for my wedding dress I definitely had a large bill to fit. I wanted a traditional gown (and by "traditional" I meant "sleeves"). I'm a busy attorney and my family is all out of town so I had one day to find my dress and oh, I was getting married in 5 months. The first two places I went looked at me like I had two heads for asking for sleeves (as if this is unusual in a post-Princess Kate era!). Also, there was "no way" I could have a dress in 5 months. Lindsay and LJM were the first people to say "we can TOTALLY do that." I ended up with exactly the dress I wanted, well in time for my wedding and I found it in one day. ONE DAY. The store is a gorgeous display of unique dresses that still look like wedding dresses but special so that no one else will have anything like it. Lindsay and her staff definitely have an eye for trends while keeping the Ohio bridal market in mind. The details on these dresses are amazing. Whether you want beading, lace, backless, ruffles, pleats or blush tones, they will have it. And while pricier, they're still within most bridal budgets. The customer service here is unparalleled. They stored my dress until my wedding, helped me pick out all my accessories and pulled out my dress when I popped in without an appointment to match up the fabric. These ladies clearly love their jobs and it shows with all the happy brides. I had such a great experience I not only got all my bridesmaids dresses at their sister store in Worthington, but I had a friend who was getting married a few months after me and she didn't even bother checking out another store after seeing how much I loved LJM. If you're shopping for a wedding dress, start here. And if my experience is any indication, you won't need to keep looking.
---
LOVE THIS PLACE
Reviewed on

10/31/2014
JACKIE M
I was referred to La Jeune Mariee from my friend who got married a couple of months before me. I had visited 2 other stores prior to coming to La Jeune and there was no comparison!! Not only is the shop absolutely gorgeous, but the girls, Kristen and Lindsay, were just so welcoming and helpful throughout the entire process. The day I found my dress, they brought out my MOH's dress, who also bought her dress there, so we could both take pictures and sip on champs together! It was such a cute moment to be able to share! Their dress selections are on point and have several different price points as well. I used La Jeune as a one stop shop, purchased shoes, veil, accessories, and of course my amazing dress! There is no need to go anywhere else other than here!! Thank you ladies :)
---
Best Columbus Bridal Store!
Reviewed on

10/30/2014
Nicole L
When shopping for my wedding dress, I went to most of the bridal stores in Columbus. La Jeune Mariee Bridal is by far the best in town! Their service, selection of dresses and store design are excellent! Le Jeune Mariee's team helped me find the perfect wedding dress, vail and accessories!
---
Dream Come True
Reviewed on

10/30/2014
Amanda S
Like most women, I had been looking forward to finding 'the dress' for as long as I could remember. LJM was my first stop and I was a bit nervous how the process would go, but from start to finish my visit was perfect. As soon as I walked in I was greeted by my stylist Ashley who started our appointment by asking my engagement story and what I wanted out of a dress. She was courteous and polite, but her excitement level matched mine and it was like trying on dresses with an old friend. She listened to what I wanted, and each dress she brought me was better than the last. I ended up buying the 4th dress I tried on. As soon as I said yes to the dress, they popped open a bottle of champagne to celebrate. The entire staff was incredibly friendly and helpful. They took countless pictures with multiple cameras, with zero complaints. They were beyond accommodating to both myself and my family members that I brought with me. The boutique was very clean and absolutely adorable. I would recommend La Jeune Mariee Bridal Boutique to any girl looking for her dream dress...You will find it there and have fun in the process!
---
Simply Fabulous
Reviewed on

10/30/2014
Jennifer S
My search for the perfect wedding gown and accessories began and ended at La Jeune Mariee! Lindsay, the owner, was my personal bridal consultant. Lindsay was not only a fabulous consultant (she really knows her bridal stuff!), but she was also very friendly and accommodating to my group and I. I could not have asked for a better experience. The bridal boutique was absolute perfection from the beautifully displayed gowns to the chic decor and cozy waiting area for my guests. LJM made me feel so special and I literally did not want to leave. The selection of gowns from designers like Liancarlo, Jim Hjelm and Jenny Yoo gave me many options without being ridiculously overwhelming like some other bridal stores. Luckily, I found my gown on my first visit--but I did not feel any pressure from the staff to purchase a gown. The day I found my bridal gown at LJM was like a dream come true :) It was the perfect bridal experience. Following the purchase of my gown, Lindsay and her team stayed involved until the day of my wedding. They assisted me in finding a competent seamstress to alter my dress and, after my dress was altered, LJM had me back to "meet my dress." I was so excited to go back to the beautiful store and try on the dress that was tailored for me! Lindsay was so wonderful in helping me make style choices such as picking out the perfect jewelry and shoes. LJM also did a wonderful job in prepping my dress for my big day by making sure it was steamed/pressed perfectly. Overall, my experience at LJM was simply fabulous and one which I will never forget! Thank you La Jeune Mariee!
---
The perfect dress shop!
Reviewed on

10/30/2014
Emily D
My mom and I had such a lovely experience at La Jeune Mariee. It's just what you dreamed your wedding dress shopping experience would be like. We were personally helped by the owner, Lindsay, who knew right away what style fit me (a lace dress with sleeves... not always readily available in other shops!) She had such an eye for fashion and elegance that I trusted her judgment completely. Then after I said "yes to the dress," she brought out champagne... what a wonderful touch that made it special! My subsequent trips there for fittings and veil were hassle-free, and I always felt attended to. After a few stops at other dress shops in the Columbus area before this one, I can honestly say this was hands-down the best! Lots of options to fit different budgets as well.
---
The shop that says "I Do" to you.
Reviewed on

10/30/2014
Amanda A
I cannot emphasize enough how much I love this bridal shop! They went above and beyond my wildest expectations to help me have the best wedding day ever. LJM was the second shop I visited in the great gown hunt. I fell in love with a dress immediately! The staff was awesome in helping me stick to my budget. We appreciated that. The ambiance of the boutique makes for a great bridal experience (regardless of purchasing). I would write a great review based on this single visit alone. But... it was what happened next that really compelled me to write. My bridesmaids ended up purchasing their dresses from another local shop...well call it "Shop B," that carried specific designs we wanted. About a month and a half before the wedding, I received an email from a lawyer letting me know that Shop B has "ceased operations immediately" and "here are 14 numbers to call to try to find out your order status. Good luck!" *breaks out in a rash* Thankful I bought my dress with LJM. LJM was a number listed in the email as a boutique who volunteered to help. So I call. Even though this isn't their problem to solve, Kristen at LJM is on the phone and has answers for me within 24 hours (all while fielding calls from hundreds of other anxious brides from Shop B at the same time). Not only did they find my dresses, Kristen stopped the dress shipment from the NY designer to closed Shop B (thus saving them from being returned to the sender, delaying delivery even more) just as they were bring loaded onto a truck in NY. Just like that, Kristen became my bridal miracle worker! We talked nearly ever day for a week until LJM had the bridesmaids dresses safely delivered to their Main Street boutique. Then, she helped me immediately ship them to my out-of-state bridesmaids. Crisis 1 averted! (I heart Kristen.) Then, about a week before the wedding, I had a misunderstanding with the dry-cleaner who was steaming/pressing my gown, resulting in no steaming or pressing. Visibly frustrated and confused, I returned the gown to LJM for safe keeping until the wedding and explained why it was back so early, non-pressed. Again, Kristen swooped in and called the cleaners for me. She managed to get the pressing covered in total, even transportation for the gown. So at the last minute, when there really are no more last minutes to spare, I was relived of worrying about my gown. All I needed to do was pick it up at LJM, all neatly pressed and ready to go before the big day! Crisis 2 averted. Kristen is my new bff. I can't say enough great things about this boutique. Amazing attitudes and service. They don't check out after YOU check out with them. They're committed partners in your wedding ups and downs and act more like friends you can count on than shop associates. The customer service was beyond exceptional! I would recommend this shop to each and every one of you. LJM, especially Kristen, helped me iron out all the wedding wrinkles leading up to our big day (literally and figuratively). I seriously cannot thank them enough!
---
Perfect Experience!
Reviewed on

10/30/2014
Caroline W
I bought my wedding dress at La Jeune Mariee after my sister bought hers there. I could not have had a more beautiful experience! I was nervous going into it because I am picky! I found a dress online from one of their designers and asked if they could have a sample shipped in and they did it no problem! Of course when I tried it on and loved it I was nervous because it was not what I had envisioned for myself! But my lovely helper Kristen was so nice to reassure me and talk me through it! They are attentive, they communicate with you throughout the whole process, and their wedding gowns are gorgeous! I was so pleased with the service and with quality of the dresses they sell. I didn't have to look anywhere else! Our family has had such a great experience there! I have four sisters and three of us have gotten our dress there. I'm sure when the fourth gets engaged we will head back for the last time. Before my wedding they sent us a beautiful bouquet of flowers to thank us for our continued service! It was very thoughtful because you only find that kind of thing at a boutique that really cares about its costumers! I would recommend this boutique to everyone!
---
Great Experience
Reviewed on

10/30/2014
Ashley W
La Jeune Mariee was wonderful to work with. I dress shopped in Fall 2013 and was definitely not the easiest client. I was indecisive and a total mess, but they were so flexible! After some tears and sleepless nights, I ended up in the dress of my dreams. Our wedding was a few weeks ago and it was perfect! I definitely recommend La Jeune Mariee... My experience was great. Their dresses were beautiful, their downtown boutique space is gorgeous, and it was a private intimate experience I could share with my family and bridesmaids. I would definitely recommend!
---
Great experience
Reviewed on

10/29/2014
Lauren H
I loved working with Le Jeune Marie! Their selection was great, their suggestions on slight customizations were perfect, I never felt rushed or pressured, and they helped me get the dress in quickly without paying more. The best part was how easy and well done the alterations were. The salon worked with the seamstress so well, and Carolyn is amazing. One of the most fun parts of the wedding!
---
Send Message