Home

La Mirage Wedding & Banquet Facility
About this Vendor
Get Married In the Garden of Your Dreams
La Mirage has been helping families celebrate special occasions for over 60 years. Offering affordable packages to suit every budget, we can accommodate parties from 50 to 350. Our spectacular Ceremony Garden is the perfect place to exchange your vows. Contact us today!
Amenities + Details
Amenities
Bridal Suite

Liability Insurance

Indoor

Outdoor - Not Covered

Reception Area

Wireless Internet
For more details about amenities, please message the Venue.
Bar + Drinks, Cakes + Desserts, Food + Catering, Service Staff
Contact Info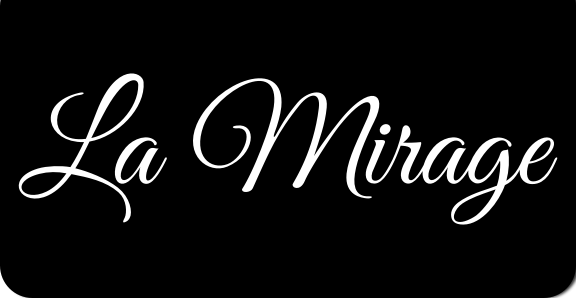 Best Venue by Far!
Reviewed on

12/15/2011
Ronice A
We recd the best service and staff and the venue is remarkably beautiful. We recd reviews from our guests for months after the wedding of how wonderful a venue it was. It truly is a dream come true if you are looking for a garden-style wedding. Packed with waterfalls,... Read More excellent statues, lots of beautiful trees, wonderful waterfall bridge for pic-moments! - you name it, they've got it! A+++
---
Excellant
Reviewed on

11/04/2013
Tina P
All great things to say! Beautiful, Friendly reasonable
---
Review for La Mirage
Reviewed on

10/21/2008
Karol Ann S
Experienced manager made the planning easy. Many things were included in the package we chose such as the cake fresh flowers on the tables and the beautiful ceremony garden. Also a private garden was available off the reception room during the reception.;The bartender was... Read More inexperienced. There always seems to be construction on site. Bathrooms could have been better.
---
Reviewed on

1/21/2018
Brenda M
Very dated in the reception area. They updated the lobby which looks nice but everything else was kind of creepy.
---
Reviewed on

11/30/2017
John T
Venue itself is beautiful inside & out. Food was delicious! However, the service was so-so. Dinner & cake cutting we're crammed together & rushed. They didn't pre-cool the room everyone was sweating. Bartender & other staff were miserable & rude. They misplaced one of our... Read More payments & still haven't been reimbursed for putting a stop payment on it. Overall a nice venue but make sure you have everything in order because things may change or slip through the cracks like they did with us.
---
Reviewed on

10/10/2017
Joycelyn F
Having my wedding at La Mirage had some good moments, but mostly bad experiences! I had my ceremony and reception on site and days' leading up to the wedding was horrible. The owner name is Bud and he is extremely rude, his assistant name is Linda, well at least that is what we... Read More were told by Bud at our first meeting, but soon as there's miscommunications about pricing for kids' bud stated Linda only answers the phone, yet she was with Bud during our first sit down to decide if we wanted to have the wedding there. When we first looked at the place we fall in love; the waterfall, the garden, the ballroom, access to the garden area for the entire wedding and Bud and Linda were so nice, so we thought! If me and my husband did not already pay so much down on the deposit we would have went somewhere else. They are both extremely rude, how can you have a business with no customer service! They both live on site which was not the issue until Linda opened the door one day in only a shirt, that's right a piece of short shirt like she just rolled out of bed even though me and my husband had an appointment so they should have been excepting us. Linda gives wrong information on the cost of packages and even pressured me to do more services through her because she does invitations and is an officiant; she called me over three times and left messages on my voicemail even though I told her I am shopping around and will get back to her. There is so much more i can rant on about how me and my husband was treated, words of advice I will not recommend booking a wedding at La Mirage.
---
Reviewed on

8/26/2016
Stephanie M
We signed a contract with La Mirage in 2015 for a specific package, which came at a specific price per guest. We understood signing a contract locks you into a certain price point for a certain service(s). From the time we signed up until 10 days before our 2016 wedding, Bud... Read More was very friendly and easy to work with. However, at our final meeting when we saw him to give our final numbers this is where everything changed. On that day, we were presented with our final receipt. The number was a little higher than we had expected, so we didn't say anything then. Instead, we went home and started running the numbers ourselves. We could not get our numbers that we agreed upon to match what was on his receipt. Two days later, we went back to La Mirage to drop off items for the reception. We asked to speak to Bud. The lady that works there, Linda, scoffed at me and said "He's busy". I'm thinking – we are paying customers with questions. Although we hadn't paid in full at this point, we made periodic payments that added up to about 90% of our total bill. My thought is that he can make time to speak with us. He then came over to the table where we were. We asked him to break down the receipt. This is when we learned that he had raised the price $2.00 per guest without notifying us prior. Before we could say a word, he blurted out "it's in your contract". We reluctantly got his check to pay in full given that we had done months of planning for our wedding day that was just about a week away. We couldn't just go anywhere else to have our wedding, and he knew that. That night, we went home to look at the contract. We found a very small clause that states the wedding cost is based on current market value or something similar. We feel like we were deceived with the way it was handled. It was just written in on the receipt without so much as a word or a heads up. We looked at the figures, but what about those that don't. Also, the time listed in the packages (5 hour reception, etc.) includes your ceremony time which was not what we understood. We understood it to mean that starting at cocktail hour, then the clock starts ticking. It actually starts ticking at the time they advise the bride to arrive, 15 minutes prior to the ceremony. So the 15 minute early arrival, 30 minute ceremony both cut into your "5 hour package". And be prepared to clean up at the end of the night. We rented many items and the rental company was told they had to return that night to pick them up (again, not what we understood) and we also had to pack up our own toasting glasses, cake serving set, table numbers, etc. Not a huge deal, but not exactly what you want to be doing after a long day in your wedding gown and your guests have moved on to the after party without you!
---
Reviewed on

7/18/2016
Stay away from this one. Tells us the date is fine go in for an appointment. He had to leave us for over 10 min durring our appointment for another appointment. Came back by the end an hour in tells us the dates booked. Thanks for waisting our time when the inlaw flew up... Read More just to go with us to venues. Try a venue with more organization.
---
Reviewed on

5/09/2016
Kelly W
We had the most amazing time at our wedding a few weeks ago, 4.23.16. It was everything we had dreamed of && more. The grounds were beautiful && the reception hall was perfectly decorated. The staff was polite && accommodating, they did everything they were asked without... Read More hesitation. Bud && Linda were very helpful with all the preparation leading up to the big day && we were thankful that the 'drill sergeant' kept everything running along smoothly. Thanks for everything La Mirage. Best. Day. Ever
---
Reviewed on

10/23/2015
Amanda H
I went there to see the facility & get some pricing info. Bud the manager was extremely rude and not willing to budge on a number of small things I inquired about. I'm having a private ceremony & then a low frill reception for friends and family and he had a very "I'll find... Read More business elsewhere" type of attitude. Despite liking the facility, I chose another venue. If he didn't appreciate my business, chances are, he won't appreciate yours. Take you money and your special day & spend it somewhere else.
---
Reviewed on

9/20/2015
Michelle B
We got married at La Mirage 8/15/15. We were about to have a beautiful evening ceremony in their private garden area. The photos were great and our guests loved it! Our guests enjoyed the food and drinks. My husband and I opted for the Satin and Lace package with an open bar.... Read Moreauyfcbefvrafaxtfuutwwtrufxwrzdburayxxw Bud is a nice guy, we are also from out of town, he was able to accommodate our needs since we had to travel down to Connecticut. He is also fair in his pricing, no shortcuts. Towards the end I was able to customize our package having only chair covers for our sweetheart table, making sure to list the total number of children as to not pay full price for them, etc. Every penny counts! Everything went smoothy that day and we came in just about on budget! I would recommend this venue. Location was also really close to a local hotel where I had a room block set up, so my guests were happy.
---
Our Day was Beautiful
Reviewed on

2/06/2015
Carrie G
Our day was beautiful. It all went on without a hitch. Since we got married in October we chose to only use the venue for our reception. We did use the garden area for photos which came out beautiful. The staff was great and the food was delicious. The only thing was my food... Read More and my husbands food was removed from our table before we were done. We had gotten up to walk around to the guests. When we returned it was gone. Not a game changer by any means but just something to note for the future. The entrance way will be gorgeous and a great photo opportunity when it is finally completed. It has been a long,long process. We were praying for it to be completed by the time of our wedding. La Mirage is not up to date when it comes to technology, all the contracts are handwritten. Hopefully this is something they will be able to modernize in the near future. Bud and Linda worked with our crazy schedules to meet late at night so we could make payments, bring in our parents to see the venue sign contracts, and drop off last minute items the night before and day of the wedding. Overall my husband and I were very pleased with our day.
---
Reception Venue
Reviewed on

11/02/2010
Caitlin T
Owner is kinda rude and creepy but value is great. They have been around for a long time and have made great updates recently. Food was really great!
---