Home

LaMalfa
About this Vendor
Committed to Excellence
LaMalfa has been recognized as a premier event planner in Northeast Ohio for 50 years! Continually changing with the times, we are able to provide each bride & groom with their wedding day vision come true. From traditional to modern and rustic to chic, we are here to make your dreams a reality.
Amenities + Details
Amenities
Bridal Suite

Handicap Accessible

On-Site Accommodations

Indoor

Reception Area

Wireless Internet
For more details about amenities, please message the Venue.
Food + Catering, Planning

Contact Info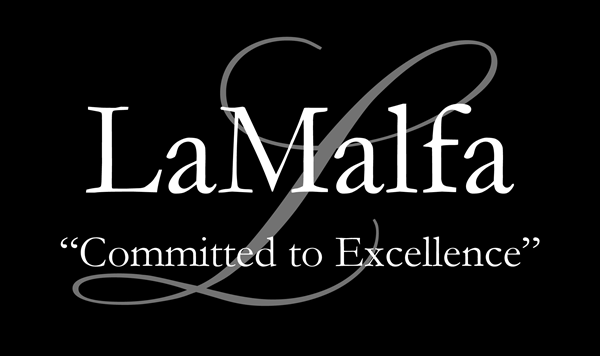 Wonderful to work with
Reviewed on

2/13/2014
Erin A
This center made my reception beautiful! They made wedding planning really easy, and gave me a great wedding planner to work with. I was working from out of state, and they were really helpful. I got the least expensive package and it was still wonderful. It did seem in the... Read More moment that some things that were promised were not carried out at the reception, but in the wedding moment I did not notice until after and realized that things like, announcing certain things and cutting the cake were not taken care of. Which made me a little sad. They took the food away before I was finished, I wish that would have been out longer. Mr. LaMalfa was fantastic to work with. The decorations were great. Food was fantastic! We had a non-alcoholic wedding and they had an open "soda bar" which was wonderful. I felt truly special,the staff was so so so nice! It was a wonderful night and I could not have asked for a better night. There was a bridal room to get ready in, and we got discounts on the hotel. Just you should have your wedding here, you will not be disappointed :)
---
Fantastic Venue
Reviewed on

11/25/2013
Kari L
LaMalfa had a gorgeously decorated room all ready for us. They were easy to work with and flexible to our needs.
---
Jen Cauwenbergh
Reviewed on

10/29/2013
Jen F
They did an outstanding job for our wedding. We had our ceremony plus our reception at the location. Very professional. The setting was beautiful. Everything worked out so smooth. During the planning process I worked with Jessica the assistant and she made sure all my requests... Read More were taken care of. Mr. LaMalfa was there was us the whole time during the ceremony even helping to fix my dress!! He helped the ceremony to go smooth. My only complaint was my request to walk down the aisle to Canon in D did not happen. There was a pianist that took care of the music for the ceremony, so maybe it was their fault. But it still was beautiful. The reception site was fabulous! It was just as I imagined. The food was out of this world. The appetizers was amazing!!I would recommend this place for everyone.
---
Reviewed on

10/19/2017
Jessica S
Every girl grows up dreaming of their wedding day and how beautiful they want everything to be. After seeing everything come together on my wedding day at LaMalfa, the dreams that I had growing up, and even throughout the whole planning process, were blown out of the water when... Read More I saw what my venue looked like. The room was stunning and could not have been put together any more perfectly. I cannot thank Marty enough for exceeding ALL expectations and making my wedding day more perfect than I could have imagined! I would definitely recommend LaMalfa for a wedding or any event that you are thinking of having. The venue is beautiful and Marty is great to work with!
---
Reviewed on

7/21/2017
Bria A
Pretty disappointed with how things turned out. Going into it I had high hopes for LaMalfa but those hopes quickly diminished as the planning process started. It seemed like it was one thing after another and how issues were handled was extremely unprofessional. I was trying to... Read More fix things that shouldn't have been a problem all the way up until the wedding day. I was called three days before my wedding day and told that they never knew I was getting table clothes and that now I have to pay to redo the venue because it's my fault. Even though I got the table clothes with LaMalfa's vendor and have emails confirming that. As you can imagine my stress levels were through the roof and the staff just added to that. On a positive note, the main guy I worked with the day of was great and the two young gentleman who were recently hired were great and very accommodating. They do have a great cocktail hour too. But, I was told a few times that the bartenders were not very nice and turned people away if they just wanted some water. Additionally, my food was wrong and over cooked. We talked about the meal plenty of times and still the chicken was wrong and we were never asked if our meals were okay. Not a huge deal because my guests did say that the food was good, but when things just keep going wrong, it is a big deal. I could go on but basically working with LaMalfa was very unpleasant. Sadly, the one thing I would change about my wedding would be the venue, but with 400 guests, my options were limited.
---
Reviewed on

9/26/2016
Lindsey J
LaMalfa was absolutely amazing!!!! They made all of the dreams I had for my wedding come true and then some. From the get go they were beyond accommodating. They worked with us on our guest minimum and also have a discount for a Friday wedding which was so helpful. They truly... Read More listen to your requests and do anything and everything to make your wishes come true. The packages they offer are spectacular because it allowed me to not have to worry about the food, bar, ceremony location, or general ambiance. They also have several enhancements that can be added on for that extra something special. The day of the wedding of course is always nerve racking but the ballroom captain, Greg, was amazing. He kept things on track and made sure everything was pulled off flawlessly. The food was amazing and the room looked stunning. I cannot give the staff at LaMalfa enough praise for helping me create my perfect wedding! Thank you all so much!!!
---
Amazing!
Reviewed on

10/20/2015
Jennifer C
What a wonderful night! The staff at LaMalfa is top notch... and come hungry. The food was amazing and there was more than enough goodies to snack on all night long. My brother was married there and our wedding was just as amazing as his was!
---
Overall great experience
Reviewed on

9/09/2015
Hallie L
This vendor was great in assisting with all of the planning and execution of the reception side of the wedding including alcohol, appetizers, desserts, and candy bar. The only issues we experienced on the day of the wedding was not having the type of beer we had requested. They... Read More did go out and by a few cases for the bridal party however was disappointed that this detail was missed. However, overall the reception was decorated and executed beautifully. I would recommend to someone looking for a good place to have an amazing reception.
---
exceptional service
Reviewed on

11/20/2014
sam d
The staff here is exceptional. They take care of any need or question you may have and really know what they are doing. I would highly recommend them to anyone that wants a quality, worry free venue for their wedding.
---
Full of Compliments
Reviewed on

10/29/2014
Jessica W
Overall I was very happy with LaMalfa. They have a very good timeline to make sure everything gets done & are open to any suggestions! Our ballroom captain (Greg) was on top of everything from the rehearsal dinner to the last dance. I would recommend this venue for anyone... Read More wanting to stay indoors. We also got married in the chapel at LaMalfa which was simple, but beautiful. We got many compliments through out the night (especially on the food) and were very pleased with how smooth everything went.
---
disappointed
Reviewed on

10/14/2014
Kelley O
Had our wedding there because my family member had a wedding there plus others. Our were expensive one...filet mignon were famous til my wedding. It was terrible. We had said in our contract no gravy/mushroom gravy...they 'had' to add gravy since chef were worried it was dried.... Read More Hmm...bullshit. i have been to top notch steakhouse etc...not one of them had to have brown gravy added to keep it moist. Tables layout was wrong. They HAD three or four weddings going on at the same time. then when I had asked for partial refund for steak. They refused and had add that they have gave us all kinds included. And Which were not said in our contract. At the end, she said its how they do their business. I am being honest I used to work there and knew how it runs and thought it would be great doing it there...I was wrong but our night with family and friends were fanastic partying with dj etc. Funny, overall throughout processing everything was positive, helpful & agreeable until our wedding after our wedding...there weren't any compassion, helpful or agreeable. We spend tons of money to them trusting them to do their contract properly.
---
Excellent
Reviewed on

8/24/2014
Alexandra
My only problem with LaMalfa was that we couldn't take any of the extra food home with us. We don't know what they do with all of that food... Otherwise, the experience was magical! They were kind and organized.
---
Bryan and DeAnna
Reviewed on

8/12/2013
DeAnna R
Marty, Jessica and Kyle were the most amazing people to work with! Jessica every single time I called to change something, she went above and beyond to make sure my needs were met. Day before our wedding, Jessica and Kyle were thee to make sure all of my favors and little... Read More décor was handled with care. The day of our event, I went down to see if anything needed to be done, Jessica and Kyle were there to make sure I was ok and not panicking. What a great group of people. Food, service, décor everything was amazing and I wouldn't have changed a thing!!
---
Pay attention to your details
Reviewed on

7/15/2013
Alyssa V
We had just our reception there with the tuscan theme and it was absolutely gorgeous! It went perfect with our colors and everything leading up to the big day was wonderful. They worked with us every single step of the way but when reception time came it got a little messy. We... Read More werent sure who exactly our ballroom captain was, our guests were served BEFORE the bridal table and parents table, staff was sitting in chairs watching everyone instead of doing their job, my father had brought his homemade wine (6 gallons) and they lied to a few of our guests saying "they ran out" and luckily my MOH called the one bartender out on it and a gallon just happend to appear, my fathers prosciutto also magically disappeared when he had brought POUNDS of it, some of the serving staff was a little sketchy and Marty was no where to be found at the begining of the reception when we were told he would be there. But in all honesty, our guests had nothing but compliments and we enjoyed ourselves to the fullest. The food was wonderful, they packed our centerpieces and table numbers for us along with picture frames and other things we had brought, ambiance was just perfect, we had the bridal room which was a complete life saver and they even gave us a fan to put in there (wedding dresses are heavy in June!), myself and my husband enjoyed ourselves and honestly are happy with our experience overall.
---
LaMalfa Center
Reviewed on

2/12/2013
Emily A
They were wonderful! It was a beautiful location and they were especially accomodating. I would highly recommend!
---
A real dream come true!
Reviewed on

10/18/2012
Heather M
LaMalfa is truly top of the line. They do their job so well that planning our wedding reception was fun and stress free! It was elegant and ran smoothly the entire night. One of the things I wanted from our wedding day was for no one to worry about anything - I didn't want my... Read More mother to be running around setting stuff up or people driving everywhere making sure everything was where it needed to me and LaMalfa made this possible. They took care of everything! They were prompt in responding to any questions I had via e-mail or phone. My only small complaint would be that when planning the menu we asked for a sauce without mushrooms as both my husband and I don't like them but when we were served that night there were mushrooms on our plates. In the grand scheme of things this was minuscule and didn't impact how wonderful our evening was. Marty was honest and generous and it was a pleasure working with him and everyone at LaMalfa!
---
Reception Hall
Reviewed on

7/25/2012
Dana M
I loved LaMalfa. They have a great bride/groom separate room that you can use during your reception to freshen up. They also serve food and drinks in there during cocktail hour for your wedding party. They made sure that we were comfortable. The hotel attached is a bonus for... Read More guests that are out of town. The ambiance of LaMalfa is perfect. Its a big enough space to accomodate any size of wedding.
---
Best Venue Ever
Reviewed on

11/08/2011
James D
LaMalfa and Holiday Inn work together to create a lasting moment. From start to finish during our wedding planning, the staff was supportive and went the extra mile. Our wedding wouldn't have been a success if it wasn't for the location, value, food, and staff.
---
Summer 2011
Reviewed on

9/11/2011
S B
The meals were good and the presentation was nice. Guests really enjoyed the appetizers and desserts. The bartenders were very nice. The facility is nice and clean. Overnight guests appreciated that the hotel was attached.
---
LaMalfa gave us a wonderful wedding reception
Reviewed on

7/21/2011
Erin W
We held our June reception at LaMalfa and had a wonderful time. The staff is very helpful and Mr. LaMalfa met with us personally a couple of times throughout the planning process. The room was beautiful and everyone liked the food a lot. It's a great space as long as you... Read More don't mind being next to another ballroom. We couldn't hear any noise from the other larger wedding. It was also very important to have the hotel since the majority of our guests were from out of town. One drawback is that we had to clean up, dispose, and box the rented hardware for the floral centerpieces on Monday, but they did gather them up after the reception, and let us use the sink. We did not think we would be able to afford LaMalfa, but we checked it out anyways and they gave us a great price that included everything--food, cake, alcohol. We had a beautiful reception, and would highly recommend LaMalfa to anyone hosting a reception on the northeast side.
---
Bad Food, Bad Manners
Reviewed on

5/21/2011
Kelly P
Tha staff argued with vendors in front of the some of the Bridal Party. Behaved viciously and acted "above-it-all" RUDE, RUDE, RUDE The food was below average and way over-cooked. Pretty decor, does not cover bad manners
---
Outstanding!
Reviewed on

10/07/2010
Patti C
We booked with LaMalfa two weeks! before the wedding and in that very short time, they were able to give us exactly what we wanted and they did it beautifully. Everyone we spoke to was very helpful and the hall, the food, the service, and the decor were everything we'd hoped for... Read More and more. I would highly recommend.
---
Excellent
Reviewed on

9/18/2010
stephanie c
The food, the service, the staff. They made all 177 guests feel at home and well taken care of. The hotel right there is perfect!
---
Unforgetable
Reviewed on

5/31/2010
Krystel M
The service was unforgetable. From our first meeting with LaMalfa we knew we were in good hands. Everything we spoke about was done. They offered great ideas since they are in the business they know what works and what does not. We as a couple were treated like special... Read More guests always. When we walked into to our reception the room took my breath away. We was what I pictured then some. The all around service was amazing from thier caterers to the hotel and the amazing service staff and the wonderful assistant they have. we always felt important like we were the only guest. It is one on one service you never talk to a different person everytime you check in or have meetings. I would 110% recommend LaMalfa. I woke up the next morning not regreting a thing it went perfect.
---
Review for LaMalfa Party Center at the Holiday Inn Express
Reviewed on

5/10/2010
Katie M
Great food, easy to work with, all the details went as promised, nice hotel attached. Minimal decor necessary, beautiful rooms.;Get the top self liquor, well drinks aren't great. Know for sure the minimum number of guests you are going to have.
---