Home

Lori Carsillo Jazz Vocalist & Ensemble
About this Vendor
Elegant jazz and classic swing
Lori Carsillo, Jazz Vocalist & Ensemble, dazzles audiences with her classic vocals and charming on-stage presence. We can accommodate your musical request - from intimate duos, trios and larger "big band" style groups, instrumental-only combinations, and ceremony music.
Details
Guitar, Keyboard, Percussion, Piano, Saxophone, Trumpet, Vocals
After Party, Rehearsals + Parties, Ceremony, Reception, Wedding
Contact Info

Address
San Francisco, CA, San Francisco, CA
SF Bay Area, Napa/Sonoma, Monterey, Tahoe
(415) 335-6562
WEBSITE
Reviewed on

9/14/2017
Shelley F
Lori has such a beautiful voice and it was so amazing to have her band at our wedding. Once we saw her band play at a restaurant in the city, we knew we had to have her in our big day. When we contacted her, she sent us demos of her music. Lori is very professional, welcoming,... Read More responsive, and many more great things. She is so pleasant to work with and made planning a breeze! We had her guitarist play during our ceremony and the rest of her band during reception. She made our wedding so memorable. Our guests loved her and we hope to have her again when we plan another big gathering. Thank you, Lori!
---
The Perfect Musical Ambiance for Our Wedding
Reviewed on

2/21/2015
Where to begin! Lori and her band were the ideal choice for our wedding reception. Set in the courtyard of a local San Francisco cafe, we could not have imagined a more perfect musical accompaniment to our evening. From the beginning, Lori was immensely professional, helpful... Read More and genuine. When we went to see her perform at a local SF restaurant to get a feel for her style, we were instantly decided - she was the one. To boot, we hit it off with Lori immediately. In providing a list of her music, we realized that the key songs we wanted her to play were already on there, though I will mention that she offered to include others that may not be on her list. In our opinion, no need! We loved the selection that she played all evening. Additionally, we asked Lori a favor or two to make the evening flow perfectly and she was immensely flexible and helpful. She even sent US a thank you card after our wedding. I just can't express enough how much we wholeheartedly recommend Lori. If we had the opportunity to have her play at an event again, we'd love to have her back. Thanks, Lori! Megan + Brett
---
Absolute Perfection!
Reviewed on

2/24/2014
Catey T
We decided early on that we wanted a small destination wedding surrounded by close friends and family. For the reception we envisioned a fabulous backyard dinner party, complete with delicious food, stunning wine and some jazzy, dinner party music to cap off the night. Of course... Read More it was going to be something a bit more elaborate than what we could pull off alone, so we found some local experts to help our dreams become a reality. When it came time to track down a jazz singer, we were so fortunate to find Lori Carsillo! She perfectly understood and executed the ambiance we were aiming for. Lori was incredibly easy to work with and accommodating. Throughout the planning, to the set up and straight through to the last hour the music was perfect. The entire quartet was professional and great to work with. Lori did an amazing job at helping us select music from their extensive playlist to fit the the ceremony and entire evening. We had a few special songs, not offered in their assortment, that they were more than willing to learn, which made the music that much more meaningful! And boy did they perform all the songs beautifully!
---
Reviewed on

2/22/2017
Kristen B
Lori played our wedding 6 months ago at our very unique venue. It was perfect and amazing. I wouldn't change a thing about it! When i first messaged Lori she was so accommodating. She invited me to watch her in San Francisco that very night and when I arrived she gave me 3 of... Read More her CDs to listen to. While listening at the restaurant in SF I knew we had to use her. She came and set up without issue at our venue and was ready just in time. She has a great attitude and situated herself in our very tight space in the bar and played like a real pro. She is a beautiful singer and she and her band are absolute professionals. She really added to our wedding. 100% recommendation from us!
---
Reviewed on

9/25/2016
Katy F
As soon as I heard Lori's voice on her website, I knew I wanted her to perform at our wedding. The whole process of contacting her and then discussing things was super easy and she is super sweet and helpful. She and her group were very professional on the wedding day. They... Read More created a warm, classy, and jazzy atmosphere that was perfect for our vision and venue. I would highly recommend her and her jazz band!
---
Wedding Singer for Budget Bride
Reviewed on

1/05/2016
Brittney H
As the bride, I was very busy the day of the wedding, so details such as the music are a bit of a blur. However, many of our guests complimented our choice of musicians, and I loved having live music for our first dance. Working with Lori before the event really put me at ease... Read More as she was very sweet, professional, experienced and responsive over email. Our wedding was on NYE, so that may have upped the price, but in general, it can be difficult to afford musicians when you are a budget bride like myself. Luckily, Lori was flexible with me by shortening the time they played so we could afford their service for at least part of the event. Thank you Lori for helping making our night romantic and classy!
---
An excellent choice!
Reviewed on

1/27/2015
Lainey J
We are so glad we booked Lori for our wedding. She put together a gorgeous 5-piece jazz ensemble and played for our wedding during cocktails and dinner. Our guests really loved her smooth yet catchy vibe. Lori was so easy to work with! It was one of the best decisions we... Read More made for our special day to have her there. She was really friendly and played a great variety of songs. Lori was even nicer in person, which helped make our chaotic wedding day really memorable. I highly recommend using her for your event.
---
Thanks for making our special day so much more...
Reviewed on

11/11/2014
Bonnie B
Your beautiful blend of jazz and smoky, sensual blues really set the right tone for our wedding and reception. I also want to offer a special thanks for your rendition of "I Choose You" that you sang as we walked down the aisle. Your incredible voice singing those words will... Read More forever hold a special place in our hearts. We couldn't have asked for more. THANK YOU!
---
Made my pappy cry with joy
Reviewed on

10/09/2013
Lori Carsillo and two band members played at our wedding reception at the Swedenborgian Church in San Francisco. The music was the perfect balance of upbeat for festivities and dancing and low key for conversation and general mushiness. The best part was when Lori played Fly Me... Read More To The Moon during the first bride and groom dance, and my father cried because that was his and my mom's falling in love song. From the get-go Lori was a pleasure to work with. I found her suggested on the Swedenborgian wedding website and gave her a call. She responded right away with a professional and informative package, including sample CD and a few options with prices. She even lent her expertise to arrange a band that could play a versatile mix of jazz styles in the small, indoor space, using the church's piano for some songs, and a band-member's guitar for others. Lori is polished and approachable. As crazy and hectic as things get during wedding planning, I never had to worry about the band. The parts I was most anxious about, the first dance and the toasts, were helped along by the bands professionalism and experience. My wife and I still listen to the sample CDs, which have Cole Porter and other jazz standards. Our favorites is the opener "I Love Paris In the Morning" because Paris is where we spent our honeymoon. Yay Lori! You Jazz!
---
Duo and Quartet for White-Tie Wedding
Reviewed on

4/11/2013
B B
My husband and I hired Lori to provide live music for our white-tie wedding in Feb 2013 in San Jose, CA. We thought a live jazz band would be the best fit for a white-tie affair, but it needed to be for less than $2,000. We looked at several jazz bands in the Bay Area; we... Read More choose Lori as she and her group are excellent performers and were the most professional, friendly, and willing to work with our budget of everyone we contacted. And our guests have had nothing but good things to say about the music/band! The planning process went smoothly; we had lots of questions initially, and Lori was very responsive via email and phone. She gave us opportunities to see her and her group live as well as mailing us a few of her CDs. Lori paid attention to the details; attire is key for white-tie, and Lori worked with us to determine what she and the group would wear for the event (a few guests even commented on how nicely the band was dressed!). My husband and I didn't have many specifics for what songs to play/not play; we instead gave Lori general ideas of the atmosphere (i.e. upbeat, low-key, etc.) we wanted for the various parts of the evening and were not disappointed with the final music selection. On the day of the wedding, Lori and her group arrived promptly and were virtually autonomous, quickly and quietly loading in their gear and setting up. We had a duo (vocals, guitar) for the "cocktail" hour and a quartet (drums, bass, same vocals and guitar) for the reception. We were doing everything in the same building but in different rooms, so some shuffling had to happen between the cocktail hour and the reception; again, the group worked quickly and quietly to move their equipment and be ready to go by the time we were ready to seat guests for dinner. The duo provided light background music you could easily carry a conversation over. The quartet kept things low-key during dinner and then picked up the pace for dancing. The volume was never too loud (or too soft, for that matter), something we--and all of our guests--absolutely loved. When the band took a break, Lori played an appropriate music selection from her iPod and they easily rolled with schedule changes to cake cutting, first dances, etc. for a (musically) seamless event. It was truly a pleasure working with Lori and her group is fabulous; would hire again!
---
Fantasic music, fantastic experience.
Reviewed on

3/05/2012
Leea P
I hired Lori for my October, 2011 wedding in San Francisco, and I was nothing short of *delighted* with the experience, and what she and her musicians created for me. I found Lori on Wedding Chanel and checked out her web site, and then went to see her perform at a local... Read More venue. As soon as I heard her and saw her I knew Lori was just what I was looking for: beautiful, elegant standards performed in a gracious, but not uptight manner. Lori and her musicians played in a way that did not overwhelm cocktail hour/dinner conversation and mingling, but also had enough beat and energy for dancing if people wanted to. Lori puts her own touch on the standards that makes them fresh and fun. Her voice is beautiful, elegant and fun all rolled into one. She is the real thing and it shows. In addition to being a wonderful vocalist, Lori is also a helpful consultant. She was extremely open to any and all of my questions (even things outside her precise domain related to wedding receptions). She provided me with feedback and ideas on what I could walk down the isle to, what was good first dance song in terms of tempo and length etc. Lori really made an effort to help me with anything I had questions about. I felt extremely comfortable working with her and asking her anything I wanted to. She gave me a lot of good advice and tips. We used two of Lori's CDs as wedding favors, and people were delighted to receive such a sweet memento of the evening, as well as something they could actually use and enjoy. The guests really loved her performance and all evening talked about how wonderful she was. They still talk about it. Lori and her musicians also had a very polished, and beautiful visual presentation. Lori is gorgeous in person, and dresses very stylishly. Her musicians were also perfectly appropriate. If you are looking for elegant but fun, classic music for your wedding and want to work with someone who is more than accommodating, flexible, and dependable I strongly recommend Lori. She will guide you perfectly and create a highly sophisticated, beautiful, romantic ambiance for your special day. You will be so glad you selected her!
---
Fantastic!
Reviewed on

6/15/2011
Jennifer S
I found Lori through the knot site and she was so helpful in coming up with song lists and super responsive through email and phone. We met up once before the wedding and Lori is very friendly and committed to making your wedding a sophisticated and enjoyable experience.... Read More Although my wedding felt like a blur, many guests told me that the music was simply wonderful. I definitely had a great time working with Lori and would recommend her to anyone!
---
Perfect Music for a Perfect Day
Reviewed on

12/08/2010
Elizabeth B
I am SO happy that we found Lori and her band for our wedding. It was a pleasure working with Lori from beginning to end. She was not only concerned about making our day great but she was 100% professional throughout the entire process. She took the necessary extra steps to... Read More ensure that not only was her band where they needed to be at the designated time but they also did so without ever disturbing guests (because Lori made sure to work out the venue's floor plan and flow of traffic prior to the wedding - genius!). Aside from being on point, Lori's voice is amazing and the whole band is extremely talented. All the guests enjoyed the music and if I ever host another event I'll be sure to get in touch with Lori.
---
Meet The Owner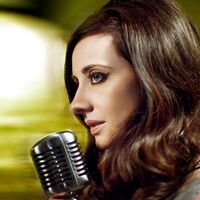 Lori Carsillo
Singing and providing music for weddings is truly a special honor for me. I love being part of such a joyous moment in a family's life. Being entrusted with such an important part of a wedding is very meaningful to me. I try to tailor everything I do - from the timing of songs to what I wear - to the uniqueness of each couple I work with. I find so much joy and happiness sharing my music!