Home

Los Willows Private Wedding Estate
About this Vendor
The Perfect Marriage of Elegance & Fun!
Located in North San Diego County, Los Willows Private Wedding Estate is a beautiful blend of elegance, charm and nature. Our full-featured Ceremony & Reception package delivers a fun and unforgettable celebration with many extras that you will not find elsewhere. Call today to schedule a visit!
Amenities + Details
Amenities
Handicap Accessible

On-Site Accommodations

Indoor

Reception Area
For more details about amenities, please message the Venue.
Waterfront, Estate, Tented
Bar + Drinks, Food + Catering, Planning, Service Staff
Contact Info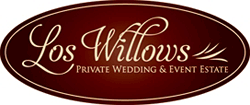 530 Stewart Canyon Road, Fallbrook, CA
best venue!
Reviewed on

12/01/2012
Stephanie R
Stephanie and I would like to give our thanks for the amazing wedding experience we had there at Los Willows. We are extremely happy with how everything turned out and our guests are still telling us how beautiful the venue was.We would like to thank Liza for helping us with all the stressful planning, she was always willing to help and work with us. As far as the bed and breakfast goes, it was such a great start to our wedding weekend. The wedding party loved it. We all had such a good time and it really helped the wedding day become less hectic by having most of our people there. We loved the breakfast, everything was delicious. We would recommend that any couple getting married there book the bed and breakfast, it really starts the whole experience. Our friends now want to start a yearly tradition where we rent a mansion for a weekend because of how much fun they had there. Also, please give our thanks to Bobby who was an amazing host. He was incredibly helpful and attentive. He was funny and extremely polite. We cannot say enough about how happy we were with him.The wedding turned out better than we had hoped. Everything was perfect and Stephanie still cannot stop talking about how she had her dream wedding. Everything was gorgeous and all the little details really made a difference such as the servers bringing the wedding party appetizers when we went to take pictures. The severs even took requests from the wedding party. The food was delicious and it is something that our guests constantly brought up after the wedding. Not only was it delicious but servings were plentiful. I don't believe anyone left hungry.Lastly we would like to give a huge thanks to Kendra, she is Superwoman! The day was so stress free because she was on top of everything. I quickly realized how little I had to worry about after the first few questions I asked her were answered with "already taken care of." She was so organized and so good at keeping everyone sane. She really saved the day when Stephanie was panicking over her make up mishap just minutes before walking out. Everything we would forget she remembered. I don't even think we would have tried the cake if it wasn't for her bringing us a few plates to our table (cake was also delicious btw). Kendra is so good at what she does! We heard from many people that were impressed by her that day.
---
Amazing Wedding Experience!
Reviewed on

10/24/2012
Laura M
Loved this place! It was such a seamless experience from start to finish working with the Los Willows team. I couldn't have asked for better quality and service for our wedding day.
---
Fantastic Wedding Location
Reviewed on

10/14/2012
Ellen W
I just had my wedding at Los Willows a few weeks ago and it was the best day of my life! Every detail was perfect and the staff was very friendly and helpful throughout the entire process. It is a little expensive but on the day of the wedding when everything was perfect I definitely thought it was worth every penny. They handled all aspects of the food, the cake, decorations, and helping me with all of the details that I didn't think of. Thank you for giving me the best wedding experience I could have asked for!!
---
Reviewed on

7/28/2015
Cassandra G
My husband and I were married at Los Willows a year ago. It's been a long time coming for this review because I wanted to give a fair review that accounts for everything. The worst: My husband and I dropped off was an item called the Forever Frame for Los Willows to set up. I left no instructions for how to set this up because there are pictures on the box that shows how it's all meant to be. The sand from the sand ceremony is poured intro the frame and later another plastic part fits in over the poured sand so that a memento can be kept just floating above the sand. Los Willows did not remove the plastic meant to hold the keepsakes. So, when the sand was poured, I saw the sand settling on the wrong part of the frame and my heart just sank. I didn't know if it would hold the sand properly and worried that the memento my husband and I were supposed to keep for life just wouldn't last because that section is not meant to hold sand. This part still bothers me because now sand is starting to pour through the bottom and the plastic, because it's not that strong, is bending inward on both sides. We could pour in new sand and fake it, but that's not the point. You don't get a do-over for that special moment. I'm still a bit heartbroken about this one. Lesser bads that don't really matter: We had chosen to go with cupcakes for our big day. We confirmed banana cream cupcakes as a flavor but come the big day there was what I can imagine must have been boston cream pie cupcakes. Keep in mind, a mess up like this is only going to bother the people that knew about it. All of the cupcake flavors are yummy and your guests will not notice. The only drawback is, let's face it, most brides are on diets until THAT day. I so craved a banana cream pie cupcake. The bride's boat entrance: You'll hear about how beautiful the bride's entrance was and then you'll hear moments later that the boat is slow. This is a lesser bad because I loved the experience. Plus I had "I'm on a boat" playing in my head to get myself over my fear of falling in the water (you won't fall, it's a gentle ride and the boat aligns PERFECTLY with the pier). The good: The food: While you are obligated to go with their caterer, rest assured, it will still be awesome and guest will love it. Our vegetarian guests raved about the ravioli they had. They also worked with my husband who is an incredibly picky eater. The grooms entrance: You'll be hearing about the roadster entrance forever. It's a unique way for a groom to enter and always super exciting. The groom's room: Other venues we visited had grooms and groomsmen getting ready somewhere obscure. I really liked that Los Willows provided a space for my husband and his guys. The great: Kendra. She is Los Willows' greatest asset by far. She will manage your entire day and if there is any snag, she will catch it and I bet fix it before you have a chance to notice it. She's super coordinated and really keeps it all moving. The champagne cruise: right after your vows you get to catch your breath and take in the giant step you and your love just took. I loved it. It was definitely a high note to the whirlwind day. The grounds: Los Willows takes excellent care of their grounds. If you want a place that feels like magic and doesn't just photograph well, this is it. You'll also find come photo time that there are these hidden gems behind the main area that are really going to make for spectacular photos.
---
Best of the best
Reviewed on

4/02/2015
Kelly N
We just had our wedding at Los Willows and it was amazing! The venue comes with a day of planner. The planner deals with every detail of the day including, setting up decor, helping you into your dress, dealing with vendors, keeping everything running on time, telling you where to go next throughout the night--A true life saver. Our day of coordinator deserves a raise! She was so on top of everything, even things I didn't know needed to be done. She allowed me to fully relax and enjoy my wedding. Allyson is the best ever and used amazing grace when dealing with vendors as well as guests at my wedding. In our mind she made the event come together. I can't say enough good things about our wedding and the day of staff who pulled it all off. Truly relived to have had so much fun at our wedding because all the staff was so on top of things. The banquet staff also did an amazing job. Our DJ was also a key player in our wedding. He works with Los Willows as well as other venues, Alex at Pro Sound DJ- Book this DJ and venue for a killer combo! This venue has been very helpful before, during and even after my wedding! We are very happy with our choice :)
---
ceremony & reception
Reviewed on

10/22/2014
Lisa E
We had our ceremony and reception at Los Willows and it is a beautiful location. They are strict with the rules and don't try to adjust or be flexible with anything. It seems like a lot is included in their packages but we spent way more than we thought because all the things we wanted was not in our package. I would not recommend if you are looking for an all inclusive this isn't the place and they won't budge on any detail or price.
---
Overall AMAZING!
Reviewed on

9/16/2014
melissa l
We are extremely happy to have had this venue host our wedding. Everything was beyond exceptional. Our wedding planner Liza was helpful with any questions we had, as well as being flexible for meetings. Our day of coordinator Allyson was wonderful. Everything went smoothly the day of (even the week before when I had a billion questions and last minute changes) She did a great job of making sure everyone and everything was where they needed to be. Overall did an awesome job and we highly recommend this venue.
---
Beautiful Venue, but be prepared for add ons!
Reviewed on

6/25/2014
Andrea W
Los Willows is an amazing venue, the grounds are stunning and all of our guests were wowed with it! The lake is a beautiful backdrop and the draping in the tent with the chandelier is gorgeous. The vendors they team up with (DaVine Catering for Food, and Elegance on Display for Cake) are great, the food/cake was delicious and I was really happy with everything. The only complaint is that I felt very nickeled and dimed by Los Willows. The patio furniture is ugly black metal and you have to pay to have it covered, and then they will only cover the tall tables and not the short and want more money to cover those as well. For how much you are paying you would think that they would throw in a few table cloths to cover the ugly furniture that I wouldn't even have in my own backyard. Also the appetizers are a little bare, I did the hummus and everyone said it tasted good but it was only hummus with bread, no veggies or chips to dip it in. It would be nice if they added in some other things to dip. I also had a few issues with communication, I scheduled a tasting with them showed up and was told it was actually with the caterer at a different location, something they never mentioned before, I scheduled an appointment for my details meeting and they made it for the week prior, I am an out of town bride who flew in for it, they made it work but it was a bit frustrating, and the cake provider was changed and no-one mentioned anything to me until I called to say they had a flavor wrong on my sheet and I was told someone new was doing it and that I would have to meet with someone new to go over the design and tasting (again for someone flying in, it was frustrating to have to continue to do things I had already done). Kendra is a great coordinator, but she had the last song played 10 minutes before we were scheduled to end and was very pushy about us getting in the getaway car instead of staying in to say goodbye to everyone. Overall it is a great venue and I loved the wedding!
---
Los Willows
Reviewed on

2/12/2013
Rina J
Kendra Koenig is the most amazing wedding coordinator. She made the whole event run like clockwork. She is a magician, angel, and genius rolled into one. Los Willows is very beautiful. The landscaping is awesome. Bobby, the innkeeper, treated my wedding party like family. I would definitely recommend this place very highly. Their prices are very reasonable.
---
Beautiful doesnt come close
Reviewed on

6/13/2012
Brendalea S
Low Willows is beyond beautiful. With its lake, wonderful lighting at night and so much more, it has such a romantic atmosphere. The staff is even more amazing then the venue. Every bride wants everything to be perfect, and they do everything they can to make it that way. As a girl who grew up wanting a Cinderella wedding, but knowing I would never be able to afford it, I have to say that Los Willows was amazing for it, and really had everything I would want. Also, marrying a marine had lots of advantages there with their military discounts.
---
Great service
Reviewed on

12/09/2011
liz m
Im so happy I chose Los willows. Everyone who works there IS extremely sweet, kind and honestly made sure everyone's needs were met. If you are as busy as I am this place is perfect because almost everything is included. My Wedding planning and Wedding day was completly stress free :)
---
Katherine C.
Reviewed on

11/28/2011
Katherine C
Los Willows goes above and beyond to truly create an amazing wedding! The wedding coordinator makes the day run so smoothly and they really helped to make my wedding feel like a fairy tale!
---
A Perfect Day!!!!
Reviewed on

10/15/2011
Destiny G
Los Willows was the most amazing venue!!! The grounds are spectacular and the staff is incredibly helpful and efficient. Our day was flawless and guests can't stop talking about it. Every detail is well thought out and executed perfectly. The take care of you from start to finish and do everything they can to create your perfect day!!!
---
Gorgeous location, wedding went very well, but...
Reviewed on

10/04/2011
April A
We went with Los Willows because it is stunningly beautiful and it meant that, by getting a package deal, we would have less to worry about and deal with. Unfortunately there were a LOT of issues with some members of the sales team, so the planning process was a nightmare with many lies and mistakes on their part. If you go with them I would recommend getting everything in writing immediately and getting pictures of anything you plan to use of theirs so there can be no denials later on. That being said, when the wedding came Nicole (our coordinator) was wonderful. She guided us through everything and was very sweet, helpful and efficient. We also rented out the Inn the night before the wedding and Bobby was absolutely incredible! He felt like part of the family and knew just what to say and when to say it to ease everyone's minds, entertain us or calm us. I can honestly say that having him there to help and to counsel us made the day before and the day of so much more enjoyable and special. Overall it was 9 months of frustration and irritation with them in the planning process, followed by a beautiful wedding where what few mishaps there might have been were hardly noticed and everyone had a great time.
---
My Beautiful Venue
Reviewed on

9/09/2011
Stephanie R
This places is BEAUTIFULLLL!!!!...Plus, the people there are WONDERFUL!...I truly felt like a princess on my wedding day!
---
Loved It!
Reviewed on

7/27/2011
Susan H
Almost everything at Los Willows was amazing! Kendra (day of coordinator) is wonderful and the site is beautiful. We stayed at the Inn at the site, and absolutely loved Bobby (the inn keeper) who was extremely helpful and always ready to assist with anything we needed. I was a little disappointed with the filet we served, which was much different than the filet we had at our tasting. They also have an end time of 10:00, which was a little earlier than we would've liked. Overall, we were extremely happy with this location, and all of our guests loved it too!
---
A Romantic Garden Wedding
Reviewed on

6/24/2011
Elizabeth R
Los Willows was fabulous. The location is incredible featuring perfectly manicured grounds, a beautiful spring fed lake, and immaculate reception/ceremony site. The options to personalize my wedding had no limits. The Los Willows boat made a huge impression on guests as a unique wedding entrance and getaway (you can also choose a horse drawn carriage). The venue is incredibly photogenic and all of our pictures turned out wonderfully. The staff was friendly, helpful, responsive, and coordinated events on the wedding making sure we felt comfortable and happy. I would definitely recommend Los Willows to any bride!
---
The Los Willows Way
Reviewed on

5/29/2011
Molly M
Overall, this location is wonderful! I appreciated how the ceremony and reception are at the same place. It's intimate, beautiful and there are lots of little things to add to the package that can offer intimate and meaningful touches to your special day. The Inn is charming, and the highlight of the wedding was booking the entire inn for my groom and I and our immediate family (siblings, parents, grandparents). We stayed up till 2am talking and woke up to a wonderful breakfast. Bobbi, the inn keeper is incredibly warm and friendly and catered to our every need and desire. I highly recommend booking the inn (or at least the B&G staying there) after the wedding. My main disapointment about Los Willows is that at times I felt like I was just wedding #1,215. When I met with my wedding coordinator to discuss ideas and the plan, I felt as if she was in a hurry and was just getting through the questions she needed to ask. I realize that this is her wedding #1,215, but it is my first. I wished that the wedding coordinator would have been a bit more patience and curious about my questions, worries, and expectations. Or, at the very least, pretend that I was the first wedding she's ever done. In the same vein, my other greatest disappointment about Los Willows was that they have a very specific standard way that they like to run things. While this is GREAT for the people that don't have, or don't care, about the way things are going, this can be very overwhelming for the folks that DO have a clear idea about how they would like the day to go. One example of this is during our cake cutting, the wedding coordinator was literally crouched down next to me, telling me exactly how to cut the cake. I had expected the moment to be my husband and mine, together as we figured out how to cut the cake. Instead, I was so worried about following the coordinator's directions that the cake cutting actually became the worst part of the whole day. I wish my coordinator would have told me in an earlier meeting the trick about cutting a wedding cake, and left us in peace while we were actually cutting it together. These details, though small, added to my disappointment about this site. In summary, I would HIGHLY recommend this location, but I would be VERY clear with the coordinator about what you are expecting, what her role is the day of, how much control you want to have over your day. This is what I didn't know, that Los Willows' way of doing things is a force to be reckoned with. To deviate from their standard (and beautiful) way of doing things, in an attempt to make things more personal and intimate for you the couple, is challenging.
---
This place is a FAIRYTALE!
Reviewed on

4/25/2011
Kelly E
I do not even know how to describe how amazing our wedding turned out at Los Willows. This venue is absolutely GORGEOUS!! We worked directly with Kendra, a coordinator here, and could not be happier. Kendra was professional, helpful, honest, very friendly, and organized. At Los Willows they only do one wedding a day so you will never see another bride or groom on your day. They really make it feel like YOUR DAY. The grounds at Los Willows are very clean and well landscaped. The weather is perfect 90 percent of the time here. Our guests kept asking us "How did you find a place like this? This is literally out of a fairytale!" The funny thing is that the day after the wedding we learned that some things actually DID go wrong during the day. A glass hurricane broke, one of our vendors was late, etc. and my husband and I had no idea because Los Willows just took care of all of it. They were so calm and while some things were not going as planned our Los Willows coordinator, Kendra, was still smiling. We did not have to worry about anything on the wedding day. Our pictures also turned out great because there are so many different settings here to get shots. Benches, lamp posts, gazebos, a pond, vineyard, bridge, etc. It's not like most wedding venues where each of your pictures has the same background. We could not be happier. I cannot believe places like this actually exist!
---
Fairy tale wedding!
Reviewed on

1/28/2011
Rose S
My husband and I both loved our Los Willows wedding!!! The upper administration was somewhat rude, but you never really have to interact with them and the wedding coordinators are AMAZING! Kendra was our coordinator and we LOVED her. On the big day, my bridesmaids were so frazzled that they couldn't remember how to bustle my gown or lace up my corset - Kendra knew how and handled it right away! She knew what I wanted before I knew, and handled everything perfectly! Everything went very smoothly and I was 100% stress-free on the wedding day. The only thing I didn't like was the food. It was OK, but it tasted much better at our tasting than it did on the wedding day. Other than that, it was perfect! Absolute fairy tale!
---
EXCEPTIONAL
Reviewed on

1/01/2011
Heather D
Unbelievable servie and exceptionally beautiful and PRIVATE Most wedding venues are lovely but our guests couldn't stop talking about Los WIllows! We were thrilled with everything
---
A perfect place to have your perfect big day!
Reviewed on

11/10/2010
Kirstyn W
My husband and I got married at Los Willows on Oct. 14th 2010 and it was an absolutely PERFECT day! Not only are the grounds private and beautiful, but every little detail is taken care of for you by the amazing staff and event team. Thank you so much to Amanda, Liza, Megan and the others that all helped to make our fairytale wedding come true. We want to give an extra thank you though because my husband and I actually live in the Cayman Islands, and it was only due to all the extra help of Los Willows that we were able to plan a destination wedding in California where most of my family lives. Planning a wedding is stressful, but planning a wedding from a different country seemed almost impossible, until I met Liza and the Los Willows team. My hope for any of you looking for a place to get married is that you too can find that one of a kind, perfect place, where your day will be stress free and only full of fun and excitement. We cannot say enough wonderful things about our special day at Los Willows - it truly was just perfect and a dream come true. Oh and I almost forgot, but if you have the chance to stay at the Los Willows Inn - it will be an unforgettable, personal and magical memory. I had all the bridesmaids and mothers stay the night before the wedding and it was like staying in some little English bed and breakfast, but you have the whole place to yourself. There are games, and a fireplace, an incredible breakfast, a waterfall and the view from the top of the hill makes you feel like you are at the top of the world - what better way to start or end your wedding day.
---
Los Willows- a great place to get married
Reviewed on

10/15/2010
Linda V
From the moment we first visited Los Willows we fell in love with the venue. It was absolutely beautiful. The staff was wonderful and definitely attentive to our needs. This made our day run smoothly.
---
Los Willows
Reviewed on

9/20/2010
Brandi R
This place is wonderful !!! It is so romantic and peaceful. I could tell my guests enjoyed the ceremony and reception by the compliments I received. Their basic package is splendid and it just gets better with all the upgrades that are available. The spa was available for my use at 10:00 am and my bridesmaids and I took advantage of it. I do regret not starting earlier with my wedding ceremony, the reception didn't last long enough. Everyone was extremely nice and helpful. Debra was wonderful to work with and my coordinator the day of my wedding, Gayle did a superb job.
---
Best Day of My Life!
Reviewed on

8/09/2010
Christina M
My entire experience with Los Willows was perfect. As we stepped foot onto the property, we knew it was "the one." A beautiful lake tucked in between a forest, the grounds are well kept, and the atmosphere is delightful. Every person we encountered during our wedding planning was nice and over-the-top helpful. Amanda (who ran things the day of) seemed to think of everything I forgot well in advance and was very good at making the day run smoothly. If you are looking for a well-run, beautiful, not-too-pricey venue, look at Los Willows. A few specifics that make Los Willows better than everywhere else we tried: *YOU CAN ARRIVE TO THE AISLE VIA BOAT (amazing) *The staff (every one of them) is amazing, nice, ATTENTIVE *The food was perfect for our 20-ish year old guests (fondue, sweet!) *They contact all the vendors the week before, making life a little less hectic *Different and convenient bar options (which we didn't find at many venues) *Lovely tented reception area with a fancy chandelier and lighting *Options for budget weddings.
---
Send Message