Home

Love, A Bridal Boutique
About this Vendor
"The Knot Best of Weddings 2013 Pick"
Visit Love, A Bridal Boutique and you'll discover the latest bridal fashions in a beautiful boutique environment with private bridal rooms, a well-lit runway and friendly customer service. So come to Love ... 'Because finding the perfect gown is a special occasion.'
Details
Flower Girls, Wedding Gowns
Contact Info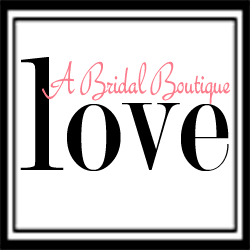 434 3rd St N, Jacksonville Beach, FL
I LOVE LOVE A BRIDAL BOUTIQUE!
Reviewed on

4/17/2014
Jen S
I had the most AMAZING experience at Love!!! The two girls I worked with are so great at what they do, were very knowledgeable about the dresses and so professional. They were polite, not pushy at all and made me feel so comfortable! I was really struggling with the style of dress I wanted at first. Melissa was my main bridal consultant and Liza helped as well, which was really nice of her! Liza was so sweet and really helped me get an idea of what style I like. Melissa was awesome and very sweet, thorough and detailed in her descriptions of the dresses. Both girls were very intuitive and you could tell they have a passion for bridal gowns, weddings and brides. I have recommended about 10 brides to this place and all had great experiences and bought here. I feel like I am bast friends with these girls! I loved the dress I chose but wanted something more, and they had an idea of how to change it and now it is PERFECT! Don't go anywhere else but Love in Jacksonville, Love is TOP NOTCH!!!!
---
Beautiful Dresses!
Reviewed on

6/18/2014
Courtney B
Love had so many beautiful dresses! I made my appointment and got to try on all the ones I loved! I had such a hard time making a decision I felt like I needed to sleep on it! Living out of town they took down my information and made it super easy when the time came to order! I fell in love with my dress there and I couldn't be happier! They have stunning gowns!
---
Found my dress here!
Reviewed on

8/22/2013
Trish C
Love Bridal was the first and last shop I went to. Melissa was my consultant and she provided me with option and advice that I wanted her to give to me. She responded in a timely manner to my emails and messages. She was very accommodating to me needs. Even Liza, the other consultant was very helpful despite she wasn't the one originally helping me. I ended up buying my dress (Essence of Australia) from there after visiting just about every bridal store in Jacksonville. The girls were also very accommodating in such a fashion that they let me come back at times (while my dress was being made) to try on the sample dress to see what it would look like with jewelry. Put it this way, I ended up not only buying my wedding dress there, but also my veil and headpiece there.
---
Loved "Love"
Reviewed on

9/29/2014
Lori B
Liza and her team were amazing! She let me try on as many dresses as I needed, as many times as I needed and was extremely sweet to my family and friends. She was prompt on informing me of the estimated date I should receive my gown and that she would inform me if any delays should come up. When it comes to this once in a lifetime purchase, Liza made me feel extremely comfortable and confident to choose Love.
---
Love is the BEST in Jacksonville!
Reviewed on

9/24/2014
Love was the last place I went to because I really wanted to save the best for last and I knew Love would be it! They accommodated my large group of family and bridesmaids and were so patient with me while I made my decision. The girls that work there have a great sense of style, gave the best advice and were very honest with me about what looked best! I could tell they truly cared! I was referred by a few friends who had all wore Love gowns and now I refer every bride-to-be I meet! Go to Love and only go to Love!!
---
You will "LOVE" this place!
Reviewed on

9/24/2014
Erica K
After scoping out a few other local bridal shops in the area, I always had LOVE in the back of my mind to check out... I came across a trunk show they were having and decided to check it out. What a FUN experience! The ladies in the boutique were more than helpful and extremely knowledgable in helping me narrow down what my dream wedding dress would be. I ended up saying YES to a LOVE dress that very day!
---
Wedding Dress
Reviewed on

9/23/2014
Caitlin M
I had such a great experience while picking out my wedding dress at Love Boutique! They had so much variety to chose from and I was able to find my dream wedding dress! Melissa was so helpful and sweet when picking out my dress! I highly recommend any bride going here to find their wedding dress!
---
HIGHLY RECOMMEND
Reviewed on

9/17/2014
Lauren W
Love was such a great experience for me. Melissa, my consultant, was so friendly and really encouraged me to step out of my box when it came to wedding dresses. I felt comfortable there and didnt feel pressured at all to pick or buy that day, even though I did end up buying my dress there! I can't wait to get it in and go back for my fittings! I HIGHLY recommend every bride to make an appointment!
---
I just love, Love!
Reviewed on

8/26/2014
Jessica B
Melissa was so amazing in helping me and rest of the bridal party find the perfect dresses! She was very patient, respectful and knowledgeable from our first meeting and all the way up to ordering, sizing, payment and pick up. I can't wait to come to Love for my wedding dress when I am married! Thank you Love and Melissa!
---
What's not to Love about "Love Bridal"?
Reviewed on

8/26/2014
Katie B
Love Bridal was the fourth and final place I went to in search of "the dress", and I can honestly say that I loved everything about this Boutique ranging from the selection, atmosphere and staff. My bridal consultant, Melissa, was paramount in pairing my vision with my personal style to find me the perfect dress for me. I just picked up my dress yesterday and it fits perfectly! Thank you Melissa and Love Bridal for helping me find a dress that I feel beautiful in.
---
I LOVE LOVE, A BRIDAL BOUTIQUE!
Reviewed on

8/26/2014
My fiance' Sean and I got engaged so I went to Love to try on dresses. The girls that helped me were so nice, Liza and Melissa. They are very knowledgeable about the dresses and helped me find a perfect WOW gown! I would definitely recommend going to Love!!!
---
In love with my dress, it was stunning
Reviewed on

11/19/2013
Janice S
I am in love with my dress. I did not want to take it off! The ladies at Love were terrific to work with! They were attentive, listened to what I liked and didn't like, and were not pushy at all. Their shop is comfortable and beautiful. My mom and sister were up in NJ when I found the dress and Love was super accommodating when my family was in town. They set up time for me to try on the dress for my family and get their approval as well! Fantastic people to work with and I would highly recommend them
---
Disappointing visit to my first Bridal Shop
Reviewed on

5/23/2013
Cassie V
My bridal consultant Melissa was not helpful at all. She didn't suggest one dress. Not when I was browsing the dresses and not after I found some that I liked. I would have expected that she would see what I liked and what looked good on me and pull in some gowns...but that didn't happen. There was a trunk show that day but I feel like I missed it because she didn't suggest any of the dresses that were only there that day. Her attitude was unpleasant and it seemed like all she was there to do was clip me into the dress. She barely spoke. It seemed like it pained her to even comment on the dresses i was trying on. After going to a few more shops I realized what a poor level of service I received in comparison to most other bridal salons. If you go to this salon ask for someone other than Melissa.
---
amazing
Reviewed on

5/21/2013
Kristen I
I found my dream dress here, actually I found it on pinterest. Then I realized that Love used the designer of the dress that I liked. They were able to get that dress in for a trunk show, and I got my dream dress for 15% off! I love my wedding gown. I had such wonderful service at Love.
---
Marvelous!
Reviewed on

2/06/2013
Lauren M
What an amazing experience! Melissa and Liza did an incredible job helping me find the perfect dress. I made an appointment with my mother and sister; Melissa greeted us at the door asking me to describe my ideal wedding dress. She explained the pricing structure of the store (dresses are grouped together in similar price ranges). Melissa and Liza allowed us to pick and choose while they picked out a few too. I went with the first dress I tried on (Melissa picked it out!). Both ladies were incredibly patient while I tried on more than 2 dozen dresses. The experience was flawless- I brought my bridesmaids back to purchase their dresses from LOVE too! Also- I was on a tight timeline- LOVE was able to get my dress in (with minimal expedite cost) less than 12 weeks. Thank you Melissa, Liza and the entire LOVE staff for a wonderful wedding dress experience. Lauren
---
Perfect!
Reviewed on

12/06/2012
Nicole A
I cannot thank Nancy and Melissa enough for all their help on this memorable day! They were very professional and knowledgeable. They have so many gorgeous gowns and with their help I was able to find my perfect wedding dress and vail! The boutique has every style and type of dresses as well as beautiful accessories. My family and I made a special trip to Jacksonville just to visit Love, A Bridal Boutique! I highly recommend this boutique to other future brides and family. Thank you!!!
---
Sweet & Knowledgeable Staff
Reviewed on

10/28/2012
Claudine O
My experience at "Love" Bridal was, from start to finish, perfect. The location itself is adorable, and Liza and the rest of the staff could not have been nicer or more knowledgeable. The ambiance is great—very tasteful and classy, but not at all pretentious. Love happened to be the first bridal store I visited and, without hesitation, I can say that it set the bar. I walked into Love for my first bridal appointment and was greeted by Liza, who asked me to describe what I was looking for. Feeling nervous, I showed her a few badly-printed black & white pictures of the style I wanted, and described in no more than 3 sentences the vision I had in my mind. Within seconds you could tell that she got my "vibe" and knew exactly what I was looking for—she led me straight to a dress and said "you have to try this one on." She added a few more to the mix that were all very pretty, but she was absolutely dead on with the first dress she recommended to me based on my description. Thinking it was too good to be true, I decided to visit some other stores before making a commitment to the first dress I tried on. I must have tried on at least 25+ more dresses after that day and went to 4 other stores— but neither the dresses nor the experience could be matched by Love. Every other store seemed set on fitting me in something that simply wasn't "me." "Love" was the only place I felt as though the staff was really listening, and open to my feedback. Needless to say I ended up back at "Love", and am thrilled to say I purchased that first dress. It's the perfect dress for me—precisely what I had envisioned early on. Added bonus—I saw the exact dress elsewhere for about 30% more. THANK YOU Liza & team for an overall wonderful experience! You made what I thought would be a very stressful decision into one that was easy—I have no regrets! -Claudine
---
Best Bridal Boutique around!
Reviewed on

6/26/2012
Jen
Liza and Melissa at Love made my wedding dress shopping, waiting for the dress and picking up the dress perfect and painless! They made sure that I stayed with what I wanted and didn't let my bmaids and/or my mom stray me away from "the one". And my dress turned out so "me" it was amazing!!
---
Intimate, personalized shopping experience.
Reviewed on

6/21/2012
Sherry T
I first shopped at those large, bridal shop chains in the North Florida area. Those were hectic, crowded, and I felt rushed during my appointments! I went to Love Bridal Boutique for a different experience. The shop is appointment-only and has a wide selection of higher-end dresses starting at $900. Melissa was very attentive, and I never felt rushed by her. Only one other bride was shopping for a dress. I think they only cater to 2 brides at a time, which was nice and intimate. I ended up purchasing an Essence of Australia gown for $1500. It was gorgeous.
---
My gorgeous dress!
Reviewed on

6/04/2012
Jessie H
I thought I had already picked my dress from somewhere else. My MOH insisted I look there to be sure. I tried on a few beautiful gowns, but was not convinced. Then something caught my eye. I had asked Melissa if it was in my price range and she said yes. She grabbed the gown and helped me into it. I began to cry before it was even zipped. I had found the dress of my dreams. Melissa was so helpful w/ helping me find the accessories and perfect veil. It almost seemed as though she was a good friend b/c she genuinely seemed happy for me. My dress was a reasonable price and it came in in a timely manner. They measured me pretty perfectly, so i barely needed alterations. I definitely reccomend getting your gown from here. Very wonderful and intimate service!!!!
---
The perfect dress
Reviewed on

3/13/2012
Samantha H
I found the perfect dress and they were wonderful to work with! They were patient and honest! I felt comfortable and important to them. My dress was by far one of my favorite parts and I still love to look at it and how wonderful it was. I loved everything about this boutique and the people and dresses that they carry! Thanks Girls for making my day extra special with the more than perfect dress!
---
Elegant
Reviewed on

1/17/2012
Katie F
Liza and her staff did a superb job! I am from WI and was nervous about purchasing a dress in FL. I got frequent updates about my dress and its whereabouts. My emails with questions were responded to immediately. It arrived in pristine condition and was wonderful.
---
LOVE, LOVE, LOVE this boutique!
Reviewed on

12/16/2011
Samantha G
I found my perfect dress here and it was extremely discounted!! Sales girl, Liza, was extremely helpful and pleasant to work with.
---
MATCHMADE IN HEAVEN!
Reviewed on

12/12/2011
Jacqueline H
I scheduled an appointment with the Love Bridal Sales Associate Melissa and girlfriend to check out some different style dresses. I knew what my husband(then fiance')and I were looking for; however I wanted to keep my options open. I explained to Melissa a few details of a sweetheart top, form fitting and a little bustle at the bottom. She choose four dresses for me to try and the second one was my dress. I was in absolute shock! I had to call both of my mothers to come and check it out(Needless to say they had no idea I was even trying them on without them there). They were both blown away by the perfect choice Melissa had picked. The veil was amazing as well. They stayed open late for me due to the mothers coming. They rush ordered my dress and it was in within a week. I would recommend this boutique to anyone looking for a fabulous gown and experienced sales associates.
---
Poor Service and Limitted Options
Reviewed on

12/06/2011
Tina N
I was very disappointed with the service here. It is definitely tailored more to those that have money and if they think that you don't (which I did) they treat you as a second class citizen. We had a scheduled appointment and I wasn't seen until after 30 minutes and then the options were on the extremely small size (I wear an 8).
---
Send Message