Home

LW Cake Design
About this Vendor
Expertly designed. Meticulously crafted.
LW Cake Design was established in 2012 by confectionery artist Lana Witherspoon. A company specializing in creating beautiful, elegant and unique cakes. Our goal is to work collaboratively with clients to design and create what is often the focal point of their event.
Details
Cake Stands, Cake Toppers, Cake Delivery + Setup, Cake Tastings, Groom's Cakes, Cakes + Desserts


Contact Info
Reviewed on

7/13/2017
Lauren G
Lana was amazing!! My cake was absolutely stunning and delicious! She made each tier out of two different flavors: vanilla and red velvet, simply because I could not decide between the two. It was the most decadent, delicious, and flavorful cake I have ever had. I received so... Read More many complements on how delicious the cake was and how it looked like a work of art. She made about two dozen sugar orchids to put on the cake, and they looked so real, that some people touched them to see if they were! I went into the consultation with about 50 ideas of what I liked, and she was somehow able to sort through all of them to make the perfect cake. Lana discussed all of the options with me, and always had a quick response for any questions I had. It was an absolute pleasure to work with Lana, see her beautiful designs come to life, and have the hands-down best cake I've ever eaten!
---
Reviewed on

10/21/2017
shelby p
Great tasting cake. Amazing work and designer. I would highly recommend!
---
Reviewed on

10/18/2017
Dana S
We were so happy to have chosen Lana to make our wedding cake. She designed a beautiful cake for us from scratch using elements from my dress, the invitation, and venue. It was so beautiful. All of our guests told us that it was the most amazing cake they have ever seen and... Read More tasted! I would definitely recommend Lana. She is an expert in her craft!
---
Reviewed on

10/18/2017
Melissa W
We absolutely loved our cake. It was beautiful and delicious. We would highly recommend Lana to anyone looking for a stunning cake design that tastes amazing as well.
---
Reviewed on

10/16/2017
Natalie K
Lana was absolutely wonderful in executing our vision perfectly. We had a great time at the tasting where she had several cake and buttercream flavors prepared for us to try. She listened to all of our ideas and designed the cake of our dreams. We would recommend her to... Read More anyone looking for a cake that looks and tastes amazing.
---
Reviewed on

10/12/2017
Janna B
The cake was amazing and Lana was a joy to work with! The cake both looked beautiful and tasted amazing!
---
Reviewed on

10/09/2017
Julia S
Lana was awesome to work with! My mom has a long list of extremely severe allergies- if she even smells one of her allergens she goes anaphylactic. After meeting with Lana and discussing them, we were able to order a cake that my mom could not only be around but she could... Read More actually eat! This doesn't mean that the flavor was compromised though, it was delicious and absolutely beautiful as well- just like the pictures we brought in. We had so many people come up to us and tell us this was the best wedding cake they had ever had :) I definitely agree!
---
Reviewed on

7/09/2017
Meredith H
Lana made an absolutely beautiful and delicious cake for our big day! She was very attentive during our first meeting and definitely delivered the cake of my dreams! We are so happy we chose Lana to make our cake!
---
Reviewed on

6/14/2017
Jenna K
Lana was amazing to work with! The cake served at our wedding was to die for and I have had so many compliments from our guests! We went with two layers of pumpkin cake and two layers of coconut. I would highly recommend Lana's Dough Delights to anyone!
---
Reviewed on

6/08/2017
Amanda S
Lana made us a cake and several types of cupcakes for our wedding. From the moment we met her at our tasting, she was so helpful and friendly in answering our questions and making sure we were getting what we wanted. She was prompt at returning calls and emails. Our... Read More cake/cupcakes not only looked amazing but tasted so so so good. Our guests loved them! I had guests admit that they had eaten 3-4 each! I would highly recommend Lana to any bride!
---
Reviewed on

10/20/2016
Lana is truly a pro and an artist at what she does! She worked with my husband and I to stay within our budget and was able to duplicate the exact picture that I showed her! I got so many compliments on the flavors of our cake (we went with sprinkle cake, red velvet, and... Read More pumpkin spice) each one was delicious! I would definitely recommend using Lana and can't wait to place my next order! FYI: Her instagram page is AMAZING!
---
Reviewed on

10/17/2016
CHERYL M
Lana is incredibly talented! We had so many people compliment our semi-naked cake she created for our wedding. The sugar flower arrangement on our cake looked so real, the event staff actually removed them after we cut our cake because they thought they were fake. She also... Read More prepared our cupcakes, which were also a huge hit. The whole process was so simple and Lana is very kind and easy to work with. I am so glad we found her for our wedding. I would highly recommend her for any occasion.
---
Reviewed on

10/04/2016
Lara C
We were super picky about booking our cake. It took us quite a while to find someone whose work esthetic and quality matched our expectations. Lana did not disappoint. in fact, our cake was so beautiful, and exactly what we envisioned. She was great at allowing us to change... Read More and update our design. We couldn't have been happier booking her for our cake and we recommend her to everyone we know!
---
Reviewed on

10/04/2016
erin s
We have used Lana for multiple occasions so when it came to our wedding, booking her was a no brainer. Her cakes are consistently delicious, and her work and designs are always on point. Since this was a much bigger cake then we usually order, she had us come in for a design... Read More consultation where she helped us create a cake that was special and unique to my husband and I. I'm sure we will be back many times again.
---
Reviewed on

9/30/2016
trish m
I can't thank you enough for creating the most incredible cake ever. The design was fantastic and the cake tasted amazing. I'll absolutely be back!
---
Reviewed on

9/30/2016
trisha m
I can't thank you enough for creating the most stunning cake ever! It was absolutely wonderful.
---
Reviewed on

9/28/2016
Lana's work is absolutely amazing. We were so happy with how our cake turned out. Our guests were so impressed with the taste and the design.
---
Reviewed on

9/27/2016
Anna k
We absolutely loved working with Lana! Not only is her cake absolutely amazing, but she is an amazing designer. She took so many of our wedding details and incorporated them into our wedding cake. Her eye for detail and expertise is what really impressed us.
---
Reviewed on

9/13/2016
Not only is Lana extremely down to earth, she actually listens to your vision and helps you create the wedding cake of your dreams! She was more than accommodating, and she went above and beyond! Our wedding cake was everything we imagined visually, and it tasted even better... Read More than it looked. We were unable to eat much of our cake, but we will surely be back for our one year anniversary to get a second chance to enjoy it all over again. Thank you Lana for everything! It was absolutely stunning!!!!
---
Reviewed on

9/13/2016
Jessica L
I would highly recommend Lana to anyone for any baking needs! Our wedding cake was absolutely beautiful and very delicious!!! We received exactly what we had discussed prior to the wedding and Lana was wonderful to work with throughout all of the planning stages. You will not... Read More be disappointed:)
---
Reviewed on

7/19/2016
Lanas cup cake dress was absolutely amazing to look at and eat! Her butter cream frosting was the best. Highly recommend! Very nice to work with as well.
---
Reviewed on

7/11/2016
Angel N
The cake was amazing Lana's attention to detail is top notch thank you so much
---
Reviewed on

4/25/2016
Ashley A
Lana was amazing! Her cupcakes and cake she made for us were almost too beautiful to eat! So many compliments! The cake tasted just like a peanut butter cup and was delicious. She is amazing with Fondant and replicating whatever you have in mind! Highly recommended!
---
Delicious cake! And oh so lovely sugar flowers!!!
Reviewed on

10/20/2015
Lana was an absolute gem and I was so lucky to find her on the web. I contacted her with a bit of a conundrum because my then fiancée and I were getting married rather short notice (due to some fast approaching military training). She was willing to slip us into her busy... Read More schedule and she made a gorgeous cake that tasted like heaven. I would recommend her to anyone and everyone!!!
---
Rustic wedding box cake
Reviewed on

9/08/2015
Our guests were very surprised on how real the cake looked. They also said how much they enjoyed the cake. It tasted great and loved the fillings. lLana is a very nice person to work with. She had us over for a cake tasting, which was great! When it comes to decorating, she... Read More is an artist! I would highly recommend her. Thank you again Lana!
---
Meet The Owner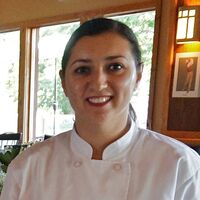 Lana Witherspoon
Creating sugar art is my passion. Whether it's pristine fondant, textured buttercream or incredible sugar flowers, any detail can be transformed into sugar art. I enjoy working with couples to design wedding cakes that fit their unique theme and personality.