Home

Mariposa Boutique
About this Vendor
A stylish bridal boutique for the modern bride
Come experience our collection of distinctive wedding gowns and accessories in an elegant yet relaxed setting. We also carry a variety of contemporary bridesmaids, mother-of-the-bride, and flower girl apparel. Our bridal stylists are committed to the personal service and attention to detail
Details
Bridesmaid Dresses, Flower Girl Dresses, Mother of the Bride Dresses, Wedding Dresses, Dresses, Fashion
Contact Info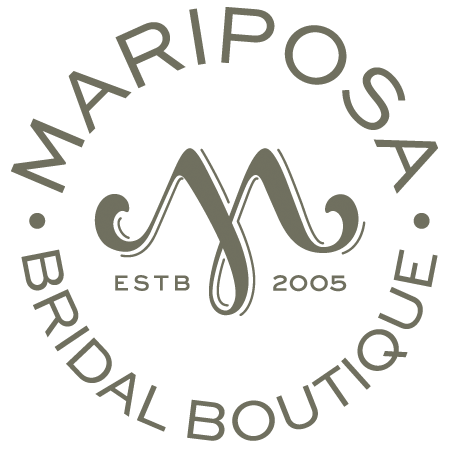 316 N Anaheim Blvd, Anaheim, CA
Great Experience!
Reviewed on

10/14/2014
Laura K
I had such a great experience at Mariposa. After trying on dresses at 4 other salons, I thought I wasn't going to have that "ah-ha" moment with a dress. But with Sandra's help I found the dress of my dreams! And under budget! She was so friendly and helpful, and made sure that me and my small entourage had a memorable experience. I even ordred my bridesmaid's dresses through them and am currently in the process of getting my wedding dress cleaned and preserved. Thanks Sandra!
---
An experience you won't forget!
Reviewed on

6/24/2014
Grace G
Mariposa was the best wedding shop i visited. Not only is this where I actually got my dress but the staff and place itself if awesome. It truly is an adorably chic boutique! The staff treats you family and was so accomidating to me and the 10+ family and bridesmaids that joined along! They allow champagne while you are there which my mom loved and they have a great selection of bridal as well as bridesmaids dresses! Truly treat you like family :)
---
Reviewed on

7/13/2015
Viri
Best bridal boutique! I came in not thinking I was going to purchase anything that day, Stephanie came up to me we talked about what I was looking for and about my wedding, she pulled a couple of dresses for me. I fell in love with the first one I put on. I had tried other places (2 to be exact) and the experience was uptight and frustrating but at Mariposa Boutique, it was quiet, classy, and relaxing. When I decided on that dress and we purchased the bottle pulled form the back complimentary of Mariposa Boutique was the perfect way to celebrate with my mom and one of my best friends. Thank you Mariposa Bridal for making my wedding dress shopping experience AMAZING!
---
Great store!
Reviewed on

11/04/2014
Lauren G
I had the best experience at Mariposa. A lot of other stores I went to weren't willing to work with my budget but Mariposa had more than enough options. Emily helped with my appointment and knew my vision immediately. The first dress I tried on was the one and was exactly what I was looking for. You cannot go wrong at this boutique.
---
Great Service
Reviewed on

10/21/2014
Kathleen H
Had Stephanie as my consultant and she was great! I told her what I wanted and she pulled about 6 dresses for me this was my first time trying on dresses. The first one I tried on is the one I chose! She was more than helpful through it all it literally took me 30minutes to chose lol probably set a record for fastest wedding dress ever chosen lol
---
Great service, dresses and prices!
Reviewed on

6/29/2014
Janeane B
Absolutely ADORED this boutique! My mother came out to California for a weekend to do my wedding dress shopping with me, so we had a busy two days planned. We went to 4 boutiques and I tried on about 40 dresses. Mariposa was the last place we went and we were not disappointed! From the moment we walked in we were treated like royalty. The setting is so beautiful and dramatic (and makes for some great photos!!) and Lindsey and all of the other girls are fantastic! The dress I picked was more elegant and striking than the one I was considering before going to Mariposa..... And it was cheaper!!! The prices are great, the service is great, and the whole experience is great. I bought my bridesmaids dresses here too and got a discount for getting my dress here. FANTASTIC!
---
Really great service
Reviewed on

3/27/2014
Danielle S
Emily at Mariposa was so amazing and so helpful. She was genuine and sweet and easy to work with. They were honest about the whole dress buying process and made it very easy for me. The only downside I saw was that my bridesmaids were really told to order the wrong sizes and all 5 of them had to take their dresses in by multiple inches. My wedding gown, however fit perfectly and I barely needed any alterations!
---
Great boutique
Reviewed on

10/19/2013
Amanda F
I bought my wedding dress here. The staff was very helpful and I found my dress on the first visit. They have a ton of dresses and accessories to choose from. I would recommend stopping by here to check out the dresses.
---
Lindsey found my dream dress
Reviewed on

10/04/2013
Danny M
As soon as you walk into Mariposa Boutique you feel like a bride and you will be immediately mesmerized by the decor and the rows and rows of beautiful dresses. Consultants are friendly and are invested in overall satisfaction. My consultant, Lindsay bought my vision to reality and found my wedding gown, simply from my pictures and describing my vision. There are several dresses with different price points. The only thing would be that accessories are beautiful but expensive. Also, I was not discouraged from purchasing a $100 bra that was not necessary for my dress as seamstress was able to add bra cups for $20. However, I had the best experience and I would highly recommend making a stop, at least for the experience.
---
Wedding Dress
Reviewed on

9/18/2013
Michelle M
Their selection here is amazing...so many dresses to choose from. I bought my dress here, and the sizing was off, so they willingly sent it back to get it remade. I'm still waiting on the new and hopefully improved dress.
---
Much better than David's Bridal
Reviewed on

8/14/2013
Rawan S
They don't have as many choices as David's Bridal, but the quality of their dresses are much better. They had a good range of wedding dresses prices that fit most budgets. The wedding dress that I bought was unique and extremely beautiful- I got so many compliments on it. I fell in love with my dress on my first day of wedding gown shopping (it was literally the third dress I ever tried on). I went to david's bridal just to make sure I wasn't missing out and I ended up buying the dress at Mariposa Boutique. The service was good- they always called to remind me of my appointments and provided good suggestions.
---
Helped me find the perfect gown!
Reviewed on

8/13/2013
Hanna S
They ladies here are great. They took my vision and quickly found a perfect dress in my budget. I wish they would have ordered a smaller size because I had to alter the dress in quite a bit and being that it was a corset back the next size down would have worked. They have a great selection and helpful staff. Selection and price of bridesmaids dresses aren't that great however.
---
BEST Service Hands Down!!!
Reviewed on

7/16/2013
Ashley I
We had horrible experiences at David's and a couple of other shops! We went to Mariposa and had Lindsay help us. She was awesome! No pressure, no fuss, and lots of quality inventory! We were even told when the trunk shows and sample sales were! LOVE this place!
---
great selection, wonderful experience
Reviewed on

7/14/2013
Erica R
As one of those brides who can't fit into the majority of sample sizes, wedding dress shopping was not always the most pleasant experience. But on my visits to Mariposa, they always made me feel comfortable and at ease. I mainly worked with Emily, but others as well (Coral, Lindsey), and it was always a great experience. The consultants at Mariposa were never snotty or judgmental, and offered just the right amount of advice and support. I originally tried on a dress at Mariposa that I didn't end up getting (Maggie Sottero Paigely) and returned on at least two occasions because I'm a bit indecisive. I found my dress (Maggie Sottero Karena Royale) at a different store, but wasn't thrilled with the consultant's attitude, so I called Mariposa to see if they could match the price. They did, and so I happily returned the same day to purchase my dress from them. I knew I wanted to make some modifications to the dress, including getting the sash in ivory instead of the weird chocolate, and replacing the bow with a flower. The consultants at Mariposa were at the ready to help me visualize what the dress would look like post-alterations. Also, there was a paperwork mistake that inadvertently resulted in my dress being ordered with the standard chocolate sash. Fortunately I noticed the error quickly and called Mariposa. They were more than happy to accommodate, covering the additional cost of the "custom" order. Another good thing about Mariposa is that they don't have an in-house alterations department, so they have no incentive to upsell you on alterations. Quite the opposite, they are happy to make suggestions on how you could theoretically save money on alterations. They referred me to a seamstress across the street, which I'm not sure I'd recommend (she did a good job but charged a lot more than I was anticipating and was sort of weird and pushy). But that's the beauty of it...you can go anywhere you want for alterations. Overall, I had a great experience at Mariposa and would highly recommend them!!!
---
Unpretentious, Yet Glamorous Experience
Reviewed on

7/08/2013
Rebecca B
I love my wedding dress from Mariposa Boutique in Anaheim, CA. The personal attention to detail was incredible, plus my dress arrived in two weeks, which was a welcome surprise. My bridal consultant made sure to find out if the dress was available in my timeframe before she let me fall in love with anything, and it worked. I was very open to her advice, knowing that she saw the dresses on real women and would understand their fit better than I ever could. The dress she chose was perfect and I felt like the most beautiful bride on my wedding day. The only small thing I would've done differently is ask for an opaque garment bag. The bag they gave me was clear plastic and hiding it from my future husband turned out to be a challenge, since we were already living together. Otherwise, the experience was great and I would recommend it to anyone wanting an unpretentious, yet glamorous experience.
---
Beautiful Dresses and Wonderful Customer Service
Reviewed on

6/14/2013
Karen L
I went to other bridal salons before going to Mariposa. My experiences were stressful - the consultants were pushy, snobby and would not allow pictures nor provide information about the dress, such as the name brand. I made my appointment at Mariposa and my wedding consultant was Coral. Upon my arrival I told her my budget, less than $1,000. She did not flinch. At other salons they told me I wouldn't be able to find a dress in that price range. Coral was very helpful and respectful. Mariposa is a couture bridal salon with most of their dresses being over $1,000 however, they do have some beautiful wedding dresses under $1,000. Coral pulled the wedding gowns for me and I was shocked when she told me I could have pictures taken in them! Everything about my appointment was amazing. With such great service I did consider going over my budget. Coral wrote down the all the information about the dresses - style number, designer etc.. and told me this was a big decision and to go home and look at the pictures and then make my decision. This was the first time I wasn't pressured into buying a dress. There were two dresses I absolutely loved so I went home and looked through the photos and knew which dress I wanted to buy. And yes, my dress was under $1,000! I went back and purchased the dress, Naheemah did my measurements - she was also great! I had heard from other brides that bridal salons try and make you purchase a dress that is a little to big so you have to have it altered. They don't do that at Mariposa! They had two people measure me and suggested I order the dress in a size 2 - my size! After I ordered my dress I was told my dress would take approx. 4 months to come in. A month after I ordered my dress it came in!! Wow, that was fast! I went in and had a fitting for my dress - it fit perfectly! Since my dress came in so early they stored my dress until I picked it up! Don't bother going to any other bridal boutique! This place has outstanding customer service and a great selection of couture dresses.
---
Vendor review - Mariposa
Reviewed on

6/12/2013
Robin C
Leann is the best part of the salon - she's amazing!
---
Good
Reviewed on

2/02/2013
Lisa E
Got my WEdding dress at a Bridal Show! it was beautiful! Got a Awesome Deal. Mariposa recommending me to a alteration place. Friendly and easy to work with
---
Review of Mariposa Bridal by Stella H.
Reviewed on

1/05/2013
Stella H
Mariposa Bridal boutique is an awesome place to search for and buy your wedding dress. The boutique is cute and has a great ambience to search for the dress amongst so many choices. I always had positive experiences at Mariposa thanks to the attendants that helped out. They were very effective at listening to the styles you were looking for and made sure to bring out dresses that matched that style and your budget. They were also able to give their opinion and share their knowledge to help you make your decision. Even though I did make my dress purchase here, I did not feel that they would've pressured me if I hadn't. They were very unbiased and was just effective at tending to your dress shopping needs. The prices of the dresses are also reasonable. They were sure to communicate updates about the status of your dress. There was one mistake they communicated to me about the process of hemming my dress but they made up for it by taking care of the cost of part of my alterations. I appreciated that they were upfront about that and provided a fitting resolution. Unfortunately, they don't have in-house alterations and will refer you to the seamstress across the street (you can search for my separate review on Harmony Alterations). Overall, Mariposa provided me with an amazing wedding dress shopping experience and ultimately my dream wedding dress.
---
Saw them at a Bridal SHow
Reviewed on

1/03/2013
lily g
I found my dress at a bridal show where this boutique was at. The staff there were very professinal and helpful. I did not have the experience of going into the shop but they did a great job making me feel amazing at the bridal show.
---
Spectacular Service
Reviewed on

12/03/2012
Stephanie M
I tried on about 100 dresses in my search. I am a plus size bride and it was an extremely difficult and emotionally draining process. I ended up finding a dress at another store, whose customer service left something to be desired. So I decided to go back to Mariposa, who had the friendliest staff of any store I had visited, to actually order my dress. Unfortunately, when my dress came, it was a disappointment (through no fault of Mariposa's). I ordered sleeves to be added by the designer, and they were a disaster, plus the dress was far from fitting (my own fault). The only thing that might have helped was if they actually had a seamstress on site, who might have saved me a lot of money and stress. (They have a recommended seamstress, who I brought my dress to before deciding to save money and start from scratch with a new dress). But back to Mariposa...always friendly, always helpful, spectacular selection. I always recommend them to fellow brides :)
---
Great Shopping Experience
Reviewed on

11/06/2012
Cat N
I went to Mariposa twice. The first time was wonderful. I was able to try on the dresses I picked out as well as some that the consultant picked out for me according to what I liked. The second time was to bring my mother and my sister to see the dresses I liked. In the end, I chose the dress that the bridal consultant chose for me, but I bought it at a different boutique because I was able to bargain down the price.
---
Worth the drive from LA!
Reviewed on

11/05/2012
Kira G
I have nothing but compliments for Mariposa! Fantastic selection of samples to try, wonderful staff, very inviting atmosphere and changing rooms and mirrors, delivery as expected and good pricing. Highly recommended. Excellent staff and customer service too.
---
Big Selection
Reviewed on

10/25/2012
Jill T
Mariposa was the second bridal shop I went to in search of my gown (and I bought it on that visit). The girls who work there are very friendly and accommodating. They have a huge selection of dresses in a range of price points and styles. I went back with 2 of my bridesmaids to find dresses for them. That selection is not as big as the bridal gowns, but they still have a lot. If you get your dress there, you'll get a 10% discount on the bridesmaids dresses too. They're a little slow on returning phone calls, so you're better off just calling a bunch of times till you reach someone.
---
Happy Bride!
Reviewed on

9/21/2012
Bianca G
Walked into this boutique on a whim to look at bridesmaids dresses and they didn't really want to help me because i didn't have an appointment and they were pretty busy. After looking around a little on my own one of the sales girls (Jessica) offered to help me because she finished with her appointment. Jessica was so amazing that i found the perfect bridesmaids dresses and had extra time to look at some for myself. Jessica started pulling dresses based off of what I told her I liked and found the perfect one for me! She willingly stated there over an hour after the store was closed while i went round and round with dresses. To my surprise, almost 2 hours after closing my bridesmaids and myself walked out with our dresses ordered and happy as could be!
---
Send Message