Home

Matt's DJ Service Photo Booths, Up Lighting and more!
About this Vendor
BOOK THE BEST ™
Matt's DJ Service LLC, is a locally owned and operated business. We are pleased to offer our customers state-of-the-art lighting and audio equipment. No show is too big or too small. We offer world-class sound equipment that delivers exceptional sound quality. Call today for more information.
Details
Arabic, Classical, Country, Dance, Disco, Folk, Hip-Hop, Indian, Jazz, Klezmer, Latin, Persian, Pop, R&B, Rock, World Music
Ceremony, Reception, Wedding
MC Services, Sound Equipment, Music





Contact Info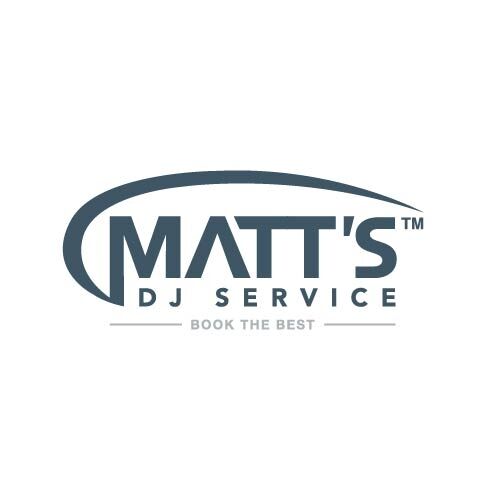 Best Night Ever
Reviewed on

10/27/2014
Jessica M
Matt's DJ service made our wedding dance the best ever. Our DJ, Nick, was very professional and organized and made sure everything ran smoothly. The dance floor was packed the whole entire night. The hall had to kick everyone out because nobody wanted to leave! We also had the... Read More photo booth service through Matt'sDJ service. People constantly gave compliments about how fun it was and we have all the pictures to prove it! It was such an awesome alternative to a guest book. Overall, our wedding would not have been as great if we did not have Matt'sDJ service and I recommend them to all my friends who are getting married.
---
I could really tell the difference in quality.
Reviewed on

8/28/2014
I've been to many of my friends weddings some of them had Matt's DJ Service and some did not. I could really tell the difference in quality. I knew that I wanted Matt's DJ service for my wedding. We booked about 16 months before our wedding last weekend. They were easy to work... Read More with the entire way. When It came to our big day. The dance floor was filled all night. I'm really happy with our choice of a dj for our wedding. I would recommend Matt's DJ service to anyone looking for a great dj service.
---
Awesome DJ/Uplights!
Reviewed on

8/25/2014
Kristin H
We used Matt's DJ service for our wedding last month. They were awesome! Excellent customer service- made sure to go over all details with you/ answered any questions right away! The music kept our guests on the dance floor having a great time, everyone had nothing but great... Read More things to say afterwards. The up lighting looked beautiful and i loved the lights they used by the dance floor that made the ceiling look like it was a starry night. We had a great time at our reception and Matt's DJ service was a big part of making sure the party was a hit! Thank you!
---
Reviewed on

3/03/2018
Courtney S
We had some slight issues with our DJ not following the plan we had discussed, but Matt's DJ service made it right and were overall good to work with. I would definitely recommend them! We did not use a photo-booth through them, only music.
---
Reviewed on

12/11/2017
Michelle
Dave was amazing! He kept to our list and kept the people dancing the entire night. We loved the photo booth and the up lighting.
---
Reviewed on

11/08/2017
Hailey M
Alex was our DJ from Matt's DJ. He was wonderful, he kept the party going all night! The dance floor was full! He was very friendly and really listened to us on our music selection! Great to work with and organized. We had so much fun thanks to Alex! The day of the wedding Alex... Read More was so organized. Before our grand march, Alex came over to us and went through the plan. We told him we wanted to cut the cake sooner after he talked with the caterer a few days earlier. He had already talked with the caterer and even told our photographer so she could be ready to take photos! Highly recommend to anyone looking for a DJ for their wedding!
---
Reviewed on

10/31/2017
Kelsey H
We had an awesome night! Several of our friends had Matt's DJ and we knew we had to get them. It was great to dance all night.
---
Reviewed on

8/21/2017
Brittany F
This DJ was awesome! Very energetic, upbeat and lively! Knew how to keep the dance floor going!
---
Reviewed on

6/28/2017
Andrea L
Music kept everyone going the entire night! Photo Booth was hysterical! I can't wait to see more pictures.
---
Reviewed on

6/12/2017
Megan Z
They did a great job matching us with a great DJ that kept the dance floor full!! The photo booth was a huge hit too!
---
Reviewed on

5/30/2017
Jenny J
We had a great experience with Matt's DJ Service. The DJ (Joe) who was assigned to our wedding was great! He was able to make all our requests and ideas come to life and kept the party going and people on the dance floor all night long.
---
Reviewed on

5/21/2017
Amy B
Our DJ was amazing!!!!! All of our guests commented on how much they loved our DJ!! he started out strong and it continued all through the night! I honestly don't think we could have found a better DJ service!!!
---
Reviewed on

3/29/2017
Connie S
Awesome DJs! They were great at my wedding!
---
Reviewed on

3/14/2017
Abagail P
Matts DJ Service did an awesome job at our wedding. Kept everyone out on the dance floor! My DJ made a couple phone calls to consult with me on things I liked and didn't like to make sure we had an awesome experience!! We even had a big last minute change in our wedding party... Read More and he made everything go smoothly!
---
Reviewed on

11/13/2016
Jaimie S
DJ was friendly open to requests and had people dancing all night!
---
Reviewed on

11/04/2016
Charity B
Our Wedding was Oct 29, 2016 and Mitch & Noah did a fantastic job! We had a traditional ceremony, a taco buffet but then we ran with a costume party instead of the traditional reception. The photo booth was a huge hit, and Mitch did an amazing job with the costume contests, he... Read More kept the music going and the crowd dancing. From the kids to the adults, everyone had an absolute blast! We can't recommend these guys enough. And Pam took all of our craziness from planning in stride and was a HUGE help!!!
---
Reviewed on

10/18/2016
Amanda S
Couldn't have been more happy with our DJ!
---
Reviewed on

10/07/2016
Nicole E
We used Matt's DJ service and were assigned to Alex. He was simply the best! We had 9 other weddings this summer other than ours and at each wedding we were thankful those DJs weren't the ones we picked because they would "steal the show" or play nothing but the oldies and not... Read More so goodies despite the youngness of the crowd. Alex was the complete opposite. He clearly knew what he was doing, worked VERY well with our videographers, was very considerate and attentive to my husband and I and honestly packed the dance floor the entire night which was exactly what we wanted. Alex at Matt's DJ Service was a HOME RUN!
---
Reviewed on

8/19/2016
Kim K
The best weddings are the weddings that have a packed dance floor all night (in my opinion)! And that's exactly what our DJ, Will, provided us with! I love how they asked us what genres we liked and disliked and if we wanted any specific songs played throughout the night.... Read More Will didn't play a single song that we didn't like and played every song we requested! If there was a song that was requested that he wasn't sure we would like he would first ask me what I thought (only happened twice). He could read the dance floor and what people wanted to hear. My husband and I reflected on the night and we realized that there was only 3 slow songs played and the rest of the night was a party! We had so many guests of all ages (whether they danced or not) say they had a blast at the wedding! Our reception ended at midnight and we still had 50+ people on the dance floor! We did have some technical difficulties with the mic, but Will was a professional and addressed it with us early in the night. We came up with a quick solution and the problem was solved. We also ordered the Photobooth through Matt's DJ Service and that was a HUGE hit! They have the best props and it's very easy to use! There were always people waiting in line to get in! At the end of the night we got an album with all the photos taken and a USB with them! Lastly, we ordered the uplights and they looked fantastic! The only flaw that I experienced with Matt's is the communication wasn't as good as I was hoping for. Planning a wedding is stressful and on top of it I started a new career a month before our wedding so I lost track of things. I got an e-mail at 10pm a week before our wedding saying my payment was past due. We booked Matt's 1.5 years before our wedding, so there was no way I was going to remember that last payment. A reminder a month out would have been awesome.
---
Reviewed on

5/25/2016
Jessica S
Uplighting, photo booth, music during dinner, a slideshow, they do it all! They made the reception great and had everyone out on the dance floor! By far the best vendor we worked with during our wedding!
---
Reviewed on

5/04/2016
Last Saturday, I attended a wedding in Oshkosh where Matt's DJ Service was the DJ. Nathaniel, the DJ, kept the party going. He played tons of music that everyone there loved, and did a great job to make sure he kept the dance floor as packed as possible. Between that and the... Read More Matt's DJ Service photo booth that was there, we had a great time. I am actually engaged and in the beginning stages of planning the wedding, but I know who our DJ is now.
---
Reviewed on

4/04/2016
Everything was great! We saw Matt's at several friends wedding and we knew they were the dj that we wanted. Everyone was out on the dance floor dancing the entire night. It was a great time. :)
---
Reviewed on

4/01/2016
Gabrielle C
My DJ was great! He got everyone out dancing, even people I never expected to dance. He went out of his way to make sure my wedding was perfect, even offering the head table drinks during the dinner music! The uplighting was beautiful, the dinner music was a perfect mood setter,... Read More and the dance floor was packed all night. You can't ask for better service from an entertainment service! Overall, I would definitely recommend Matt's DJ Service
---
Reviewed on

3/28/2016
Thank you so much for your services at our wedding. Everyone had such a great time and we still keep getting complements about the entertainment :)
---
Reviewed on

3/10/2016
Matt's DJ Service was great. They were totally my favorite vendor of the night. My gusts were dancing all night and everyone loved the photo booth. Thanks again!
---