Home

Millennium Biltmore Hotel Los Angeles
The Inside Scoop
---
FROM THE KNOT EDITORS
The First Look
There is no end to the beauty that enriches the Biltmore Hotel in Los Angeles. This venue is absolutely breathtaking and will make any couple feel like royalty on their wedding day. The space is decorated and designed in the Italian Renaissance time period with elaborate gold and balconies and columns throughout. If you want a unique venue for your Los Angeles wedding, this is it.
The Crystal Ballroom is a stunning space with balconies surrounding the first floor dining room. Tastefully decorated with gold and cream throughout, the rich colors of the rug play well with any wedding style you choose. The dramatic windows increase the grandeur of the room. This space can accommodate roughly 200 guests depending on the style reception you choose.
Bernard's Banquet is a bit smaller for a more intimate wedding. The rich wood paneling on the walls and the unique rug create quite a warm atmosphere for a simple celebration with close friends and family. The capacity of this room is between 75 and 100 depending on the arrangement.
Biltmore Bowl is another room at the venue that is quite massive. Although the exact capacity is unknown, you can accommodate a rather large wedding reception in this gorgeous room. The rich red in the run and the gold on the walls are gorgeous and will enhance any decorations.
Corinthian Room has gorgeous wall details, ornate floor covering and high ceilings for a feeling of spaciousness. This room is well-suited for a bridal shower or engagement party, but can also be used for very small wedding receptions.
The Emerald Room will leave you speechless. The incredibly detailed floor covering, the massive Roman-style columns and the large mirrored, walls offer a special space for a ceremony to remember. Have chairs set up on either side of an aisle and make the space into a chapel of sorts. Although the exact capacity is not known, the space can certainly hold a large amount of people.
The Gold Room is perhaps the most ornate of all the spaces. With a gated entrance in place of doors, a circular stage with a grand piano in the center and dramatically decorated arched windows, this space is unlike any other. The angels at either side of the gates truly make the space feel ethereal. Every couple will feel the beauty of this room.
The Tiffany Room is a vibrant room with square columns instead of circular along the edges of the space. This space is a great place for pre-reception cocktails and hors d'oeuvres. Dramatic high-top tables scattered about the bright rug will get your guests extra excited for an evening of celebrations.
What You Should Know
When planning a wedding, the to-do list can become quite overwhelming. Enjoy your engagement and let the professionals at the Millennium Biltmore Hotel take a load off.
When you first book with the hotel, you will be in touch with an event coordinator to help you each step of the way. This person will be the link between you and your ideas and wants for the wedding and the staff who will execute those wishes for you. The coordinator will also answer all your questions, concerns and requests about the venue and the regulations.
The next relief when you book with the hotel is the on-site catering. This takes an immense amount of work off and will make organizing the reception so much easier. All you need to do is go to a tasting with your fiance, pick out a menu and leave the rest to the chef and his team of culinary experts.
Extra Perks
A few extra perks that will certainly sweeten the deal with the Millennium Biltmore Hotel are:
Tables, linens, chairs
Handicap Accessibility
On-site accommodations
Audio & visual equipment
Event planning team
Outside vendors allowed
From the Vendor
Elegant Wedding Events in Historic Landmark Hotel
The historic Millennium Biltmore Hotel has been the romantic setting of storybook wedding events for more than 90 years, making your dream day come true. Five spectacular Spanish-Italian Renaissance ballrooms offer sophistication and elegance, while our on-site catering manager and entire staff will help produce a flawless, unforgettable experience. Let us make your wedding extraordinary.
Amenities + Details
Amenities
Handicap Accessible

On-Site Accommodations

Indoor

Reception Area
For more details about amenities, please message the Venue.
Ballroom, Historic Venue, Hotel
Bar + Drinks, Food + Catering, Service Staff
Contact Info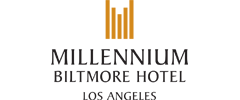 Reviewed on

11/30/2016
Loren O
I can't say enough about the Millennium Biltmore Hotel and how amazing it was to be able to have my wedding reception there. When I was first looking at wedding venues, I did not initially check out the Biltmore. However, my then fiance and I walked into the hotel after a... Read More disappointing visit at a different venue. My fiance immediately fell in love with it and wouldn't stop talking about how beautiful it was for weeks after. I was afraid that we were not going to be able to afford such a beautiful place but after meeting with the events coordinator, Sari Rose, it slowly started to become a reality! Sari was amazing with us, she helped us fit the wedding package to meet our budget and was beyond kind and helpful. She was incredibly responsive with with any questions that I had and her team made sure to help us have the wedding of our dreams. I loved that everything was included in the wedding package, right down to the wedding cake and a wedding night suite. I even had a "ready room" available to me the entire day of the wedding for me and my bridesmaids to get ready in. The food was absolutely amazing! We received so many compliments on how great everything tasted. The wait staff was also amazing. They were extremely attentive and accommodating - you can tell they put a lot of love and effort into their job. Our cocktail hour was help in the Bernard's room and our dinner and dancing were in the Emerald Ball room. The rooms were so beautiful, they barely needed any decorations! The only decorations I had to purchase were the center pieces! In summary, I loved having my wedding at the Biltmore and couldn't have asked for a more perfect venue to compliment my perfect day. My husband and I can't wait to return for our one year anniversary!
---
A Dream Come True
Reviewed on

11/12/2014
We are so thankful that we choose the Millennium Biltmore for our wedding. Sari Rose took such wonderful care of us and our wedding. We could have not wished for anything more. For the almost year leading up to our wedding, we always knew we were in good hands. Sari made... Read More herself available to us to answer every question that we had and always helped us find the perfect solution. However, nothing could have prepared us for what to expect on our wedding day. Sari and the Biltmore staff made us feel as if we were the only guests in the entire hotel was certainly not the case. In the wedding day frenzy, there was always a host of attentive and gracious hotel staff just an arm's length away to attend to our every need. Sari and the Biltmore staff were with us every step of the way. In fact most of the time, Sari and the Biltmore staff knew what we wanted and needed before we did. In the months since the wedding, every time we see a guest they are still raving about not only the quality of the service but about the quality of the food and drinks. Without fail our guests tell us that the food was absolutely divine and that the drinks were free flowing :-) Universally, they tell us it was the most lavish and excessive wedding that they have ever attended in their life! Thank you, Sari! We could not have done it without you!
---
WOW! What a pleasant venue to work with!!! Sari :)
Reviewed on

8/06/2014
Where do I begin? After my fiance and I were in search of a venue in LA for our wedding, we finally dropped into the Biltmore and met with Sari. Let me tell you, we met with many coordinators, planners and venues. High end to mid range. Sari at the Biltmore had me sold from the... Read More very beginning. Not only did she show herself to be exceptionally professional and generous, her overall attitude was just what we needed. Any minor request or detailed suggestion, to simply make our experience better, was delivered. Not one issue with Sari. She was efficient, responsive, professional, and extremely knowledgeable. She has a background from another large hotel group, which I also met with. Since she joined forces at the Biltmore, WOW my expectations were blown away. She was a breathe of fresh air to work with. She was event present the day of our wedding to make sure everything went well and up to her standards!!! We were so satisfied with her work, I have referred people to her since. Even my wedding planner who's pretty known in the industry was so pleased with her, I think they're working together now :) Sari worked with us in every dept of planning our wedding. She was so hands on, I felt like I needed to pay her extra just for her good will because I'm not used to this type of behavior. She worked side by side with all my vendors, met with our caterer, worked with my planner and florist, assisted in the smallest things that from the outside may not be noticed but let me tell you, THEY MATTER. If it weren't for Sari, my experience would have been completely different. It's possible we might have even gone with a different venue to be honest. She even called my cell a couple weeks after the wedding to follow up, see how I was doing, if all went well, if there was anything I needed, etc...I have to send her a gift in the mail for everything. Whoever is considering to use the Biltmore, I STRONGLY encourage you to speak with Sari. Trust me, you won't be disappointed.
---
Absolutely stunning!
Reviewed on

7/31/2014
Michaela B
As soon as my fiance and I saw the Crystal Ballroom we were set. We worked with Dave and he did an amazing job organizing the event and working with the chef, rentals, and our families. Everyone working here was very professional and patient in answering our questions or... Read More promptly returning emails. I highly recommend for any glamorous affair.
---
Disappointed
Reviewed on

7/02/2014
Ronda A
My wedding was beautiful. Got lots of compliments. Food was delicious-especially the horderves. PSAV are awesome and pleasant to deal with. The hotel staff/service was great and my guests were very happy. Karen at Portos is great. beware: Hotel room was nice but not that... Read More clean and a bit worn. I wouldn't go necessarily go with the recommended vendors. Some weren't that good and you do have a choice. The main contact for the venue (Sari) is nice until you sign the contract then - is nearly impossible to get ahold of. I practically had to stalk her to get answers - If you don't go with a recommended wedding planner then she will make your life difficult but if you do then she will scheme with them to recommend things that are not needed and overcharge you on everything - did not submit my final seating chart so my wedding planner had to do damage control and find my guests places to sit at different tables - I requested well done steak and it was rare and slightly bloody - told me linens were always included then closer to the wedding date asked where I would be getting linens and tried to charge me more for them - did not tell me the hotel booked a Football party and sports team mascots would be walking up and down the beautiful hallway and T-shirt vendors would set up in the hallway so when I arrived in the morning for my wedding I was shocked, embarrassed and of course never got my beautiful photos in the hallway because it looked like Venice beach - T-shirt vendor set up in front of the coat check that I paid for so after ringing her phone off the hook and calling her boss she offered a portable metal coat rack rather than moving the T-shirt vendor - My fiancé did manage to get her boss (not her) to agree to set up tall plants along the edges of the T-shirt vendors booths to hide the tackiness of the booths, but again this was not something we needed to deal with on our wedding day and it was very stressful. We were disappointed by the way we were treated. They had our money at that point and I guess that is all that mattered to her.
---
Review for Bridal Suite and Grooms Room
Reviewed on

7/29/2013
Mollye K
I love the Biltmore and it's history, but the rooms didn't sparkle like the rest of the hotel. I used the Biltmore for my bridal suite (a non-club level junior suite) and the grooms room (club level king bed room.) The grooms room was very small, but the decor on the club level... Read More is very nice. The junior suite, was very spacious (and boy, did we use ALL of the space!), but the decor was a little dated. There were also issues with cleanliness in the room - there was some sort of mystery spill on the bed skirt that was very obvious. (I stayed at the hotel about a week later for an event in a club level king room and it had a similar bed skirt stain, maybe they're difficult to remove and clean, but a little spot cleaning would have probably done the trick.) The room was also not serviced the day of the wedding and we came back to no towels and a messy room on the wedding night, so that wasn't fun. But...the worst/funniest/grossest thing that happened was when I was sorting out all my stuff the day before the wedding I was in the living room and my foot brushed under the sofa. I felt something with my bare foot (I thought it was something I had dropped) and I flicked it out. It was something white and shiny. I bent down to pick it up and it was a dental implant. I screamed and dropped it on the glass top or the coffee table in the room. It soared onto the floor across the room. I got a tissue, picked it up, and called the front desk to get it/them. I laughed a lot in a state of shock. I decided someone probably had a really bad night in the suite or a really awesome one. Either way they lost their teeth and I got a fun story. I still love the Biltmore, but I don't know if I want to stay the night any time soon.
---
Very nice
Reviewed on

3/26/2013
Sofia B
We stayed in a regular room, and it was very nice and comfortable. The hotel common areas were absolutely beautiful. Great location with walking distance to a Coffee Bean! Loved our stay there, but very expensive.
---
Fairy Tale Wedding
Reviewed on

7/18/2012
Danielle P
My guest were able to easily book their rooms through the discounted rate. The rooms were close to one another. I gave the concierge gift baskets to hand out to those guests staying at the hotel on our behalf and they were more than accommodating.
---
Opulence
Reviewed on

2/09/2012
Taleen A
It was the wedding of my dreams. The staff truly goes out of their way to make everything you want happen. Valerie is amazing!
---
Millennium Biltmore Hotel
Reviewed on

9/27/2011
Amanda H
I could not have picked a nicer place to have my wedding reception. (Thanks Dad!) Valerie Lehman and her staff are out of this world! They really pulled out all the stops for me and my husband as well as our guests on our wedding day.This hotel is gourgous and any of the banquet... Read More rooms would be a great pick for your wedding. I had mine in the gold room. Not to mention all the beautiful places to take photos.I really can't say enough great things about the staff, they were wonderful!
---
best venue ever!!!
Reviewed on

7/17/2011
Monica B
I recommend this Venus to anyone who wants to have a beautiful and classic wedding that they'll never forget! I can't say enough great things about the Biltmore. Muhammad was our captain for the night and he was excellent!!! The food was great and my glass of champagne was never... Read More empty. He was very professional and went above and beyond for the weren't party and our guest. They exceeded my expectations!!!
---
25th Anniversary
Reviewed on

2/02/2011
Marie v
Those my celebration was small compare to most...they treated my guests and our wedding party like we were the only ones there....
---
Service was good
Reviewed on

1/04/2011
Diana H
Service was good
---
Beautiful and awesome service!
Reviewed on

8/25/2010
Cynthia N
This place was the best! Totally magnificent! Valerie is the best, the food is great! The service deserves a 10! Its pricey but TOTALLY worth it! We had our ceremony in the Emerald Room and our Receprion in the Crystal Ballroom.
---
A venue fit for a princess
Reviewed on

8/09/2010
Andrea S
The Millenium Biltmore Hotel caters to the bride and grooms every need. The staff was overly helpful and friendly, spoiling the groom and bride. The hotel's architecture is exquisite, elegant and just overall beautiful.It is a venue fit for a princess. There is so much... Read More history. It is hard to find such a beautifully decorated and built hotel that encompasses a regal, elegant and classy theme.
---
Review for Millennium Biltmore Hotel
Reviewed on

5/10/2010
Sara C
Valerie Lehman answered every question we had promptly and helpfully; Brian the bar manager went out of his way to welcome us and make us feel taken care of; the bride was upgraded to the Presidential suite the night before the wedding!;You'll probably see the other brides... Read More having events in the other rooms. Also tourists tend to get in the pictures!
---
Review for Millennium Biltmore Hotel
Reviewed on

5/10/2010
Paola A
Historic, elegant, ornate.
---