Home

Millennium Knickerbocker Hotel Chicago
About this Vendor
Creating a Lifetime of Memories
Few venues match the splendor and beauty of the Millennium Knickerbocker hotel. Located on the famed Magnificent Mile, the Knickerbocker emanates the allure and glamour reminiscent of the 1920s and 1930s. The Crystal Ballroom is a venue rich in history, elegance, tradition and is the setting for many prominent weddings. Nothing compares to the ballroom's gold-gilded ceiling and exclusive ambience. It's the perfect place for your urban fairytale wedding. Whether you are planning a glamorous dinner reception for 275 or an intimate dinner reception for 50, we have the space in a timeless setting.
Amenities + Details
Amenities
On-Site Accommodations

Indoor

Reception Area
For more details about amenities, please message the Venue.
Ballroom, Historic Venue, Hotel
Food + Catering, Planning, Service Staff
Contact Info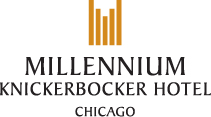 Reviewed on

12/06/2016
Kelly P
I cannot begin to say enough good things about my wedding at The Knickerbocker! I began the process back in January, and The Knickerbocker was the first of 12 venues that my husband and I saw. We had a meeting scheduled with Mark Johnson. Our first meeting with Mark was... Read More effortless. He was kind, very thorough, and interested in getting to know my husband and I. I did not feel like "just another couple" with him. As the months went on, Mark continued to be forthcoming with details and information, which I really appreciated. I did not feel like I had to hound him down; he was always two steps ahead of me. The few days before the wedding were so easy because of the staff at the hotel. According to our guests, the food was great, the dance floor was stellar, and the hotel blocks were very reasonable. They also said the dinner was staffed and timed perfectly. I would recommend The Knickerbocker to anyone who is planning a wedding and wants an unique 1920's style wedding!
---
My fairytale wedding came true!
Reviewed on

11/03/2013
Carina
I cannot say enough amazing things about the Knickerbocker and the wedding coordinator Victor Zarroli. They made our dream wedding come true and were extremely wonderful to work with. I knew that I wanted our wedding to be at the Knickerbocker, long before my husband ever... Read More even purposed. We attended a charity even in 2010 and fell in love with the Crystal Ballroom. Three years later when my husband popped the question, I knew that the Knickerbocker had to be our venue. After meeting Victor the wedding coordinator, there were no other options. Victor is fabulous and is attentive to al of your needs and answers any of your questions. The staff at the Knickerbocker go above and beyond to ensure that your big day is everything that you've wanted and that it is perfect. The food is outstanding and the service is exceptional. Your guests will love the light up dance floor and the white glove service that is provided to them. I couldn't have asked for anything more on our special day and highly recommend the Knickerbocker.
---
My Dream Wedding Come True!
Reviewed on

8/14/2013
Jacqueline R
What I wanted: An architecturally interesting, historic, unique, chic & classy venue in downtown Chicago. I got this and more at the Knickerbocker Hotel! My husband and I looked at pretty much all the other comparable venues in Chicago and this was the ONE! Not going to... Read More lie, if we were millionaires my first pick would have been The Blackstone, but the much more "affordable" Knickerbocker won out. It was "love at first sight" when we entered the Crystal Ballroom for the first time. It is such an unforgettably beautiful room that we did not have to worry too much about decorations. Can't forget to mention the light-up dance floor here - the guests just loved it (especially the kids!!) I also found the "all inclusive" wedding package (includes the space, table/chairs/linens, food, drink, cake, champagne parade, etc) to be a wedding planning blessing. Since the Knickerbocker has only one ballroom, you don't have the share your big day with other wedding parties, which makes it that much more special! I also liked the separate cocktail hour spaces. Chef Valeria Benner was ABSOLUTELY amazing and we got a ton of compliments about the food; from several guests even heard that the "filet was cooked just perfect" (never heard this before at a wedding). The fact that our guests could also stay at the same place as the reception was a huge plus, and yet it didn't feel like your typical hotel wedding. As the bride and groom, we got the Bridal Suite comp'd for two nights(ahhh it was so amazing I didn't want to leave!). If you are having a large wedding (200+), don't hesitate to ask them to throw in some stuff... You never know unless you ask! :) Most importantly, Victor Zarroli, the Catering Manager, was with us from day one and made the planning both a breeze and a blast! He was sure to accommodate any requests and was just an absolute joy to work with! We were so happy when Aleen joined his team later in the year, because she proved to be a huge help and was such a pleasure to work with - great attitude, so patient & so sweet! She even helped us get our guest favors' for a great price with her connections! I could go on and on about this place, but in the end, all that really matters is that I would never even think about changing our wedding venue - it was absolutely perfect for what we wanted and just as important, our guests enjoyed themselves immensely! The service team, especially Victor, really came through on the wedding day and made me feel like a princess! I had no worries on my wedding day thanks to them!
---
Reviewed on

10/18/2017
Hillary R
My husband and I fell in love with the Knickerbocker and their Crystal ballroom as soon as we saw it. I loved the feel of the boutique hotel and the history. We knew that was our venue at that moment for our wedding day! As a Bride you understand that not everything will go as... Read More expected on the day of. What you don't expect to go wrong is your dinner service. Where do I begin? I'll start off with, myself and my husband were not served first nor was our bridal party. I received the wrong entree and had to tell the servers what I ordered. It was brought to our attention by our bridal party that they were not served the correct entree during dinner service. They were supposed to receive steak and all of them received chicken because the servers said they ran out of steak. We brought this to the attention of our Coordinator at the Knickerbocker and he spoke to the banquet manager, yet their mistake wasn't corrected nor addressed. A few days after our wedding we spoke to some of our guests, and the majority of them did not receive the entree they requested. They told us that they had to switch entrees at the table with other guests at their table because the servers gave them the wrong entree and would not provide them with what they ordered. In addition, they said the servers were not polite. This is not only embarrassing as a Bride and Groom, but for guests that have food allergies is unacceptable! I provided a key to the Coordinator a week in advance, in addition to individual guest names with entree choices. The banquet manager told me that the initials what I used for my key they interpret differently typically. For example, I used "F" for fish and "S" for steak. The banquet manager said that 'F' is used for filet and 'S' for salmon. Then what was the point in me providing a key if they weren't going to use it?? I contacted the Coordinator at the hotel by phone and email a few days after our wedding and wanted this addressed immediately. We received no response back from anyone at the Knickerbocker! On top of that, the Coordinator and I made some adjustments to our agreement that was not communicated to accounting. Due to this, my card was charged for fees that the Knickerbocker did not inform me of beforehand. Overall, the communication at the Knickerbocker between the Coordinator and banquet manager was terrible. Someone dropped the ball, yet no one was willing to take the blame or address the issue to make my husband and I happy for their huge inconvenience to us and our guests. This is very disappointing. I wanted to post this to caution any future Bride and Groom that book the Knickerbocker for your wedding venue, so that this does not happen to them. Hoping I can save a major issue like this on your big day!
---
avoid
Reviewed on

5/27/2014
Clare
We were very, very unhappy with the customer service at this venue when exploring it as an option for a wedding. Rude is a polite term for the attitude towards our party.
---
Perfect for Vintage/Romantic Wedding
Reviewed on

3/25/2014
Kala C
The staff at the Knickerbocker are unbelievably accomodating - especially throughout the wedding weekend. From the moment our guests arrived they were waited on nonstop. The months and weeks leading up to the wedding were very stress-free due to the catering department's... Read More flexibility and organization. The ballroom is absolutely gorgeous! It's a must-see!
---
A Venue to Dream About
Reviewed on

10/18/2012
Kimberly P
My husband and I didn't have a difficult deciding on our venue – the moment we walked into the Knickerbocker's Ballroom we knew. It's rich history and beautiful aesthetic is difficult to compete with! Chicago's only light up dance floor was the icing on the cake;). The... Read More Knickerbocker has by far one of the most beautiful Ballrooms - if not the most beautiful! It's nice that the hotel is a boutique hotel so my wedding was the only event going on at the hotel. (As opposed to the Drake where there could be 3 going on!) Overall, the hotel and service was great. The food was AMAZING and I love that they team with Sarah's Pastries and Candies for the cake. My only complaint is the Catering Manager situation... They had a high turnover in management while I was planning – so either make sure you're willing to be on top of what's going on or hire a coordinator. Luckily, the Catering Captain Luis (who has been there for over a decade) was amazing to work with and truly passionate about making it a successful day.
---
Amazing Venue
Reviewed on

1/24/2012
Lisa D
When I looked at pictures of the Knickerbocker Hotel I immediately thought...No. I do not like gold, the light up dance floor is cheesy, absolutely not. Then I went there and I am so glad that I did. The venue is absolutely breathtaking. Pictures do not so the Crystal... Read More Ballroom justice in the least. The gold, and there is a lot of it, is beautiful and captures the feeling of Old Chicago. The light up dance floor is so fun and large! We actually had our head table on part of the floor because it is just so very big that you need some of that room! The staff was amazing and they did everything to make sure we were taken care of, even after losing several members of their staff over the year we planned they still made sure we were taken care of first. They did a great job.
---
AMAZING
Reviewed on

11/20/2011
Lauren G
We literally looked at one place for our wedding which was the Knickerbocker and fell in love! Not only is the room/light up dance floor amazing but the day of the wedding everyone was amazing! We were worried about the food at the hotel only because many of the weddings we had... Read More been to in hotels before were well below what our expectations were but every last thing was delicious here. Everyone is still raving about how good the food was. I would 100% recommend this hotel anyone who is looking for a place in Chicago to get married!
---
Beautiful Place, Terrible Customer Service
Reviewed on

11/07/2011
Elise N
So this place is absolutely amazing and beautiful. However, the customer service made the whole experience a disaster. Fortunately nothing was seen by our guests so it was mainly just added stress for us but it was handled so poorly, I have a hard time recommending working... Read More with the Knickerbocker in the future. I agree with the first review about Mimi Lopez, she was AMAZING! Honestly, she was the reason we chose to have the wedding at the Knickerbocker. She sold us on the all inclusive package and the ease of having the ceremony and reception in one place for our out of town guests (which was the majority). However, 10 days before our wedding, Mimi left the Knickerbocker for another hotel and we got stuck with Kelly. She dropped so many balls on our wedding day and the day before and was so unavailable both days that it was so much more stressful than we were promised our wedding day would be during the sales process. When my mother or I or my husband talked to her about it, she just tried to placate us with nice things to say but no real acceptance of responsibility or a commitment to make it better. She actually made it sound like it was our fault...somehow. The details of all the things that went wrong are not important right now and granted, some of it may have been because of the transition between Mimi and Kelly, but honestly, there are better ways to handle things when they go wrong other than making the bride and groom feel like it was our fault for expecting the certain experience we were promised over the last 6 months of planning. Kelly came off to me and my family as extremely inexperienced, unprofessional and honestly made the whole experience worse. The things that went wrong would not have been so upsetting had they been handled with better customer service. Definitely not what we expected from a venue that does this all the time for a pretty large price tag. We definitely missed Mimi!
---
Five Star Catering Manager
Reviewed on

4/02/2011
H C
My wedding reception will not happen for a few months yet, but my initial experience with the Millennium Knickerbocker has been outstanding. Contact Mimi Lopez. She knows what she is doing.
---
On the Ball!
Reviewed on

11/24/2010
Rebecca B
The staff and services at the Knickerbocker are excellent. The planning process was relatively painless and the Knickerbocker was always able to respond to us promptly. They were the venue most willing to work with us in terms of pricing and package, which is why we ultimately... Read More chose them. Plus, they have a light up dance floor. Win win! They easily reworked menu items for us to remove the mushrooms (allergic!) and even gave the bride's father green beans instead of broccolini at the reception per her request! Since they work with a catering minimum and we were short ours, we were given several fantastic options to upgrade and one that we chose was the Champagne Parade - which was so very amazing! I highly recommend it. The evening went perfectly - the staff had everything under control. From our guests we heard nothing but compliments: the room is amazing, the food is amazing, the coffee is amazing, the white-gloved waiters were amazing. Our Banquet Captain Luis escorted us seamlessly through the introductions and cake cutting and even managed to find time to hop into our photobooth! He was always right there if we needed something - from a champagne top off to simply answering a question on the dinner schedule. The events manager Lauren noticed that our guests were getting antsy and had the bar re-open a half an hour early to get them through the traditional dances. The event itself is quite unique, with the guests escorted in and out of the ballroom in different ways, the cocktails being in a relatively open area and basically all of the trimmings the Knickerbocker offers really sets it apart. The room is stunning, so no need to spend tons and tons on flowers and arrangements. Oh! And the room we were given for the night was divine! The hotel only has one event space of this magnitude, so the whole staff is focused on you during your day - which was kind of awesome. After all of the horror stories I've heard during my planning, I expected SOMETHING to go wrong that day. If it did, it wasn't the Knickerbocker!
---