Home

Millonzi Fine Catering
Details
Buffet, Catering Clean Up, Catering Delivery + Setup, Passed Appetizers, Seated Meal, Servers, Food + Catering
Contact Info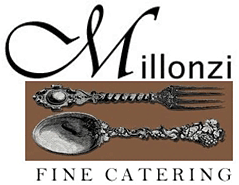 Address
11 CURSON STREET, WEST WARWICK, RI
serve within the greater Providence area and across the state of RI.
(401) 615-7891
WEBSITE
Reviewed on

7/07/2017
Tanya H
Millonzi Catering catered our wedding at the Galilee Beach Club and we were so happy with them!! Kevin was very helpful when we met up with him to talk about what we wanted and our budget. Once we chose all the food I worked more closely with ReAnn who was wonderful!! She made... Read More me feel so at ease about setting everything up for us and that we wouldn't have to worry about a thing! The day of the wedding they had fruit and cheese etc set up in the room for us to get ready in and ReAnn was there every step of the way! The food was so delicious!! Often wedding food is okay, but this was really really good!!! Everyone was so happy with everything- thank you Kevin and ReAnn! !
---
Reviewed on

11/01/2016
Alexandria S
First off, I have no idea how the food was at my wedding because all I was able to eat was the cake during the cake cutting. And the cake was made by another vendor. This was kind of a let down because we were expecting some appetizers (that we were looking forward to) to be... Read More held for the bridal party while we were outside taking pictures while the food was being served. NOPE! I had no choice to chose this company to cater my wedding at the Galilee Beach Club. I was very exciting to work with Kevin. He seemed so genuine at first. Then, we paid him. And he seemed to be too busy to give us the time of day we needed. We had him taking care of most things like rentals and delivery service for the cake. It was great that he offered to do that for us (at a charge of course). He was accommodating to my milk sensitivity. He looked into a different way to make chocolate covered strawberries so they were dairy free. Again, I was unable to eat any but the thought was very nice. Once it got closer to the time of the wedding he was very delayed with emailing back and would say he'd call and never would. I had a hard time dealing with him at that point. He caused me more stress than what was necessary. He rented the chairs and arch for the ceremony for us. It was very convenient. But, the arch was hideous. He sent pictures of a beautiful arch that he'd get for us and the day of the wedding, I got the the venue and was very dissappointed in it. Every picture would have that ugly thing in it. (And yes they all do!) I am not angry because there could've been worse things to happen on my wedding day. I just feel that all of this could've been easily avoided. During the reception, the wait staff was asked by a guests where they should sit because we had some people not show up last minute and there was 1 less table. They told them to sit where ever they would like. This resulted in a table of about 10, a table of 3 and the rest of the tables had 6. WHAT?! We had made accommodations for that family to sit at the table to 3. Again, the fact they didn't save the bridal party appetizers is beyond me. The bartender was awesome. The waitstaff regardless of the issues, were extremely nice and friendly. They seemed to be serving things in a timely manner. Also, Kevin left the reception before it was all over and I didn't feel that was right especially since there were issues that needed to be resolved at the end with him or the venue manager (who was also not there). The reason I give it a 3 star is because I didn't feel like we were a priority and there were many mishaps that could've been avoided.
---
Reviewed on

6/18/2016
Lauren H
Millonzi Fine Catering was absolutely one of the highlights of our wedding planning and our wedding day. Kevin was extremely helpful and patient throughout the whole process; answering every question and walking us through each detail. The food was amazing and he and his team... Read More executed the day flawlessly. I would without a doubt recommend them to anyone!
---
Reviewed on

11/16/2015
Just got married on November 15 and the food from Millonzi's was fantastic,service was superb and very reasonably priced highly recommended
---
Reviewed on

10/01/2015
Nikayla I
When we booked our venue for our wedding, we discovered they only used Millonzi Fine Catering. At first, I was nervous that we didn't get a choice, but now I couldn't be happier that they were chosen for us. THEY DID FANTASTIC!! From the start, Kevin Millonzi was professional,... Read More quick to respond, and most importantly so helpful. I didn't have an event planner, but Kevin literally told me everything I needed to know. He is very experienced. He touched on every single detail (including things I would have never thought of). He helped me get organized and helped me understand the time line and flow of a wedding. I really would have been lost without him. Not to mention, the food was outrageously delicious!!!!! Our wedding was 3 weeks ago, and I'm still getting compliments. People keep saying, wedding food is never that good, but ours was amazing. I couldn't agree more! Also, our tasting was made into a special and fun night. When I walked into our event after the ceremony, I was completely blown away by the set up of our decorations. They paid such attention to detail. The service at the wedding was also wonderful, each person was helpful and kind. I really cannot say enough good things about their catering!! Thank you again!!
---
Professional & Accomodating
Reviewed on

10/23/2014
Julie T
AnnMarie starting working with me half way through the planning process and was absolutely wonderful! Anything I changed or needed she was there help. Her communication skills are outstanding and I could always reach her or hear from her within 24 hours. She setup decorations... Read More for me, ensured my wedding party had appetizers prior to being seated, and did a million other things I'm sure I wasn't aware of to ensure our day was perfect! AnnMarie is also very friendly and a ball of energy, this job suits her perfectly! I can't imagine going through this process without her. She wasn't afriad to speak up with her professional opinion which I valued especially when we were unsure. Food quality was outstanding! Highly, highly recommended!
---
Best Catering in Rhode Island Millonzi's
Reviewed on

12/12/2011
Anjanette P
First I'd like to say Thank you to the staff at Millonzi's fine catering, for doing such a wonderful job on our wedding day. The ballroom was gorgeous and put together just as i envisioned. Our family and friends were blown away by the entrees, especially the beef tenderloin .... Read More The staff were all very kind and eager to help with everything our guests requested. I would gladly refer Millonzi's too anyone looking for a caterer for there next event.
---
Dream Come True
Reviewed on

12/01/2011
Jonathen D
I just wanted to recognize what a wonderful job Milonzi's catering did for my wedding. My fiance and I were very particular about what we wanted for food at our wedding and we threw many different ideas at Kevin (Owner) and he made everything seem so easy. All of our guests... Read More raved about the food. Thank you again for making our wedding a success!
---