Home

MKW Salon and Day Spa
About this Vendor
Great atmosphere with knowledgeable,friendly staff
Our salon presents a warm welcoming atmosphere full of amazing stylist. Our place may be new however, our experience is anything but that. We have stylist ranging from 3-26 years each one eager to learn and stay on top of the newest trend. Wether it be color, lashes, cuts, bridal styles we still take classes and continue to educate ourselves. We offer a wide variety of services from lash extensions and massage to Ouidad (curly hair cut) and on site bridal services. Our hope for the next years to come is to keep growing, ourselves individually and as a business, while maintaining our welcoming charm. If you haven't had a chance to check us out we have a video for those who are curious. It can be nerve wrecking trying a new place. So take a peek, we hope to see you soon!
Details
Beauty Group Bookings, Hair + Makeup Trials Available, Hair Stylists, Airbrushed Makeup, Eyelash Extensions, Makeup, Makeup Artists, On-Site Hair + Makeup, Massage, Spas, Beauty
Contact Info

Reviewed on

9/27/2016
Nicole P
My wedding was out of town and we needed to start getting ready at 4am. Jenna and Keesha both came to my hotel room ready to go! They both were happy and came in upbeat even though it was 4am. Jenna and Keesha did bridesmaids and the mothers hair. All of them had nothing but... Read More great things to say. Some even say it was the best they ever got done till this day, my wedding was 3 years ago. Jenna did my hair and makeup. She did an absolutely amazing job. My hair was so intricate and I don't think anyone else would have been able to make what I wanted come to life like Jenna did. Jenna airbrushed my makeup. I had a pimple, which is most brides nightmares. Jenna covered it right up and even though I had a mini melt down, Jenna handled how I acted so well and you could honestly not see a thing. I was so happy. Guests at my wedding asked my mom for her info because they thought she did such an amazing job. Jenna has done my hair when I was a bridesmaid and for other events also. I go to her for my cut and color as well. I am never disappointed. I highly recommend this salon. It is filled with wonderful talented ladies that will make you and your bridal party look stunning.
---
Reviewed on

9/27/2016
Shannon P
If there was one thing growing up that I had nightmares about when thinking about my wedding day, it was not liking my hair. Jenna turned those nightmares into a fairy tale on my wedding day! Every time I think about my wedding or see pictures of that day all I see is my... Read More gorgeous hair! There is not one thing I would have wanted different! It was exactly what I dreamed of having and turned out even better than I ever could have imagined! I would recommend Jenna to ANY bride for her wedding day up-do! She is amazing, up beat and extremely talented!
---
Reviewed on

10/26/2017
Emily M
Melissa from MKW did an amazing job doing me and my bridesmaids hair for my wedding. We all have thick, hard to handle hair and she was fantastic. Our hair held up all day and night! She traveled to our location and brought all tools and products needed. I highly recommend MKW... Read More for your wedding day hair needs!
---
Reviewed on

7/16/2017
Christine R
Jessica did my makeup and Keesha did my hair for my recent wedding and they both did a great job!! Jessica was incredibly patient with me and went above and beyond at my trial. On the day of my wedding my hair and makeup looked amazing. I am very greatful to both of them for... Read More helping me to look and feel good on such a special day! I highly recommend booking MKW Salon for your upcoming wedding or special occasion!
---
Reviewed on

11/01/2016
Stacey E
Keesha did an amazing job with bridal hair. She is efficient, talented and professional. Thank you for helping make the day wonderful!
---
Reviewed on

10/31/2016
Lauren K
Jenna and her team are amazing! We got married at my parents house and they were there and ready to go super early in the AM, every one of my bridesmaids absolutely loved their hair, and mine was perfect! Highly recommend MKW for your wedding! Jenna is responsive to emails and... Read More my hair was absolutely what I imagined in my mind. :)
---
Reviewed on

10/31/2016
Jennifer I
I cannot say enough good things about my experience with Jenna and Keesha on my wedding day. Jenna did airbrush makeup and Keesha did the hair for myself and 5 bridesmaids. I won't lie, I was a little nervous thinking 2 stylists were not going to be able to get hair AND makeup... Read More done on 6 girls in enough time to be ready, but my fears were very quickly replaced once we got started. We started at 6am, thinking it would take about an hour per girl and we needed to be ready by 12:30-1pm. And instead these ladies were SOOO EFFICIENT we were done by about 10:30-11am!! I cannot explain how amazing it was to be done and ready early, with so much time to just relax and hangout with my ladies and take pictures and make some extra memories. Shoot, I was actually almost bored waiting to go to the church since we had so much time to kill haha... I'm sure part of the reason we got done so quickly is because we were all so easygoing and weren't picky about our "looks" for the day, including myself. I did a hair trial with Keesha just 2 weeks before my wedding, and I only decided to change one thing about the style and she easily fixed it. I was so happy with how I looked on my wedding day, I looked "myself" but the prettiest version of myself, which is exactly what I wanted. Keesha and Jenna are also both so sweet and easy to chat with and if I didn't know better I would have just considered them 2 more bridesmaids hanging out with us getting ready for the day. It was overall an awesome experience and I'm so lucky and happy I chose them and that they were available for my wedding day. Keesha also does my color and haircuts on a regular basis and I love how she cuts my hair. Normally stylists see my really long locks and immediately take off 3-6 inches, but she truly gives me the trim I ask for. That's HUGE for me! I trust her completely with my hair, but I also would feel totally comfortable going to any of the other ladies at that salon!
---
Reviewed on

10/31/2016
Chia W
My bridesmaids and I had Jenna and Jess do our updo's and makeup on my big day. They did an amazing job and we all looked great!! We received so many compliments from guests!! They came to our hotel to do the job and they came more than preprared with all the products!! They... Read More were both very professional, friendly, accommodating and, more importantly, calming!! I'd strongly recommend them to anyone and everyone!! Jenna's salon also did a great job for my family members on the morning of the wedding!! :)
---
Reviewed on

10/20/2016
Malorie P
If you are looking for a salon look no further. From hair and make up to lashes and massage this salon can cover all your bridal needs. Jenna has been doing my hair for years, always going a above and beyond my expectation. So when it came time to choose a stylist for my wedding... Read More day there was no doubt in my mind Jenna was the one for the job. She took a vision I had only in my head and brought it to life, my hair and make up were stunning and the best thing was they stayed flawless the whole day through pictures, ceremony, reception and even after party!! I have also had eye lash extension applied by Karissa and Elissa, which i fell in love with. There's nothing quite like waking up and feeling like you are ready for the day w. No extra effort and they are great for pictures! I cannot say enough about this salon and all the women working there. They provide the highest level of professionalism, creativity, knowledge and overall care for their clients. I can honestly say, I will never go another place for my beauty needs!
---
Reviewed on

10/18/2016
Jennifer F
Jenna did my hair and makeup for my wedding in August. She first did my trial and I realized the style I picked was going to be too hot for the day. She showed me a different style and was confident without a trial that it would hold and look beautiful. She was so right! I loved... Read More my hair and for many compliments on it. My makeup was airbrushed and felt very light. Jenna also did my matron of donor's hair, that too looked beautiful. Keesha did one of my bridesmaid's hair and it came out perfect. Everyone looked perfect for my big day. They were very easy to work with and everyone was super friendly and professional. Totally recommend them to others.
---
Reviewed on

9/27/2016
Kara M
Jenna is amazing. Jenna has been doing my hair for a couple years now. I am always looking my best when walking out of her salon. I love that not only does she color and cut my hair but she always styles it too! She's always up in the latest hair style trends! Her salon... Read More is so cute. Love the wine cooler 😉 She really has a creative eye. I had Jenna do my hair and makeup for my wedding. I have never felt so beautiful! The airbrush makeup is fabulous! Thanks Jenna for making me feel like a million bucks everytime I leave your salon!
---
AMAZING!
Reviewed on

2/28/2014
elissa p
Jenna is one word.. AMAZING! Whenever I need a change with my hair, not knowing what I want, I go to Jenna. If its chopping off my hair, getting hi lights or low lights, or getting bangs, Jenna is the one to go to, she's the only one I trust when it comes to drastic new looks... Read More with my hair. She's been doing my hair/make up for almost the last 9 years. My wedding is approaching quickly, and I can't wait to see my hair and make up for the BIG day, I have NO worries about it, because Jenna will be doing it! I picked out a hairstyle that I want... which to me seems really complicated, but I know Jenna will execute it FLAWLESSLY! I can't wait to see my wedding look complete, from my hair, to the air brushed make up!!
---
Meet The Owner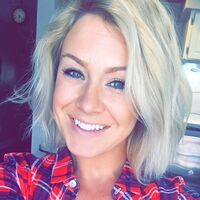 Jenna Wescott
I have been in the beauty industry now for 11 years but it seems like a life time. My mother was also a hairdresser and I've had a passion for it since I was a young girl, watching her. I loved the feeling of having someone make you feel beautiful, and now that's what I strive to do. I created a space (my salon) to make people feel comfortable and welcome. I want people to walk in and feel good and leave feeling amazing.