Home

Model Perfect Airbrush
About this Vendor
Airbrush Makeup
Model Perfect Airbrush is the premier provider of airbrush makeup services. We make it convenient by traveling to your location for your big day! Airbrush makeup is sprayed onto the skin giving a lasting, flawless look that stays put up to 24 hours giving you a lasting bridal glow all day & night! Call now to schedule your appointment!
Details
Beauty Group Bookings, Hair + Makeup Trials Available, Airbrushed Makeup, Makeup, Makeup Artists, On-Site Hair + Makeup, Spas, Tanning, Beauty



Contact Info

Reviewed on

7/09/2017
Nina B
I can't tell you how amazing model perfect airbrush was. Annie did such an incredible job. She took her time and made sure we all liked our makeup. Not only is she the sweetest girl, but her make up skills are perfection. I have never seen myself look like how She made me look.... Read More I got so many compliments on my makeup and it was still on at the end of the night. It stayed on through tears, heat and sweat. I absolutely loved my wedding makeup and am so thankful for Annie, I felt so pretty all night and all my bridesmaids and mom looked amazing! Best make up ever! Thank you so much Annie and Model Perfect airbrush! You are one of a kind!
---
Reviewed on

4/16/2018
Sara M
Tawny was absolutely amazing!! She did such a fabulous job on myself and all my bridesmaids makeup. My makeup lasted the entire night, I didn't need to touch up make makeup once.
---
Reviewed on

2/12/2018
Jake U
Ashley was so fun! And everyone looked stunning! Would (already have) recommend her to anyone!
---
Reviewed on

11/26/2017
Brittany S
Just looking through my wedding pics and so happy with how well my makeup turned out thanks to Savannah!
---
Reviewed on

11/22/2017
Dayna P
I would sooooooo recommend Model Perfect Airbrush!!! I had Hillary for my makeup and then my 2 bridesmaids and she did such an amazing job! Everyone looked so beautiful and i couldnt be more please with how easy they were to work with! They traveled to our location and she was... Read More super quick with all 3 of us. They are also very reasonably priced so if youre looking for makeup seriously this place will blow you away!!!
---
Reviewed on

10/23/2017
Abby G
Overall my makeup the day of my wedding was great. But I felt like what I wanted was not really met. I ended up buying some stuff I thought would be better.
---
Reviewed on

10/18/2017
Aubrey G
I absolutely loved the lady that did my makeup, she was so nice and easy to get along with she honestly felt more like family so I feel bad for this review however I was not overly impressed with things and that's probably mostly my fault. I am very good at doing my own makeup... Read More so I am very particular and I don't feel like she listened to what I wanted. The trial was not at all what I had envisioned and ended up being an expensive waste of money and time. she told me I could come back up for another trial but I live in Lincoln and they are located in Omaha so I just didn't have time at that point and I was not sure if I would have been charged again for that second trail. The day of my wedding I basically just had to wing it since the trail did not go as planned and I'll say my makeup came out a lot better but I just don't feel like she listened to me. On top of that I was fairly shocked by the large travel fee, I knew that they charged a fee for traveling but my wedding was only an hour from where they are located and I was never told what the travel fee actually was so I was not very happy about that surprise on my wedding day.
---
Reviewed on

9/29/2017
Carlie M
Tawny did my wedding makeup and did a great job. She was there on time and catered to my bridal party's request. I would recommend Model Perfect Airbrush with caution as they are fairly reasonable and travel on site however they were one of the more frustrating vendors to... Read More coordinate with. They were very inflexible on when to do a trial run. I would have preferred to get some use out of the $60 spent on makeup but the only time they would agree to do it was late afternoon on a Sunday. To compound the frustration I was told Hillary would be doing my makeup and she did my trial then come day of they told me Tawny was doing the actual wedding day. Not sure why you would want to pay for a trial when it is not even the same person. Was a waste of time and money. Makeup turned out beautiful but nothing made them stand out comparative to other airbrush artist I have used I the past.
---
Reviewed on

9/28/2017
Alonna G
I had a great experience with Model Perfect Airbrush! There are several different artists with the company - Kim was my artist. She was very fun and energetic to work with. She also put a great amount of effort into creating the look I really wanted for my big day. She... Read More definitely achieved it! It was such a blessing to work with Kim and she did a great job on my mom and bridesmaid's make up as well! Thank you!
---
Reviewed on

9/28/2017
Hannah M
Ashley was my makeup artist the day of and she is phenomenal! She did the airbrush make-up for another friend's wedding I was in, and I loved it so much I booked her that day! She even took note of how much I love lashes and brought me a special pair that day for my tiny... Read More eyes! I felt gorgeous the entire day, and can't thank her enough for even doing some extra people last minute! She works so quickly and efficiently, you wouldn't believe how many people were beautified in such a short amount of time! I also love that she was so easy to talk with while getting my make-up done :) I love when the conversation with people just flows easily, it makes it so much more enjoyable. The makeup lasted all day and still looked exactly the same- what more could a girl ask for?! Thank you so much Ashley!
---
Reviewed on

9/27/2017
Cali D
I would highly recommend Model Perfect Airbrush! All of my bridesmaids looked absolutely beautiful and I felt that way too! Nikki did an AMAZING job and was professional and fun as well!! I could not be more happy with my experience and would highly recommend Nikki!!!
---
Reviewed on

9/27/2017
Molly H
Elena did my makeup for my wedding, and I could not have asked for a better person! She is so sweet and takes her time to ensure you look the best! I did the trial with her and I was not 100% sure about the airbrush. I loved the look that she did, but felt more comfortable in... Read More traditional makeup. Elena was so understanding and helpful- sending me pictures of looks that she had done with traditional makeup before and ensuring she would do whatever I felt most comfortable with to look my best on my wedding day. My makeup the day of the wedding was absolutely perfect. My bridesmaids airbrush makeup looked amazing and a few of them that originally weren't going to get their makeup done, changed their minds after seeing Elena's' amazing work! I would definitely recommend Model Perfect Airbrush for anyone's special occasion!
---
Reviewed on

9/26/2017
Katie H
I got a spray tan from both Ashley and Savannah and Nikki did my makeup, and I cannot say more positive things! First of all, I'm a very fair-skinned person, and my tan looked so natural. It was the perfect color, easy to maintain, and faded naturally. I can't say enough good... Read More things about Nikki! Our wedding day schedule was in limbo due to the rain, and Nikki said she would meet me anytime, anywhere to make sure everyone can get their makeup done on time. It was such a relief to know that someone had my back on such a crazy day. In addition, all of our makeup looked awesome. I'm cried quite a bit during the ceremony, and never once did my makeup budge. Nikki was such a sweetheart, and all of my girls fell in love with her! I've had my makeup done by several airbrush artists, including some very highly ranked on The Knot, and I can confidently say that my makeup by far looked the best through Model Perfect. Thanks for everything!
---
Reviewed on

9/26/2017
Alescia M
Elena did my airbrush make up for my wedding, she is great! I did a trial session with her for my Bridal shoot and we were able to perfect what I wanted before the day! The day of was kind of crazy on my end and everything was running longer than expected. Elena sat in our hotel... Read More room and patiently waited until my hair was finished and did not rush through my make up. She is a very sweet and personable person and is great at what she does! Thanks Elena!
---
Reviewed on

9/25/2017
Rachelle C
Ashley is AMAZING!! While setting up scheduling for the day of she was very accommodating, kind, and patient! The day of she was right on time. She made me feel super comfortable and it seemed casual and fun, yet timely; like hanging out with a girlfriend! She took the time to... Read More make sure what I wanted and did exactly that! I couldn't believe how wonderful my makeup turned out and received so many compliments on my look! It was formal yet casual, cute yet simple! It made the day less stressful knowing my makeup lasted all day!
---
Reviewed on

9/23/2017
Steph G
Very happy with Model Perfect Airbrush! I had so many compliments on my makeup on our wedding day. Can't say enough about it being waterproof as it was rainy/misty and our ceremony was outdoors. Highly recommended.
---
Reviewed on

9/23/2017
Mackenzie R
They were absolutely amazing!!! The service and attention to detail made my wedding absolutely stunning! I would recommend them for anybody in the area!
---
Reviewed on

9/22/2017
Sammi M
Nikki is like my family now!! She is has an amazing soul and is beautiful inside and out! She made me feel like a princess every time i seen her and spoke with her! LOVE LOVE HER!!! Ashley & Savannah were ROCKSTARS with the spray tans!!! They turned out amazing! Nikki listen to... Read More everything, all my needs and wants! She made me look ideal for my wedding! I will asking her to do my make-up anytime I need for future events that I need to look my best
---
Reviewed on

9/21/2017
Danielle J
The owner, Ashley, did my makeup for both my engagement photos and wedding day. She was amazing!! She made sure that I was comfortable, and that the makeup was still me and not over the top while looking amazing. Ashley traveled to our event venue, and did not only my makeup... Read More but 6 other ladies. With the bridal makeup I even got a lip gloss and oil blotting sheets so I could keep fresh all night. By far Ashley couldn't have done anything better. She was great and I would highly recommend her to anyone. Plus with airbrush it lasts forever. I was still looking great the next day (I was too tired to wash my face!)
---
Reviewed on

9/19/2017
Nikki H
I got married May 27th, 2017. Ashley did my make up and did a fantastic job!! It stayed put all day and night long. It is so convenient having a make up artist come to your venue. Highly recommend!
---
Reviewed on

9/19/2017
Katelynn H
I could not of asked for a better make up team to do our wedding make up! They were professional, on time and did amazing work! My makeup stayed all day and night in 100 degree weather. I also had them do my make up for two of my engagement shoots as well. The make up not only... Read More looks great in person but also picks up amazing in photos!
---
Reviewed on

9/19/2017
Elena was amazing, so sweet, on time, and made me look and feel gorgeous!! Highly recommend!
---
Reviewed on

8/09/2017
Olivia H
Elena did a fantastic job!! She made me feel at ease with airbrush right off the bat! I rarely wear anything other than mascara and feared I would look too fake. However, that was not the case! She made me look so natural and beautiful! She continuously checked in with me during... Read More both my trial and actual day to make sure I was in love with my makeup! If not, she was willing to make changes until that was the case. Not only was she this way towards me, but to all of my bridesmaids and mom (all of which were skeptical of too much makeup like I was initially). I have never seen my mom look and feel more beautiful and confident; that was such a great gift to experience on my wedding day! Elena is a very kind and considerate artist; I would definitely recommend her! Thank you Elena and Model Perfect Airbrush for truly making me feel like the most beautiful bride on my wedding day!
---
Reviewed on

8/02/2017
Becca S
Ashley did a wonderful job on my wedding makeup! I wanted airbrush make up so it would last and it did, even on the hottest/most humid day of the summer! She listened to me to personalize my makeup to ensure that it was absolutely perfect.
---
Reviewed on

6/14/2017
Sarah S
Hilary did our wedding day makeup. She was AMAZING! Our entire wedding party looked their best and felt extremely confident. I cannot praise them enough for their excellent work. I have truly never felt more beautiful!
---
Meet The Owner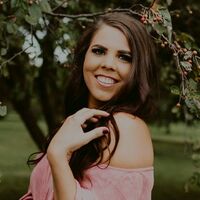 Hillary Wilkie
My philosophy as a makeup artist is to create a bridal look with only using the best products on the market, I work to accentuate your most beautiful features, making you feel confident and beautiful! I use airbrush to help keep a long lasting face stay put for 24 hours! Some of the greatest benefits of airbrush is that it is water proof, sweat resistant, and transfer resistant all day and night long! I would love to have your input in your bridal look, so I can achieve the look you have always dreamed of for your wedding day. My main job is that you feel confident and Beautiful all day!