Home

Mohican Flowers of Cooperstown
About this Vendor
Turning Your Wedding Dreams Into Memories
Cooperstown's premier wedding and event florist, creating lasting dreams and memories for more than 100 years. Creative, talented, and award winning staff dedicated to making your dream a reality. Find us at pinterest.com/mohicanflowers Short walk from Otesaga Hotel and Baseball Hall of Fame We have a large selection of rental items from Grapevine Chuppah, White lattice Arbor to Mercury glass vases and birch disks. Our design studio is available for the DIY weddings or just a fun time making memories with your bridesmaids. We service all venues in a 40 Mile radius of Cooperstown. The Otesaga Resort Hotel, The Farmers' Museum, Fenimore Art Museum, Lakeview Events, Gilbertsville Farmhouse, Hyde Hall, Templeton Hall, Hogs Hollow, your home, woods or lakeside are all favorites!
Details
Aisle Decorations, Centerpieces, Flower Girl Baskets, Pedestals, Plants, Vases, Chuppah, Wedding Arch, Wedding Decoration Delivery, Wedding Decoration Setup, Decorations + Accents, Flower Crowns, Bouquet Wraps, Bouquets, Boutonnieres, Corsages, Flower Alternatives, Flower Delivery + Setup, Flower Arrangements






Contact Info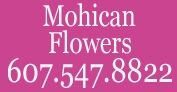 Reviewed on

1/10/2017
Sara D
Claire and her team did an amazing job with the florals at our wedding! Our vision was brought to life and looked even better than we could have imagined! Claire was in touch with us throughout the whole planning process and even mocked up certain pieces the month before to... Read More make sure I liked everything. Their prices were also extremely reasonable. My Aunt, who is a wedding planner, was even raving saying this was the best florist she has ever worked with (and I agree)! Thank you Mohican for helping make our wedding day so special!
---
Reviewed on

12/06/2017
Ciera L
I am so happy I went with Mohican Flowers for me wedding! Claire was the best to work with. She knows her stuff and helped me design and put together the best floral arrangements. They set everything up and it was absolutely beautiful! Claire made my wedding experience that... Read More much more wonderful and special and I can not thank her and her team enough for the wonderful florals!
---
Reviewed on

11/28/2017
Mary S
Working with Diana at Mohican Flowers was an absolute delight! She is such a pro, so easy to work with, and somehow intuitively understood exactly what we were looking for to the point where I think she might actually be a mind-reader! She was very reasonably priced, was... Read More thoughtful about repurposing flowers. Not only were her arrangements perfect, but she saved the day when my hair and makeup person fell through with a fabulous recommendation!! She consistently went above and beyond and I cannot thank her enough for her excellent work!
---
Reviewed on

1/08/2018
Gabrielle C
Claire at Mohican Flowers is a magician! I wasn't really sure what to expect when my husband and I told her what we were looking for. We had so many ideas and likes, I felt like we were all over the place. Not knowing what our venue would really look like for our day (not a... Read More typical wedding venue) made us nervous about picking a set idea. Her use of Pinterest to share photos and ideas is so helpful. Claire took everything we said and turned our venue into the most magical space I could have possibly imagined! The flowers were so gorgeous and the personal touches with our centerpieces just brought the whole room together. It made our tent space look like a forest wonderland. I loved it! Can't recommend Claire (and her team) enough!
---
Reviewed on

1/04/2018
Rachael K
Mohican Flowers did an amazingly beautiful job on our wedding! They were very helpful, easy to work with, and flexible. We had a winter wedding and their flowers/decor looked perfect!!!
---
Reviewed on

11/08/2017
Caitlin M
Carol and her team are professionals. They set up many pre-wedding meetings, understood exactly what we were looking for and stayed within our budget. They even created a joint Pinterest page with me to understand the look I was going for. They create beautiful centerpiece and... Read More bouquets & gave us great tips on where décor was needed in our venue. I would recommend them to anyone in the area- especially if you are having your wedding at The Otesaga!
---
Reviewed on

11/03/2017
Michelle W
Working with Diana at Mohican Flowers was truly a joyful experience and I was absolutely thrilled with the arrangements she made; they were beautiful!!. I highly recommend this florist shop; you will not be disappointed.
---
Reviewed on

11/01/2017
Lauren M
Clair and her team at Mohican Flowers did an amazing job. They really went above and beyond - even helping me find a baseball field in town to host a family baseball game the day before the wedding. Clair and her team created a beautiful arbor, wreath, brides bouquet and... Read More decorated lanterns with flowers for my bridesmaids. The lanterns were truly incredible and everyone loved how unique they were. Clair makes the whole process easy by having you create a Pinterest board with inspiration pictures. When I came into the shop, she has pulled different flowers I liked to make a sample bouquet. The flowers were delivered to the venue a few hours before the ceremony. Clair is quick to respond to emails and is extremely talented and helpful.
---
Reviewed on

10/31/2017
Catherine S
Claire is very, very talented and phenomenal to work with. The flowers for our wedding were absolutely perfect!
---
Reviewed on

10/31/2017
Nicole L
We worked with Claire at Mohican Flowers and could not have asked for a better partner! First of all, it's so obvious that she is incredibly passionate about what she does. Claire was able to take my vague descriptions of my vision and turn it into reality. The entire... Read More aesthetic of my wedding would not have been complete without the work Claire did with the flowers! I want to highlight a few aspects of the service we received from Mohican: Communication / Level of Service: Claire was very easy to get in touch with and very responsive at all times. From email exchanges, to phone calls with myself and my wedding planner, to finding me on Pinterest and creating boards to help with the process, everything was seamless. She checked in frequently enough that I felt like everything was under control and aligned to the vision we created, but not so much that it was overwhelming. Vision: As mentioned earlier, Claire totally got what I was going for. During our first meeting, she created quick arrangements on the fly to ensure she was grasping the ideas I was trying to convey. I always felt like we were on the same page. I also felt like I could lean on her expertise and trust her opinions to a) fill in the gaps where I really didn't know which way to go and b) redirect me in a new direction if she felt it would improve the overall look. The thing that resonated with me was that she was always willing to jump in and provide her opinion / apply her expertise, but always with the end game of making my ideas come alive - she was never pushing any other agenda aside from making my dream come to life. Quality: The actual execution of the floral arrangements was more than I could have hoped for. (I was absolutely obsessed with my bouquet!) Again, her passion shows through her work. Everyone was commenting on how gorgeous the flower arrangements were. She found the right balance for every piece - from the smaller aisle / table decorations, to the centerpieces, to the bouquets, everything was it's own distinct component to the overall look, but created an overall cohesive picture. Cannot recommend Mohican Flowers enough!!
---
Reviewed on

10/30/2017
Holly B
Mohican Flowers was truly amazing! My husband and I worked with Claire during the wedding planning process. She was so friendly, calm, knowledge and really listened to what had to say. She also provided input when we weren't sure of what we wanted. Her suggestions were always... Read More spot on. During our first visit, Claire provided us with examples of the things she thought we might like based on things we had talked about as well as a Pinterest board that we shared with her. The day of the wedding was executed perfectly. I was so impressed with all the flowers. She decorated the aisle for us with greenery and put together two lovely arrangements for the alter. She also created a beautiful spray arrangement for our welcome sign. The reception flowers were gorgeous as well. We had beautiful cocktail arrangements for the hightop tables. She built three stunning pieces of garland for our head tables, brought flowers for the cake and created centerpieces that I am still getting compliments on! My favorite part was my bouquet. It was the perfect size, exactly what I wanted and smelled amazing. The flowers were beyond my expectations and they were delivered with such ease. I would highly recommend Mohican Flowers! They were just fantastic.
---
Reviewed on

10/24/2017
Erica C
If you are getting married anywhere near Cooperstown then book this florist now! You will not regret it! My flowers at my wedding were just incredible and the staff was so sweet and such a pleasure to work with. I couldn't possible recommend them enough!
---
Reviewed on

10/20/2017
Beth E
I couldn't have asked for a better florist. I had seen a bunch of photos of bouquets online, but no single picture that was "the one." I described to Claire what I wanted and she made it. It was the most beautiful bouquet I've ever seen. She was also amazing with a bunch of... Read More personal touches, like Hidden Mickeys in the bridesmaids' bouquets and accents for other items, like a pair of ski boots and ballet slippers to mark the ceremony aisle. When I took the flowers out the next day, I was so impressed with how much care she put into it, making little boutonnieres for the pointe shoes and little bouquets in water for the boots. Her knowledge was so extensive she also helped identify places I needed and didn't need flowers, which I never would have thought of. There's no doubt in my mind she's the perfect florist for you if you're getting married anywhere in the area!
---
Reviewed on

8/27/2017
Lizz M
Mohican Flowers is the best. They are so friendly and helpful and their flowers are always the best quality.
---
Reviewed on

6/30/2017
Jenna K
Claire was hands down our FAVORITE vendor to work with. She was so calm and reassuring through the entire process and did a great job checking in with us and giving us updates. It was a relief to have a vendor who checked in with us instead of a vendor we had to track down!... Read More After just one meeting and looking at the Pinterest board I made, Claire created the flowers of my dreams. I couldn't believe it when I saw the flowers, they were absolutely stunning! The bouquets, center pieces, corsages, boutonnieres, and alter flowers were perfect and we received so many complements! During the consultation Claire did a great job of giving us multiple options and was very respectful of our budget. Claire creates beautiful arrangements and is such a warm and kind person, I wish we lived locally so she could be our regular florist! I would absolutely recommend Claire and Mohican Flowers to anyone who is looking for a florist!
---
Reviewed on

6/28/2017
Amy S
Claire and Mohican Flowers were a pleasure to work with and the flowers at our wedding were beautiful!
---
Reviewed on

1/02/2017
Brittany C
Diana and Claire were absolute wonderful to work with. During our consultation they listened to our vision, offered their expert opinion, and then worked with us on the budget. All while making us feel special, and really took the time to understand what was important to us.... Read More They have a very quick turnaround time on the quotes, and even created a Pintest board of my wedding colors and flowers. I was able to add to the bard to show what I had in mind. This helped me stay organized and got me excited to see what they would create for our big day. Their customer services they provide is second to none and their attention to detail makes you feel like their only client. About a week before the wedding we got the final invoice for the flowers, and I had made a HUGE typo when requesting the baby's breath. I typed I needed 50 steams of baby's breath, which is more than anyone could ever need. Diana and Claire understood, and even though they had already ordered the flowers, they did not bill me for my mistake, but only what I needed. That moment of empathy and understanding is why you shop local, and more importantly why you shop at Mohican Flowers of Cooperstown for any floral needs.
---
Reviewed on

10/28/2016
Sarah H
Mohican Flowers did the flowers for our wedding in September 2016 and everything turned out absolutely beautiful! Diana was so great to work with and took such pride in her work. Thanks so much to Mohican for helping create our dream wedding!
---
Reviewed on

10/28/2016
Taylor G
I am so glad I chose Mohican Flowers! My flowers were the best thing about my wedding. Claire was wonderful to work with and she perfectly replicated my bouquet from a Pinterest picture I found. It was incredible. I really appreciated her desire to make me happy which included... Read More inviting us to see the flowers the day before the wedding. If I had to do it again I would still choose Mohican Flowers and I can't say that for some of my other vendors. Thank you, Claire!!
---
Reviewed on

10/25/2016
Adrienne O
We had our wedding at the Otesaga Hotel in Cooperstown, NY and Claire and the staff at Mohican Flowers did an amazing job on all of our floral needs. They responded quickly to all emails, happily answered any/all questions, knew the venue well, and were so helpful along every... Read More step of the way. Claire was able to create our vision perfectly from our inspiration photos and by asking all of the right questions (as I was a slightly clueless bride). We were able to see a sample of one centerpiece a few weeks prior to the wedding to make any changes necessary and she also had us come in just a few days prior to the wedding for a sneak peak and to again make any changes we wanted. This really made me feel confident that everything would be perfect...and it was. Everything from the ceremony to the reception that they provided for us was beautiful and exactly what we envisioned- maybe even better. We felt like the pricing was very reasonable considering the quality and quantity of the flower and rentals (candelabras and vases). I would highly recommend working with Mohican Flowers for any of your floral needs in the Cooperstown area.
---
Reviewed on

10/21/2016
Kaitlyn G
I can't say enough about Mohican Flowers, they were wonderful for our Sept 2016 wedding! I worked with Claire and she was a huge help in picking flowers that worked with my vision while also staying on budget. On the day of the wedding, the arrangements and bouquets were... Read More absolutely gorgeous, and we got tons of compliments from our guests! I would definitely recommend Mohican Flowers to anyone getting married in the surrounding area.
---
Reviewed on

10/05/2016
Meghan C
Claire and the team at Mohican Florists did an INCREDIBLE job for my August wedding at The Otesaga in Cooperstown. With just a few examples of what I was looking for, Claire designed arrangements that people are still giving me compliments on, months after my wedding. The... Read More pricing was absolutely reasonable, the recommendations and knowledge were exactly what I needed, and best of all, I didn't have to worry about A THING on my wedding day - everything was where I needed it when I needed it, without me having to think twice. I HIGHLY recommend Mohican Florists for your wedding (or rehearsal...we used them for both) needs - they are phenomenal to work with!!
---
Reviewed on

10/04/2016
Sarah L
Excellent people & GORGEOUS arrangements!!
---
Reviewed on

10/04/2016
Ashley R
Mochian flowers were great! We shared a Pinterest board and it really helped her to be able to see what i liked. The corsage for my mother got a little mixed up but it still turned out looking great. I would definitely recommend them to anyone looking for flowers!!
---
Reviewed on

9/28/2016
Shawna R
Mohican flowers of Cooperstown assisted in creating the most beautiful wedding I could have ever asked for. Working with Claire was a pleasure!
---