Home

Mount Sunapee Resort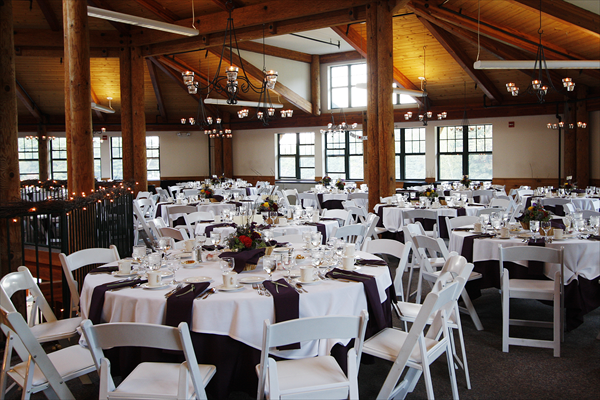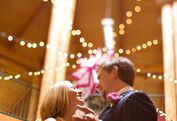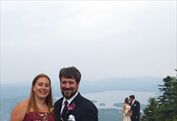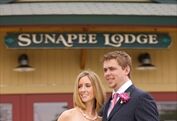 About this Vendor
Unique Location, Exquisite Service
Call or email today to join us 5/18 for our private, complimentary menu tasting and wedding event! Mount Sunapee Resort will exceed expectations with exceptional culinary options and first-rate service. Meet with our professionals, it's your day-let us help you celebrate in your style.
Amenities + Details
Amenities
Handicap Accessible

Liability Insurance

Indoor

Reception Area
For more details about amenities, please message the Venue.
Food + Catering, Planning
Contact Info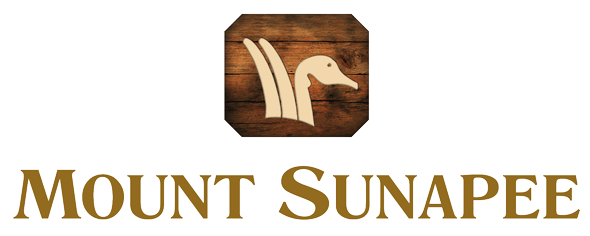 1398 Route 103, Newbury, NH
Reviewed on

7/20/2015
Marybeth B
We just got married on the Fourth of July at Mount Sunapee and could not be happier with our wedding ceremony and reception! Rachel the wedding coordinator was fantastic to work with. She is there for you every step of the way despite the millions of questions you might have as... Read More a bride! Everyone told us how much they loved the food and the venue itself! The overall pricing was extremely reasonable as well. If you are looking for a rustic theme or love skiing or snowboarding then I would highly recommend Mount Sunapee as your location! We are truly sad that it is all over!
---
Perfect Day
Reviewed on

11/03/2014
angelique a
We could not be happier with our event at Mount Sunapee!! Rachel was amazingly helpful throughout the process, even sending along vendor suggestions when I was hitting a wall with research. Our wedding day could not have been more perfect, Rachel handled the location change... Read More for the ceremony (darn rain!) perfectly, our guests all noted how simple it was to find the right place to go, in spite of it having been changed earlier that morning. I HIGHLY recommend Sunapee and their staff if you want a beautiful, rustic location for your wedding. The food and service that night was impeccable, we wouldn't change a thing about the day. Thank you to Rachel and staff for helping coordinate the best. day. ever. We can't wait to return for a ski trip :). Angelique & Jesse
---
Surpassed my wildest dreams
Reviewed on

6/26/2014
Katherine S
Everything about my wedding at Sunapee was perfect. Every. Single. Thing. Support/Customer Service: My main contact there, Rachel Benoit, kindly reached out every now and then to see how my planning was coming along and to remind me about important dates. She was there... Read More every step of the way, even on the day of - a quiet presence coming up to me every now and then to check and ask whether there was anything I needed. The planning and organization was, of course, a big deal. Rachel caught every single little mistake I made on numbers or names. She issued me countless quotes as I changed my mind again and again. On the day of the wedding, I knew that I could leave everything in her hands, and everything went perfectly. The Food: I barely ate at the wedding, so I can't be trusted to make an accurate assessment. Many of the guests told me that they enjoyed the food. I will take their word for it. I found the sauces to be a bit heavy. I also didn't like how the scallops in bacon were displayed in a big tin pan instead of a nice bowl or something. The Decorations: Lovely. They do a great job. You have to go see for yourself during the summer when they are setting up for a wedding. In retrospect, I would have paid for the white chairs instead of having the plastic regular ones. The Ceremony: No problem. Went off without a hitch. Highly recommend the summit ceremony. Absolutely breathtaking and all of the guests loved it...even the ones who initially complained about having to ride the chairlift. The Party: Awesome. The bartenders were so cool. The Price: EXTREMELY REASONABLE. I feel like I paid less for my wedding than all of my friends but ended up having one of the best ones. You get a whole lot for your money here. All in all, I am so happy with my choice. I am so grateful to the kind staff at Sunapee, and I would be happy to talk to anyone about my positive experience here.
---
I dont even know.
Reviewed on

2/18/2014
Mandy S
So today I went to visit Mount Sunapee for a potential wedding venue. When we got there it was beyond busy, which was expected BUT she failed to mention it was one of their busiest times because of vacation for kids. The place where the reception was was crowded by people, she... Read More scheduled the appointment at lunch time! My sister asked if we could go somewhere a little quieter so that we could discuss the plans? She brought us down stairs...at this point I'm thinking "she's going to take us to a private room. Awesome. I cant hear anything!" She literally takes us UNDERNEATH the stair case to discuss the most important day of my life!! Under. a. staircase!!!!!! People are thumping up and down the stairs and the woman is sitting RIGHT next to me and I couldn't hear a word she was saying! I was so distracted by people passing by and people thumping up and down the stair well that I couldn't focus on what the woman was talking about. I couldn't help but laugh out loud because it was SO unbelievable! I couldn't believe she was trying to sell me this venue! It was like she was trying to discourage us from going there! I was so disappointed, disgusted, and offended that I had family travel from 3 hours away to look at this venue and for what? The least this person could have done was pretend to care or sell this to us...even with the circumstances of it being so busy. But I was not impressed in the least by the way they treated this. I was thinking that this was the place I would have my reception and ended up going with my second choice! Please think hard about going here...
---
More that I ever expected!
Reviewed on

1/06/2014
Samantha M
I can not say enough good things about Mount Sunapee, Mae and her term! They were very supportive the entire time and always answered my questions as promptly as possible! My husband and I wanted something special and we definitely found it at Mount Sunapee. I had nothing to... Read More worry about the day of the wedding Mae and her team took care of everything and was perfectly calm the entire time which helped me be calm the entire time! They worked with all the vendors to make sure they had everything they needed and made sure our table cards were set up so people knew right where to go. They did not leave out a single detail! I would gladly book another event there if I ever have the change or the need to do so!
---
Mrs
Reviewed on

1/05/2014
We couldn't have been more pleased .Every step of the way we felt very comfortable with the wedding planner.The entire day went absolutely perfect and the food was the best wedding meal all of our guests had ever had.
---
Pretty Location
Reviewed on

10/25/2012
Courtnay E
The Mt. Sunapee Resort is beautiful, and the lodge is put together very nicely, you would never know it is a ski resort when they are done with it. The food was excellent and we received many compliments on it from our guests. The waitstaff was very attentive throughout the... Read More whole reception, one woman in particular always made sure to ask me if I wanted another drink anytime my glass was empty. The day of our wedding, it absolutely poured. There was a 100% chance of rain, starting on the Monday before our wedding day, so I came to terms and tried to rainproof as much as I could. The facility that was a backup, was not the same facility that we originally saw when we signed the contract, and we were really disappointed by this, perhaps if I pushed the issue more, we could have had it in the other building, but I had already felt like Mae and Tim had enough with my questions and requests, so I didn't. In hindsight, I really wished I had, although the decorations, we as a couple put together in the building ended up looking beautiful, and everything worked out fine, it was very unfortunate to see our guests trudging through mud in their nice outfits and heels, because there were no walkways to the building, like there had been to the original back up we saw. We were told guests can drive up the grass to the front of the building, which sounded great, except you can't leave your cars there so someone is stuck walking through the grass from the parking lot, which is now muddy from car treks. It was very unfortunate it rained that day, which obviously the facility had no control over. I wish they had a better back up alternative. I was the one that initiated contact that week to see if they had any suggestions, and I was just told that everything would be fine. If it had been a nice day, I am sure it would have been beautiful as originally planned, but just be prepared in case of rain. Aside from the rain/mud fiasco there were some other issues too, that I will address with Sunapee, but don't want to rant in a review. Let's just say this is the only vendor I did not give 5 stars too. I will just say at the end of the day, everyone had a great time, and it looked beautiful.
---
Great Wedding Venue
Reviewed on

9/27/2012
Tabitha
We loved working with both Mae & Tim @ Mt Sunapee. They both were easy to talk to & work with & both responded promptly to phone calls & emails. They were both on call the day before/morning of our wedding to make last minute decisions about the outdoor... Read More ceremony location in regards to the not ideal weather forecast. The lodge space looked awesome all set up! The backup indoor ceremony space (not on the dance floor like many other venues) worked out perfectly. The space to change into my gown onsite was nothing special, but better than having nothing. Although they will offer to rent you candles, etc ahead of time; when the time comes to actually decorate the space(s) they will put out extra vases/candles/etc to help fill in the empty spaces. We dropped off all our decorations with explanations 2 days before & the staff set everything up for us. My biggest complaint is that I wish I knew ahead of time that gratuity was going to be added onto our bar bill because I would have asked them not to put out a tip jar for our guests to pay as well. The other downside was that they only do I believe one tasting a year & where we planned our wedding in under a year we didn't get to actually taste the food ahead of time; but we were able to talk to a previous bride & MOB to get an idea of what people liked. Overall, the layout was great (not too tight, but not too big), everyone thought the food was delicious, Mt Sunapee was able to accommodate last minute changes in head count, & it wasn't a plain old banquette hall! We would definitely recommend Mt Sunapee to future brides & grooms!
---
beautiful venue and so helpful
Reviewed on

7/19/2012
Ashley G
The on-site coordinators were so helpful throughout our planning, giving us suggested nearby vendors and working directly with which ever vendors we choose to work out the details. The day went absolutely amazing and the food was really delicious.
---
THE BEST!
Reviewed on

6/20/2012
Chelsea B
Tim and Mae were a dream to work with! They were attentive to EVERY detail, helpful but not overbearing the day of, and continued to follow up even after the wedding.
---
Perfect Wedding
Reviewed on

10/17/2011
Megan G
We got married at Sunapee..it was AMAZING and Mae was great to work with. she listened to detail and made sure our day was perfect! The lodge was decorated beautiful! I couldnt have asked for anything more..oh and not to mention the food was OUTSTANDING!!!
---
Stunning!
Reviewed on

9/28/2011
Marina S
Our wedding was September 9, 2011 at 4:30pm. You would think fall"ish" weather but no, still warm and beautiful. Thanks to the sales manager/coordinator Mae Leonard everything was perfect. ML was very accomadating and helpful to my family and guests. This is a beautiful location... Read More for a couple who loves nature and rustic themes. The post and beam interior was spectular and that's what sold us. The food was awesome and the staff was very personable; another selling point for us Overall this is a gorgeous venue and not to far away from major cities (Concord NH, Boston MA).
---
Absolutely Amazing!
Reviewed on

12/14/2010
HJ G
After months of searching for the perfect venue for our dream mountain-top wedding, my husband and I found Mt. Sunapee, and could not have been happier with our decision! We planned the entire event in 6 months and thanks to the wonderful staff at Mt. Sunapee, everything was... Read More absolutely perfect: including the chairlift transportation, summit ceremony, and base lodge cocktail hour & reception. All of our guests raved about how amazing the food was, how beautiful the facilities were, and how professional and friendly the staff at Mt. Sunapee were. My husband and I cannot thank Mae Lenoard enough for her stellar organization, wonderful ideas, and flexibility while planning our wedding. The cook even personalized the menu to our specifications after we fell in love with nearly every item on the menu after the tasting event that was held several months before our wedding. To top it all off, Mae even got us a permit so that in addition to our dream come true mountain top ceremony, we also had a gorgeous bon fire outside under the stars during the reception. This venue is HIGHLY recommended to any bride & groom to be! Thanks Mt. Sunapee for memories that will last a lifetime!
---
Amazing venue!
Reviewed on

10/06/2010
Emily C
Mt. Sunapee Resort was the most wonderful location for our reception! From start to finish and every detail in between, Mt. Sunapee ensured that our needs and wants were met while making the experience incredibly enjoyable and FUN! Mae Leonard, Sales Manager and wedding... Read More coordinator extraordinaire, will help you and your fiance with every detail of your special day at Mt. Sunapee Resort. Mae kept in touch with me regularly (to include several personal meetings prior to the wedding) and I always felt secure in the planning process. Planning a wedding can be stressful, but rest assured that Mt. Sunapee and the staff there will do everything in their power to make your day everything you dreamed it would be. The food was delicious and Mt. Sunapee has a wide variety of food choices. We chose a buffet option and the food was plentiful and hot. The service of our wedding cake was excellent, the pieces cut by the staff were just the right size. The floor setup was great, with tables spaced well and the dance floor/DJ in a good spot. Mae was on hand the day of the wedding to make sure everything went as planned, which it did. The staff was very polite and courteous. The scenery at Mt. Sunapee speaks for itself, and the inside of the reception hall was clean and tidy. Clean up the next day was a breeze, as our decorations were placed neatly in one area by the staff the night before. I would highly recommend Mt. Sunapee Resort to any bride seeking a fabulous location with helpful staff, gorgeous views and great service! Happy planning!
---
Best Wedding Location Ever!
Reviewed on

7/28/2010
Kim C
Mount Sunapee was an incredible location to hold our wedding. We enjoyed everything about our experience with them. Getting married at the summit of the mountain is breath taking and the views are incredible. Even my grandmother who is afraid of heights enjoyed the chair lift... Read More ride and the view. A lot of our friends and family commented on the "once in a lifetime" experience. Mae, the wedding planner had a wonderful bright and charming personality. You felt like you had known her a long time. She always made herself available to me, answered all my questions in a timely manner and kept in touch with me tons right up to and after the event. Mount Sunapee as a whole went above and beyond for our wedding. They were able to accommodate all our needs and make everything we wanted to do happen. They truly made it our dream wedding. I would recommend them to any bride and groom who is looking for a fun location and looking to have a wedding that is a little outside the box. The summit ceremony is worth it!
---
Send Message