Home

Mountain Flour
Details
Cake Delivery + Setup, Cake Tastings, Cakes + Desserts
Contact Info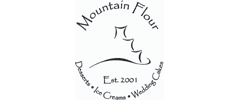 Reviewed on

11/10/2016
Rebekah W
This is a small shop, but with that comes personal attention. My wedding cake was exactly what I envisioned, a three tier birch tree to match our rustic themed wedding. My husband, a huge Avalanche fan, wanted a hockey puck and it turned out amazing!! Shawn's creativity is... Read More impressive as he can take any idea and turn it into a masterpiece. The cake delivery went incredibly smooth and punctual which is impressive for our Beavercreek mountain wedding. Besides being beautiful, the cake was DELICIOUS! We chose the white chocolate mousse with berries for 2 tiers and the red velvet cake for the other and literally not a single piece was left! Myself and the groom almost didn't get a piece! I highly recommend mountain flour, the price was also very reasonable
---
Reviewed on

9/29/2016
Florence K
Shawn was easy to work with and his cake was delicious !
---
Reviewed on

7/11/2016
Emily B
Shawn at Mountain Flour made a beautiful and delicious cake for my daughter's July 2, 2016 wedding in Vail, CO. The tasting he provided was helpful, not overwhelming. He was professional, personable, and above all, dependable. He made the perfect cake, as well as cookies and... Read More brownies , appear with very little effort on our part. We are extremely appreciative, and give Mountain Flour our highest recommendation!
---
Beautiful & Tasty
Reviewed on

4/06/2014
Elizabeth C
My husband and I are not cake people plus our venue included dessert so we elected to go with tuxedo chocolate covered strawberries instead of a cake. Mountain Flour delivered the biggest, sweetest berries. Our guests raved about how delicious they were. Each one was perfect.... Read More They were very reasonably priced as well. I would recommend them to anyone!
---
Beautiful Aspen cake
Reviewed on

9/11/2013
Our experience this past weekend with Mountain Flour was extraordinary. My daughter and her fiance wanted a cake that was different and yet very tasty. They found the perfect vendor to do just that. It was a wonderful cake and tasted so delicious - thanks to Shawn at Mountain... Read More Flour! We appreciate all of the details in the cake - so wonderful!
---
Very tasty cake!
Reviewed on

8/22/2013
CRICKET S
Mountain Flour sold us at the cake tasting - didn't over whelm us by giving too many options. We went with the vanilla cake, lemon filling with fresh blueberries. Looking back, I almost think we should have gone with the vanilla cake with fresh strawberries we sampled at the... Read More tasting (it tasted like the best strawberry short cake I've ever had). Either way, delicious cake, although a bit expensive.
---
Beautiful looking cake for my wedding
Reviewed on

1/04/2013
Samantha G
I wanted my cake to look simple and elegant for my winter mountain wedding. And Mountain Flour did just that - with pine cones, dusted with powdered sugar. Cake flavors are limited, but our guests liked our choices I believe.
---
Mountain Flour, Wedding cake + dessert buffet
Reviewed on

9/16/2011
M. T
Shawn was awesome to work and delivered a beautiful and yummy 2 tiered wedding cake. Our budget was itty bitty and he helped suggest ways to deliver a beautiful (but smaller) wedding cake with a dessert buffet v. a huge wedding cake. The cake was light and full of flavor, a... Read More real gourmet treat, relative to some wedding cakes I've tried. He also coordinated w/ our venue to get servewear for the dishes. I would highly recommend them!
---
Great Desserts, Cute Cake!
Reviewed on

9/12/2011
Melissa M
I was not planning on having a Wedding cake, but simply wanted an assortment of desserts for my guests. Shawn, with Mountain Flour, was able to offer a wide variety of bite sized desserts to choose from, at a reasonable price. While at the shop choosing our desserts, my husband... Read More and I fell in love with an adorable 2 tierd cake that had mountains and a little cabin on top. Since this was a non-traditional cake, it was perfect for our mountain Wedding, and was delicious too! Thanks Shawn!
---
Mountain Flour, Sean
Reviewed on

9/01/2011
Julie P
The cake and service were awesome! We provided a picture and got just what we wanted! Sean was great to work with. Highly recommend them!
---
Disappointed and angry
Reviewed on

11/23/2010
Kristin G
Here's the story in a nutshell: We sent Shawn a picture of how we wanted both cakes (bride's & groom's). For one, I sent a bridal cake, for the other, our college logo we wanted. We'll start with the groom's - Shawn called me FIVE DAYS prior to the wedding to tell me he... Read More couldn't make the cake we wanted, and then proceeded to tell me I only sent him the logo SEVEN days prior to the wedding (which is a complete lie, since we showed him the logo when we HIRED him 10 months before the wedding). When we agreed on a different design, it was nothing like we'd discussed - it looked like a plastic logo glued on top of a cake, and the logo was even too LARGE for the cake - it hung over the edges! And the edges were horrific, just pressed with crushed almonds. It looked awful - considering what we paid. I could've gotten a nicer cake at a grocery store. As for the bride's cake - I regret that I trusted his "expertise and judgment" on that one, but I will take that blame. What I am irate about is that the damask pattern was SMEARED on the cake, and he attributed that to the change in temperature when the cake was delivered...??? Honestly, if you're a professional, I refuse to believe that was the ONLY time that's happened. He actually told me that he "had a picture on my cell phone before I delivered it, and it wasn't smeared". Basically, I told him this: The cakes looked like he ran out of time and had to throw something together at the last minute. (Hence the Tuesday phonecall about the groom's cake, etc.) Had we paid less that $900 for these cakes, perhaps we wouldn't be so angry. Do NOT trust him to help design your cake - tell him exactly what you want WITH A PICTURE, and don't give him any liberty or free reign on the design. You will be disappointed. They tasted fine, though.
---
Good!
Reviewed on

10/28/2010
Ginger C
My cake was what I wanted. Mountain Flour is a little hard to get in touch with sometimes.
---
Wedding Cakes
Reviewed on

10/17/2010
Kate M
Mountain Flour was incredibly professional, punctual, and easy to work with. Our cakes were delicious and ordering our cake was probably the easiest part of the whole planning process. Mountain Flour delivered exactly what was promised (actually better than expected!)
---
Beautiful Wedding Cake
Reviewed on

5/14/2010
Tiana C
Mountain Flour was very easy to work with and created a beautiful cake for our wedding. I gave them a picture of what I wanted and they created it almost perfectly. I would have appreciated more communication the day of the wedding, as I would have liked the decorater to put... Read More more flowers on the cake before they left, but it was beautiful none the less. The cake tasted good, but everyone enjoyed the chocolate covered strawberried more.
---
Review for Mountain Flour
Reviewed on

5/10/2010
Elizabeth W
Very easy to work with. I gave him a general idea and trusted his portfolio and experience. We were not disappointed!! The cake turned our better than I could have imagined and it tasted wonderful. Chocolate with chocolate ganache and fresh raspberries in the filling :)
---