Home

Mr. Thrill DJ PLUS
About this Vendor
Mr. Thrill DJ PLUS
Details
Classical, Country, Disco, Folk, Hip-Hop, Jazz, Pop, R&B, Rock, Arabic, Indian, Klezmer, Latin, Persian, World Music
MC Services, Recorded Music, Sound Equipment, Music
Contact Info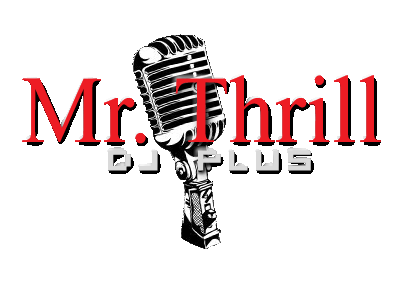 Reviewed on

6/17/2015
Kendal E
Bill Harris (Mr Thrill) was very easy to work with when planning my hill country destination wedding. The web based program allowed us to pick out the type of music we wanted and provide a timeline. He set up a ceremony system and a reception system. The guests had a great time dancing and listing to their favorites. I would highly recommend choosing this DJ.
---
Such a hit!
Reviewed on

2/15/2015
Mr. Thrill provided exactly what we were looking for at our wedding. He took our suggestions for music to play during dinner and the reception, and was excellent at reading the crowd. When he went away from our suggested song list (which was admittedly pretty short) it was to play songs that everyone loved but we didn't even think to add. Overall, he was perfect - we couldn't have asked for a better DJ.
---
Great DJ!!
Reviewed on

11/21/2014
Lauren B
Mr. Thrill did an outstanding job at our wedding! My fiance and I had a hard time narrowing down the songs we wanted for the ceremony and Mr. Thrill helped give us ideas. I highly recommend using Mr. Thrill for your wedding. He had our guests dancing all night. We received so many compliments from our guests. We didn't have to worry about anything with Mr. Thrill!!
---
Fantastic Reception!
Reviewed on

11/10/2014
Vanessa A
Ensuring our guests had a great time at our reception was one of the most important components to our wedding day. Bill more than delivered! He did a great job getting the party started and it didn't stop until the very end of the night. We received multiple compliments in our choice of DJ and would absolutely recommend Mr Thrill DJ Plus to our friends and family!
---
Mr. Thrill was everything we wanted!
Reviewed on

11/04/2014
Erin S
Mr. Thrill was very professional and did a great job!! I really wanted a gobo at the wedding and Mr. Thrill worked so hard to make that happen. He offers a wide range of songs and can really feel what the crowd is wanting. I would definitely recommend him for your upcoming event!!
---
DJ Thrill made my special day so perfect!
Reviewed on

11/03/2014
whitney a
I could not be happier with the services provided by DJ Thrill. From the moment I contacted him inquiring his services he was nothing but prompt and professional. He asked what I wanted and did just that! The online request page and timeline was easy to fill out and if I wanted a song not on his list, he found it for me! The day of the ceremony he came very early to be sure he had everything he needed and to be sure he was set up ready to go. My favorite part about him is he just played the music and followed the timeline. He kept the party moving without all the extra annoying gab in the mic! He stayed in the background and read the party. People are still telling me how much fun they had and how much they danced that night! It was definitely a fun party thanks to DJ Thrill!
---
OUTSTANDING!
Reviewed on

10/20/2014
Lisa M
I can't say enough good things about Bill "Mr. Thrill" Harris! He really made our wedding special. He is incredibly professional and accommodating, and is just plain FUN! He knows how to read a crowd and keep the evening at its best. He is a true performer - and his enthusiasm really made the entire experience FANTASTIC. We've received countless compliments from our guests! He also did our lighting, which was wonderful as well. He's the best!
---
Mr. Thrill Rocked our Wedding
Reviewed on

6/05/2014
Cesarina D
When we first met with Mr. Thrill my husband and I were hesitant because he was so mild mannered and laid back. We questioned whether he could really get a crowd going. Before signing our contract we attended one of his shows and were blown away. He was so fun and lively that we signed the contract on the spot and had no regrets. Mr. Thrill's website is great and makes picking the music easy. He was very responsive and patient with me as a nervous, anxious bride. The wedding went off without a hitch and he even provided the music for our alternative entertainment. Overall the service, quality and value were all wonderful. My husband and I agree that we would hire Mr. Thrill again and/or recommend him in a heartbeat!
---
Outstanding DJ!!!
Reviewed on

5/30/2014
Lindsey M
Mr. Thrill DJ Plus did an amazing job at our wedding. I lived out of state, so had to do all the planning with him via phone and email. Mr. Thrill DJ plus was organized, responsive, and helpful to all my requests. Our first dance was a song not in the current library, but he had no problem getting it for us. Also, he played many of our requests and did a great job playing music that would get the crowd dancing. I'm pretty sure the entire room was on the dance floor for the last few songs. I highly recommend him!
---
The most fabulous wedding DJ!
Reviewed on

5/11/2014
Lisa D
I found Mr Thrill DJ plus through his great reviews on The Knot, and trust me, he does not disappoint! He was very professional and worked with us to develop the perfect mix of songs and understand the flow of events of our wedding. He had the best rates of everyone I talked to! Everyone told us that our wedding flowed so smoothly and that they wanted to be in the dance floor the entire time! This was primarily due to Mr Thrill DJ Plus' ability to read a crowd and make sure everyone is having fun! I HIGHLY recommend him for your wedding or any event you may have:)
---
Awesome night of dancing!
Reviewed on

4/21/2014
Anna L
I cannot say enough about Bill Harris! He was amazing at our wedding! He read the crowd great and knew all the right songs to play. Everyone is still talking about how the wedding was a blast because of the music! He was very attentive and we planned everything down to the last dance. His website is very easy to navigate. You can put songs that you hate, love and like. He was extremely great to work with. Everyone that was on the dance floor couldn't get off because it was one great song after another. The reception wouldn't have been the same if we didn't go with Bill. I would absolutely recommend Bill for your DJ. He is very professional and very easy to work with. If you don't want any stress about the DJ pick Bill! Thank you Bill for everything you have done for us!
---
Our DJ was Exactly What We Wanted
Reviewed on

4/06/2014
Stephanie M
When we started thinking about music for our wedding, we weren't sure what we wanted. After contacting a few DJs, we realized that the usual DJ package was not for us. We didn't want anyone revving up the crowd with spinning lights and blaring music. Mr. Thrill listened to what we were saying and totally got it! We had John as our DJ, and he was perfect for us. He played the music that we had picked out, made the announcements, and was such a joy to work with. He was very flexible and accommodating, and he was so pleasant and professional. Also, Mr. Thrill's website was so cool and fun to use! We were able to enter the timeline of events, people who needed to be introduced, and our special songs. Then we picked out our "love it" and "like it" song lists. We didn't have any to put in the "hate it" song list, but it was there if we needed it. It was a lot of fun, and it made the process a lot easier than I had expected.
---
Mr. Thrill was Amazing!!
Reviewed on

4/02/2014
Lauren T
My husband and I loved working with Mr. Thrill. He went with the flow and kept our guests dancing all night long. The music was exactly what I wanted.
---
GREAT DJ
Reviewed on

2/25/2014
Monica E
Mr. Thrill DJ Plus is great! I booked in almost a year in advance just so I had that checked off my list. Bill is very easy to get a hold of and will answer any questions you have! Bill was able to read the crowd and change up the music to keep them dancing all night long! My ceremony music was just perfect, Bill suggested the vitamin string quartet and a variety of songs they cover.. I picked my 3 and Bill worked them perfectly into my ceremony! Great DJ in central TX!
---
Mr. Thrill DJ
Reviewed on

1/13/2014
Brittany C
We absolutely loved Mr.thrill at our wedding. He listened to our every request and truly made our event (both ceremony and reception) wonderful. He was at the venue setting up well before he had to be, making sure everything worked. He coordinated with my coordinator songs and timing great. He kept everyone on the dance floor and helped the entire evening go smoothly. Plus his hair is pretty awesome. I couldn't recommend him more!!
---
Priya Kenny
Reviewed on

12/09/2013
Priya J
My wedding party was amazing! DJ even helped out wedding coordinator and made sure my guests were rocking when they needed to be and not when the mood was calm. Could not ask for a better DJ!
---
Fantastic Wedding DJ
Reviewed on

11/28/2013
I cannot recommend Bill enough! We sent out bids to several DJs and Mr Thrill was not only one of the most responsive DJs, but also one of the most affordable. We contacted him and gave him some information about our ceremony and he instantly set us up with an account so that we could manage the music for our ceremony. He followed up with us a week or so before the ceremony to go over all of the details and we could tell that he had actually taken the time to go over the music we selected. He even told us how great of a job we had done selecting our music! He also had a great feel for the vibe that we were going for. We forgot to give him the list of songs to play as guests arrived for the ceremony, and he selected songs based off of everything else that we had previously selected. He had a great mix of Beatles songs (the processional was "In My Life" and my wife walked down to "Here Comes the Sun") that fit out ceremony perfectly. We had sent out a "Play My Jam" request card with our RSVPs, so we had a playlist that we built based off of our friends'/family's requests. Bill had a great feel for what should be played when and really made our ceremony/reception fantastic. Once it was time to get our guests out and dancing, Bill did a great job of selecting songs. From the first song to the last song, he was right on point. He took any requests that came his way and even let people have the microphone if they wanted to perform a song (my dad raps "New York State of Mind" at all of the family wedding). Our reception started at about 5:30pm and Bill was still going strong (along with our dancers) at 10:30 pm! All of this to say that if you want a flexible, affordable, and all around good, friendly and professional DJ for your wedding or event, you would be hard pressed to find anyone better than Mr. Thrill!
---
Great DJ
Reviewed on

11/03/2013
Heather
DJ Thrill was incredible! He kept everyone on the dance floor all night long. We had a wide variety of people there and they all had fun. The only somewhat negative thing I can say is that he played our bridal party processional songs in the wrong order (girl songs for the boys, boy songs for the girls) but that didn't really matter to me. I can say with confidence that you will throw a great party when you hire DJ Thrill.
---
Awesome
Reviewed on

8/21/2013
Kim M
Mr Thrill was awesome! Bill did a great job at our wedding! We even used his uplighting and the room looked beautiful. He was easy to get a hold of before the wedding to ask questions to and the week of the wedding he took the time to make sure he knew what exactly what we wanted and the organization of the night! All of our guests had a great time and he knew how to keep people on the dance floor! I would recommend him to anyone because he really does a great job and knows how to make the night fun for everyone at the wedding!
---
Cristin Jones
Reviewed on

8/15/2013
Cristin J
Thanks to Bill Harris for being our DJ/MC. Bill was so easy to work with, answered all our questions, was prompt, professional, and just did a fabulous job. We looked at many comparable DJ companies whose prices seemed a little exorbitant, while we found Mr. Thrill worked with us to keep us under a $1000 which included our ceremony and reception. The ceremony went perfectly. During the reception, Bill played the perfect mix of music based upon our choices, and kept the dancefloor filled, reading the crowd, and changing the music at appropriate moments. It was wonderful. Thank you so much Mr. Thrill DJ PLUS!" Cristin Jones Wedding date 7.26.13
---
We love Mr Thrill
Reviewed on

6/19/2013
Michael K
Bill (aka Mr Thrill) was recommended to us by a friend who used him previously, and he did a fantastic job at our wedding. My wife and I met with him twice before the wedding, and he asked great questions about our wedding vision and musical tastes. I highly recommend Bill to be your event DJ. For the ceremony, Bill was responsible for mic and speaker setup for our processional/recessional musician, officiant, and readers. He coordinated with the everyone on the day of the wedding (our wedding planner was useless), and everything sounded great. For the reception, he executed our timeline perfectly. He played everything on our 'must play' list and did a great job picking out songs based on our conversation about our musical taste. The dance floor was very busy. I can't say enough good things about Bill, and I highly encourage you to choose him to DJ your event.
---
Last minute lifesaver!
Reviewed on

5/23/2013
Jane d
I contacted Bill just 2 weeks before my wedding. By that time I just needed someone that I could give a general idea of music and have them run with it without much direction from me. Bill coordinated with our dance instructor (who had great things to say), filled out all our itinerary based on our phone convo, arrived to our reception on time, and most importantly was very flexible with the flow of our reception. Many guests commented on just how well the flow of the evening went. Bill was professional and dependable.
---
Best DJ in Austin
Reviewed on

4/27/2013
Amber M
You will not go wrong if you choose Mr Thrill. We had a long reception and he kept the party goibg all night. We had lots of locals and people from out of state and he kept everyobe intetested and partying well into the night. Everyone complimented him and enjoyed his selections. He read the crowd perfect and took requests. He made anouncements on time keeping everyone informed throughout the night. I would choose him again and again. Our party was a success thanks to him!!
---
Awesome DJ!! Highly recommend!
Reviewed on

4/13/2013
Nicole M
DJ Thrill was awesome. I have been to many wedding where the DJ is just ok, and I've been to weddings where they are awesome, and it makes a huge difference in my opinion on the feel of the entire evening! If your guests are having fun and dancing, then you know they are having a good time! We had some specific requests (no typical cheesy wedding music like B52s Love Shack, no group dances) that DJ Thrill nailed. The music was awesome all night, he has a great DJ voice, and really the dancing never stopped! We are still getting compliments on the music. My favorite part though was at the end of the night, my matron of honor requested DJ Thrill (who also does Elvis impersonations) do Jailhouse Rock. He told her he would only do so if I approved, which I said sure why not! It totally was awesome, and later I requested fools rush in which he did as well! He totally only did it because we asked, so if you don't want that at your wedding don't worry he won't but I have to say the guests LOVED it!! One of my favorite memories of the night!
---
Highly Recommended DJ
Reviewed on

3/29/2013
Lindsey R
Bill was exactly who we were looking for in a DJ, someone who would play music that fit our tastes (we aren't a big fan of traditional wedding songs a la "Brickhouse" and "YMCA") and would make people want to get up and dance. We were at a wedding that Bill was DJing right after we had gotten engaged and I was really liking his music selection so I got his card and used him for ours! Bill was also very easy to work with. He had us pick a selection of songs we love and songs we didn't want to hear and he did a great job of playing music based on those lists. And one bonus, he kinda looks like Elvis :)
---
Send Message