Home

Nanina's In The Park
About this Vendor
A Landmark is Reborn...
You will be the only event at this magnificent New Jersey landmark, nestled in a historical park setting. Your guests will enjoy more than 50 years of catering tradition with a spectacular multi million dollar renovation.To tour call us at 973-751-1230 or visit our site www.naninasinthepark.com .
Amenities + Details
Amenities
Handicap Accessible

Liability Insurance

Indoor

Outdoor - Not Covered

Reception Area
For more details about amenities, please message the Venue.
Ballroom, Garden, Estate, Historic Venue, Park
Bar + Drinks, Cakes + Desserts, Food + Catering, Planning, Rentals + Equipment, Service Staff, Shuttle Service, Transportation
Contact Info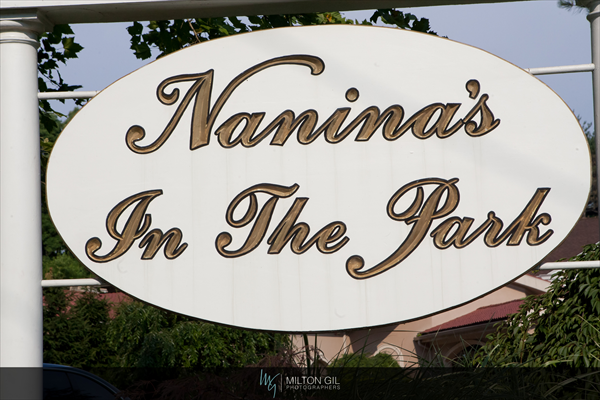 540 Mill Street, Belleville, NJ
Perfect Venue for a Sunday Night Wedding!
Reviewed on

8/28/2013
Erin M
Nanina's in the Park was the perfect venue for our wedding ceremony and reception! The outside garden was the perfect back drop for pictures and the ceremony. Then the ballroom - with it's high ceilings, chandeliers and long dance floor (the longest I saw at a NJ venue) - made the reception a high energy fun time. The most impressive thing about Nanina's is the food! The food is awesome! You get a full cocktail with just about anything that you can think of, dinner and a Viennesse dessert table. Everything they serve is the highest quality and delicious. My guests are still talking about how beautiful Nanina's is and how much great food there was. Besides the beauty and food the people running Nanina's are great too! Tom walked us through the whole process of planning our wedding from showing us the venue to making the day run smoothly. He entertained and responded to all of my questions and ideas to make sure we got everything just as we wanted it. All the waiters / attendants / maitre ds / bartenders moved guests throughout the schedule of events with poise and ease. On the day of my wedding I could actually sit back and enjoy the day because I knew the staff and my other vendors would make everything run smoothly and according to schedule. I had so much fun at my wedding and Nanina's in the Park was the perfect venue for it!
---
BRAVISSIMO!
Reviewed on

10/27/2013
donna s
If you're searching for a WOW factor, I suggest that you seriously consider Nanina's in the Park. The overwhelming number of compliments we have received truly belong to this venue and the high quality of service they provide. It's been three weeks and I am still reliving this wedding in my mind! As a Mother, I always have extremely high expectations when it comes to my daughter's needs and wishes – I want nothing less than the best for her! Nanina's is exactly that - THE BEST! A tough (Impossible IMO) act to follow! A superior–over-the-top venue in setting, service, and cuisine - absolutely grand in every way imaginable! Besides the obvious, there are other things that make this venue exceptional. If you want to be the center of attention, a one wedding at a time venue at Nanina's is the way to go. Speaking from my experience, even I, as MOB, felt like a queen thanks to the way they catered to me. But from what I hear, I'm not that special because they catered to everyone! And as hosts, that's what you want to hear from your guests afterwards. Another awesome perk at Nanina's is the ability to peruse 3 different areas during cocktail hour. There is ample seating and space for each guest to eat, drink, and converse comfortably. No balancing a plate in one hand and a drink in the other because there's no place to sit down and enjoy! The ballroom has a fantastic dance floor! And because there's a patio right off the ballroom, no one has to abandon the party for more than a few minutes to smoke a cig/cigar or grab some outdoor air. The exterior landscaping and interior décor has been well orchestrated for beautiful lifetime photo memories. We will all relive this celebration through photo's and video for years to come but I must say that I can't wait for the day when I receive an invitation to Nanina's so that I can return to enjoy every little detail that this establishment has perfected!
---
Truly Exceptional
Reviewed on

7/05/2013
Megan C
I wanted to take the time to thoughtfully review Nanina's in the Park because I know how important it is to find that "perfect" place to have your wedding - and Nanina's was nothing short of perfect. I remember the first time my fiancé and I walked into Nanina's, we were so impressed with the Tuscan-inspired decor/architecture, as well as the beautiful grounds, which we knew would be ideal for photos. We were sold as soon as we read over their extravagant menu and learned they only host one event at a time. Fast forward to the week of our wedding; Nanina's took care of everything! They went out of their way to ensure they had the ingredients for our signature drinks, and when I stopped to drop my things off with what felt like a million questions (in a somewhat frantic, stressed-out bride kind of state) - they're response was in summary, "don't worry, we got this". Needless to say, I felt immediately at-ease. On our wedding day, everything was literally perfect. Martha, my bridal attendant, did not leave my side and was such a professional - not to mention, extremely sweet! I've heard from many brides that they didn't actually get to enjoy their own wedding; this is not the case at Nanina's. Not only did they make sure we were able to eat, but they would steal us away for moments where just the two of us could see the ballroom before anyone entered, or the pristine Viennese table before everyone else came out to enjoy it. These moments really allowed my husband and I to enjoy and experience our own wedding – without the whole night feeling like a blur. Furthermore, not only were our parents treated like gold, but also each guest felt a certain level of personal attention from the Nanina's staff that was unparalleled to any other wedding I've ever been to. The food completely lived up to its reputation - abundant and amazing! We had many out-of-state guests who were completely blown away. I relied heavily on others' reviews when I was planning my wedding, and personally I am not inclined to write them unless I feel truly compelled. I really believe if you want to have a "perfect" wedding, have it at Nanina's in the Park. You won't have to worry about a thing, your photos will be beautiful, and both you and your guests will have an unforgettable time.
---
Reviewed on

7/14/2015
Victoria S
This is THE place to have your wedding! The whole day was perfect from beginning to end! I knew it was going to be great, but Nanina's exceeded my expectations and it was better than I could have imagined. I truly felt like a princess and my husband and I couldn't be happier with the outcome of our special day!
---
Reviewed on

7/06/2015
David G
The team at Nanina's accommodated our every need and introduced us to some of the most important vendors we would have throughout our entire engagement. Dozens of people have told us that the cocktail hour at Nanina's was the best they had ever experienced! Even more told us that it was the best wedding reception they had ever attended. The food was outrageously delicious. Chef Vincenzo, and Syrus Kalantary were excellent representatives of Nanina's staff both in food preparation and in service. They were gallant and surprisingly modest, but also clearly very proud of the excellent product and service they presented to our 200 guests. Their attention to detail and their charming demeanors are wonderful examples of why the staff at Nanina's is so impressive: they are experts at their individual crafts, however they all paid special attention to the service element that made our guests feel so "at home" and comfortable while they enjoyed the party. Christine Wirth, our bridal attendant! I actually didn't ever get a chance to ask Christine for anything because she always seemed to have it waiting for me before I knew I even wanted it. When I took a fun picture in the elevator with my Bridesmaids, Christine seemed to disappear like an elevator ninja in an amazingly sweet effort to not interfere. When we took a bridal party picture on the gorgeous stairs, Christine managed to get my 2 year-old niece to sit in the perfect position and laugh with a beautiful smile. Nanina's, we had very high expectations leading up to our wedding day and you somehow managed to not only exceed those expectations but to wow us! My husband and I had the time of our lives and we are desperately hoping that we get invited to attend another Nanina's wedding reception as guests so we experience the same joy that all of our guests cannot stop telling us about. Well done, Nanina's!
---
Best Wedding Ever!!
Reviewed on

5/12/2015
Courtney C
Nanina's in the Park gave us the best wedding ever! Everything and everyone was amazing. The staff was great! The food was fabulous! My wedding was 3 weeks ago and everyone is still talking about it. They are saying it was the best wedding they have ever been too! My husband was upset that we were going to skip the cocktail hour until we went to the bridal suite and saw the tables full of food! My bridal attending was amazing! She helped with everything! Changing my shoes, fixing my dress, fixing my head piece, and so on. Tom and Barry made sure we had everything we wanted! Chef Vincenzo even made chicken valdostana for me and it was the best thing ever! The desserts were incredible! I do not have 1 bad thing to say about Nanina's! I hope someone I know gets married here soon so I can go back! Thank you Nanina's for making my wedding the most amazing day of my life!
---
December Wedding
Reviewed on

3/22/2015
Dalyn R
We had our wedding ceremony and reception at Nanina's in December and the first word that comes to mind is indescribable. We worked with Peter and from the second we walked in to the venue to look around to the point our wedding was over he and his staff members made our experience with them very enjoyable. They were very professional with the planning; they made our day stress free and the overall experience a memory we will never forget. It was amazing to see all the work they put into their wedding through pictures. Our guests only had positive comments in regards to Nanina's presentation, food, and overall the beauty of the venue. It feels wonderful when people describe your wedding as the "most beautiful wedding" and knowing they are speaking the truth because of how breathtaking Nanina's truly is. Overall all I can say is … I cannot wait for the day to go back to Nanina's for a wedding, not as the bride so I can truly take in the beauty and astonishment that Nanina's offers for their weddings.
---
Amazing!
Reviewed on

3/10/2015
megan h
We had over 230 guests at our wedding and they handled every last one like they were the only ones there. The staff was so helpful! The food was amazing! Especially cocktail hour. The place is gorgeous day or night, summer or winter. As the bride, they really made sure I was treated like a queen that day. We could not have asked for anything more!
---
Amazing
Reviewed on

2/06/2015
Kristina L
Nanina's was AMAZING! Everything from start to finish couldn't have been better. They truly know how to make someone's wedding day magical!
---
Absolutely perfect!!
Reviewed on

12/02/2014
Lauren C
Words cannot even describe how fantastic Naninas in the Park was on my wedding day. Everyone who attended our wedding has told us that besides their own wedding, it was the best wedding that they have ever attended. The food was unbelievable, never-ending and delicious. Everyone told me prior to our day that the bride and groom never gets to enjoy the food at their own wedding but that definitely was not the case for us. Cyrus and Martha were in charge that day and they made sure my husband and I sat down during cocktail hour and Viennese hour and brought us samples of everything that was there! We definitely did not go hungry and enjoyed every minute of it. We used the recommended florist, Perla and she blew me away with the flowers that day from the bouquet to the centerpieces. I really cannot say enough good things about this vendor!
---
Worth every penny and more
Reviewed on

11/05/2014
Jenna F
We had our wedding at Nanina's on October 11, and even though it rained a little that day, everything was perfect. Tom was so helpful from the moment we stepped foot into the venue to view it over a year and a half ago, to the moment we left on our wedding day. When they say they will take care of it, they will (we had a few issues with our hotel and Nanina's was on the phone with them for hours trying to help us with that). We had a daytime wedding ceremony and reception there, which costs much less than the night time events (for brides on a tighter budget considering this venue - it is worth every penny!) The grounds, atmosphere, food, etc. is top-notch and gorgeous (not to mention, you don't share the venue with any other event. The whole place is yours for the day, and the staff treats you like royalty). We haven't received our photos back yet, but we are sure they are going to be fantastic. The staff at Nanina's was on top of everything and so nice to everyone (they were great with my photographer also, who had never been there before - but said he had a great experience). All of our guests are still talking about how wonderful everything was, and how it was the best wedding they had ever been to. I can't thank everyone there enough!
---
September 2014 Wedding
Reviewed on

10/15/2014
Melissa P
One word. Spectacular. There are so many other words to describe Nanina's but I knew the moment I walked in the front door THAT was where I was going to get married. There are so many wonderful reviews and testimonials about this place and honestly every single one is true. I had no idea how to plan a wedding and with the help from Tom Casella one of the managers at Nanina's he made it a piece of cake for me. The staff, the food, the bridal suite, the outdoor ceremony area everything is just amazing. The attendants and waiters were on point the entire day and every single one of my guests are still talking about that day...mainly how amazing the food was but how attentive and professional everyone was that day. Words can't explain how happy I was with Nanina's and I hope someone I know gets married there in the near future so I can enjoy the food this time around! Thanks again for everything Nanina's. Love Shawn and Melissa Denning 9.13.14
---
Attention to detail
Reviewed on

9/27/2014
Justine J
The experience we had was absolutely over the moon! Aside from it being beautiful, everyone made sure that my husband and I really got to enjoy our day. The staff made sure that we ate every single thing that was at the cocktail hour, they set it up for just the two of us in the bridal sweet , asked all our favorite things and brought them up with a whole bunch of extras. Aside from having the time of our life, the staff at Nanina's really helped us enjoy every single second!
---
A dream come true
Reviewed on

9/14/2014
Morgan C
Nanina's in the park provided my absolute dream wedding. When I booked with them I knew my day was going to be unforgettable, however nothing could have prepared me for the perfection of the actual day itself. From the moment my mom and I walked through the doors of Nanina's we knew this was the place for us; and when we returned two days later with my husband to be and my father we signed on the dotted line right away. Throughout the entire wedding planning process Tom Casella was attentive, helpful, informative, and more than accommodating to any of our needs that came up along the way. He was flawless in providing an easy, stress-free planning experience right up until August 15th. On the day of the wedding, my bridesmaids and I had access to the flawless bridal suite where we spent the morning getting ready. Nanina's bridal suite is far better than any hotel bridal suite in the area and offered the most gorgeous setting for getting ready. Luxury makeup counters, oversized mirrors, and breath taking garden views. In addition, Martha the bridal attendant was by my side the entire day. She would read my mind, knowing everything I'd need before I could even tell her. She and Cyrus, the Matire'd worked perfectly together making sure myself, my husband, and our families were comfortable and taken care of the entire night. This allowed all of us to enjoy the impeccable surroundings and grounds, mouthwatering food and drinks and the gorgeous ballroom where we were able to dance the night away. My wedding day was the most indescribable day of my life. It was perfect in every way imaginable and Nanina's made it that way. If you are thinking of hosting your wedding at Nanina's in the Park, think no more and sign the paperwork, it will be the best decision you could possibly make. It's been a month since our wedding and we are still hearing from family and friends about how it was the best wedding they've ever been to!
---
Nanina's Knocked It Out Of The Park!!!
Reviewed on

8/24/2014
Samantha G
To the entire staff of Nanina's in the Park, especially the love of our life Vicky and my bridal attendant Martha, Thank you from the bottom of my heart, Joshua Moshen's heart and my families hearts for making our wedding last night August 23,2014 the greatest night of my entire life and our lives. From the time we started planning our wedding in June of 2013, Vicky has been like family to us. She dealt with countless phone calls from my father about the silliest things and she always was there whenever we needed her. Vicky, last night you totally went ABOVE and beyond. Our guests were all talking about you and how they were completely amazed by how professional you were. Vicky and Martha made sure that every single detail down to the last flower girl petal was where it was supposed to be. They both made sure Josh and I had every single bit of food from our incredible cocktail hour to try in the bridal suite along with our signature drink and sodas/water. They constantly made sure we were well fed and that our guests had everything they needed. Every single person raved about the cocktail hour and they didn't know how they were going to eat dinner but, everyone wound up eating their incredible meals. Vicky then took us out to the Dessert room where Josh and I got to sample and take photos with and of everything before our guests as well as having a table of everything set up for us. This morning we went over to Nanina's to get the remainder of our things from the wedding and Vicky & Tom greeted us with big hugs and neatly packed boxes of our belongings and trays upon trays of food from last night. If you want one of the BEST weddings or events that you will remember forever, Please have it at Nanina's In The Park. Not only is the place spectacular to look at inside and out but the staff that works there will tear at your heart strings. When I got in the car this morning to pull away from Nanina's I started to cry because I was going to miss Vicky's energy. Thank you SO much for putting everything into this wedding for us last night. We LOVE YOU!!! Samantha & Joshua Moshen & Jay & Cindy Gutterman
---
A dream come true!
Reviewed on

8/18/2014
I got married here in July of 2014. Nanina's really is the greatest venue, they make you feel like royalty upon your arrival! Everyone there is absolutely amazing, insanely professional, and on point with everything!!! Everyone at Nanina's made my wedding day my fairy tale come true. They are so nice and pay attention to every detail! The food was out of this world. Everywhere we looked there was a new station of food. We knew we were getting a good venue but this exceeded our expectations. I am so happy we chose such an amazing venue for our big day.
---
Dear Future Bride
Reviewed on

7/28/2014
Stephanie S
Dear Future Bride, Congratulations on what is about to be a most wonderful adventure! The weeks and months of planning will be crazy, but when you see that special person waiting for you at the end of the aisle, every moment of insanity and every tear of frustration will suddenly have been worth it. Let me tell you, your wedding day will go by in a flash. Everyone will tell you this—it will even get a little annoying with everyone giving you tips on how to slow it down. The reality is, there is no way to slow it down. There are so many things to do: get ready, say 'I Do,' take a million pictures (my photographer took over 1500 that day!), talk to as many people as possible, dance, keep smiling, cut the cake, take more pictures. The list is endless and you'll be pulled in a thousand different directions will lots of people telling you what to do. And while you can't slow down time, there is one thing that you can do to ensure that your wedding is one that you savor while it is happening and remember incredible moments of once it's over. Book your wedding at Nanina's in the Park. Truly, the people at Nanina's are brilliant. Not only will you get to eat (they will reserve a table for you and your groom at the cocktail hour—plus one for both your parents—and bring you a plate with food from every single station), but you will also get to relax and enjoy the day. Take it from someone who made a four page, single-spaced, font size 12, categorized by vendor to-do list eight months before the wedding. I was seeking perfection. I wanted everything to be in the exact place and happen at the exact right time. Do I sound like someone who lets go of the reigns very easily? Now imagine my mom! Before my wedding day, I thought about a friend's wedding that I had gone to in New York. Her mother didn't smile or get on the dance floor until the last song. The LAST SONG! I felt so terrible for her and did not want for my mom to go through the same thing. All my mom did during my 20-month engagement was act as my wedding planner to ensure that I would have the most perfect fairytale wedding. I couldn't fathom her not being able to enjoy it because she would need to monitor what was going on. Well trust me, my mom hit the dance floor during the first dance and there was no worry in her eyes. She felt confident putting all her faith in the experienced hands of Nanina's which made me incredible happy and thankful. The team at Nanina's made my wedding day the first day in months when my mom and I were both free of stress. When you're a bride a Nanina's, you're basically a princess. Anything you could possibly need will be given to you. A straw, a timekeeper, someone to bustle your dress, extra shrimp—whatever is it, they make it happen. And it doesn't just stop with you, your groom, or your parents. Every single guest at your wedding will feel like someone special, and they'll be raving about your wedding for years to come. Trust me, no wedding after it can compete. No seriously. I feel bad for everyone who has a wedding after ours. You'll see, you'll feel the same way. Well, it's time to wrap-up. I hope that you have a wonderful wedding. Enjoy every moment of your journey to the altar. I wish you an incredible marriage and hopefully, a wedding at Nanina's. Much love and well wishes to the bride and groom!
---
Gorgeous wedding venue!
Reviewed on

7/22/2014
Jackie B
Nanina's in the park is absolutely stunning! The grounds are gorgeous and the ballroom and bridal suite are unbelievably beautiful. The attention to every detail is evident and everyone there is more than accommodating and was a pleasure to work with. The food is delicious and the presentation is amazing! All of my guests had an amazing time and raved about my venue! The only thing I was slightly displeased with was the service of my maitre'd the night of the wedding. However, everyone else there made me feel like I was family. Tom and Liz were wonderful, thank you so much for everything! I hope someone else I know gets married here so I can go back!
---
My Perfect Dream Wedding!
Reviewed on

7/05/2014
Nathalie A
I don't have enough words to describe my fairytale wedding on May 2, 2014 at Naninas. When we met with Tom for the first time we knew we would have our wedding, but continued to visit other venues "just incase." What a waste of time that was! To my then fiancé and I we didn't get that feeling as we did with Naninas. The warmth, the confidence and the butterflies! Tom answered all my emails and questions, even if they were asked twice, he would respond promptly and patiently. Joe the owner and the head chef spent awhile chatting with us during our good tasting, and got to know us...we weren't just another wedding to them, which we really appreciated! The day of the wedding I had a ton of extras that needed to be arranged accordingly and Liz and staff made that happen. They listened to every detail and when my day came I had ZERO to worry about and was completely confident the staff would carry through their promises. We did a butterfly release during the ceremony as a tribute to my late father, and the staff made sure they properly put each of the 3 dozen butterflies into the cage without fail! I was not let down! Cyrus our maître di and Martha my bridal attendant gave us 120% that day. They made sure everything was perfect and assured that my husband and I were eating, drinking and content at all times. The entire staff was amazing as per my guests...my MILs friend had dental work and explained that to someone serving during the cocktail hour. That same person found her during the reception and brought her a plate of all soft foods- mashed potatoes, pasta etc. You can't ask for better service then that! Over two months later and our family and friends are still raving about our wedding! We had guests traveling from France, Italy and Israel...needless to say they are food snobs and they could not stop raving about the food. The cocktail hour was impeccable and the entrees delicious! The next day we came to pick up all of our stuff and it was packed nicely along with the leftover food...not one thing was missing and the staff assisted us in bringing everything to the car. We cannot thank Naninas in the Park and their staff enough for such a beautiful and perfect wedding! We will never forget the best day of our lives! Nathalie and Frank De Vivo
---
The Wedding of Our Dreams!!!
Reviewed on

7/02/2014
Nicole K
Our wedding at Nanina's In The Park was beyond our wildest dreams!! We were completely blown away by the beautiful grounds, amazing food, and one of a kind service!! We were treated like royalty from our very first meeting with Tom, he made the planning process fun!! On the day of our wedding, our bridal attendant, Martha, and Maitre D, Cyrus, were phenomenal!!! They made sure we were taken care of and everything ran smoothly. I swear they knew what we needed before we did and made sure we had it. Some of our vendors were running late due to a big accident but I had no idea until after the fact because they took matters into their own hands to make phone calls and get everyone there on time! Not one ounce of unnecessary stress was put on me! Not only were were treated like royalty, ALL of our guests were as well! There aren't many things my 87 year old grandfather likes to eat at this point, and when I looked over during dinner- they made him not one, but TWO grilled cheese sandwiches (his favorite!!). They really go out of their way to please each and every guest. It is almost 2 months later and we are still receiving messages from our guests that it was the best wedding they have ever been to, that the food was plentiful and out of this world, and how over the top and outstanding the entire experience was at Nanina's!! Every bride and groom wants to relive their wedding day, but when your guests (and I mean numerous guests) tell you they wish they could relive YOUR wedding day - you know it was one for the books!! We can't thank Nanina's enough for our truly flawless day and cant wait to go back!! We would highly recommend Nanina's to anyone!!!
---
May Bride 2014
Reviewed on

6/19/2014
Alyse I
Rich was great! Food was excellent! I hope to attend this venue as a guest so I can enjoy ALL the delicious food :)
---
Everything and more
Reviewed on

5/01/2014
Nicole B
I just had my wedding here last Saturday and it was beyond perfect! We booked Naninas almost two years ago, falling in love on the first visit and having all the review confirm it. We had a daytime event with our ceremony outside in the beautiful garden, and by luck the cherry blossoms were in full bloom as well! They were so easy to work with, I did 99% of the planning myself and the staff was always there to help and answer any questions along the way. The moment we got there we were taken care of, the staff is amazing! Throughout the whole wedding they were by our side making sure we were ready for any events, standing in the right places, and even making sure we got to eat at cocktail hour—put a time limit on pictures and had all the food ready at a table for us! We got to view the reception room prior to anyone else and take pictures, and then same with Venetian hour. Which brings us to the food—AMAZING. Everyone was overwhelmed by the choices at cocktail hour, and more so by the fact that everything was delicious! The seafood station were amazing, and I even by their pasta sauce in stores so did not miss that one! We had the grill going outside which was so great, ad they brought around kabobs for people that were staying in even. Dinner was amazing right down to the salad, and for desert the specialty coffee station blew my mind. At the end they even had everything somehow packed up and ready to go for us. Everything was perfect right down to the smallest details. If you want a beautiful venue with amazing food and staff, and most importantly not to worry about a thing on your wedding day, then Naninas is your place!
---
OUTSTANDING VENUE!!!
Reviewed on

12/02/2013
Nicole D
Nanina's in the Park was the best decision I made in the wedding planning process! You will want for nothing if you have your wedding there! The food is out of this world- My guests are still raving that it was the best cocktail hour they've ever seen! My bridal attendant was absolutely amazing and literally helped me with every little detail througout the night! Tom and Vicki were amazing to work with- they made sure everything was taken care of. My only wish is to go back as a guest of someone else's wedding so i can really experience the cocktail and venetian hours!!! You will not be disappointed with this venue!!!
---
The Wedding of a Lifetime
Reviewed on

8/25/2013
Lisa P
When we decided to have our wedding at Nanina's, we knew it would be wonderful but we didn't know just how spectacular it would be. It was more elegant and romantic than we could ever have imagined. The gardens and outdoor ceremony space was breathtaking. The bridal suite is to die for --- we could have spent the whole time in there. And the ballroom and its ceilings are purely majestic. The food was never ending and the quality was amazing. (And we're Italian so we're harsh critics). And while everyone usually says they never get to eat anything at their own wedding, we ate and drank like a king and queen! They piled our cocktail hour and venetian hour table with more food we could even begin to make a dent in. And we never had to even go near the bar to get another drink. The staff was exceptional, creative and patient. Tom and Vicky treated us like family. And Martha, my bridal attendant, seemed to do exactly what I needed before I could even think it. And the entire place is exclusively yours -- don't underestimate how important it is to be the only wedding at the venue!!!! I always dreamed of a perfect wedding...and if anyone can actually achieve it, it's Nanina's.
---
I Had the Wedding of my Dreams Thanks to Nanina's In The Park
Reviewed on

8/21/2013
Kelly-Ann D
My husband and I got married at Nanina's In The Park on August 25, 2012. From the day I went there to visit the venue, I fell in love with Nanina's and their staff. I knew that day that this was where I wanted to have my wedding. The management was always there for me during the planning process if I had a question or concern. On they day of my wedding, Vicky and Soledad were absolutely amazing. Vicky had everything under control and quickly put my mind at ease, while Soledad attended to my every need before the ceremony and during the reception! Our one year anniversary is this coming weekend and our family and friends are STILL talking about our wedding and how it was the BEST wedding they have ever been to. Our guests raved about: The Food- The incredible cocktail hour, dinner and desserts amazed our guests. Many of them didn't eat for days after our wedding! The Ballroom- Seating was spacious and very comfortable, along with the amazing ceiling. It is truly a beautiful room The Gorgeous Grounds- We also had our ceremony outside which helped make our pictures turn out spectacular with their beautiful and well maintained grounds The Service-all the wait staff was so very attentive, polite and very accommodating. Our guests were impressed with having one waiter per table. The Management- The management team went above and beyond to insure that our event would be nothing less than spectacular The day was flawless because of their attentiveness to all the details. Because of everyone at Nanina's In The Park, I was able to have my fairy tale wedding and my family and friends have declared it: "The Wedding of the Century!"
---
Send Message